Bringing your service dog to a festival might be necessary, but it's important to keep their hearing in tip-top shape among the booming bass!
---
Dogs may be man's best friend, but service dogs are literal life savers. They can be trained to provide many tasks for people with disabilities, including fetching medicine, providing stability, alerting incoming seizures or panic attacks, and so much more. Because of their important role, it's imperative that service dogs be allowed to remain by their person's side, including at dance music festivals and events. Thanks to the ADA, it's been written into law.
But, if you plan on bringing your service pooch to your next festival, there are some things to remember. Far too often, we see dogs at the stage without proper ear protection, and while this may be frustrating to witness, internally, your dog may be suffering. Here's why. A dog's hearing is much more sensitive than humans, with the ability to hear sounds even too quiet for us at an average range of -5 dB and -15 dB. The frequency of sound plays a role as well. Astonishingly, dogs can hear frequencies of up to 47,000 to 65,000 Hz, whereas humans top out at around 20,000.
Dogs have 18 muscles in their ears compared to the six that humans have, and they can hear four times further than us. The shape of their ears and the length of their ear canal also play a role, giving the dog the ability to take in sounds with pinpoint accuracy. So, when you're standing in the crowd, not only is your dog being bombarded with strong bass vibrations, but there's no telling what they're taking in at a higher frequency. Sometimes, a dog will let us know when they're in distress, but they're also masters at disguising their pain. This is why it's imperative that you proactively prepare your pooch for a weekend of fun.
Luckily, some amazing products are on the market to keep Fido comfortable and ready to perform their tasks!
Let's start with a few products for the beginner. If you have a pup not used to wearing something on its head, we suggest looking into Calming Ear Wraps first. While these products won't make a huge difference at the festival stage, they can be used to train your dog and then later swapped out for the thicker, sturdier, higher-protection ear muffs. These products won't make a huge hit on your budget either. Some products to look into are Yolent Quiet Ears, Happy Hoodie, Pet Hoodz, Frienda Quiet Ears, and SIMENA.
It's important that when introducing your dog to the world of ear protection, you go slow and follow their lead. Let them wear the ear wrap when they're in a safe, comfortable environment first, and then incorporate it in higher-stress situations. This way they'll already be familiar with the feeling and it won't be linked to negative experiences. Once your dog shows you that they're totally cool with it, which shouldn't take long for the smart and reliable service dog, it's time for an upgrade.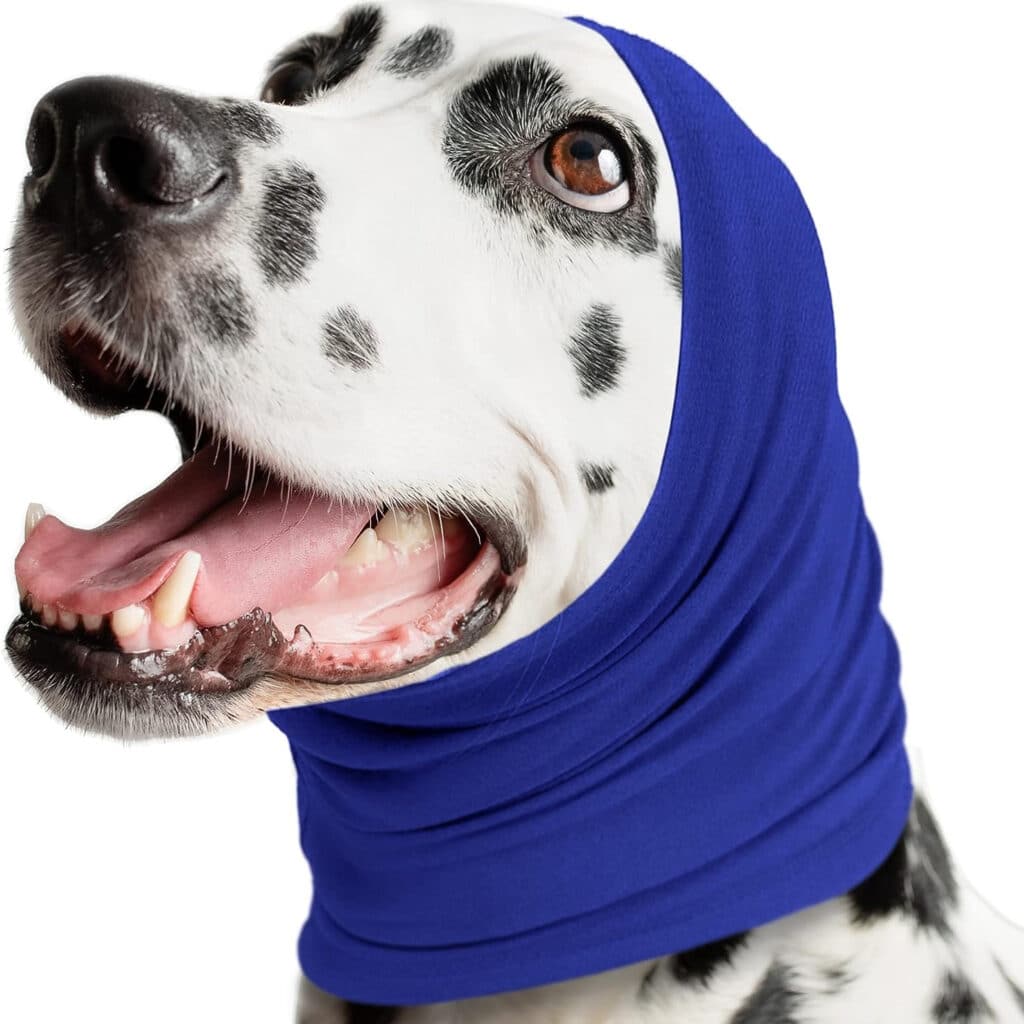 Heading into the world of Dog Muffs, a stand-out design is the Noise-Canceling Headset.
PAWNIX is the leader in the industry, and its muffs are made right here in the US. You may even recognize them from ABC's Shark Tank! The PAWNIX headset is modeled after human noise-canceling headsets and reduces the noise by up to 30 dB while remaining secure around your doggo's noggin no matter the shape of his ears. While this product is pretty pricey at $199, its protection is worth the investment.
Some other headsets that offer similar protection but are a little less surface-consuming than the thick fabric style of PAWNIX and much easier on the wallet include Famikako, Mutt Muffs, derYEP, 4 Paws Aviation, and GEEZO. Please note that while these models may not appear to be comfortable for the long-eared breeds, many offer space to fold them in place. But if your pup has extra long floppers, products like Famikako designed their muffs to allow a bit of the ear to pop outside with an elastic band that can be adjusted to achieve optimal noise-canceling protection.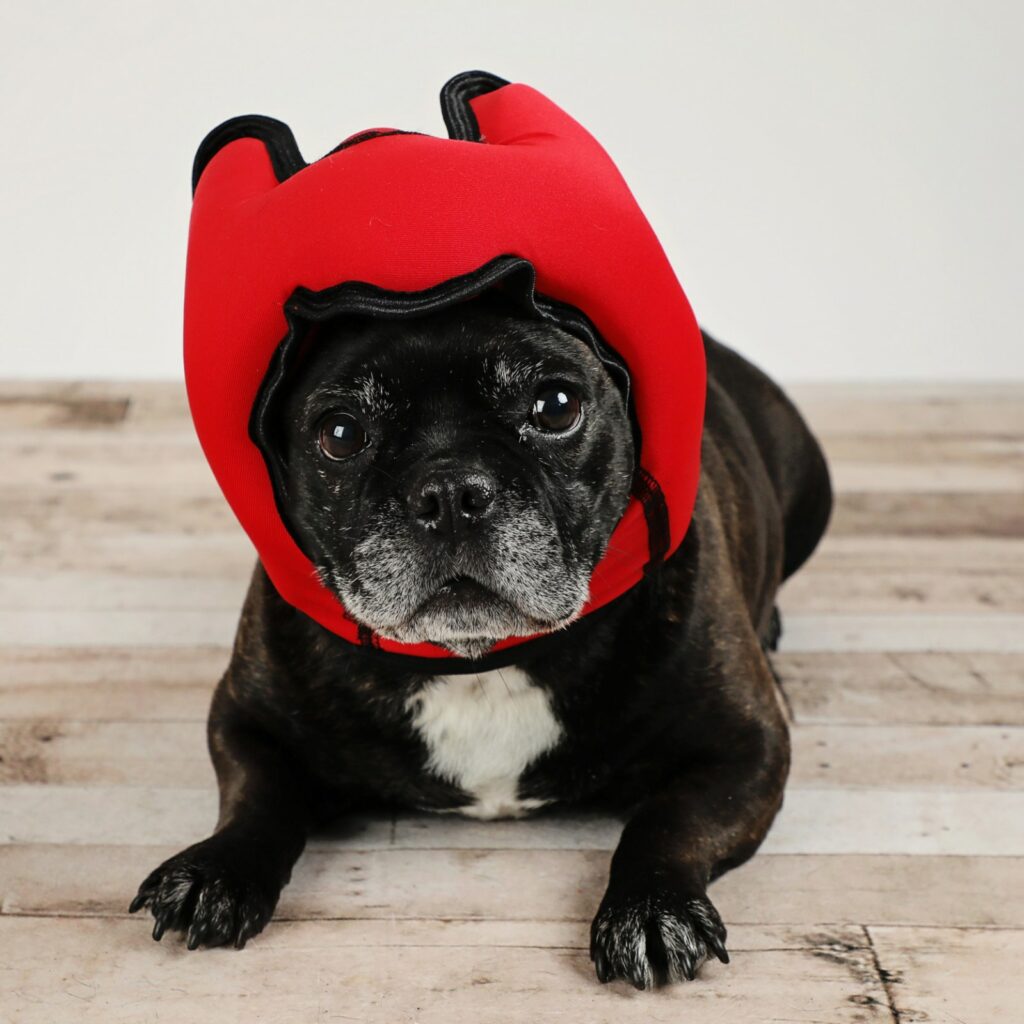 When it comes to offering the ultimate protection, it's always great to look at what the military is using.
It turns out that Rex Specs Ear Pro is the military's go-to product. Designed by Zeteo Tech to protect working dogs from temporary to permanent hearing loss, Rex Specs features a sleek hugging design with no holes or penetrations in the foam. Plus, if it moves, it still works with no-strap technology! Rex Specs is available in three different sizes, and you can grab them for a fair $84.95. They've also been scientifically tested to prove their worth.
This is how it was done. The National Institute for Occupational Safety and Health (NIOSH) conducted a test in a sound booth with the noise exposure set to 95 dB A (white noise), which is comparable to a tractor, blender, motorcycle, power tools, and a Bell UH-1 helicopter. It was determined that at very low frequencies (20Hz – 120Hz), Rex Specs Ear Pro reduces the noise exposure between 18 dB A and 24 dB A. But this is just the start because as the frequency increases, the effectiveness of the product rises right along with it, making this the premium choice.
For more combat-grade ear protection, we suggest also looking at the Elite K-9, featuring high-density sound-deadening inner foam. Take note that this product is only available for dogs 50-95 pounds.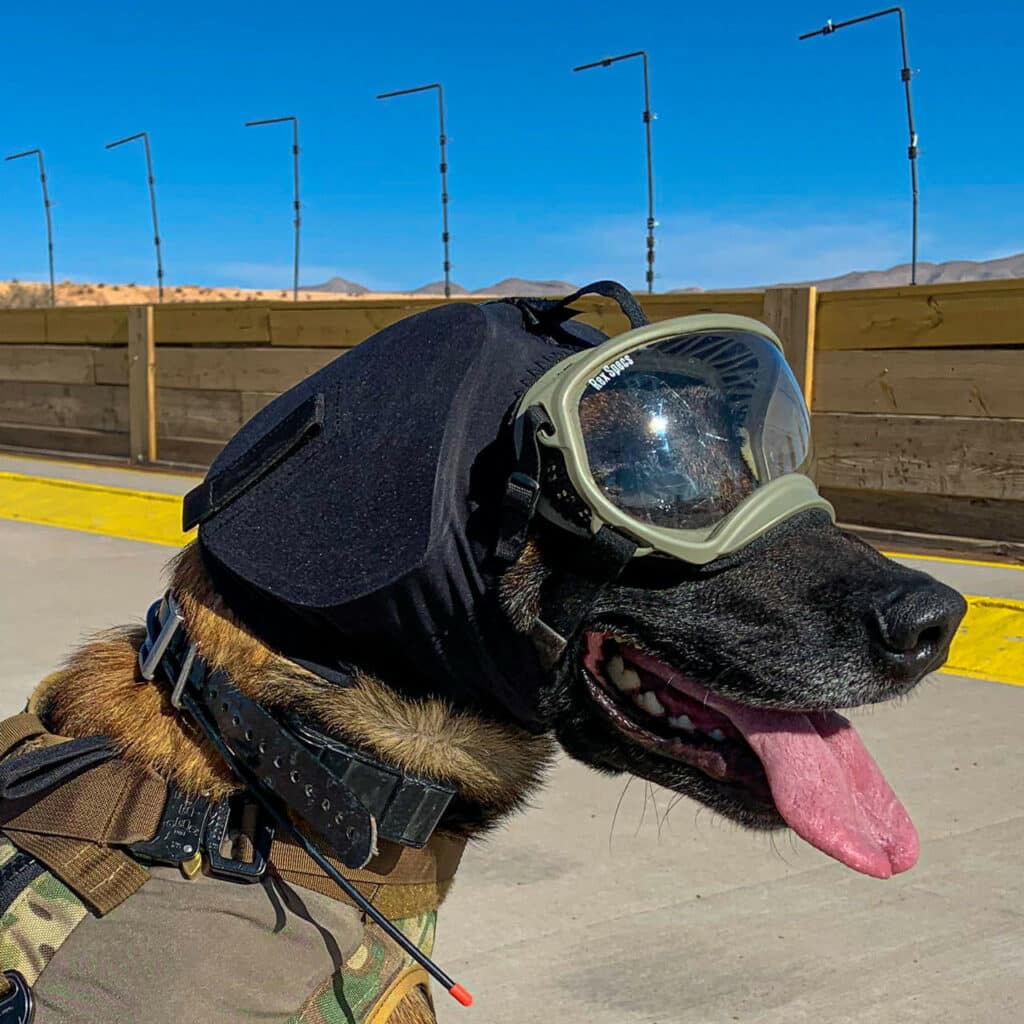 No matter what product you choose, paying attention to the sizing charts and measuring your dog's head exactly as directed is imperative.
Purchasing ear protection that's too big won't do your dog any good, and if it's too small, then you've just created an extra problem with comfort. To complete their tasks at their best ability, service dogs need to feel confident that their handler has their back or, in this case, their ears. So, strap on a muff and have fun with your fur baby on the dancefloor!
Now that you know what's available let us know how you're protecting your dog's ears on Twitter! In addition, your hearing is equally important. Check out some of our favorite products to keep your own ears in tip-top shape!