Enjoy an exclusive guest mix from HGods as we look back on his major summer gigs, chat about his personal catalog, and more!
---
If you're the type of music consumer who cares less about genre boundaries and more about creativity, then HGods is an artist you need to put on your radar! Brooklyn, New York, is the city that he calls home. He's been on the grind for six years after his debut house track "AWOL" shuffled its way through the speakers.
HGods' most recent offering emerges out of his dubstep personality. It's called "DEADFROMTHENECKUP," and it slaps the dancefloor to life with hardy high-end elements, slick percussion, and an absolutely silly vocal byte. It's a great representation of his recurring shift in style after the spring release of "HELL ON EARTH." Contrary to its name, it flung bass house lovers straight to heaven with its bangin' bassline and wubby melodics.
Inevitably, HGods' eclectic production prowess led him to the stages of noteworthy venues and festivals. Highlights include popular NYC hangs like Nebula and Somewhere Nowhere, as well as Blue Midtown for the official NY Fashion Week Opening After Party in 2022. He also played at Elements Music & Arts Festival 2023 and, most recently, The Brooklyn Mirage, where he played a double set for Dabin and Said the Sky's B2B project, Dab The Sky.
With HGods' momentum increasing at an impressive rate, we jumped at the chance to catch up with him. Press play on his exclusive guest mix below, and then read on for our chat surrounding his summer performances, his come-up in the scene, and more!
Stream EDMID Guest Mix 391 || HGods on SoundCloud:
---
Hi HGods. Thank you so much for taking the time to chat with us today. Let's kick things off with your performance on the mainstage of Elements Music & Arts Festival. Can you walk us through your experience? What was your biggest takeaway?
Hi Maria, thanks so much for taking the time to interview me! Elements Fest was a huge leap for me in my journey as an artist. It introduced so many new aspects to the industry that it was almost overwhelming. I definitely understand why artist managers are necessary now (laughs). Fortunately, I have friends who are experienced with these things and could provide some guidance.
I had never been to a festival before that point, so walking in and seeing this enormous stage was a bit emotional for me. Performing on a stage that size alongside artists that I've always looked up to, such as REZZ, Subtronics, Skrillex, Peekaboo, LSDREAM, and so many others, was an incredible feeling, reassuring me that what I'm doing with music is paying off and that I can have a bright future if I just continue to push. 
From Elements to The Brooklyn Mirage, this summer has placed you on some pretty epic stages. Can you open up about the journey that led you here? In essence, talk to us about some of the biggest goals you had to smash in order to make it to this point.
When I first moved from Virginia to Brooklyn two years ago, I had my sights set on both Mirage and Elements. It feels strange that I've accomplished my biggest goals so quickly. I almost don't know what to do with myself now! I believe I had to hone my sound, in both my original music and overall live set experience, into something truly unique in order to land more prominent gigs. Up until this point, I was playing different clubs around the city, which can be fun, but I don't feel like it was contributing towards my goal of playing more concert-style curated sets. I'm very grateful to have these shows under my belt in a market that's so incredibly competitive for artists.
Not only did you open The Brooklyn Mirage for Dabin and Said the Sky, but you were also granted the opportunity to close the night out as well. Can you give us the scoop on how that all played out? How did you make each set different from one another?
Just one week before the show, I was informed that I had the opportunity to perform as support at my dream venue. I don't think I've ever come as close to passing out from happiness as I did while trying to read that email (laughs). I was originally supposed to just open, which I had prepared to play a lot of my original music accompanied by other "dark clubbing" type tracks to set the tone.
The day of the show, I was informed that the set times were being adjusted and that I would need to close out as well, which is a much different vibe when you've got a warmed-up, full house! Fortunately, I was prepared for this because my Elements set was packed with all kinds of high-energy bass music, so I made some adjustments and curated something that was ideal to keep the party going. Ultimately, the night couldn't have gone more perfect (aside from my typical anxiety attack in the green room). I had friends from across the East Coast come out to see me, and I'm just so grateful I was able to give it my all and show everyone a great time!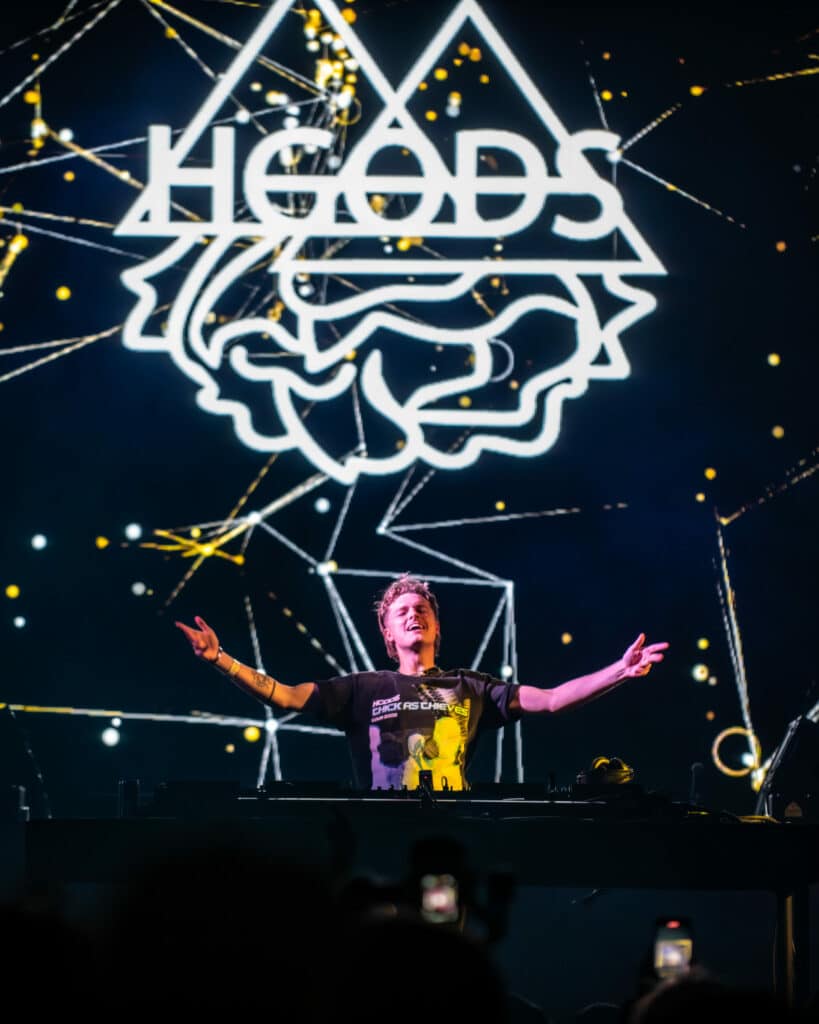 Let's switch gears and talk personal tracks. If you could pick three of your originals to give a new fan the perfect snapshot of who you are as a creative, which would you choose and why?
I think my sound is able to capture a diverse demographic of listeners in electronic music. I would probably select "Ruin (VIP)," "Garden of Glass," and "DEADFROMTHENECKUP." These cover some of the range of vibes that my music explores, from moody bass house to gritty and fun trap.
You just dropped "DEADFROMTHENECKUP." Can you talk to us about its production process?
"DEADFROMTHENECKUP" was a song that I made on a weekend trip to visit friends in D.C. I was feeling generally uninspired at the time and wasn't sure what direction I should take my project, so I decided to just try to have fun making a heater without the constraints of "does this make sense for me to release." 
Many of my songs will be built around a sound that I make by accident, and that's what happened for "DEADFROMTHENECKUP." I made the main bass sound in Serum, which gave me a little bass face, so I took some vocal chops from a scrapped project from years ago, laid some drums on it, and basically had the idea down. I told the friends that I was staying with to come check it out, and their reaction was what motivated me to flesh it out. Also, shout out to my friend Ariel for quickly sending me the voice memo that you hear at the beginning, no questions asked!
Looking through your discography, Lilith and Grace Venes-Escaffi are two vocalists who have popped up multiple times. Tell us about your history with them and why they work so well with your musical mission.
Grace and Liz (Lileth) are basically the reason I am where I am today! They're my friends from college who have incredible writing ability, melodic talent, and aptitude that blows me away, as well as very unique voices that really hook listeners. I feel that they're a huge component in setting my music apart from other songs in this space because they don't write to be placed over EDM, which tends to get a bad rap for having corny lyrics. I believe their tracks feel very intentional and meaningful because they're truly singing from the heart.
What has been the biggest challenge for you as a rising star in such a competitive scene, and how do you stay motivated?
There are so many things that I've experienced and learned that make me feel discouraged. But the main motivating force I have is to focus on what makes me enjoy creating in the first place, from being expressive and producing something I can be proud of to honing my skills as a DJ and curating sets and experiences that leave crowds electrified. There's no better feeling than those things which I am able to control.
What I'm not able to control, however, is where I get booked, how many streams I get on a song, how many tickets I sell to some club, etc. I feel that it's very easy to base your self-worth on these things because they are measurable, but the moment I'm not having fun I just have to take a step back and focus on the fact that I'm good at what I do, and as long as I pushing then I'll eventually reap what I sew.
Who are some of the artists you've looked up to for guidance, and what has been the best advice someone has ever given you?
I feel as though I take bits and pieces from so many artists that I've followed over the years. Skrillex is an example of someone that I can look to for proof that I don't need to stick to one genre to still have a distinct sound and be excellent at it. It just seems like he's doing whatever makes him happy nowadays, and that's what it should ultimately be about.
Many prominent artists and even athletes also talk about how the journey to the top is the best part of it all, so while there are many moments where I'm grinding to get to the next milestone, I try to make it a point to sit and recognize and appreciate where I am now. If 16-year-old me knew that when he was 27, he'd be living in Brooklyn DJing and producing anything he wanted, he'd feel on top of the world! 
Finally, what is one interesting or funny fact about you that fans would be surprised to hear about? And what comes next for HGods?
A few months ago, I made a reel showcasing my day in the life, which featured me consuming maybe five root beer floats all in one day. People will be surprised to know that this was a joke and that I actually eat maybe seven or eight root beer floats per day.
As far as what comes next, I'm planning to release some bass house and dubstep soon, which I'm really excited about. I also have a couple of performances in the works that I think will be a lot of fun, so stay tuned!
---
Follow HGods:
Website | Facebook | Twitter | Instagram | SoundCloud | YouTube | TikTok