Subtronics is set to take the US by storm in 2024 on the TESSERACT Tour, and he's bringing Wooli, HEDEX, and many more along for the ride.
---
Claiming that Subtronics has had an exceptional year would be a massive understatement/ His performances have filled large venues across the US, and he has been the main act at some of the most coveted dance music festivals, including Ultra Music Festival, Lollapalooza, EDC Las Vegas, Bonnaroo, and more recently, Lost Lands. The dubstep demigod shows no signs of slowing down in 2024 as he gears up for his most impressive tour to date – TESSERACT.
Geometric shapes and complex patterns have been at the forefront of Subtronic's inspiration, and TESSERACT is no different. The term tesseract describes a four-dimensional 16-cell cube, or hypercube, that Subtronics finds so remarkable that he has it inked on his forearm. One can only imagine the sheer magnitude of the stage design and visual elements that are set to accompany him on the decks next spring.
The TESSERACT Tour is set to be Subtronic's largest arena tour to date, bringing the show to 13 cities all over the US. The tour kicks off with a special, two-night premiere on February 16-17 in Minneapolis before making its way through cities like Madison, Independence, Chesterfield, Newport, Brooklyn, Boston, Pittsburg, Nashville, Atlanta, and more. And if you don't see your city there, have no fear because Subtronics teased more surprises are in store.
Subtronics won't be alone on the TESSERACT Tour, as he's bringing along a stacked lineup of talent, including special guest Wooli, plus support from HEDEX, Saka, Jon Casey, Distinct Motive, Automhate, SuperAve., and Skellytn. So make sure to arrive early to catch all the bass-fueled action at each style.
Tickets for Subtronic's TESSERACT Tour go on sale this Friday, September 29, at 10 AM local time via his official website, so mark your calendars because you won't want to miss this!
---
Subtronics' TESSERACT Tour 2024 – Dates & Venues: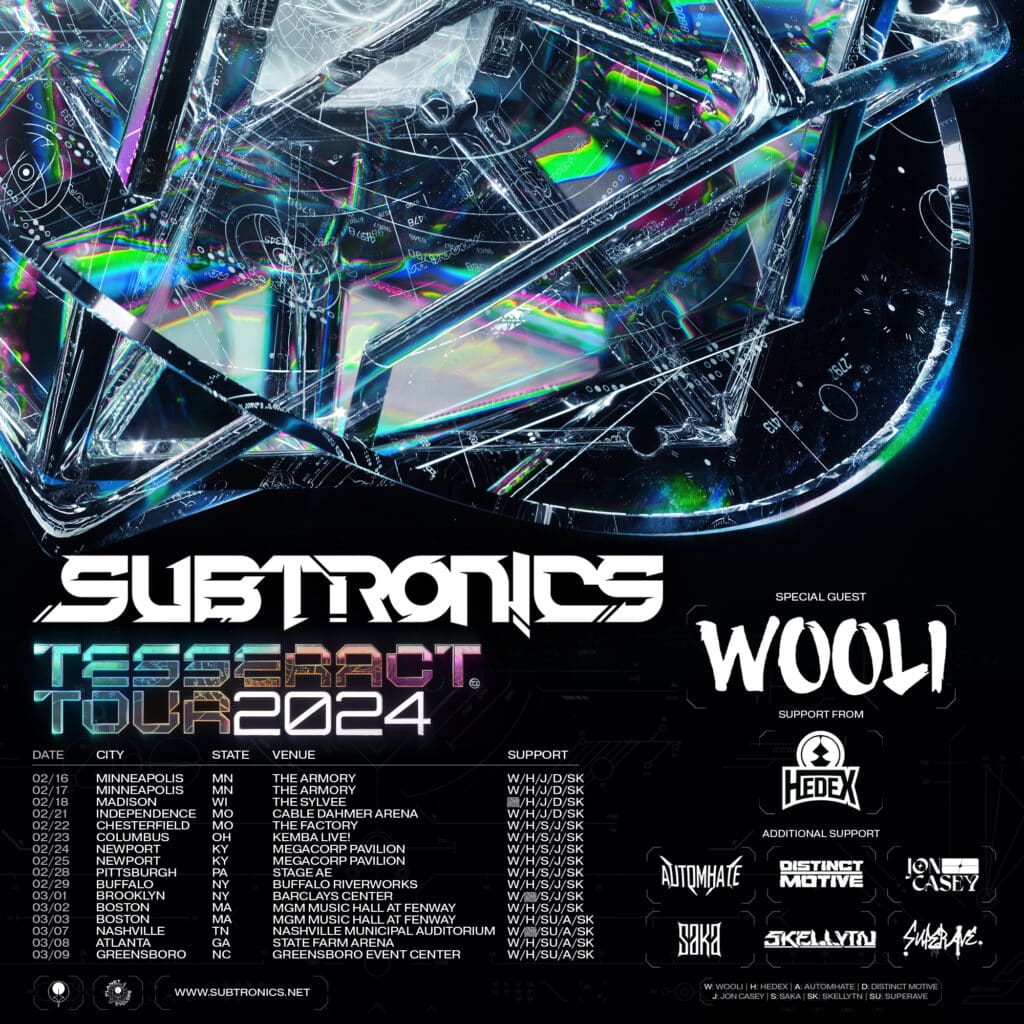 ---
Follow Subtronics:
Website | Facebook | Twitter | Instagram | SoundCloud | YouTube