1015 Folsom in San Francisco made a major tweak to their audio ahead of their anniversary party with Adriatique and Marino Canal.
---
There's nothing more important inside a music venue than the sound system. Far too often we step into the club and either the bass is drowning out the highs, the highs are slicing through the ears, or the speakers are so overused that the vibrations distort the audio. Or it may be a matter of placement, where only specific areas on the dancefloor deliver pristine sound while other pockets are left with a subpar experience.
But, when a club gets it right, there's no better feeling. San Francisco's famed 1015 Folsom is one of the leaders in sound quality, but there's always room for improvement and so they've just made a massive upgrade to bring their club into the future!
Approaching their 34-year celebration, 1015 Folsom partnered up with local audio-visual company JK Sound to install a d&b audiotechnik four-corner system that seamlessly blends in with the vibe of the club while dropping jaws with its perfectly balanced sound appeal. You have to be there to truly understand how awesome this upgrade is. So, come on over and step under the speakers on Sunday, October 15 for a double dose of melodic house and techno from Adriatique, who just wrapped up a massive European tour. Also serving up the beats will be Soundverse co-founder Marino Canal, an artist heavily supported by fabric London co-founder Keith Reilly, and a regular on Afterlife and MOOD Records.
With the talent booked and the anniversary upon us, 1015 Folsom looks back and smiles at all the blood, sweat, and tears they've poured into the venue. This current audio upgrade comes after an array of renovations to production and room design, which included relocating the bar to open up the dancefloor, installing glass walls around the VIP Terrace, and integrating a soundproof wall that can be raised whenever they need to separate the upstairs mezzanine from the KLUB room. After the facelift, fans are free to dance without a care in the world beneath a sea of moving lights, a stimulating LED wall, and a custom-mapped four-corner laser system. All that's missing is you!
Tickets for 1015 Folsom's 34-year anniversary on Sunday, October 15, are on sale. Grab them now before they sell out!
---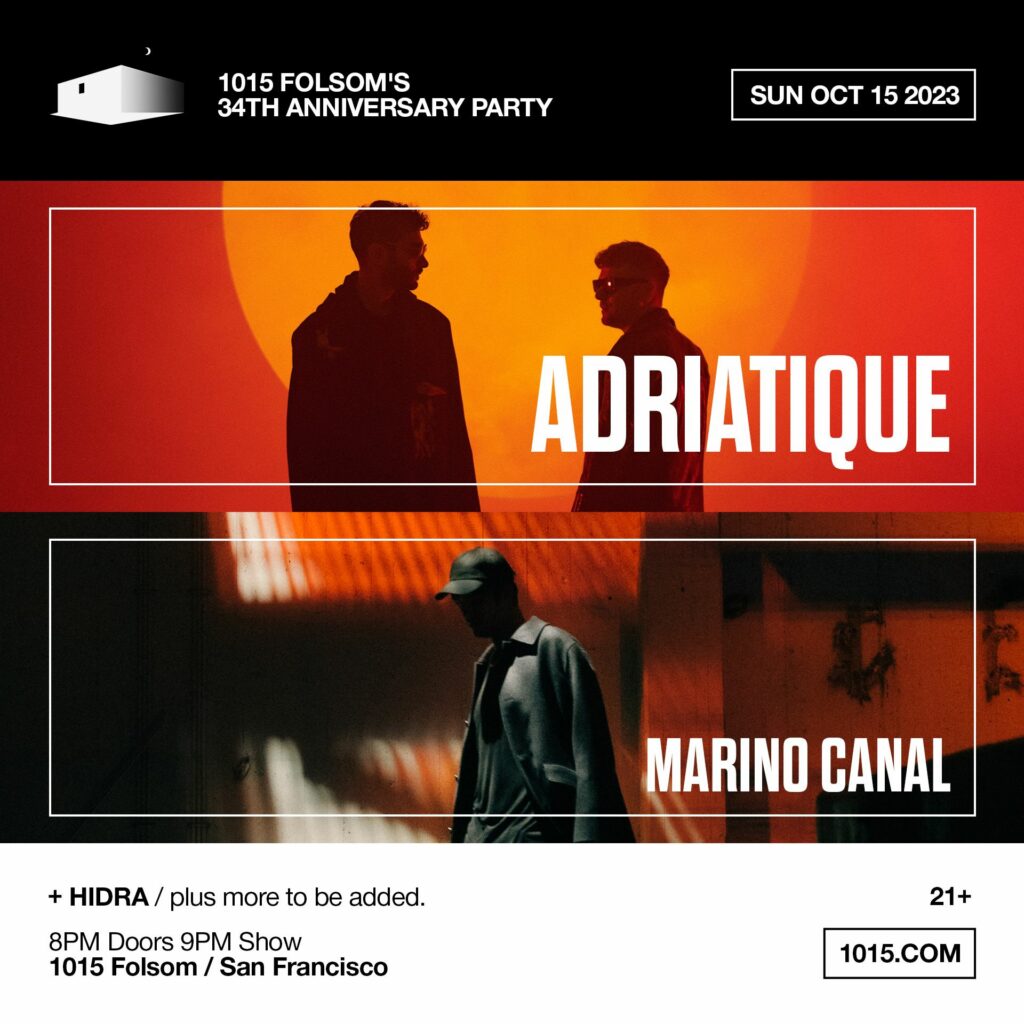 ---
Follow 1015 Folsom:
Website | Facebook | X (formerly Twitter) | Instagram
Follow Adriatique:
Facebook | X (formerly Twitter) | Instagram | SoundCloud
Follow Marino Canal: