Nocturnal Wonderland impressed once again with its dynamic lineup, electrifying stages, and magical vibes for all who attended.
---
As North America's longest-running festival, there's a lot to live up to for Insomniac's flagship, Nocturnal Wonderland, as attendees, new and old alike, return to this nocturnal playground for a weekend of escaping reality. No matter where you turn to at this event, you're bound to experience something extraordinary.
With improved stages, a fiery lineup, and new additions, this year proved to be an overall success among attendees. The festival touched down at Glen Helen Regional Park for its 28th edition on September 16-17, as fans enjoyed a trip through nature among the venue's rolling hills and scenic sunsets. For those who decided to take part in the event's renowned camping experience, extra delights were in store in this whimsical wonderland, with a plethora of activities and a silent disco to dance away any worries.
Returning for my fourth Nocturnal, I knew the typical layout of stages, the overall vibes, and what to expect, but I was pleasantly surprised by a few changes as well.
The design of the main stage, Wolves Den, was a treat this year, along with the Sunken Garden increasing in size, volume, and grandeur. Labryinth kicked it up a notch as well, bringing heavy hitters and a slew of lasers for bass enthusiasts, along with added food trucks to grub up between sets. Sound bleed seemed only to be an issue when standing at the very back of Wolves Den, as beats from Sunken Garden would carry over.
Insomniac also added two smaller stages to showcase primarily rising artists: one tucked away among a field of mushrooms called the Cave of Rave and the Camp OG Stage at the top of the hill near Labyrinth. Cave of Rave offered a euphoric trip through time as fans could browse previous lineups of the festival and old relics while looking at themselves on dated television screens. Camp OG seemed a bit out of place, but it also offered a chance to take a break after climbing the venue's infamous hill and listening to the sounds before trekking down to Labyrinth.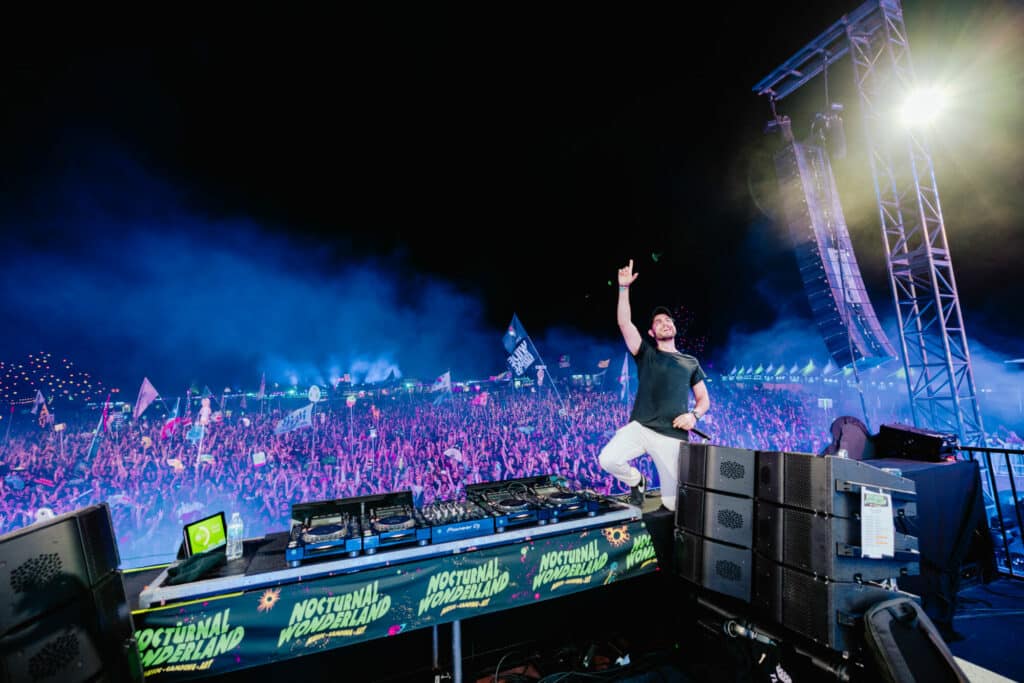 Artists on the lineup pulled out all the stops this year for Nocturnal Wonderland, brining their A-game to the festival.
Whether you were catching a unique back-to-back set from mainstays in the scene or exploring the tunes of up-and-comers, every artist brought something special to Nocturnal. GHOSTRYDR (JOYRYDE b2b GHASTLY) threw down an unbelievable dose of bass house for my first time catching this duo together live. NITTI b2b Marten Hørger was a standout performance full of infectious house and techno beats. I was shocked that this was their first time creating a set together; the crowd couldn't get enough of their chemistry!
Jason Ross was an ethereal delight, opening with a dreamy mashup of his single "Better Than Heaven" with SLANDER and JT Roach. AC Slater was next up to the decks and fell a bit short in my eyes; while his Night Bass tracks had the crowd shuffling along, I remembered seeing more memorable sets from him. I took a quick trip over to Sunken Garden to catch house-head Biscits for the first time and honestly enjoyed his performance more. Approaching the close of night one, I opted to end my evening basking in the sounds of Seven Lions before turning up the heat at Labyrinth for Black Tiger Sex Machine, who gave fans a solid serving of gargantuan bass and even some techno mixed in.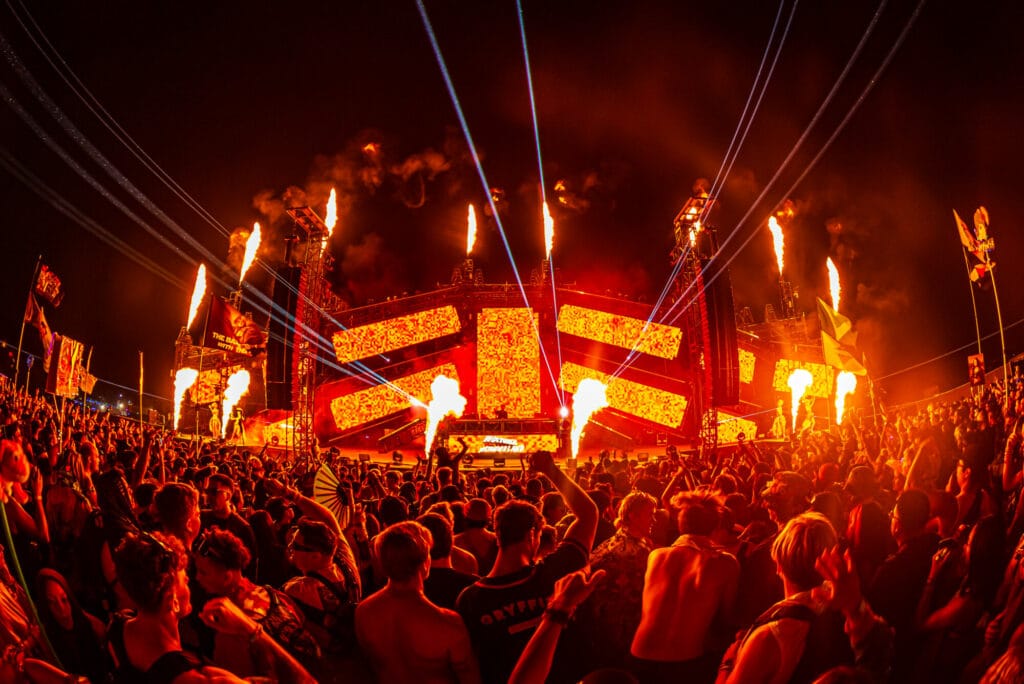 Bass reigned supreme for me on Sunday, as I spent most of my time at Labyrinth.
Artists like Champagne Drip, Bear Grillz, PhaseOne, and Eptic kept bass fans locked into the stage. While I'm not the basshead I used to be, it honestly was fun to let my inner headbanger out again for the night, showing my bass face to tracks like Excision and Space Laces' "Throwin' Elbows." Subtronics was my last stop on Sunday; while his grimy tracks captivated his massive fanbase in attendance, what stood out for me was him begging everyone to get home safe at the end and to call an Uber if needed. I can't recall any other closing artist in previous years putting this call out to the audience, and it's always much appreciated to hear an artist genuinely care for the crowd's well-being.
Traffic congestion and parking issues have plagued Nocturnal Wonderland for years, so the new addition of Premier Parking was a welcome surprise this year.
Getting caught up in the traffic going to and from the festival every year is a headache. Returning festivalgoers know you have to get there early to get the best free parking and leave early to avoid lengthy lines leaving the parking lots. Insomniac designated a Premier Parking lot this year, with two-day passes going for about $75, plus fees. I'm so glad I snagged one for my group. I knew we'd probably be running late each day, so we could pass all lines heading into the main parking lots and drive over to an exclusive lot located on the other side of Glen Helen. Shuttles carried fans to and from the festival grounds, offering a scenic route as well.
The only issue I encountered with Premier Parking was when exiting the festival. The line for the shuttles was pretty backed up and a bit disorganized on the first night, although Insomniac quickly improved the flow for day two. While the lines moved generally fast, I would suggest leaving early if you don't want to wait in this. Once my group arrived back at the lot from the shuttle, though, it was a seamless drive out, and we were on the road in no time. For that reason, I would suggest purchasing a Premier Parking pass to avoid having to deal with the main congestion leaving the free lots.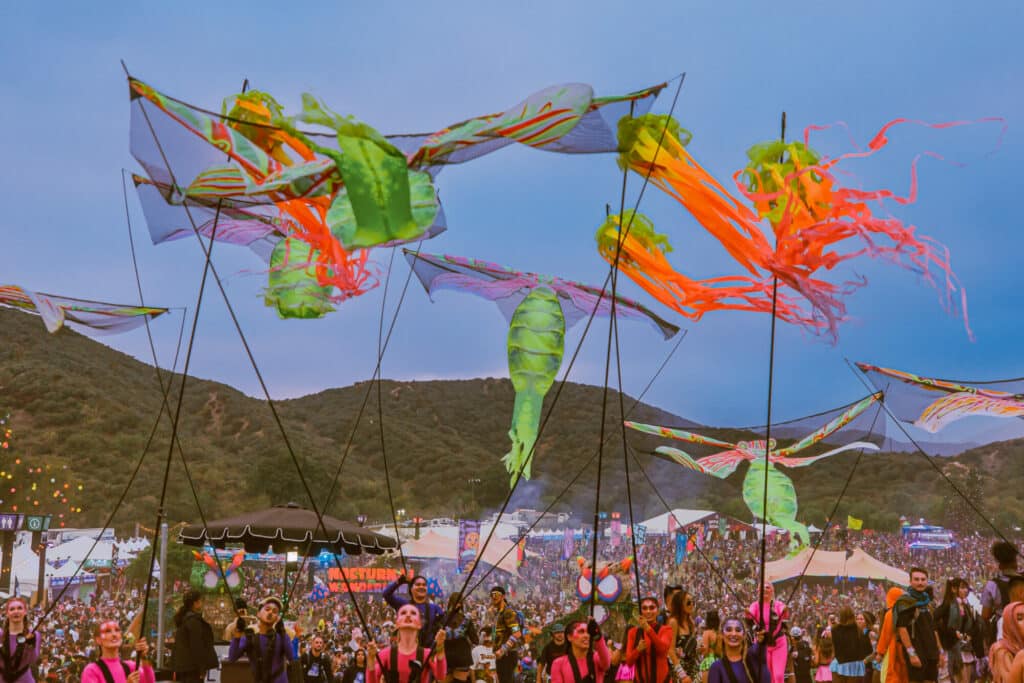 The festival was a general success, providing another magic-filled weekend for festivalgoers and longtime fans.
There's a reason people keep returning to Nocturnal each year, and even through any mishaps, it always ends up being a memorable weekend. Camping is a major draw to the event, with plenty of activities and after-hours sets to keep the party going. While camping does enhance the experience, you're bound to have a solid time whether or not you choose to camp. While I have never camped, I've had friends opt for this every year and have had nothing but positive experiences.
Nocturnal Wonderland's music, sights, and sounds came together for another breathtaking weekend in the books. I carry something new with me after every edition of the festival, and this year was no different. Images of sunsets atop Labyrinth, masked characters dancing around the grounds, and my friends having the time of their lives, lives rent-free in my head. I'm sure I will return to another Nocturnal, and I look forward to seeing how this long-running festival evolves for years to come.
---
Follow Nocturnal Wonderland: