Roosevelt reflects on his unique artistic journey and the beauty of unbridled creativity in making 'Embrace' as he tells us what good music means to him.
---
If you have ever found yourself grooving to the intoxicating blend of feeling triumphantly sad on the dancefloor yet enjoying that cathartic experience, you know the profound impact of dance music. It is in this realm that German DJ, songwriter, and multi-instrumentalist Roosevelt aka Marius Lauber excels. Hailing from a small town in Cologne, he has effortlessly cultivated a brand of bittersweet music. It incorporates intricate sound design and addictive disco basslines reminiscent of the early '80s retro wave in a way that makes you want to cry-dance your feelings away.
As he steadily reached new heights with every release, Roosevelt saw a generous boost in his popularity with his breakthrough EP Elliot in 2013. He followed it up with an outstanding debut self-titled album in 2016 and a slew of subsequent releases including the captivating effort Polydans in 2021. His passionate soul continues to move crowds with an onslaught of emotive and driving dance music that spans a range of Balearic textures and nostalgic house euphoria.
Now, he returns to Counter Records with his fourth studio album, Embrace. The record represents one of his most intimate projects yet, with all ten tracks written, produced, and edited entirely by the talented artist himself. Rather than enlisting numerous collaborators, he chose to adopt a more independent approach to his latest project. This shift towards greater autonomy is a bold statement that speaks to his genuine artistry.
"I'd say this record feels more intimate and more like myself than before," Roosevelt says. "I want to embrace that kind of approach where I do everything myself. That is what is unique about this record because every sound on this record comes from me, and I put so much heart into it than before."
"Good music is sentimental"
As he continues his reign as one of the artists best known for crafting sonic experiences that stir your soul, Roosevelt maintains that beneath the surface of even the most euphoric songs must lie a subtle tinge of melancholy. He emphasized, "Emotion in music is such a complex thing because a purely euphoric song is often not happy. It feels bland and empty to me. The kind of bittersweet feeling is something that I am always drawn to. If you take out the sentimental, melancholic side of the song, it is just nothing."
In his latest album, "Ordinary love" leads the charge as Roosevelt delivers a nonstop percussive pulse with synth patterns that radiate a bittersweet sensation. In addition to previously released singles such as "Rising," "Paralyzed," and "Luna," another standout track is "Realize." It sparks a refreshing soundscape infused with a rhythmic groove thanks to Roosevelt's menacing production. Finally, "Alive" rounds out the album with a reverberating beat offset by addictive melody to keep the listeners hooked.
This final track serves as a poignant reminder of how Roosevelt's signature sound is engulfed by the constant presence of emotion, harmonic tension, and warmth. He shared, "There is definitely a brighter sound in this record, more positivity in general. I tried to have no concepts and make the songs come naturally. It is funny because it is only in hindsight that you connect these things to where you were personally. In that moment, you don't really think about it, that's why I still like making albums because there is a good range of the feelings that I have during that period, specifically most of last year."
At its core, Embrace tells the story of metamorphosis and creative growth.
Roosevelt aimed to celebrate music as an avenue for exploration without limitations and guidelines. "I allowed myself more liberation," he says. "Rather than using images and metaphors, I wanted to be more personal."
In a creative industry that is so often driven by commercial pressures and chart-topping ambitions, It is refreshing to see a musician choose to swim against the current by following his heartfelt vision. He shared that the same free-flow inspiration is also how the title Embrace was born, saying, "I just wanted to embrace the kind of joy in the studio I felt and not purposefully think about it too much. Just let it flow because I realize that is how the best results come about."
Speaking about his favorite tracks, he cited "Lake Shaw" as a standout for the way his first-ever ballad was produced with such pure simplicity. "For a long time, I really thought that any Roosevelt song had to have drums, bass, and certain things, but this is a slow ballad where I really stripped away all the electric sounds that were normally used, and it is special," he said.
He also recalled taking on different roles as a musician while making other songs on the album. "Tracks like "Fall Right In" embody rock with many guitar layers. "Rising," meanwhile, could be called a tech house track.
"At those times, I put myself in different roles when making these songs," Roosevelt says. "When I did 'Rising,' for example, I felt like a producer myself, but when I made 'Fall Right In,' I thought of myself in a band with the use of all the different layers. That is where all the fun is for me, to almost have these different characters when I produce the record. In the end, I still want to make a record that stays true to my signature sound but that just hits like a wider experience and broader kind of soundscape."
Roosevelt is gearing up for his biggest North American tour to date this fall, where he headlines over 35 dates including stops in New York, Los Angeles, San Francisco, Denver, Chicago, Atlanta, Toronto, and others. He also strives to nurture other talents and tell stories that are close to his heart through his craft. "One of my goals is to take people on the road with me and release snippets of what I'm working on," he says. "I also want to make it more of an exchange between my fans and me, and update them on what is going on with my life."
Groove to the irresistible rhythm with sorrow and ecstasy in Roosevelt's newest album. Stream Embrace on your preferred music platform and don't miss out on catching one of Roosevelt's tour stops this fall!
---
Stream Roosevelt – Embrace on Spotify
Roosevelt – Embrace – Tracklist:
Ordinary Love
Rising
Luna
Yucca Mesa
Paralyzed
Lake Shore
Realize
Fall Right In
Forevermore
Alive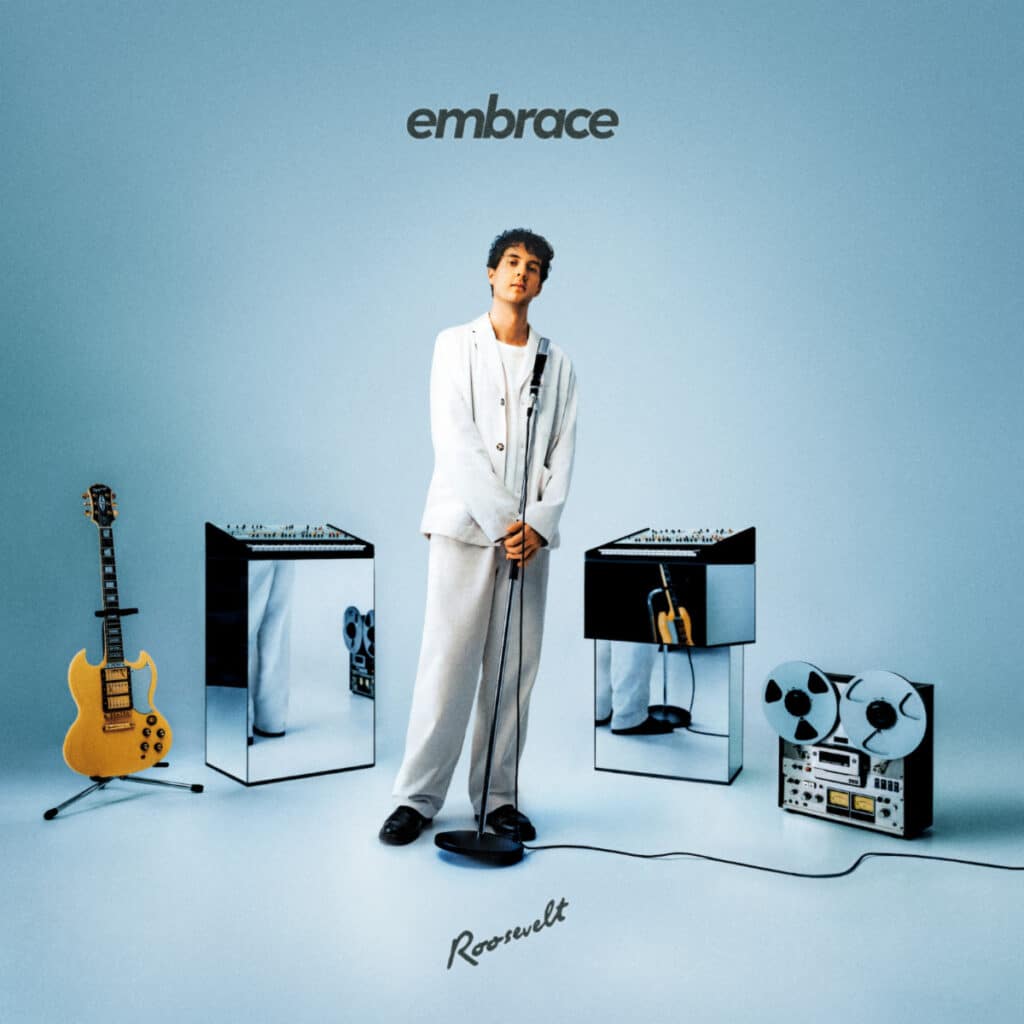 ---
Follow Roosevelt:
Website | Facebook | Twitter | Instagram | SoundCloud | YouTube