Get ready for a magical weekend in Las Vegas at Life is Beautiful with set times, the festival map, and other essential information!
---
Summer may be drawing to a close, but that doesn't mean festival season is just yet! This weekend, Life is Beautiful celebrates a decade of dominance in Downtown Las Vegas. From September 22-24, attendees can catch sets from artists across all genres, from The Killers, Kendrick Lamar, Mindchatter, and Khalid. Electronic music acts are coming in full force as well from huge names like Flume, Madeon, and ODESZA and house heavy hitters like Nala, Cloonee, and John Summit.
Life is Beautiful is also known for art and immersive experiences that make the festival a world of its own. We recommend exploring the ground between your scheduled sets to maximize your weekend. There are endless options, whether getting lost in Meow Wolf's Party in The SubOrbs, exploring other installations, or digging into a plate of delicious food.
To prepare for this weekend, we've made a one-stop guide with all the essential information you'll need, including set times, the festival map, and more. Weather forecasts are looking hot, with highs in the high-80s and low-90s. Lows each day are forecasted in the 60s, and with Vegas being the desert, things can cool off quite a bit at night. Make sure to pack layers just in case, and read below for a list of permitted items.
Life is Beautiful 2023 – Essential Info:
Dates: Friday, September 22 – Sunday, September 24
Hours: 3:30pm – 1:00am PT
Venue Address: Downtown Las Vegas Fremont & 7th Street
Tickets: Purchase HERE
Facebook Event Page: RSVP HERE
---
Life is Beautiful 2023 – Set Times: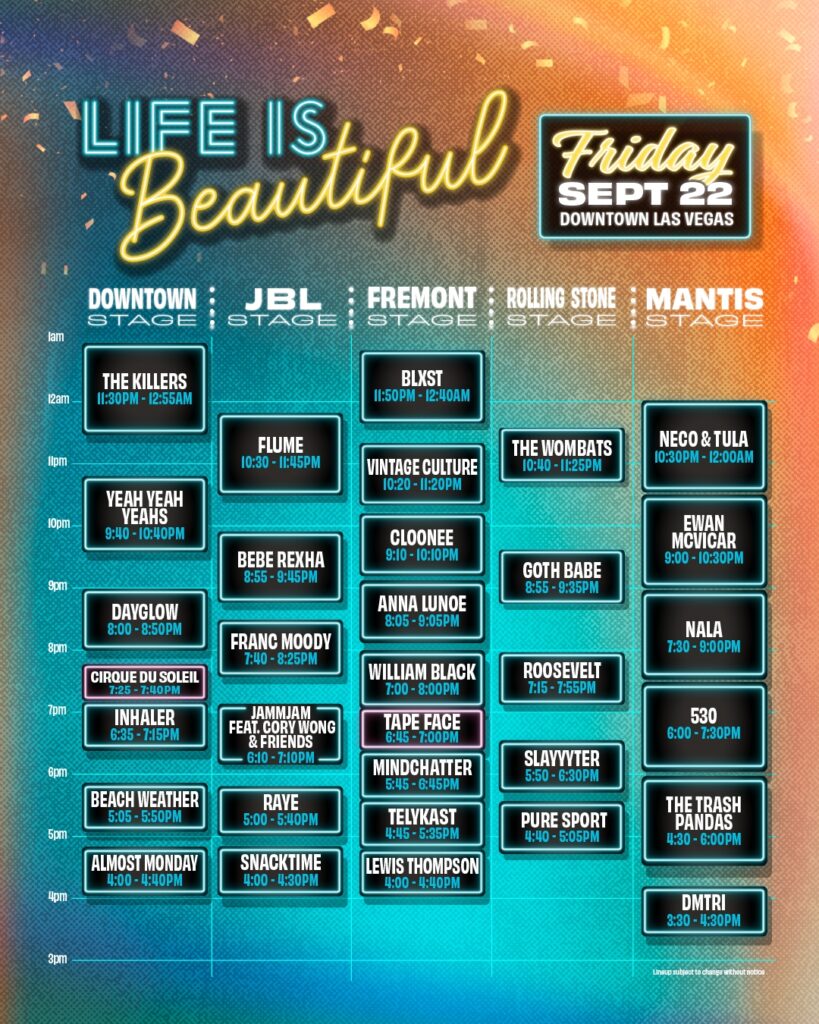 ---
Life is Beautiful 2023 – Festival and Parking Maps: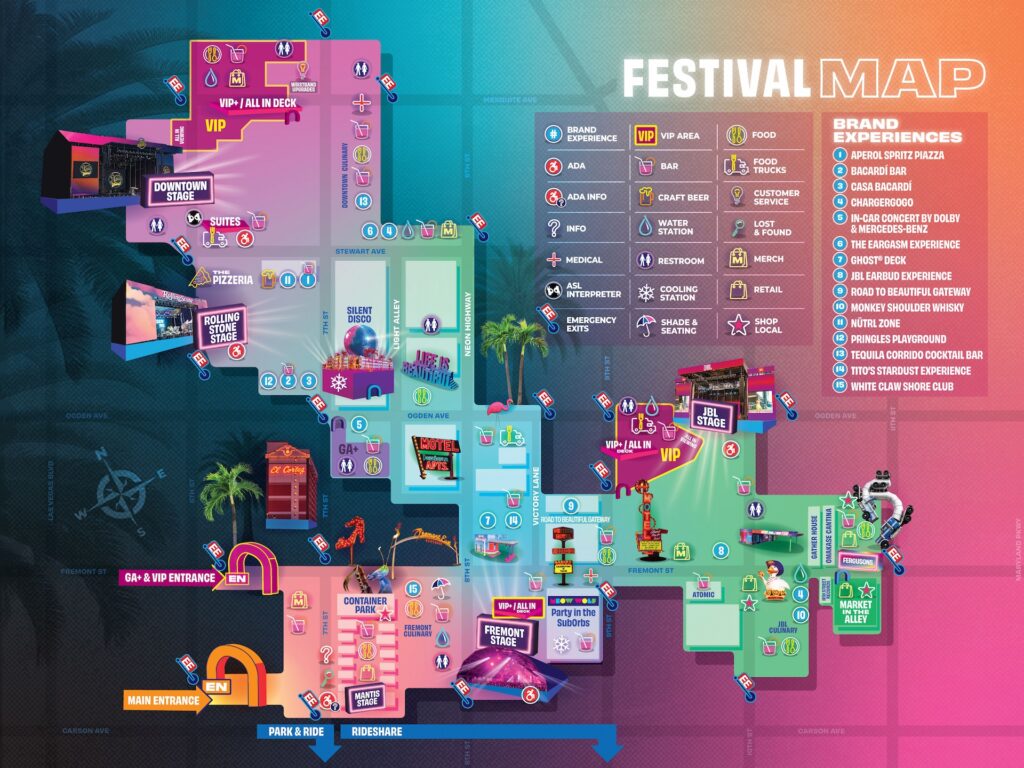 ---
Reminder To Mind Your Belongings:
Unfortunately, many people have reported pickpockets, bag slashings, and theft of wallets, smartphones, purses, and other valuables during this festival season. While this small number of bad apples in the bunch doesn't define an entire crowd, some opportunistic people come to these events to take advantage of unsuspecting partygoers, and it's important to be mindful of your valuables while at Life is Beautiful.
Looking for tips to keep your belongings safe? Check our post highlighting some ideas!
---
Life Is Beautiful 2023 – Do's & Don'ts:
Prohibited Items
NO Aerosol cans or sprays
NO Air horns
NO Balls or projectiles
NO Camera accessories- selfie sticks, tripods, monopods, GoPro mounts and attachments, detachable lenses, or other commercial equipment
NO Camera equipment with a detachable lens longer than 2 inches
NO Chairs or lawn furniture
NO Coolers
NO Costume face masks
NO Costumes that resemble public safety uniforms (fire, medical, police, SWAT, security)
NO Drones or remote flying device
NO Explosives
NO Fireworks or sparklers
NO Flags
NO Glass or cans of any kind
NO Hard plastic glow sticks
NO Hula-Hoops
NO Hydration packs with more than two pockets in addition to the one holding the water reservoir and a gear capacity larger than 2.5L/150 cubic inches
NO Illegal substances or paraphernalia
NO Inflatable toys or furniture
NO Laptop computers or tablets
NO Laser pointers
NO Liquids
NO Musical instruments
NO Outside food and beverage of any kind
NO Pets/animals
NO Picnic baskets
NO Professional video/audio recording equipment
NO Promotional items, samples, giveaways, flyers or stickers
NO Scooters, skateboards, hoverboards, bicycles
NO Shade structures of any kind (Canopies, tents, umbrellas, parasols)
NO Sharp objects, large chains, spiked jewelry
NO Strollers, carts or waggons
NO Totems
NO Unauthorized/unlicensed vending
NO Walkie-talkies
NO Water guns or water balloons, any other kind of water projectile
NO Weapons of ANY kind including pepper spray and pocket knives
Permitted Items
Backpacks and bags larger than 6" x 8" x 3" made of clear plastic, clear vinyl, or clear PVC
Bags and purses up to 6" x 8" x 3" (do not have to be clear)
Binoculars
Blankets
Chapstick
Dedicated hydration packs emptied of all liquid, with a gear capacity of no more than 2.5L/150 cubic inches
E-cigs, Vapes, Juuls, or any type of electronic cigarette (juices and refills must be sealed)
Gum
Hand sanitizer
Personal cameras (no detachable lens)
Portable phone chargers
Refillable water bottles
Sealed cigarettes
Sealed eye drops
Sealed lighters
Sealed over-the-counter medications
Sealed sunscreen lotion (non-aerosol)
Sealed tampons
More information can be found on Life is Beautiful's FAQ page.
---
Follow Life is Beautiful: