Camp EDC is the place to be for anyone who wants to add another layer of immersion into their experience at EDC Las Vegas.
---
Electric Daisy Carnival has grown to an enormous size over the past decade since the festival relocated to Sin City, but that hasn't stopped Pasquale Rotella and the Insomniac Events crew from continuing to enhance the experience. Not only has EDC Las Vegas stretched its grounds to the edges of the Las Vegas Motor Speedway, but the addition of Camp EDC in 2018 kicked the experience up another notch and allowed attendees to stay on-site.
Recent editions of Camp EDC have seen Insomniac continue to upgrade the available offerings for attendees who can stay in the Moon Glow or Desert Rose ShiftPods or bring their own RV for their home away from home. This year saw Insomniac welcome 20,000, and they're gearing up for another massive edition on May 17-20, 2024 that includes some upgrades as well. This includes enhanced shade features, a tram that consistently runs from parking to The Mesa, power enhancements that will separate RVs and ShiftPods, and more service team members to assist with issues on-site.
Related: Want a taste of what the Camp EDC experience is all about? Check out our review from this year's edition!
Familiar features will also return to Camp EDC this year, such as the Oasis pool deck, the shaded tents that host yoga, workshops, and glam stations, as well as the vendor village and a plethora of food and beverage options. Thursday will once again bring the Camp EDC Kick-Off Party, which has become legendary for providing top-tier sets to get the weekend off to a great start, and there will be daily pool parties and after-parties as well.
If you're considering Camp EDC this year, then there are some important details you need to know. Moon Glow, which accommodates up to four people, is priced at $1,449 for pay in full, with a layaway option for a $50 deposit down. The Desert Rose premier camping, which has bedding, an air mattress, and a vehicle pass included, ups the ante to $1,699, with layaway plans starting at $60 down. The RV Passes start at $599 and have a layaway plan for $30 deposit down, but don't forget that if you're planning to purchase power, you must do so separately.
As for the on-sale dates, Camp EDC 2023 headliners who have purchased EDC Las Vegas 2024 festival tickets will receive first access to the loyalty pre-sale, which kicks off on Thursday, September 21 at 10am PT. Those who purchased a ticket to the upcoming edition of EDCLV and did not camp last year will be eligible for the pre-sale on Friday, September 22 at 10am PT.
Head over to the official Camp EDC website for more details and to make your purchase. See you on The Mesa next year!
---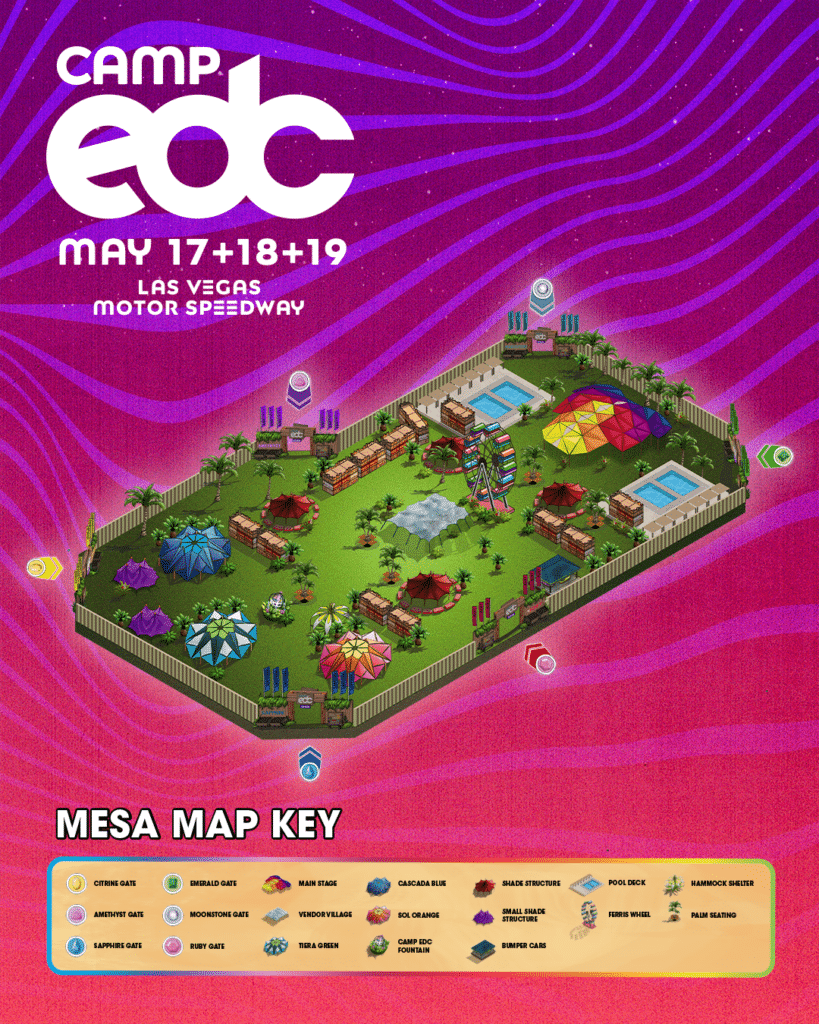 ---
Follow EDC Las Vegas: