KOAN Sound takes storytelling to a new level with Led By Ancient Light, accompanied by a stunning graphic novella and documentary.
---
Known for being pioneers in the electronic soundscape, Will Weeks and Jim Bastow have developed their unique identity, exploring different sub-genres while remaining steadfast in their distinct sound under the KOAN Sound moniker. The duo has continuously taken the sonic realm by storm with their forward-thinking approach and genre-defying production, and they are making a triumphant comeback since their short hiatus after the release of their Chronos EP two years ago.
KOAN Sound's strong instrumental background is intricately woven into their work, making the duo stand tall. The dynamic interplay between the acoustic instruments and dubby, experimental synth waves have been the staple of their work, and their newest album, Led By Ancient Light, showcases that more profoundly than ever.
The album, conceived in collaboration with acclaimed audio engineer Jim Barr and recorded at the iconic Studio Bell, is their most experimental work yet. Accompanied by a novella and a documentary, Led By Ancient Light completely envelopes the listener into a story etched within each song, elevating conventional albums into an immersive, interactive experience.
Led By Ancient Light is a tale of the 'Ador,' ancient beings of planet X7-U who carry the wisdom of a thousand suns. With each song, a chapter in the story unfolds, and the sweeping melodies make you feel like you're in it. Each chapter is so beautifully written it left me speechless, and the album in its entirety had such a cinematic, euphoric energy that coupled with it effortlessly. I won't spoil the story, but will highlight some of my favorite tracks on the album.
KOAN Sound's voyage began with the release of "Ascension," which feels powerful with haunting strings over pulsing drum and bass that sends shivers up your spine. Its glitchy, distorted bass feels futuristic, like stepping into a fantasy world. "Liquid Levity" was the second single to be released, and it packs a similar punch but with more peaceful tranquility. Unlike "Ascension," the piano takes center stage, providing a jazz-like atmosphere perfect for a trippy dive bar in space.
"Embers From Chaos" breaks the story wide open in chapter one of Led By Ancient Light. This introduction feels so otherwordly and celestial that it provides a perfect element to bring the science-fiction fantasy to life. Piano and cello echo over hair-raising textured synths with an energy that says adventure is imminent. In contrast, the final track, "Solace of the Red Giant," feels like the closing of a chapter. It feels serene and slow, like watching the sun rise after a long battle.
"Voices of Dissent," however, feels like stepping into battle. Disorienting, gritty, and daring with frenetic cello playing that leads into a busy, chaotic drop. "Fragments" feels like the aftermath. It sounds like a broken radio is begging to be heard after a fiery crash, with the same haunting cello accompaniment heard throughout. Each song feels so intentional that even without the novella, it could be interpreted differently, making Led By Ancient Light an auditory, cinematic masterpiece.
Dive into the immersive soundscapes of Led By Ancient Light on your preferred platform, and don't forget to read along to experience the full, all-encompassing magic of this mind-bending LP. Simply can't get enough of KOAN Sound? Tickets are available for their upcoming tour!
Stream KOAN Sound – Led By Ancient Light on Spotify:
---
KOAN Sound – Led By Ancient Light – Tracklist:
Embers From Chaos
Anchorite
Ascension
Voices of Dissent
Fragments
Liquid Levity
Interrogate
Kindred Void
Temple of Fervor
Exigence
Led by Ancient Light
Embrace
Solace of the Red Giant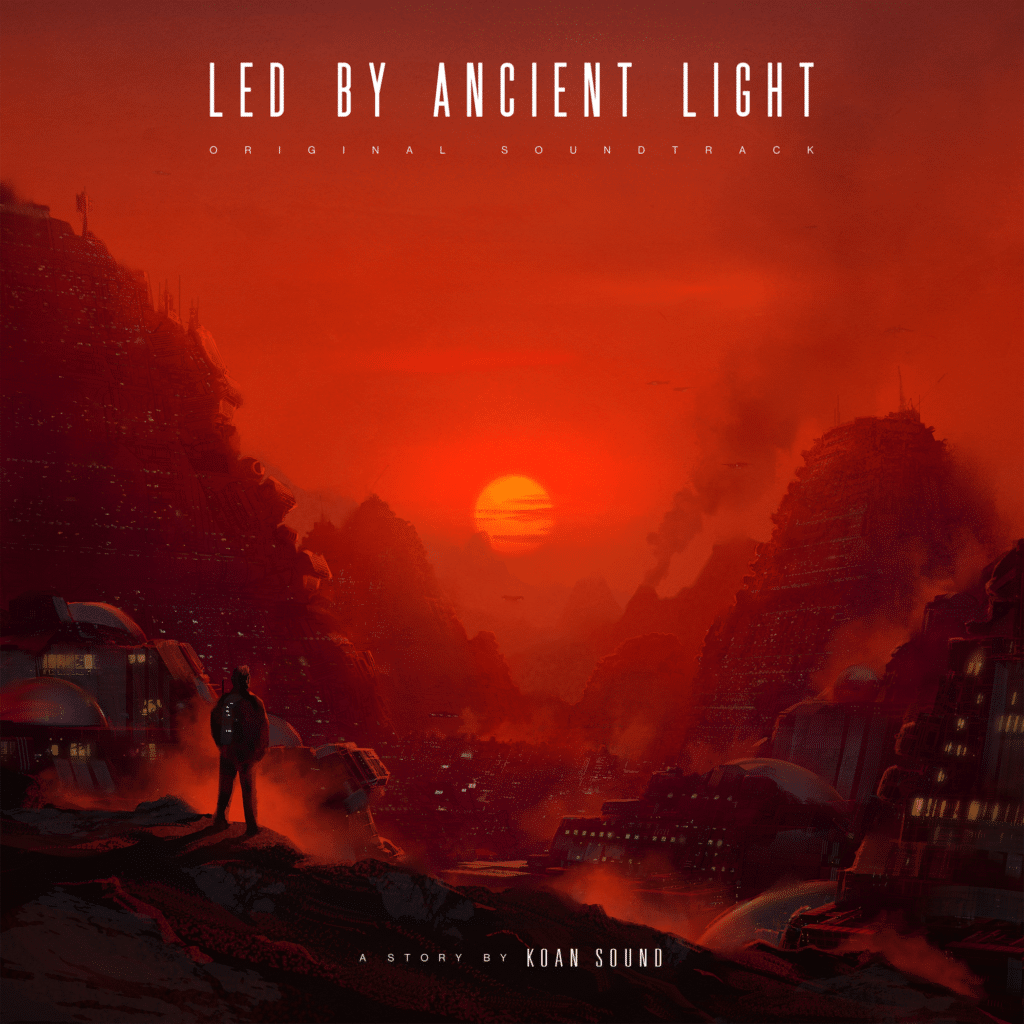 ---
Follow KOAN Sound:
Website | Facebook | Twitter | Instagram | SoundCloud | YouTube