Rising house duo No Thanks stopped by to give us the scoop on their latest single, breaking norms in the scene, Polite House, and more!
---
Vancouver-based duo No Thanks has carved out a distinct space for themselves within the house scene, and it's all rooted in their desire to subvert conventions and expectations. The Canadian producers will be the first ones to tell you that when it comes to setting yourself apart as an artist in the music industry, you've got to cultivate a sound that is representative of who you are, not who others want you to be. As a result of the work they've put into creating their unique persona, the two have reaped a meteoric rise to the top in only the past few years.
To understand what the No Thanks sound is all about, you first have to get familiar with the trademark genre that they've coined Polite House. Characterized by a crossover of house genres mixed with a whole lot of energy, Polite House is emblematic of everything the pair stands for – innovation, individuality, and insanely good beats. From the knocking basslines and cheeky vocals of "Bongo" to the bouncy beats heard on "Bring It Back," No Thanks have become experts in their own right when it comes to formulating irresistible tunes, and their ingenuity has captured the attention of labels including House Call, IN / ROTATION, and Space Yacht.
Ever keen on delivering fresh and fun tracks to get your feet dancing to, No Thanks recently dropped off their latest tune with San Pacho, "Freak." It's packed with enough heat to keep your motors running as the weather cools off, and by its end, you'll be begging for more dance-inducing grooves from No Thanks. Lucky for listeners, they dropped their latest single along with tons of other heaters into an exclusive guest mix for us. Even better, they gave us some insight into the making of "Freak," their origin story as a duo, their current tour, and so much more, so read on for the full conversation!
Stream EDMID Guest Mix 387 || No Thanks on SoundCloud:
---
Hey No Thanks, thank you so much for chatting with us today! To start things off, tell us about how you guys got to where you are today. When did you two meet, and how did the idea to start making music together come to fruition?
Hi there! Thanks for having us! Our names are Giuliano and Dejan, and we are both currently living in Vancouver, Canada, but Dejan is originally from Edmonton, Alberta.
Surprisingly enough, we met on Twitter! In Canada, the EDM scene is much smaller and connected, so we already knew of each other's separate projects prior to No Thanks. One day, I received a DM on Twitter from Dejan asking for me to fly out to go to one of his shows in Edmonton, Alberta (this was prior to him moving to Vancouver), and for whatever reason, I agreed, hopped on a plane, and we met!
We pretty much hit it off, and we began discussing our issues with our current projects and how we both wanted to switch up our sounds, not thinking much of it. However, about two weeks later, when I was back at home, I got a call from Dejan, basically just saying, "Hey, want to start a duo called No Thanks?" I said yes, and the rest was history.
No Thanks has been dropping banger after banger over the past few years, with your most recent being "Freak" with San Pacho. What did the process of making this track look like?
The process of making "Freak" with San Pacho was honestly smooth and easy. We came up with the original idea for Freak at our studio in Vancouver. A few weeks later, we happened to be in Los Angeles at the same time as San Pacho. He offered to bring us along to Beyond Wonderland SoCal with him, and we offered to drive. We were showing each other new music on the ride over, and as soon as San Pacho heard "Freak," he said, "Send me the stems for this one ASAP." He knew exactly what he had to do to spice up the record, and the first idea he sent back to us was perfect. That's the version of "Freak" you know today! Fun fact: Giuliano literally cried when he heard the copy that San Pacho sent back; the photo exists in our group chat. [Laughs]
You've coined your own genre of music that you call "Polite House." How would you describe this genre to someone who is not familiar with your music?
We always get the question, "What style is your music" and we've always given the answer, "It's not quite Tech House, and it's not quite Bass House," but truly we were never satisfied with that answer. We knew we had something unique and that it should have its own name. After debating for a while with our manager, we came to the decision of Polite House! It's the genre that you'll never say No Thanks to and always Yes, Please!
Would you ever consider going a step further with the Polite House sound and starting a record label that encapsulates and expands on that concept?
Starting a record label has always been a dream of ours, and it's something we definitely plan on doing in the future. For the time being, we're really focused on our own productions and shows and delivering a really exciting and unique musical experience to our fans before we focus on cultivating a record label.
As a duo, you place emphasis on not fitting molds or following conventional norms for what you "should" sound like. Do you think that this approach has helped or hindered you on your artistic journey, and should more artists follow suit?
It has 100% helped us in so many ways! Many people have heard our unreleased music and said, "Oh, that's No Thanks!" or "This sounds like No Thanks!" and to us, that is extremely important and also flattering. Having a sound that can help you stand out in this very saturated industry is what is going to help you become unique and yourself. Art should always be an expression of YOU, and I think if you are making music that anyone could make, it leaves your identity behind.
So much of our music we were afraid to release because we thought, "This is too weird" or something along those lines. Those tracks ended up becoming some of our biggest tracks, and I think that's what solidified the No Thanks 'Polite House' sound – not being afraid to step outside of the box, rebel against the genre norms, and break the rules of house music!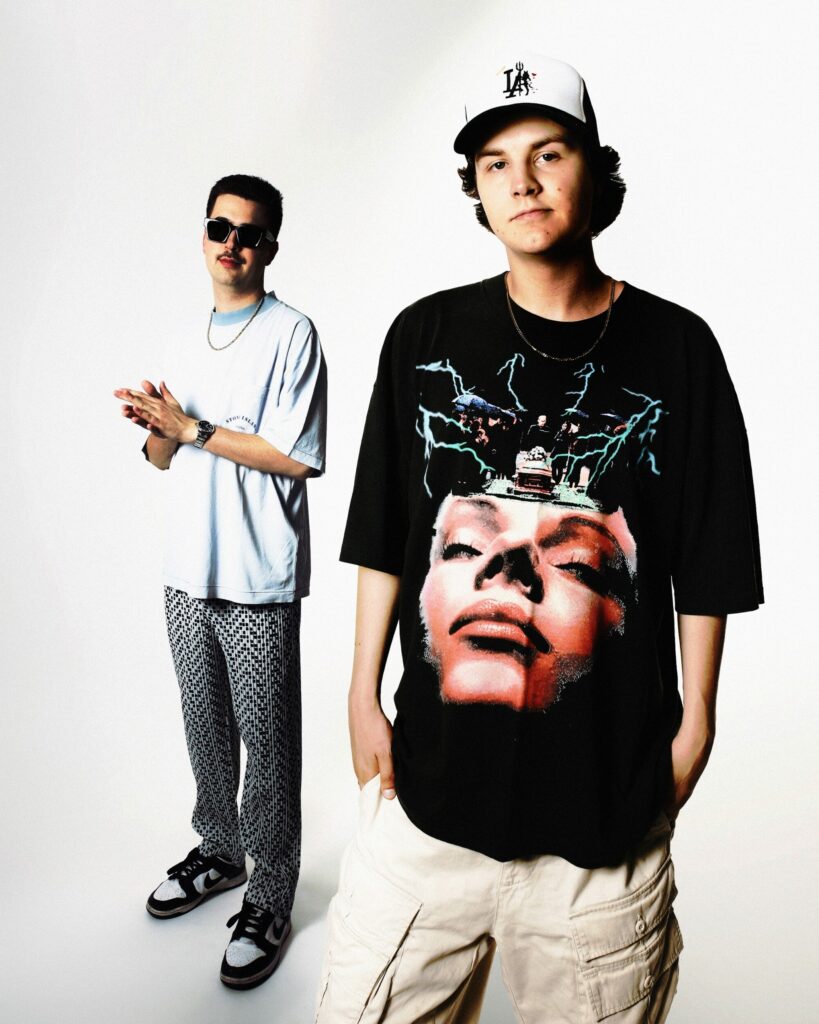 You guys recently embarked on your Polite House Tour – congratulations! What can attendees expect from a live No Thanks set on this tour?
People who will see us on the Polite House Tour can expect a really high-energy, unique set with lots of brand-new music and sounds they have never heard before. We tend to play unreleased songs as a majority of our set, so watch out for breakdowns and sing-alongs you're familiar with but to be caught by surprise with all new drops you've never heard before. 
What are each of you most thankful for in your careers thus far?
Without a doubt, the relationships we have made along the way. Touring has allowed us to build friendships all across the United States and Canada and help us feel at home while we are on the other side of the country. Not only that, but the friendships we have built with artists we only used to dream of meeting have been extremely rewarding and eye-opening. We have gotten so much insight into the industry by connecting with other artists and received so much love and help from them as well!
Finally, can you let us know a little bit about what you've got in store for the remainder of 2023 and beyond?
We have a couple of more releases that we're squeezing in before the rest of the year and some more shows to announce to close out the year after the Polite House Tour is over. For 2024, we're really looking to continue to push our sound forward and release some big collabs we have been working on with artists we've always looked up to. We plan on keeping our heads down and working hard to hopefully make some more summer festival appearances as well, there are a lot of festivals we would love to cross off our bucket list!
---
Follow No Thanks:
Facebook | Twitter | Instagram | SoundCloud | YouTube