Task Horizon threatens technological violence to those questioning their drum and bass sound on Overcharged / Wire Head.
---
Hailing from Switzerland, Task Horizon incorporates menacing moods and unrelenting, tech-infused arrangements to craft their diabolical drum and bass dexterity. Having made a mark in Zurich with their illustrious live shows, the four-member group is now making waves across the globe as their production continues to crystallize. As evident in their recent run of spicy singles—from the bombastic collusion with Killa P, "Like This," to the enrapturing "Synesthesia" alongside vocalist Julie Marks—Task Horizon is showing no signs of slowing down, even after nearly 20 years of releasing music on heavy-hitting labels like EATBRAIN and RAM Records.
In their latest drum and bass decree, Overcharged / Wire Head, the authoritative group warns the worldwide scene that they are deadly serious about taking over. Released on their Evolution Chamber imprint, these impactful tracks showcase the utterly unwell state of affairs that Task Horizon has become adept at channeling and expressing in sonically stunning ways. Encapsulating their signature swagger with ferocious fidelity, "Overcharged" establishes a sinister mindset that "Wire Head" subsequently splits open with blunt force.
To see what spills out, keep reading for our in-depth review of both songs… or skip straight to smashing play on Spotify or your preferred platform.
Stream Task Horizon – Overcharged / Wire Head on Spotify:
---
Task Horizon's double A-sided single is sharp and precise, striking at the core of our fears surrounding unbridled scientific advancement.
By incorporating harsh, industrial textures atop brisk, polished drum passages, Overcharged / Wire Head transmits the dark undertones of unknown technologies and the cold, unfeeling resonance we share with current technologies. Thematically, this unfolds through viscous sound design, minimalist arrangements, maximal energy, and a tactful injection of vocal samples. With a less-is-more approach, Task Horizon allows their crystal clear message and grim aesthetic to dominate the airwaves of the dystopian domain they awaken.
Kicking down the door, "Overcharged" ushers you into a distant future powered by novel technologies and ruled by unimaginable weapons. As the track boots up, one of these otherworldly devices drains its fuel reservoir in a foreboding launch sequence. We know the machine is fully operational when Task Horizon drops their slick groove, but syncopated stabs and an unruly atmosphere hint that a runaway feedback loop has been engaged. Tension builds mercilessly, punctuated by the catchy clamoring of a gadget about to explode. Miraculously, these dastardly one-shot hooks harmonize with the underlying emotion of impending doom, bringing the mechanistic marvel of "Overcharged" to life.
Having set the tone, Task Horizon then turns their heads toward a more explicit rallying cry. "Wire Head" brings the pent-up rage of a track like Public Enemy's "Channel Zero," with its television static sound design and hostile vocal samples. The track's abrasive black and white timbres further contribute to the experience of staring into the void of a TV set broadcasting a signal broken by years of propaganda. Luckily, Task Horizon sees beyond this programming and delivers brutal honesty through menacing drum and bass verging on violence.
Overcharged / Wire Head extrudes the exact mood it aims for from beginning to end. As Task Horizon pushes the edge of their capabilities, the result is a brooding exploration of the fast-approaching horizons of society and progress. Fittingly, this latest release dwells on the apprehension and darkness that defines humankind's relationship with the very technology that allows Task Horizon to create music in the first place. Now that the shadow self of this supercharged group has seen the light, we are left to ponder "What lies next?"
---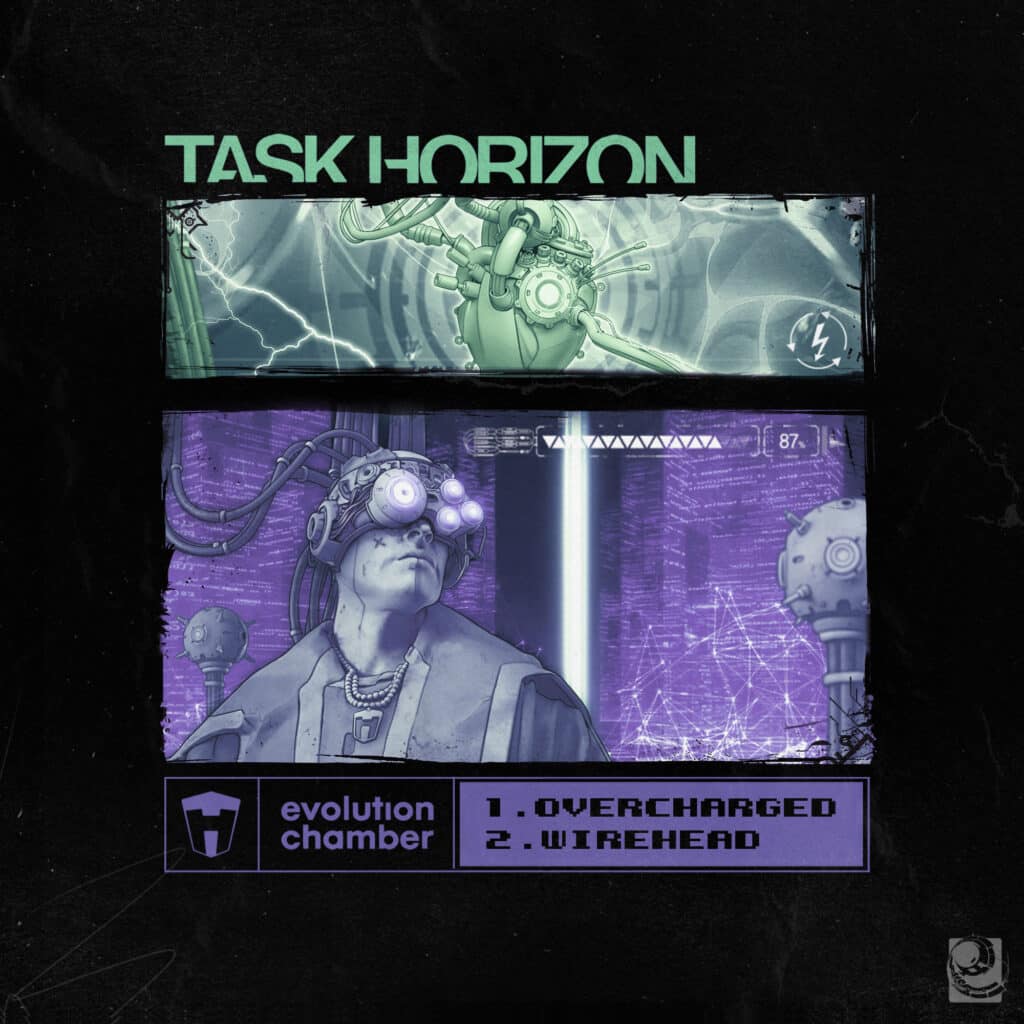 ---
Follow Task Horizon:
Facebook | Twitter | Instagram | SoundCloud