Together As One sheds light on the human experience, and ARMNHMR gave us an inside look at their most authentic body of work to date.
---
Music is one of the most powerful things to exist on the planet. Its compelling nature can make you cry, make you happy, and make you feel inspired. Above all things, it has the power to connect people from all walks of life, to set aside their differences, and come Together As One in celebration of the music they love. And that is exactly what Joseph Chung and Joseph Abella of ARMNHMR have achieved with their sophomore album that's out now on Monstercat.
Ever since ARMNHMR joined forces in 2015, the LA-based duo has captivated listeners worldwide with their unparalleled, euphoric sound. They've solidified themselves as a backbone within melodic dance music, but over the years, their sound has evolved through experimenting with different soundscapes.
"When we first started, I think we were more focused on trying to find our sound and make a name for ourselves," said Joe Abella. "You spend the first couple years of your career trying to make a name for yourself, but we've been doing it for ten years, so we know what is us now." Their objective for the next chapter of their musical novel was to write songs that stood true to them.
Together As One takes you on a sonic journey through the entirety of the emotional spectrum, touching upon themes of love, loss, and growth, among others. The 10-track LP explores the depths of the human experience, finding solace within the hardships we face every day. Brimming with originality, the album features a refreshing blend of acoustic instruments played by the power duo themselves.
It would be near impossible for Together As One to attain the same level of authenticity if it weren't for the myriad of vocalists featured on the album.
There isn't a single instrumental track on the album; each song includes a distinct vocalist. The opening track, "Someone To Forget," features luminary artist Lights and gives listeners a sample of ARMNHMR's signature sound. The lyrics illustrate the poignant reality of experiencing a heartbreak or loss of love. Lights' words help paint the story of the song's meaning, and so do the words on all of the album's tracks. ARMNHMR believes, "Words have a lot more weight when you attach them."
By working with an array of vocalists who all brought something unique to the table, ARMNHMR embraced the artists' varying techniques and constructive input throughout the organic production process. The lyrics from the likes of Lights, Trella, Heleen, Britt Lari, HALIENE, Dia Frampton, DYSON, and platinum-accredited artist Lena Leon all play a role in conveying the album's story.
Joe Abella tells us, "I really believe in collaboration. Everyone sees art in their specific lens and perspective, so I love when I'm working with a singer, even for the instrumental, they would give their own input as we're writing." He added, "Like Lights, she would help write along with me, and it was like, "Oh wow, I didn't even think about that" because I'm so used to how I see art."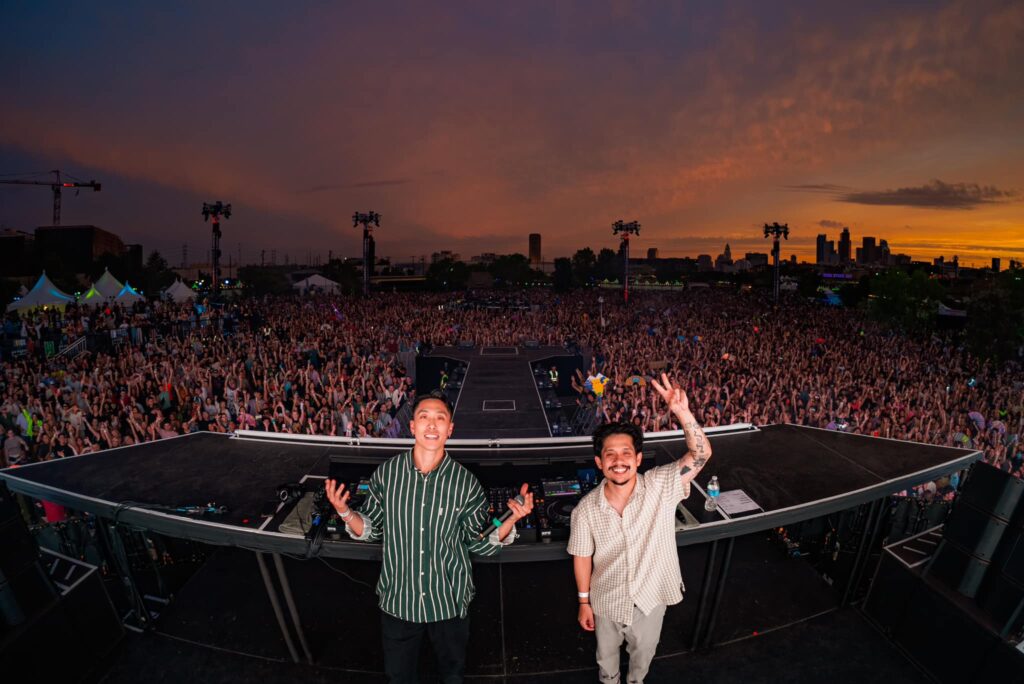 Together As One offers a side of ARMNHMR that we haven't heard much of before.
The next track on the album, "Imaginary Friend," which is one of my personal favorites, as well as "September Nights," showcases their progressive house sound. Their collaboration with HALIENE, "U & Me," and the album's closer, "Til The Day I Die," featuring DYSON, are more within the melodic and deep house realm.
ARMNHMR revealed the album has been in the writing process since COVID, proving you can't rush perfection. They treated this process differently than they have in their past work. "It took so long because we let everything organically play out and not try to rush it. It's done when we feel like it's done instead of trying to hit deadlines," said Joe Abella. And clearly, their diligence paid off.
Be sure to have a box of tissues ready when you listen to the album, as ARMNHMR takes you on a roller coaster of emotions. With one goal in mind for their listeners, they shared, "We just want them to feel a sense of validation for their feelings."
Just as electronic dance music brought them together in the first place, ARMNHMR hopes their album can have the same impact on the world. Give Together As One a listen on your preferred platform.
---
Follow ARMNHMR:
Website | Facebook | Twitter | Instagram | SoundCloud | YouTube | Twitch