Kicking off his North American album tour with a fiery passion, EMBRZ treated his Brooklyn fans to a two-hour emotion-fueled set.
---
This Never Happened label breakout star EMBRZ is rapidly rising through the ranks of the scene. His signature melodic house sound seamlessly blends serene soundscapes with warm, infectious melodies that are sure to tug at your heartstrings. Having just released his sophomore album, In Our Own Way on This Never Happened, he once again proved his sound is unlike any other in dance music, and Elsewhere Rooftop couldn't have been a more perfect venue to host the first show on his tour.
Elsewhere is a multi-space music venue located in Bushwick, offering three stories of sonic exploration. EMBRZ was booked to play on their beloved rooftop, so the scene was naturally set for a euphoric experience. It was a cloudy summer day, but that didn't stop him from lighting up the Brooklyn sky. And even though it was a Thursday, that didn't stop his fans from packing out the roof.
Weekday crowds typically weed out the partiers from the dedicated fans who are there for the music, and that's exactly what happened for his sold-out show. I've attended a few concerts before at Elsewhere, but this would be my first rooftop show. Let's just say, I didn't want the night to end. We arrived in time to catch the tail end of the opener RNÉ, who set the mood by playing classic Lane 8 tracks and even some KC Lights.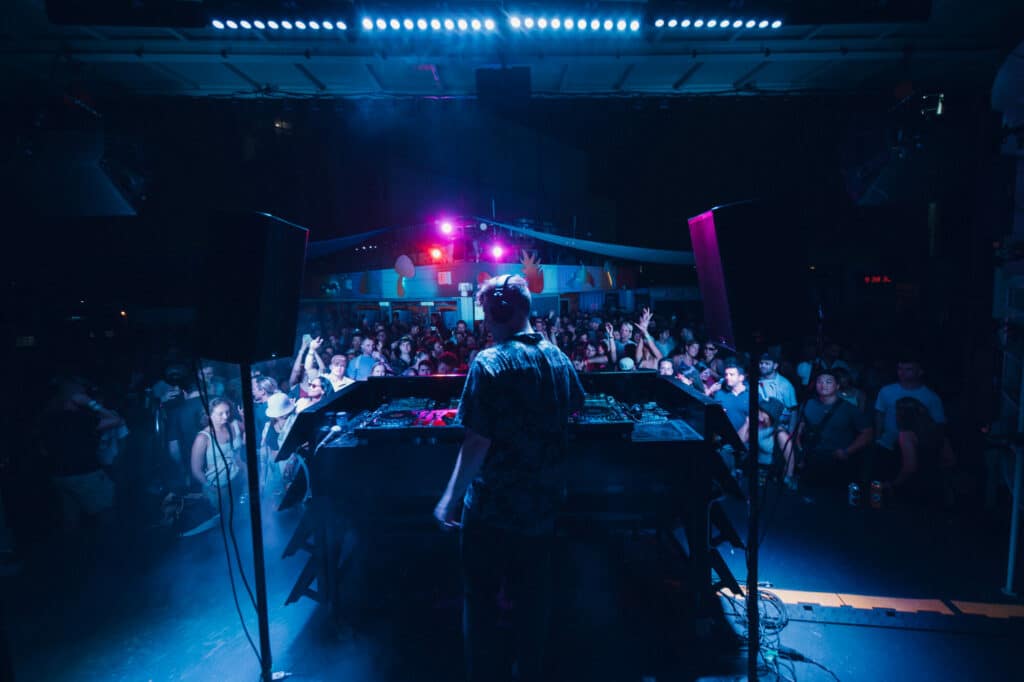 Once the clock struck 8 pm, the crowd roared with cheers as EMBRZ made his way to the stage.
EMBRZ started his set slow and progressive, playing melody-driven tracks like "It's raining outside" as he eased the crowd into what would be two full hours of pure bliss. The energy continued to build, and about a quarter way into his set, he dropped the album opener and crowd favorite "IOU," which features the soothing vocals of Lizzy Land. I almost couldn't hear the music because of how loud his fans (including myself) were belting the lyrics. But the reaction on EMBRZ's face when he realized the crowd knew every word to every song was priceless.
In all honesty, the vibes amongst the crowd were some of the best I've ever experienced at a New York City show. And those vibes were only amplified through EMBRZ's lush, playful energy. The rooftop at Elsewhere calls for an intimate setting, so the interactions between EMBRZ and his fans were unmatched. He deserves every bit of recognition, so to see his face light up over how much everyone was in love with him and his set (on his tour debut, nonetheless) truly warmed my heart. It was almost as if we could feel how he felt at that moment.
After the show, he posted on his socials that it was one of his favorite shows to date. "What a way to kick off the tour!" he said. To be a part of that experience for him was a memory I'll cherish forever. EMBRZ's North American tour runs through the beginning of October, hitting major cities like Denver, Chicago, and San Francisco. Join EMBRZ on his soul-fulfilling sonic journey, and check out the full tour dates below. I promise you, you don't want to miss out!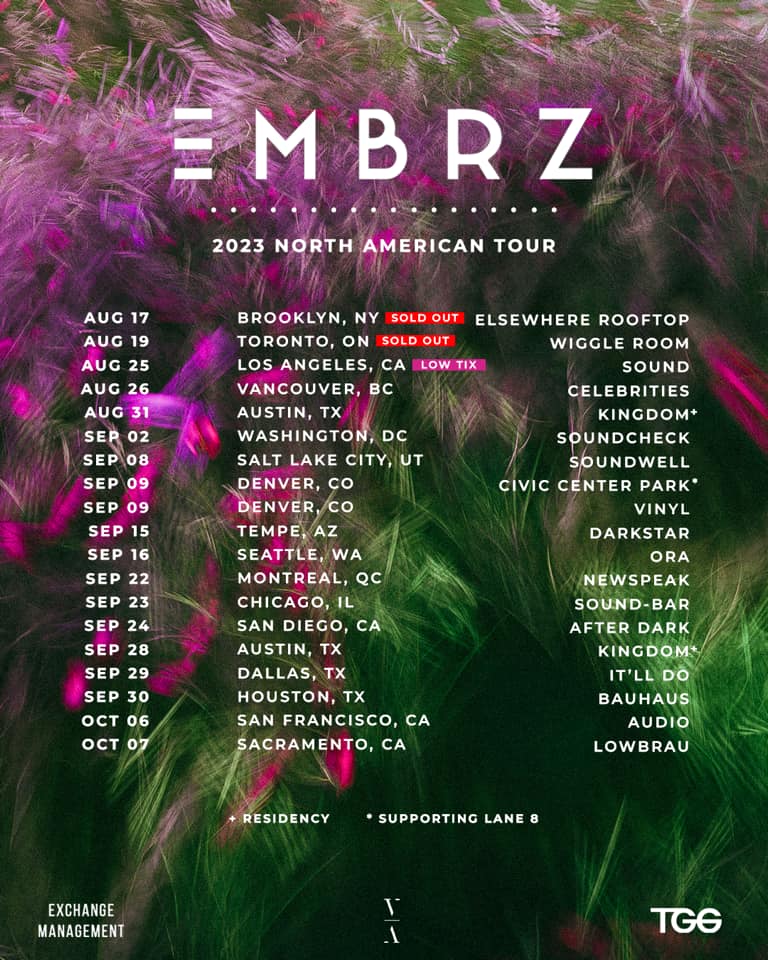 ---
Follow EMBRZ:
Website | Facebook | Twitter | Instagram | SoundCloud | YouTube