Sarah de Warren chats about her rise in the scene and serves up a summer mix that gives you a taste of what she's truly capable of.
---
One of the most recognizable female vocalists in dance music, Sarah de Warren, is the epitome of what it means to be a powerhouse. Born a small-town girl from Weymouth, England, she's now accumulated a prominent discography and is taking the scene by storm. Her prosperous career dates back to her early teens when she began to dabble with the piano and songwriting. By 18, she decided to pack her bags and start a new life in Manchester, beginning her decade-long journey as an influential female figure in electronic music.
Sarah de Warren is currently signed with Ultra Music Publishing, but it'd be difficult to name dance labels she hasn't worked with, for she's released music on esteemed imprints like Armada, Spinnin', Protocol, Enhanced, and Ophelia Records, to name a few. Across her releases, she boasts an extensive list of world-renowned collaborators like Kaskade, Tritonal, Gareth Emery, and Adventure Club, with her most recent being with Markus Schulz on the track titled "Light On." Additionally, she's showcased her talents in live performances at Ultra Music Festival, EDC Las Vegas, and the Ministry of Sound in London, among others.
What sets Sarah apart from other vocalists is her knowledge and expertise in the production side of songwriting. As a self-taught producer, she encourages others to gain experience with song engineering. She even released a vocal production masterclass on 789ten paired with her vocal sample pack consisting of vocal stems from the acclaimed artist herself. Her tutorial is equipped with tips and tricks that prove you don't need fancy equipment or a lavish studio to enhance the overall quality of your vocal production.
One of her vocal samples was used on Eli Brown's viral hit record "Be The One"; however, she was never credited on it. Unfortunately, this is a common rift in the system that many vocalists face in the industry. It has only fueled Sarah's motivation to focus on her music and take her solo career to the next level. Continue reading to learn more about her inspirational journey and give her Summer Sessions mix a spin.
Stream EDMID Summer Sessions 2023 || Sarah de Warren on SoundCloud:
---
Hi Sarah! It's so great to chat with you again. Thank you so much for taking the time out of your busy schedule and congratulations on your recent release "Light On" with trance legend Markus Schulz. To start things off, you moved to Manchester around 18 years old to jumpstart your career in music. How did Manchester's environment help influence the beginning stages of your career? What do you remember about your first gig?
Hi Kennedy!! Thank you so much for having me. It is so lovely to be chatting with you again. I grew up in a tiny village of 100 people, surrounded by farmland and ocean, so moving to Manchester was a huge adventure. I was studying at Salford University by day, playing gigs by night, and then partying at Warehouse Project or Sankeys as much as I could afford to. I absolutely loved clubs and raves, but at the time, my music was purely acoustic, so it wasn't until later that I connected the two.
My first gig in Manchester was an acoustic night at a pub. I didn't really know how gigs worked in a big city, so I just walked in there and asked to play. My only instrument at the time was a massive keyboard, so I dragged it across town on the bus, and I think they felt sorry for me when they saw how badly I wanted to play. The promoter let me sing three songs, liked my set, and offered me other nights around the city.
What first drew you into the realm of electronic dance music specifically?
So, as I mentioned, I loved partying, and at Uni I fell in love with EDM. I loved the energy at the shows, and I'd always leave with new friends, so I always knew there was a beautiful community in dance music. I was first exposed to DJs like Armin van Buuren and Gareth Emery at the clubs in Manchester, and it was around the time Spotify started getting big, so I'd go home and check out what their releases were like. That's when I fell in love with their songs and the voices on their tracks.
Discovering singers like Christina Novelli (Concrete Angel), Haley Gibby (I Remember), and Dragonette made me realize there was a whole realm of possibilities outside of the type of songwriting I'd always known. I had no idea how to get into the scene, so I just started messaging EDM producers on SoundCloud and asking them to send me beats. Because I could write, sing, record, and vocal produce already, I'd send back a super professional product, and that's how I landed my first cuts. One song, 'High,' made it onto MrSuicideSheep, and that was my first experience of a viral song.
Given your long list of impressive collaborators, I'm sure it'd be difficult to pick a favorite, so who are some of your most memorable collaborators? Are there any artists you dream of working with?
I have so many memorable moments working with Gareth Emery – from our writing sessions in London and LA to performing 'Calling Home' live at Ultra Music Festival, to playing keepy uppies backstage at a festival in Jakarta, to hearing him open his set on the mainstage at EDC with our latest song 'Vertigo.' Especially as I used to be in the crowd at his shows in Manchester, the first time I got in the studio with him, I remember being like, "Ok, this is it, I guess I made it!"
I would love to write a song for ILLENIUM. There are a tonne of EDM artists out there that just jump on the current trend, but ILLENIUM is always authentic and thoughtful with his songs, and I love that his production allows for the songwriting and vocals to shine through. I also recently met Armin van Buuren at a festival, so I've been texting some songs to him. He's been a big supporter of my songs on ASOT over the years, so let's see if something lands!
Can you walk us through your writing process as a solo singer/songwriter? Where do you look for inspiration during the songwriting process?
So, although I'm a solo artist, I actually collaborate all the time in my songwriting process. Most of my inspiration comes from my own life and the stories my co-writers bring into the writing session. The lyrical concept and deeper message of the song are really important to me, so I like to spend the first part of the session having a deep conversation with my co-writer, and we'll usually find something we're excited to write about through that. I'd say my best songs have usually started just with chords, then we will write most of the melodies and lyrics over the minimal chords, and then production will build around the vocal after the whole top line is complete.
What do you love most about performing? What's your favorite song to perform?
I can't describe how incredible it is when the crowd sings back my lyrics. I am literally flying. I recently performed with Markus Schulz at E11EVEN in Miami, and we did our song 'Light On' – it felt so good to sing live. I hope Markus brings me out to more shows so I can do it again!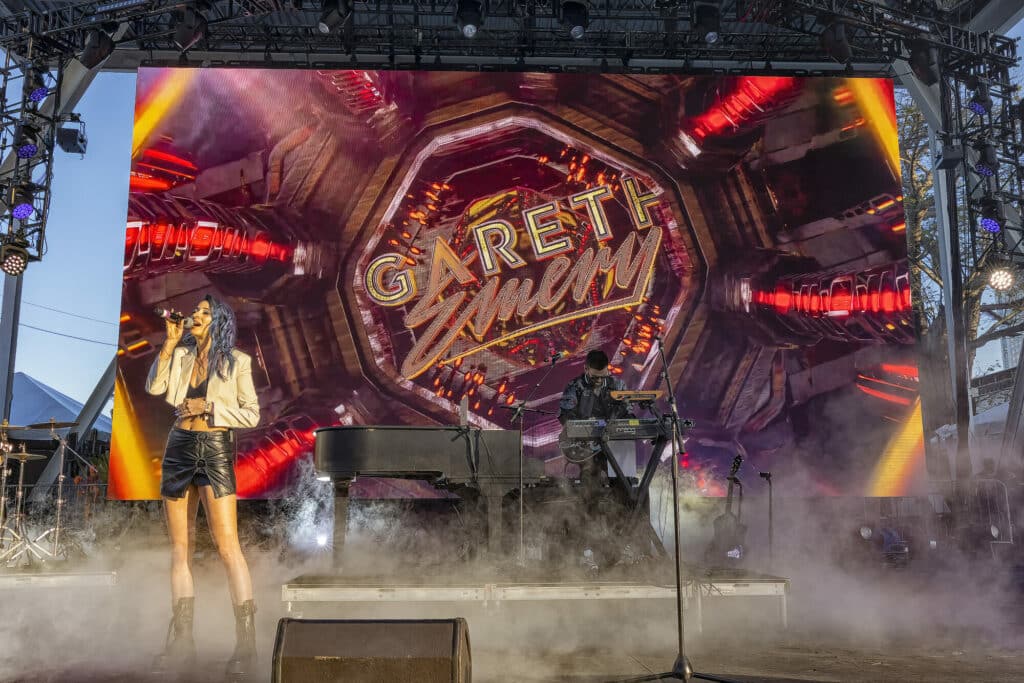 Tell us one of your favorite memories on tour.
I've flown around the world for shows, but my favourite memory was actually right here in London at the Ministry of Sound when I first sang 'Calling Home' live with Gareth Emery. I was so close to the crowd and could hear everyone singing it back to me. It was the first time I'd experienced that, and the memory will stick with me forever.
As a female powerhouse in dance music, do you have any advice you could give to other women who are looking to become involved in the industry?
I'd say to get involved in the production and engineering side as much as possible. The industry is crying out for more female producers; being more technical will give you an edge. You will also be entitled to extra points on the master if you've done the production or vocal production, so it's a good business move.
Comparing yourself from the start – what is one piece of advice you'd give your past self?
That building my brand is as important as becoming a great writer. I used to put 90% of my efforts into songwriting, singing and vocal production, and social media/branding was an afterthought. But nobody is going to hear the songs if I don't give them exposure, and the best way to do that is by making content and building a fanbase so that they reach more people. Also, from a business standpoint, it gives you more power in negotiations if you have a bigger platform.
What are your long-term aspirations as an artist? Do you have any plans to focus solely on your solo career in the near future? How about a solo tour?
I have released a few solo singles alongside my features, but I've always been so busy writing and featuring on other artist's records that it can be hard to balance the two. Since the success of Eli Brown's 'Be The One,' which features my vocal sample, it has lit a bit of a fire inside me. I'm unfortunately uncredited on it, even though my voice is a main part of the record, and thousands of people are singing along to it at festivals. If there's ever been a sign to hit the gas on my own music, I think this is it. Watch this space!
---
Follow Sarah de Warren:
Website | Facebook | Twitter | Instagram | SoundCloud | YouTube