Richie Hawtin celebrates techno's past, present, and future, all in one night, at From Our Minds at The Knockdown Center in NYC!
---
On October 21, the electrifying world of techno descends upon New York City. Led by none other than the legendary Richie Hawtin, also hailed as Plastikman, he is set to send shockwaves through the Big Apple's techno scene with a defining event at the renowned Knockdown Center in Queens. Since its groundbreaking inception in Detroit, From Our Minds has taken audiences by storm everywhere from Toronto to San Francisco. The NYC edition promises more than just a show—it's a techno revelation. Staying true to its ethos, locations are disclosed only on the event day, offering attendees a mystique-filled experience uninterrupted by the digital world.
Inspired by Richie Hawtin's renowned CNTRL tours, the event bridges the gap between techno's rich heritage and its evolving future. Even as techno resonates louder on the global stage, Hawtin remains devoted to preserving its authentic, underground pulse. From the enigmatic Canadian vibes of Barbosa to Texas's dynamic duo, Declan James and Decoder, the roster is ablaze with talent. New York's own Jay York, Detroit's legacy-bearers Henry Brooks and Huey Mnemonic, and the Southwest's techno advocates, Lindsey Herbert and Michelle Sparks, all guarantee unparalleled performances. With the addition of fresh faces machìna and Tylr, the energy is bound to be palpable.
Richie Hawtin stands at the epicenter of this sonic odyssey, a maestro who has tirelessly interwoven technology with music, rejuvenating techno's heartbeat and steering its course forward. In collaboration with promoters who deeply respect techno's storied past and its bright horizon, From Our Minds gears up to etch an indelible mark on attendees' memories. Coupled with the Knockdown Center's esteemed legacy – often likened to Berlin's iconic Tresor – participants are promised an evening without parallel. Brace yourself, NYC, as techno's timelines meet, merge, and mesmerize this October.
Don't miss the techno event of the year! Reserve your place and be part of the rhythm! Tickets are available now on DICE!
---
From Our Minds NYC Lineup 2023: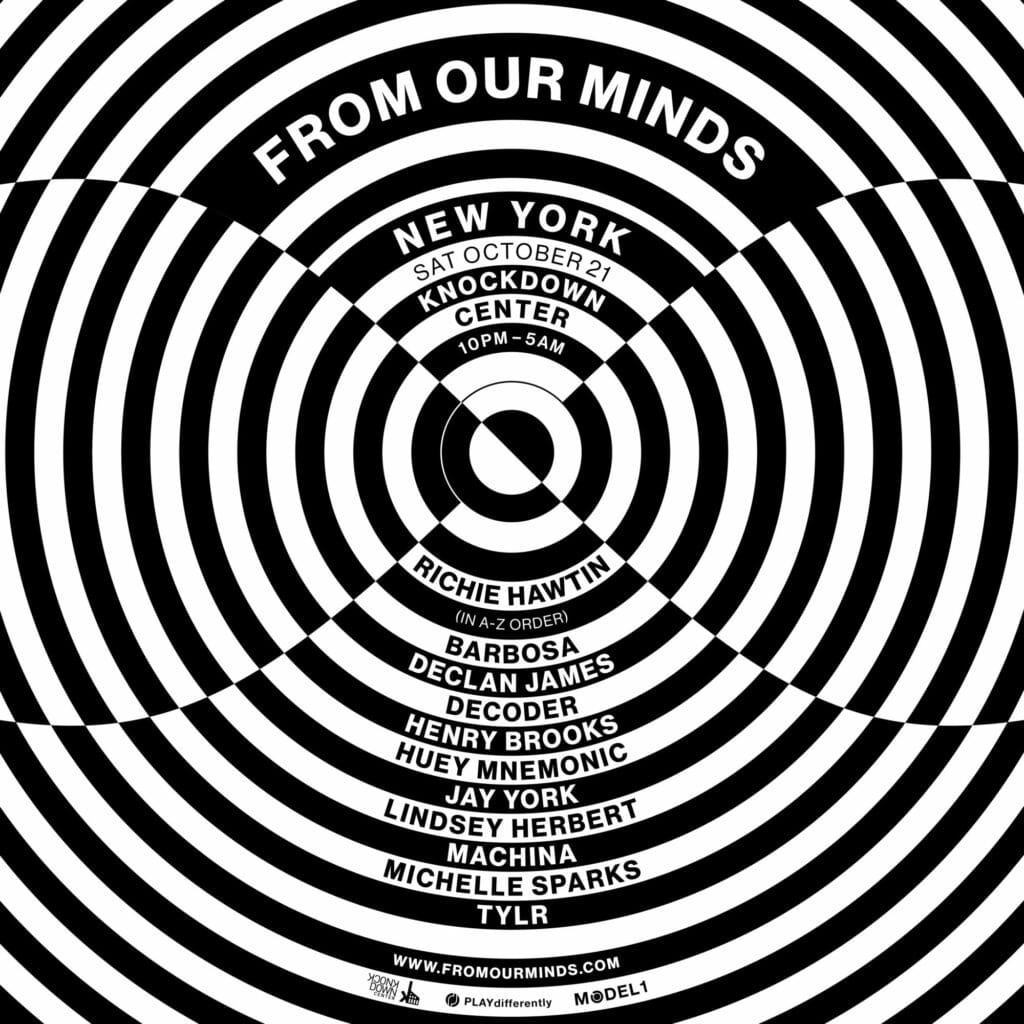 ---
Follow Richie Hawtin: