Henry Brooks is gearing up for Movement Detroit, and he dropped by to share his thoughts on the festival, the local scene, recent productions, and more!
---
Henry Brooks is in the right place when it comes to fulfilling his dreams of becoming the next techno superstar. He calls the techno birthplace of Detroit his home and is a true student of the underground. Just short of a decade, he has honed his craft in every venue that would have him while pulling out from the pack as one of the city's most inspiring and talented artists. In just a few short days, he'll be stepping up to the decks once again at an event that holds a deep and meaningful space in his heart, Movement Music Festival.
Of course, his talents don't stop in the DJ booth. He just recently dug back into music production, flinging "Horizons," "Lost Premonitions," and a remix of Hadone's "Hope Reminds Me Of Her" out into the world. These tunes slam the hammer to the floor, encouraging listeners to sweat the stress of the day away as they leave it all on the dancefloor. Of course, this is only the beginning of the latest chapter in Henry's story, a saga that has taken him everywhere from Berlin to Miami and on the road with the techno king himself, Richie Hawtin, on the From Our Minds tour.
But Hawtin isn't the only industry leader shouting his praises. In fact, the Queen herself, Charlotte De Witte, has given her royal nod of approval, inviting him to play back-to-back with Hiroko Yamamura at the KNTXT event in NYC at the iconic Brooklyn Mirage. Yes, everything is falling into place for this promising talent, and we have the absolute pleasure of following him along the way. So, turn the volume up on your speakers and smash play on his exclusive guest mix while you read on for our in-depth chat about everything going on in the career of Henry Brooks!
Stream EDMID Guest Mix 373 || Henry Brooks on SoundCloud:
---
Hi Henry, thanks so much for taking time out to chat. First things first, you just got back from DJing at the world-renowned Tresor Berlin. Spill all the details. What's the club like, and how did your set go? 
The energy in Tresor is truly something special, and it's one of my favorite clubs in Berlin. Before I played my set there, I was in Berlin for five weeks prior, so I had the chance to go to the venue a few times, and each time was an incredible experience. What I love most about the club is the grungy atmosphere and minimalism, as well as the energy of the crowd. The venue is beaten up and grimy and has just a few strobe lights and some fog –  which is one of my favorite ways to experience techno events. I do love events that have crazy visuals and a lot of production as well, but something hits different about dancing in a dark basement or warehouse.
Playing a set there was insane. I ended up playing an almost three-hour closing set, and during the last half hour, I felt like I could have easily kept playing for another two. Every person that's there is there for the music and to dance. I also love that there's a cage where the DJ booth is behind. It's a very cool aesthetic. 
In your opinion, what are some of the differences you noticed between Berlin nightlife and Detroit nightlife? 
The nightlife in Berlin is similar to Detroit in some ways but also quite different in others.
Although Detroit is the birthplace of techno, in Berlin, techno has become a much more prominent part of the culture, and because of that, there seems to be a deeper appreciation for it. I see that reflected in the crowds, the type of people that come to events, and the amount of insane talent that comes to the city year-round. Berlin has definitely earned its title of being the Techno capital of the world. Detroit is the birthplace; Berlin is the capital.
Another key difference in Berlin is that virtually every techno club has a strict no-photo/video policy, which I personally love. Because that means every person that's in the venue is there to dance and is there for the music, not to take pictures or videos every two minutes. Overall, clubgoers in Berlin and Europe are generally more expressive and not afraid to let loose. No one is simply bobbing their heads or moving their feet from side to side; people are full-on *dancing* and are completely absorbed in the music. When you're on the dance floor, you're there to dance, not stand; when you want to socialize, you go to another part of the club or venue.
Another key difference is that there's no curfew or law stating when clubs have to close, or you have to stop selling alcohol. This means it's common for parties to go three days or longer, and it's also the norm for DJs to play three, four, or five+ hour sets. I personally love listening to and playing extended sets as it gives the DJ more time to tell a full story through music!
Speaking of your home sweet home, Detroit is the place to visit if you're looking for a solid techno fix in the States. Tell us about the clubs you came up in and how they helped shape you as an artist.
I started DJing seven years ago. The three clubs where I got my start were The Works, Grenadier, and The Grasshopper Underground (all of which are now closed). I consider those clubs to be my "bread & butter" and were where I built up my resume at the beginning of my DJ career. Later on, I also began to play frequently at the Magic Stick.
One thing I love about Detroit is the mentality that you have to pay your dues and work your way up – that's still very strong in this city. You're not going to start off getting direct support or closing slots right away after DJing for a few months because you're connected to the right people, or you've been producing for a while and are making good music, so you suddenly get a headline gig at a club. That shit doesn't fly here. You have to prove your worth in this city as a DJ and put in the work, and only after you've built a reputation will you be able to move up.
I had played countless opening slots for years at the beginning of my career, and I truly loved doing it because whether I was playing for three people or 300, I was having just as much fun and was just as passionate. It also taught me proper club etiquette and how to build the energy of a night. I was often considered one of the "best openers in Detroit" because I knew how to open properly. All of this is what led to me continuing to get more and bigger gig opportunities.
At the same time, you do have to know your worth and when to start asking for higher rates and better slots. It's also important to stay true to the sound you want to play and to take risks (I started playing hard techno towards the end of 2019 when virtually no one in Detroit was doing so). But all that comes only after you've worked your way up from the ground and learned proper club etiquette.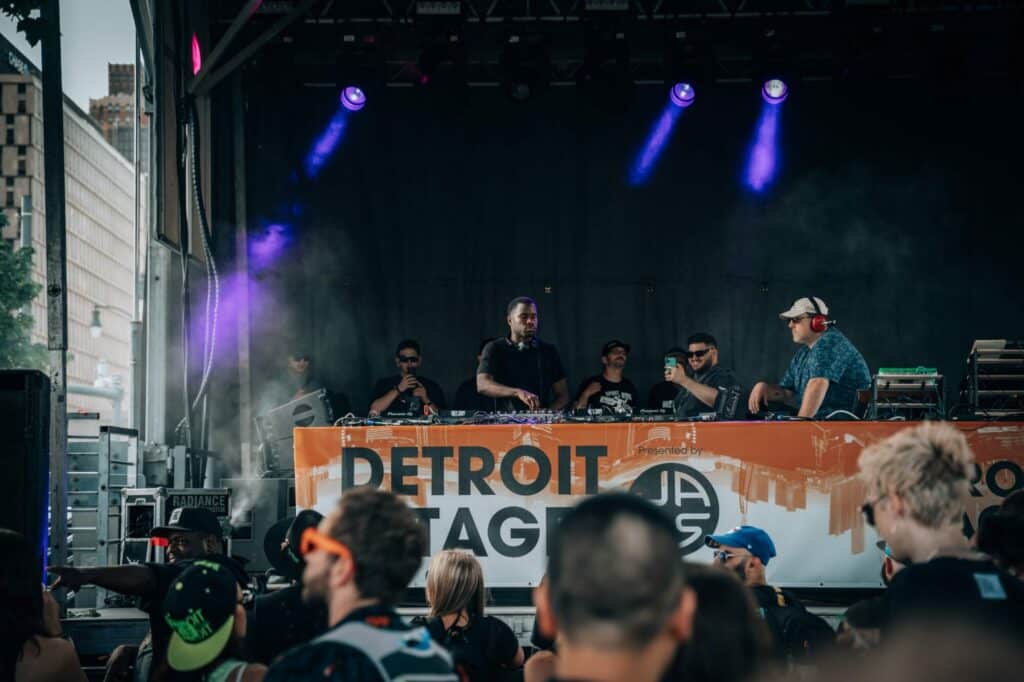 Of course, your set at Movement is just around the corner, and I want to get your thoughts on the evolution of Movement, your favorite memory, and why it's a must-attend.
My very first Movement was in 2016. It was a truly life-changing experience for me. Prior to that, I had been listening to house music for around two years and techno for only about one year. So going to the festival definitely broadened my horizons and opened me up to new artists/subgenres of both house & techno. I still remember my first time going into the Underground…even though I was still very much a house head at the time, I loved how heavy and atonal the sounds were, which were distinctly different from house music.
I have a lot of great memories from the festival over the years. However, I'd say some of my favorite memories are from the dance circles and cyphers I had been a part of. Dancing, and shuffling in particular, has been a large part of my life and is what got me into the scene in the first place. Dancing is a beautiful form of self-expression through movement, and I loved being a part of those circles/cyphers and also witnessing how music moves each person in their own unique way.
I'd say the festival is a must-attend because it's a celebration of community, history, and culture right in the birthplace of techno. Every year people from all over the world come here, and the city turns into a music mecca with events happening non-stop over the course of three-plus days. It's one of my favorite times of the year.
As someone deep on the inside, what are some changes you'd like to see within the Detroit scene?  
A big thing I'd like to see more of here in Detroit, which is something I'm actively working on myself with my own event brand Anatomy, is more industrial, hard, and tooly/hard-groove techno artists being brought to the city year-round. We have some other techno brands that are throwing great events here throughout the year. However, I still feel like there are a lot of very talented modern hard techno and hard groove artists that are being overlooked or just simply aren't being booked in Detroit – there is definitely a demand for these styles of techno here!
Another thing, which I touched on earlier, is that, in general, crowds are not as expressive here in the same ways that they are in Europe, and even in some other parts of the U.S. Just to improve the overall atmosphere and energy of any party, I would love to see fewer people standing or swaying their hips on the dancefloor, and more people fully letting loose. 
Just a stone's throw away is another major music hub, Chicago, IL, the home of ARC Music Festival. First off, congratulations on booking the fest! In fact, you'll be performing as a B2B with Chicago native, Lowki. Tell us all your thoughts about the forthcoming B2B. Do you have a history working with him or will this be a first-time experience? 
I'm very excited to be playing ARC this year! I have not played with Lowki before, so this will be a first-time experience, but definitely looking forward to it. 
What do you think is the most challenging part of a B2B, and in your opinion, in what ways does this style of DJing push you to become a better DJ? Do you have any personal examples?
What can be one the most challenging parts of playing a b2b set with someone is creating cohesion in a set. However, I feel like I've always been very good at doing that. I have a large catalog of music, so I know how to "match" the other person I'm playing with, and typically they match what I'm playing as well, or we know ahead of time each other's individual styles and find some sort of middle ground. So, in the end, things mesh well and are cohesive. It can be quite fun because the final product of a set is often unique and different from what I would create on my own if I were just DJing. But if I feel like someone's style is too far outside of what I play or am willing to play, then I probably wouldn't play a b2b set with them.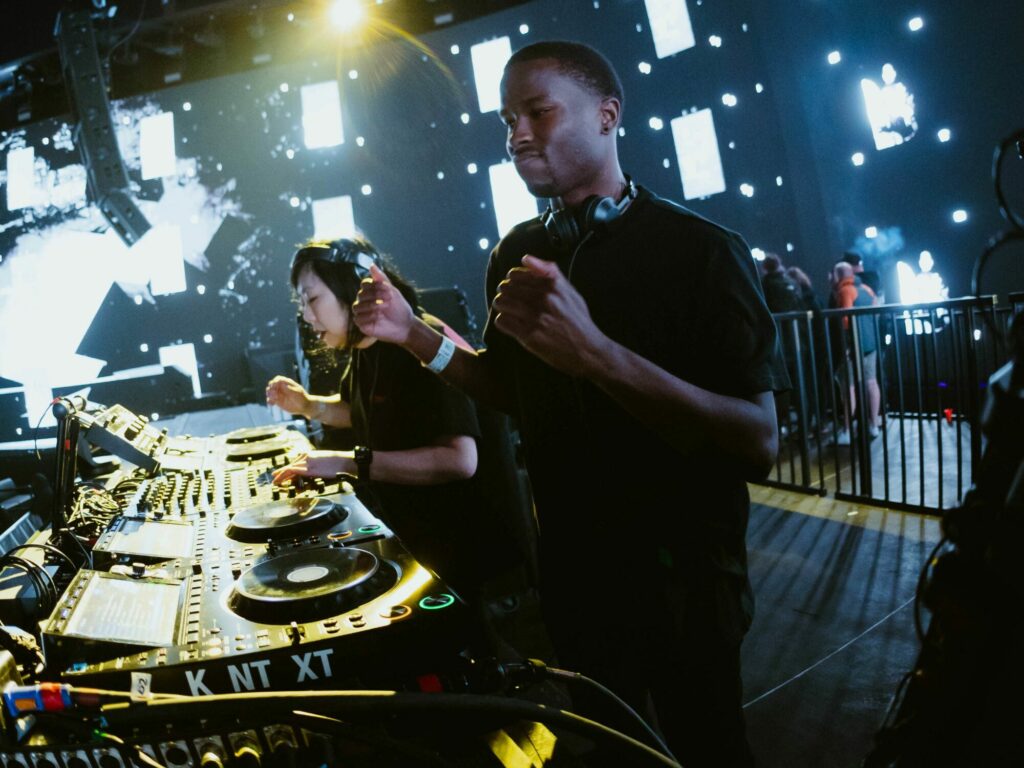 Now let's switch gears and talk about personal productions. One year ago, "Horizons" emerged as part of Heist Mode's compilation series. Since then, "Lost Premonitions" and your remix of Hadone's "Hope Reminds Me Of Her" are the only other tracks to surface. Tell us about everything that was happening in your life when you made the decision to rise from your DJ comfort zone and move into the world of production.
I started taking music production seriously a little over three years ago, just before the pandemic. Before then, I was producing for about six months in 2017 but took a break because I had a shit laptop that couldn't handle everything I was trying to do, and I also wanted to focus more on building my DJ career in Detroit. Even before then, I was actually producing music as a hobby for a period of about seven months back in 2010, so I've had my hand in music production for a while in one form or another.
Can you dig even deeper into the struggles you've faced in both learning the artform as well as trying to get your work scooped up by record labels? 
Just learning the fundamentals of music production is already quite a steep learning curve, and even more difficult is knowing how to create the sound you want consistently – and innovating instead of simply copying what's trendy right now in whatever particular genre. But after over three years of spending many hours in music production, I feel like I'm just now finally starting to get my music where I want it to be.
In the beginning, it was also harder to get recognized by labels. But right now, with things picking up steam for me and with the connections I've made, I feel like I'm in a good place and already have a couple of new releases coming out soon! 
Finally, Where do you stand with music production today? Is it something you'd like to continue to pursue more vigorously, and if so, what is the story you'd like to tell with your productions?
Making music is definitely something I will continue to do. I feel it's an important part of being an artist as you're putting your own stamp on a genre, and you're also able to create exactly what you like. My earlier productions were mainly melodic hard techno; however, my current productions are still hard but more on the atonal, percussive, and tooly side – which is more in line with what I'm playing as a DJ right now. So you can expect more of those sounds from me as original productions and remixes in the future!
Henry Brooks, thanks again for your time. We're all truly excited to see where your career takes you next! 
---
Follow Henry Brooks:
Facebook | Twitter | Instagram | SoundCloud