Bass Coast honored its 15th edition with cohesive curation, jaw-dropping production, and intentional education, celebrating every aspect of the culture.
---
In a rare turn of events, after experiencing Bass Coast, I am somewhat… speechless? Typically, I strive to maintain an objective voice when I write event reviews. As I sit here at my desk, reflecting on my experience at the festival and how I can sufficiently convey the on-site magic into words of meaning for this audience, it nonetheless dawns on me that we are going to get personal.
After all, that's what Bass Coast is all about, providing a human-centric experience that feels deeply intimate and personal for each of its 7,000+ on-site staff and attendees. Bass Coast has always been a life-changing event for me, and if any of this review resonates with you, make sure to grab your 2024 tickets fast because they will sell out quickly.
For those new to this sector of the community, Bass Coast is an incredibly special annual event in Merritt, British Columbia, that celebrated its 15th edition this year.
Founded by Liz Thomson and Andrea Graham, aka The Librarian, this multi-day music and arts camping experience has become a leading independent North American festival. Bass Coast started in Squamish, British Columbia, before migrating to its current home nestled along a natural river flowing through the traditional, ancestral, and unceded territory of the Nlaka'pamux and Syilx people.
What began as a humble curated campout borne out of love for the culture and a desire to share with like-minded friends has become a true pillar stone for the global electronic music community. As its name implies, Bass Coast was conceived out of bass music culture, yet it has evolved to reflect global and B.C. bass, and show new areas of the game map where it can be taken.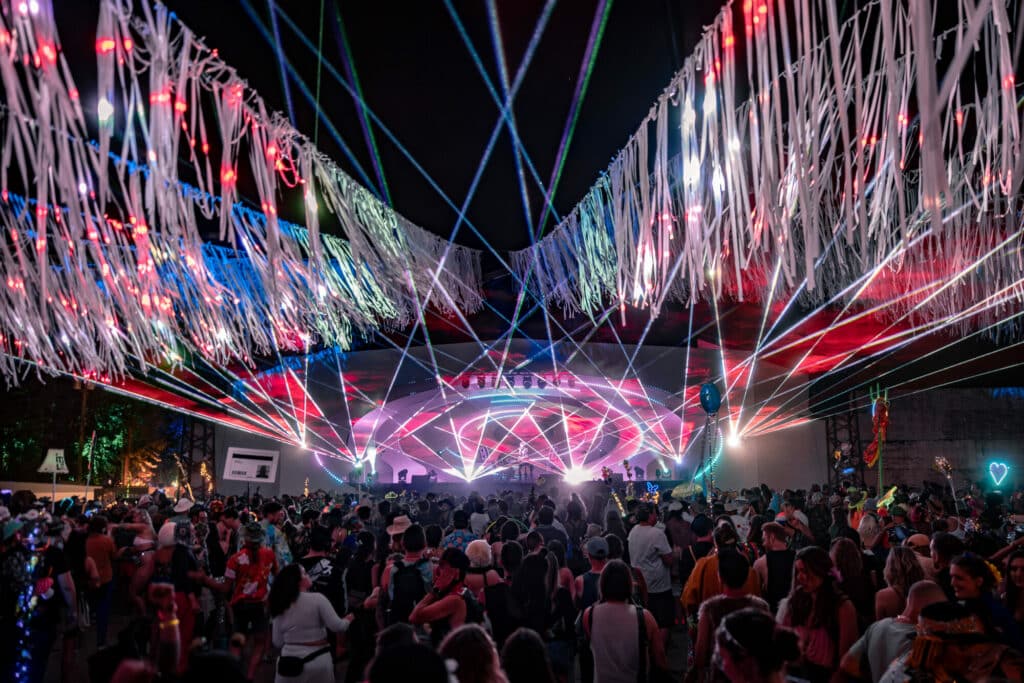 Bass Coast always boasts a bold and eclectic collection of on-site art, giving established artists a chance to give to the culture and newer artists an oft hard-to-find opportunity to get hands-on exhibiting experience.
Co-founder Liz Thomson is Bass Coast's creative director, overseeing the visual and experiential manifestations of this year's Avant Garden theme. "At Bass Coast, everything on site is 'art,' from the lasers and staging to turf, signage, and entrances," she says.
This year, the festival hosted its largest art collection, including 62 pieces — all with an interactive component. In fact, Bass Coast has used its growing art program to provide art grants to help with funding, funneling over $200,000 since its inception. The amount of love in the curation was also self-evident throughout. Each art piece was accompanied by clear signage that stated the name, the motivation behind the piece, and a short bio for each artist.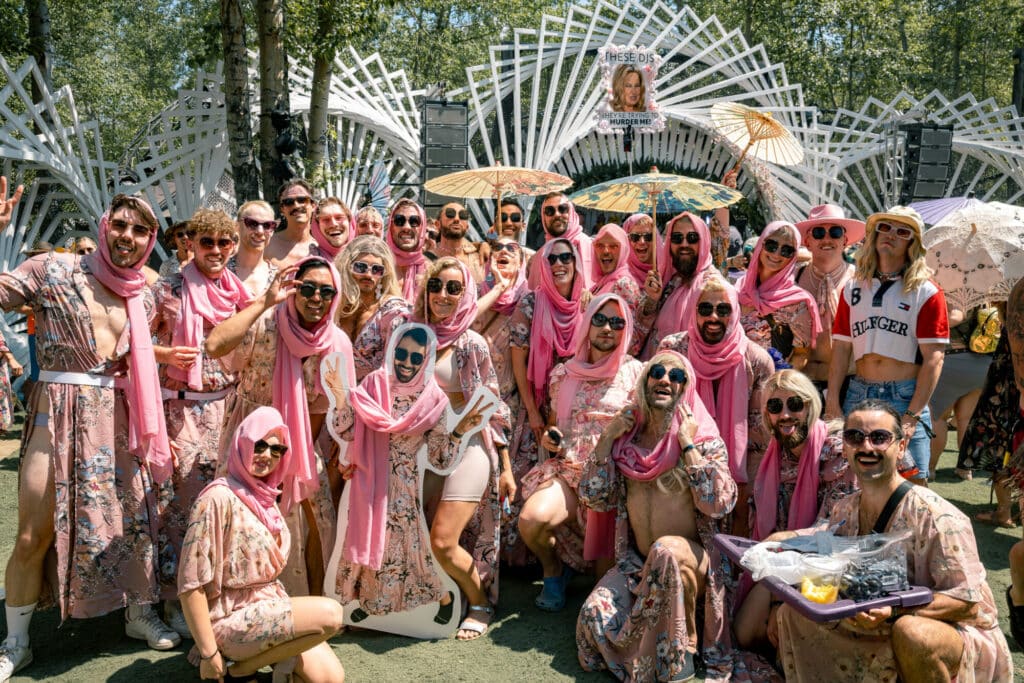 One of my favorites was the "Audio Triage" station by Paul Reimer which allowed you to test the "sound" of each stage before deciding where to venture via old-school tin can and wire telephones. Another enchanting experience was the "Cosmic Crystal and Garden," which was a mesmerizing crystallite collection of fractals made entirely out of repurposed CDs.
The list of mind-blowing art goes on endlessly. A few installations that had a larger presence in coloring the entire festival experience included the "Shutterybuggy" by Peter Blitz of The Egg Arts Society (a roving steampunk photobooth), "Daisy The Solar Powered Tricycle" by the eatART Foundation (a completely solar-powered art-cycle that roamed at night), and "The Cube 2.0" by BIG ART (an epic LED installation which breathed life to the main stage environment and, most importantly, had a very, very big button you could press.) Plenty of silliness abounded, including a couple of psychedelic chill-out areas full of Slinkies and other childhood toys.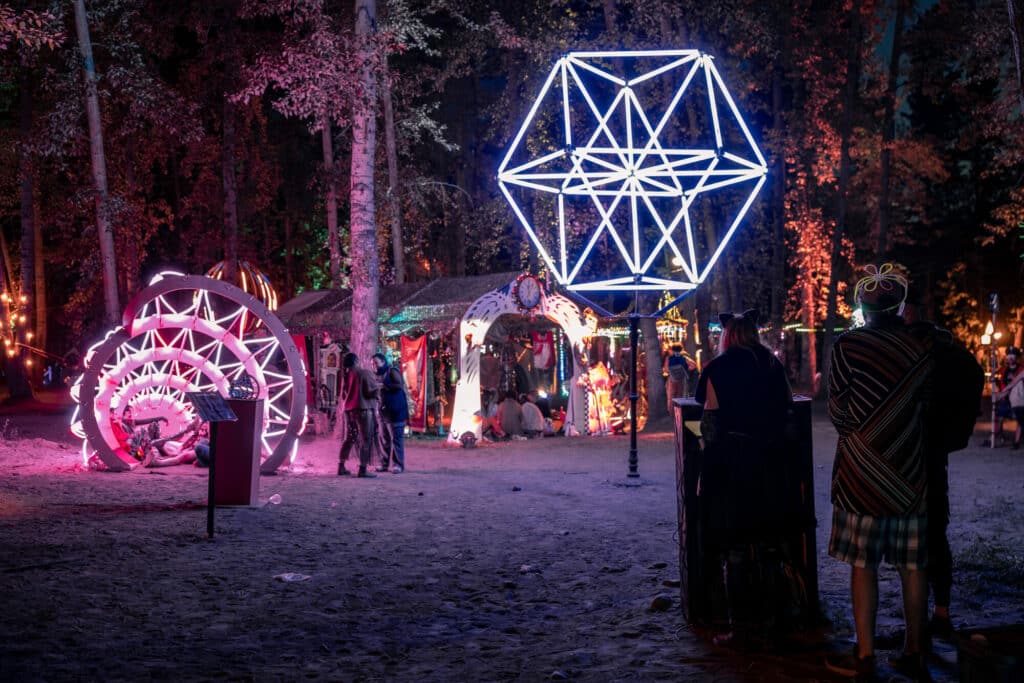 But of course, Bass Coast is a music and arts experience, and to that end, the sets performed were the ultimate chef's kiss.
Sound system culture underpins the Bass Coast sonic experience, starting with thoughtful attention toward gear. Not many festivals will proudly highlight that they've added an extra stack of subwoofers to help boost bass without muddying the crossover signals (ahem, the Slay Bay). That was one of the first things shared with me at the on-site press conference, however. All the stages at Bass Coast this year had an impeccable sound that hit that perfect sweet spot, including an epic main stage PK array.
On the lineup front, in keeping with past years, The Librarian paired up with Max Ulis, a known curator and DJ in the Canadian scene, to tackle the music curation across its five stages: Main Stage, Slay Bay, The Cabin, Slow Tempo, The Cantina, and the educational panel-focused space called The Brain. The Cabin is the newest character, introduced to festivalgoers last year, replacing the Radio stage of previous years.
Each stage occupies its sonic environment with a distinct aesthetic.
For example, The Cantina was the dedicated day party stage with a real baile funk vibe, while The Slow Tempo felt like an Eden straight from the Black Rock Desert playa. It became immediately clear to me how close each stage was to the hearts of their creators when Thompson and The Librarian explained that the two women had initially met at a ski cabin, and the new stage was a symbolic nod to that special place that brought them (and Bass Coast) together. After all, weekends away with your festie fam can be just as magical as being at the rave. We've all had those times with our crew, and it was heartwarming to glimpse such a familiar-feeling origin story.
Alright, so down to the brass tacks: Which artists played the sets at Bass Coast 2023?
I always bring up that Bass Coast receives the utmost tastemaker respect across the global electronic music industry. Because of that, every performing artist brings their A-game. There is no concept of a plug-and-play set, where a producer transitions through their discography, nor a DJ that simply does build-up-break-down transitions of the hottest "EDM." Instead, every single set felt like an expression of their truest selves.
On Friday, the party was bumping at The Cantina stage throughout the day before being capped off by the always-fun Ardalan, who mixed in a surprisingly pleasant bevy of heavy breaks. From there, the Main Stage (which, in a beautifully restrained sense, only operated from about 9pm to 2am every night) opened up, greeting us with sets from Sabota and then OAKK.
Undoubtedly, OAKK was the star of the Main Stage programming on Friday night. His set delighted the audience with uniquely sexy edits of tracks from his EP Butter & Gold. At The Cabin stage, artists DJ Lag, Client_03, and Sicaria dazzled throughout the night. DJ Lag, in particular, took my breath away. The regimented yet full-bodied drum patterns characteristic of Gqom took on their own life, moving bodies on the dance floor to and 'fro on a collective, syncopated rhythm.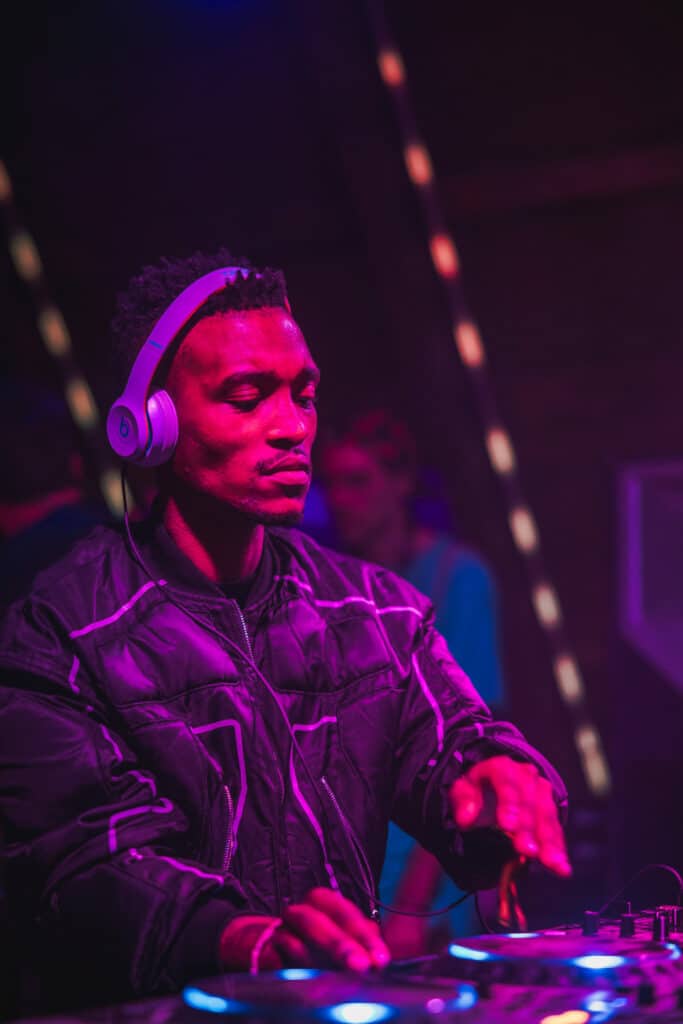 Saturday brought another stellar slate of broken-beat-inspired music.
The last time I attended Bass Coast in 2019, the sonic trends I observed leaned more toward 85 and 140-BPM-driven music. This year, upper-bpm sonic palates influenced by breaks, Jersey club, dancehall, and, of course, drum and bass shined bright, echoing what we've seen in much of global and especially UK-based bass music curation.
Keep Hush UK's takeover of The Cantina all day showcased many of these sounds as we moved through nose-crinkling sets from Willisist, Greazus, and Jay Carder before basking in The Librarian's thoughtfully heavy-hitting track selections. As the evening progressed, Eprom's set and Mat The Alien's B2B with The Librarian (an annual Bass Coast staple performance) stole the Main Stage show. Eprom, as always, took the audience on an experimental low-end frequency journey that dazed listeners with its dirty decibels. Late in the night, master of textured, heartbeat-driven music Batu took us into another dimension on The Slow Tempo stage.
The best part about Bass Coast is that Sunday is arguably the strongest day.
At so many festivals, the last day comes with the all-familiar moaning and groaning across the grounds about how painful the drive home will be, how little serotonin is left, etc. None of that exists on the last day of Bass Coast, and Sunday is programmed like the home you never want to leave.
Sunday was the day I finally had an opportunity to plop a chair into the river by the Slay Bay and listen to the dulcet tones of dubstep while gazing at the surrounding landscapes. The natural river is just as much part of the Bass Coast experience as the human-made elements, and nothing is more refreshing.
After a lovely morning of lazing on the river, the day picked up again with another UK takeover, this time from Subtle Radio with sets from Buer, Dred, and Kyro. From there, we were treated to a nonstop sonic feast of the most solid DnB from Tim Parker, Digital, and Skeptical, as well as a particularly interesting Main Stage set from a post-Dirtybird Justin Martin. And there you have it: the champions of the decks at Bass Coast 2023. Let's have another round of gun fingers in the air, shall we?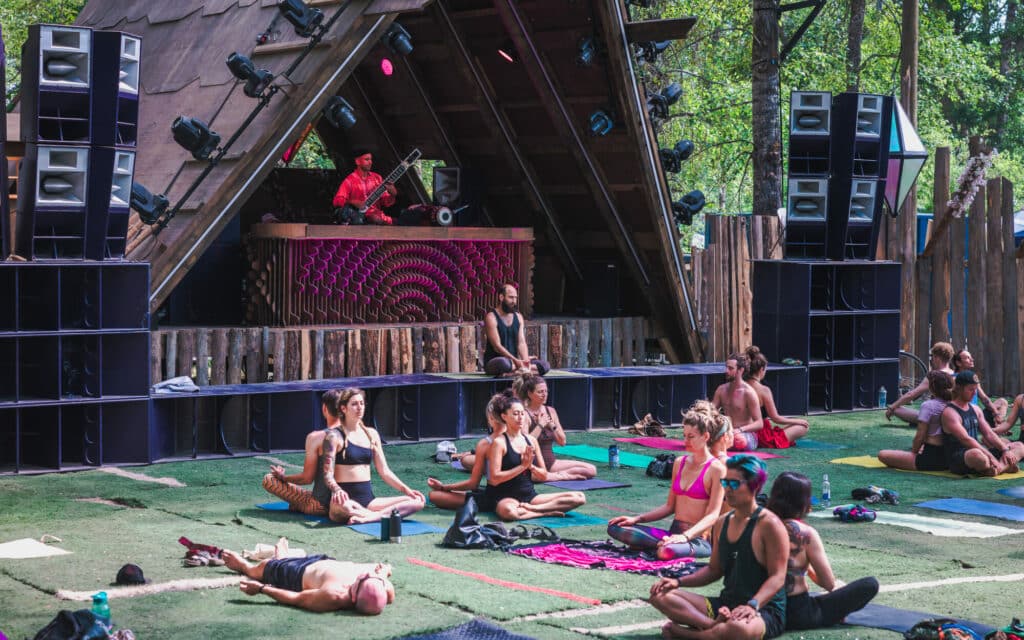 Bass Coast – or should I call it Safe Coast?
So many times over the weekend, it was emphasized to me that, to many of its attendees, Bass Coast is the only festival (particularly in North America) where an older, more educated dance music lover can feel safe and seen. This is still one of the only festivals in our region where anyone I know who usually claims to have "outgrown" raves (or at least the prototypical bass music event) will eagerly let me know that Bass Coast is the one festival that remains on their radar.
The reality is that dedicating yourself to dance music culture, whether as a purveyor, vendor, DJ, or curator, can be beautiful but also fatiguing. It can sometimes feel like you're doing little more than lathering, rinsing, and repeating. Going to Bass Coast gives a sense of breaking out of that cycle. It does important work by providing an annual breath of fresh air, allowing real connoisseurs of this culture to sink into a chair and live their truth. For me personally, attending Bass Coast allowed me to unblock important emotions I had been holding back, re-ignited my passion for bass music culture, and re-inspired my vision to build a community for those around me.
A big part of what plays into building such a safe space culture, or as fans have lovingly come to dub it, "Safe Coast," is the programming created and led by Harm Reduction Director Stacey Forrester. Forrester's collection of programs is not a simple meditation and yoga program (though that is supplied bountifully at Bass Coast ). It also provides deeply educational panels, FTIR drug testing, a chill zone for the overstimulated, and a nightlife guard chair to protect the sanctity of each dance floor. This year, with over 90 volunteers working around the clock on-site under Forrester's leadership, the focus on harm reduction, safe space creation, and environmental sustainability in the festival space was unparalleled.
And with that, Bass Coast 2023 is a wrap.
That doesn't mean the excitement is over, though. It's actually just begun, as tickets for the 2024 edition from July 12-15, 2024, are already available online at the official website. General admission tickets are on sale for face value at $419, and all add-ons are also available for purchase, including early entry ($114 for Thursday, $169 for Wednesday + Thursday combined), vehicle passes ($64-74 depending on the size of car) and reserved campsites. Tickets to this limited-capacity boutique event sell out early every year, so if you already plan to attend next year, get prepared and grab those passes today.
For any ravers or bassheads out there feeling fatigued or perhaps without direction, do not sleep on this incredible event. Sometimes the answers we seek are closer than we think.
---
Follow Bass Coast:
Website | Facebook | Twitter | Instagram | SoundCloud