Bass Coast is kicking off this weekend, so stay informed with the set times and other essential info to ensure you're prepared to live your best life!
---
Bass Coast Music & Arts Festival will be bringing back its iconic production and curation in beautiful Merritt, British Columbia. Attendees of this iconic independent music festival will have the chance to revel in an AVANT GARDEN of creative bloom all weekend long. With roots in bass music culture, Bass Coast has evolved in its tastemaking selections over the years, leading to this year's impeccable snapshot of all that is exciting in electronic music. Music this weekend will feature some of the biggest influences in bass music today, including headlining act CloZee, while also equally highlighting important artists in the realms of house, techno, and breaks.
Related: Wondering who should check out this weekend? Check out our take on Six Sets Not to Miss!
But as we all know, the surest way to not just surviving your festie weekend, but thriving, is preparation. Before you make the trek to Bass Coast, we've compiled all the important information, including box office hours, site map, and set times. Whether you're planning on a solo adventure or mobbing out deep with your entire rave crew, we hope you're prepared to have one for the books!
---
Bass Coast 2023 – Essential Info:
Dates: Friday, July 7 – Monday, July 10
Gate Hours: Thursday, July 6: 9am – 10pm (Thursday entry pass holders only)
Friday, July 7: 9am – 1am
Saturday, July 8: 9am – 6pm
Sunday, July 9: 9am – 6pm
General admission begins July 6. You must have an early entry pass to arrive on July 5. All guests must leave the festival site on Monday, July 10.
Venue Address: Merritt, BC, Canada – See their website for site map and directions
Ages: 19+ with Government Issued ID
Tickets: Bass Coast 2018 is Sold Out
---
Bass Coast 2023 – Set Times: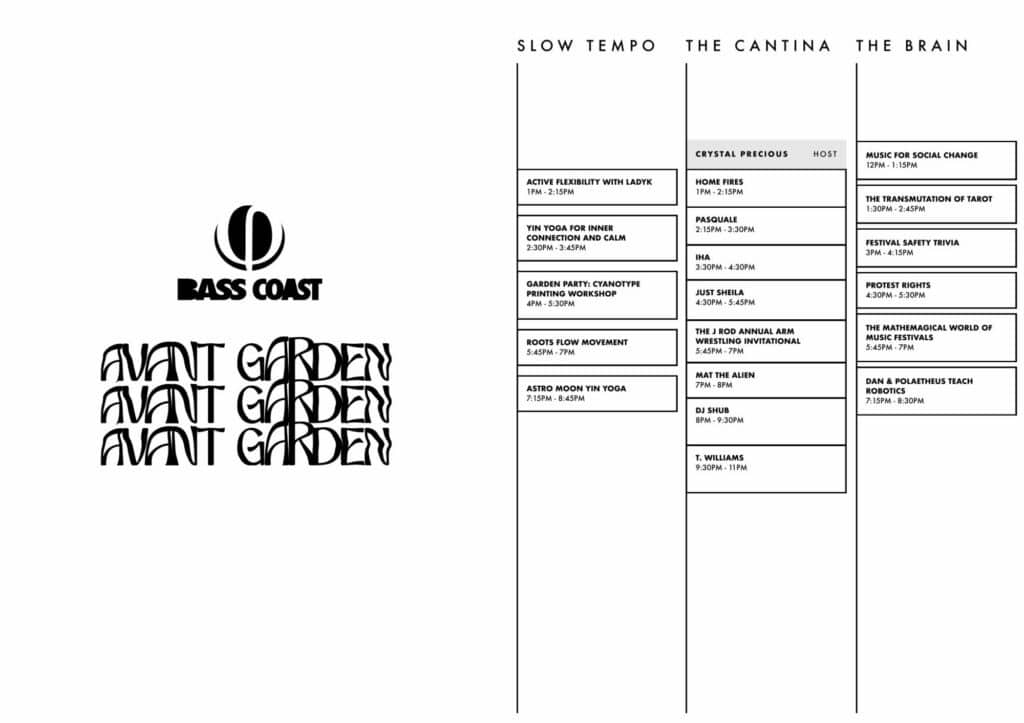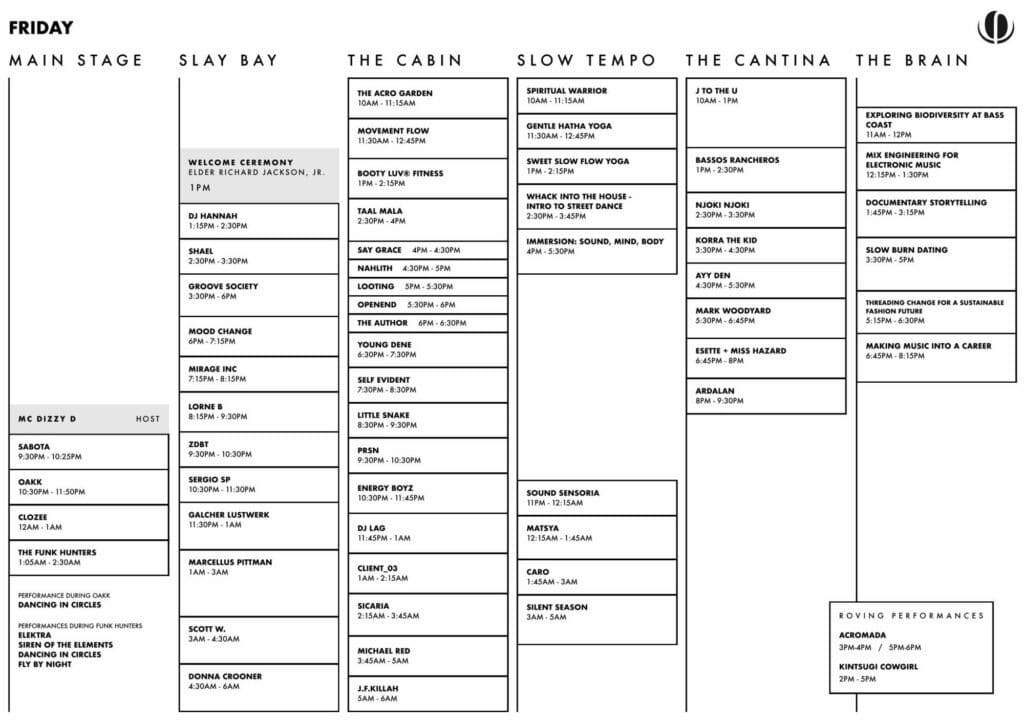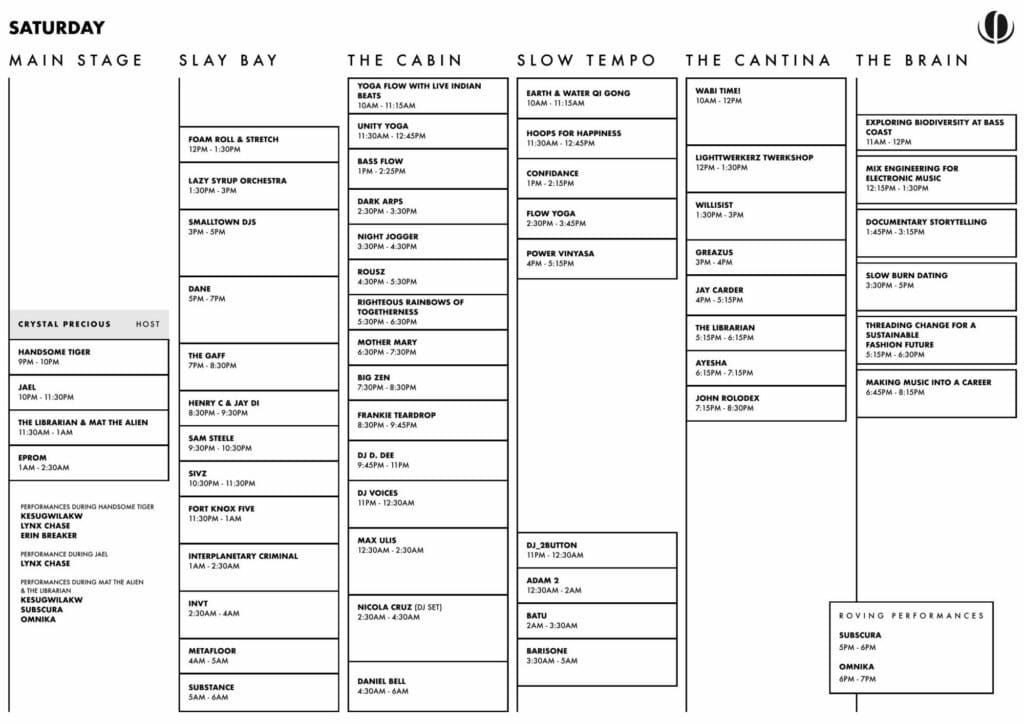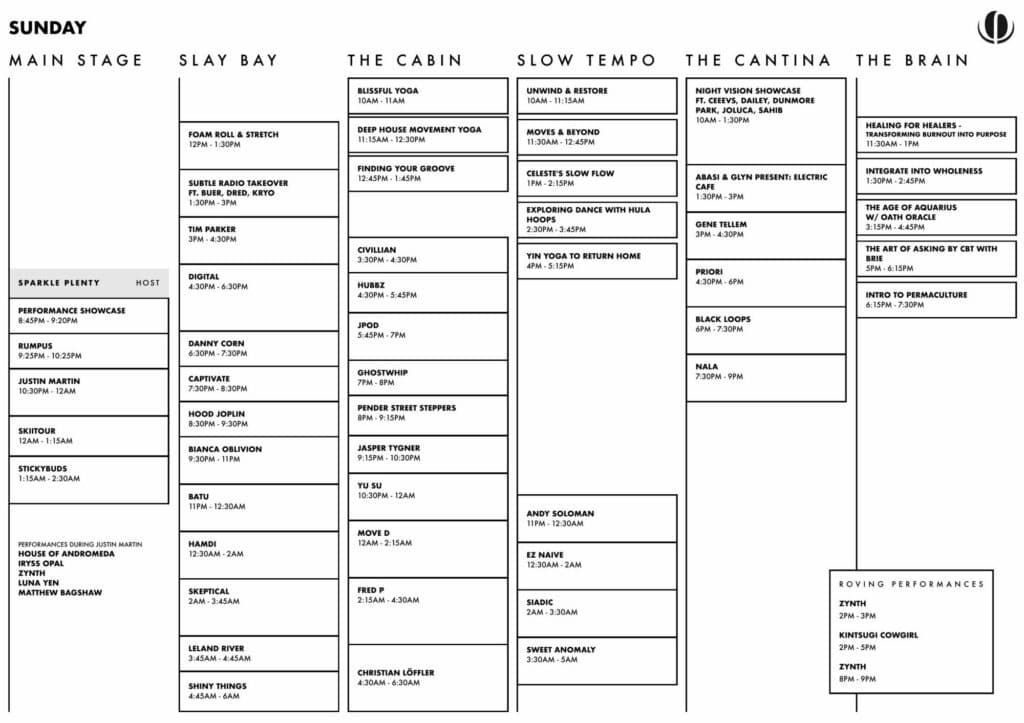 ---
Bass Coast 2023 – Festival and Parking Maps: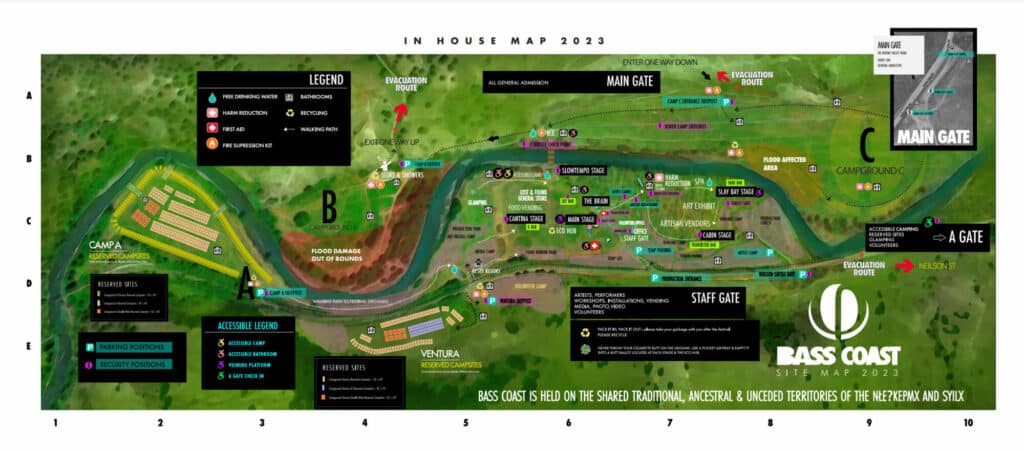 ---
Reminder To Mind Your Belongings:
Unfortunately, many people have reported pickpockets, bag slashings, and theft of wallets, smartphones, purses, and other valuables during this festival season. While this small number of bad apples in the bunch doesn't define an entire crowd, there are opportunistic people who come to these events to take advantage of unsuspecting partygoers, and it's important to be mindful of your valuables while at Bass Coast 2023.
Looking for tips to keep your belongings safe? Check our post highlighting some ideas!
---
Bass Coast 2023 – Do's & Don'ts:
Prohibited Items
Glass (especially bottles & mirrors)
Alcohol (drinks will be available at our on site bars)
Illegal substances
Laser pointers
Stand-alone generators are not permitted. RV's with built-in generators are permitted. Please be respectful of your neighbours. Run the generator sparingly and do not run it at night.
Unauthorized/unlicensed vendors
Fireworks or flares
Bouncy castles
Fire dancing equipment
Weapons
Speakers and sound systems (no renegade stages please)
Animals (service animals must be registered at the gate)
Aerial drones
Unauthorized solicitations (handbills, sampling, giveaways, etc.)
Body glitter / feathers that may fall on the ground (if you must use glitter, only use biodegradable glitter)
War bonnet style headdresses. Learn why HERE.
Any items that are culturally inappropriate. General Rule: If the item or look in question is traditionally used by a community or culture other than your own to express religious beliefs, political statements, or respected status within that culture, leave it alone.
IMPORTANT INFO:
Don't camp on the road before gates open. Those obstructing local traffic will be forced to move and lose their position in the queue.
Don't leave any waste on site. This is a leave no trace event. Pack it in and pack it out.
Don't expect to buy a Thursday entry pass at the gate. Thursday entry tickets are available in advance sales only.
Don't start a fire. BBQ's and Camp stoves are allowed, but no open flames and no propane fire pits. Fire spinning is not permitted at Bass Coast.
Don't go into restricted areas, closed bridges, or private property next to the festival.
Don't obstruct the flow of the Coldwater River. It's a natural salmon spawning area.
Don't dump waste water on grounds. Please only dump in water drains – shower drains.
Don't use the river for personal washing.
Don't bring radio's or walkie-talkies that may interfere with production / first aid communications on site.
Must Haves & Basics:
A water bottle to refill at the water stations
Cooler for Ice
A quality tent or RV that can withstand the elements including heat, wind and rain
Rebar to stake down the corner of any tent or shade structure. It gets very windy here and tents fly away all the time. Make sure you cover the end of the rebar with a tennis ball or empty water bottle to protect people from tripping on it.
A carpet or mat for outside your tent to keep the dust down
Rope and tarps for extra sun and rain protection
A high-quality flashlight for finding your way around at night
Garbage & Recycling bags for keeping your site clean and tidy
Other Suggestions:
Light up your campsite with solar-powered lights
Gifts to share with your friends and neighbours (Preferably not plastic items that will end up in the landfill)
Bring pre-filled water jugs to cut down on the number of trips to the refill stations.
---
Follow Bass Coast:
Website | Facebook | Twitter | Instagram | SoundCloud