Widow dives deep into self-reflection on each track off his latest EP, Shadow Work – out now on Deep, Dark & Dangerous!
---
Widow is known for his eerie 140 dubs that continue with each project he drops. Although he is only a few years into his career with the collective, Deep Dark & Dangerous could tell he was a perfect addition to their roster from the start. Luckily for us, TRUTH knows a thing or two about good music, and Widow is a perfect example of their exquisite taste.
Last year, the artist kept nightmares alive with his Spooky Stories EP, filling listeners' minds with fear as the sounds of the deceased surrounded them. This year has already felt chills down its spine once he unveiled his spin on Starfire Muse's "Shadow Bonnie Lullaby," making you wish you had your mom nearby to comfort you. No one can save you from the clutches of Widow's soundscapes, and he is back to haunt you again with another body of work.
Today, Widow is back from the trenches to bring you seven new tracks on his newest EP, Shadow Work. Living up to his reputation, this EP is filled with all of the uneasy and shallow breath beats one can fathom. Dive into your own personal inner shadows with Widow's soundscapes as a guide, and reach down into your deepest secrets to bring forth for judgment.
Make sure to listen to Widow's latest EP on your preferred streaming service and keep reading for a deeper interpretation of the tracks!
Stream Widow – Shadow Work on Spotify:
---
Press play if you dare; your Shadow Work is about to begin.
As the harp's melody on "Shadow Work" fills the foggy air, it sets the stage perfectly for the words of Shafique. The feeling of temptation overcomes you as each word plays with your conscious mind. Open your chakras and find your "Flow State" with ease as you digest the wisdom shared and dissolve each fear you uncover on your journey.
A familiar scene might fill your mind as "Dangerous" begins with the famous line, "Keep the change, you filthy animal." Filthy Animal is right because this song is loaded with nasty low-end sounds from start to finish. "Alien Life Form" is here to bring uncharted territories to the surface. The soundscapes create the exact feeling one would imagine being sucked into a UFO might feel like with each passing moment.
Get lost in the "Frequencies" as Widow portrays the incredible feeling of experiencing pressure as you stand in front of a proper sound system providing delectable high and low frequencies. Tag teaming with MAC on "Devil Dancing," this pair creates the perfect setting for goosebumps to arise. Your willpower will be tested by the whispers of terror and tempting melodic marvels. Ending the journey within, "Child of Darkness" provides a path to your preservation of self as you harness the darkness and emerge from the ashes a new version of yourself.
Shadow Work is the perfect soundtrack to break down barriers and look within. From its low-end soundscapes to its dark broody elements, this EP sets the tone for soul searching to ensue. So press play and see what lies beneath the depths of your mind as Widow walks you through a much-needed moment of self-reflection.
---
Widow – Shadow Work – Tracklist:
Shadow Work ft. Rider Shafique
Flow State
Dangerous
Alien Life Form
Frequencies
Devil Dancing ft. MAC
Child of Darkness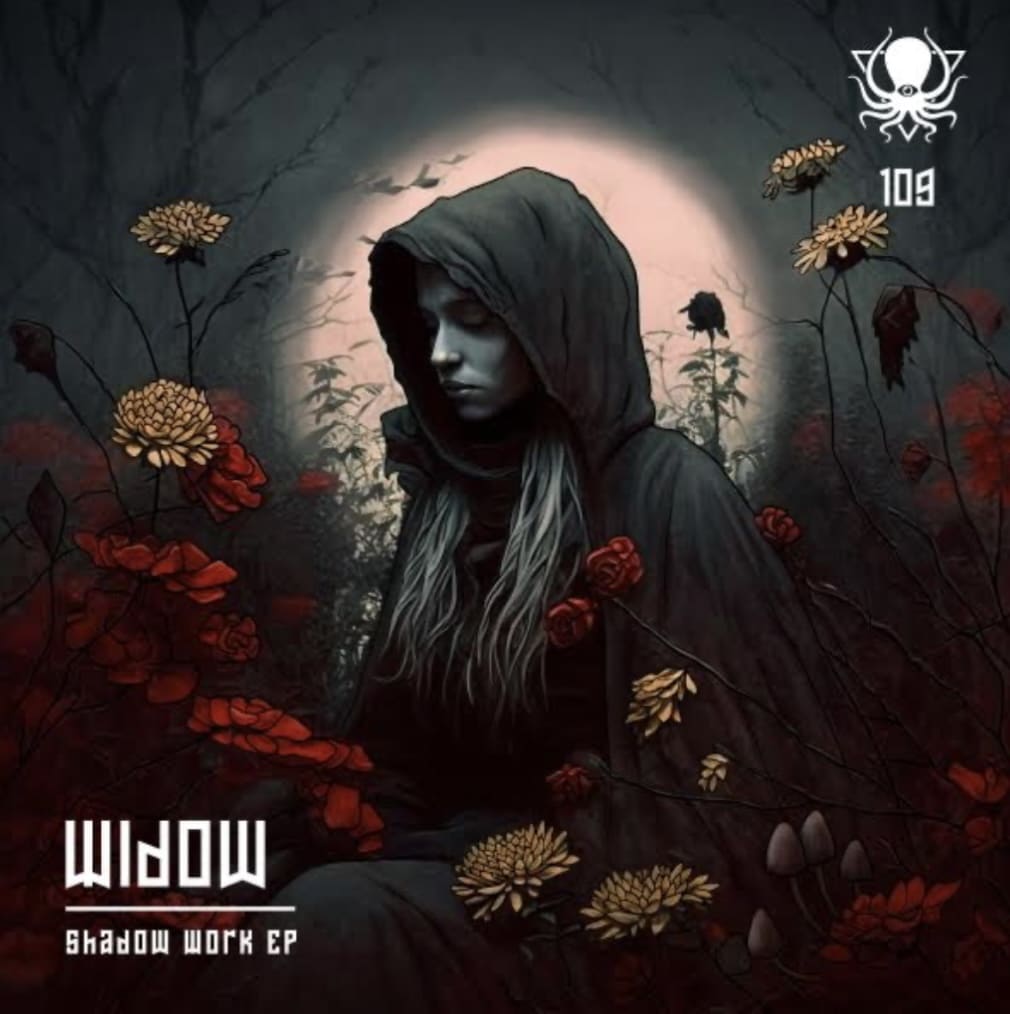 ---
Follow Widow: