The mysterious artist Deathpact started their live tour with tons of energy at Concord Music Hall in Chicago.
---
It's no surprise that no one knows who Deathpact truly is, but what we do know is that they sure do put on a great show. This past weekend, after a stunning performance at Ultra, they started off their live tour at Chicago's Concord Music Hall, a decent size venue for the crowd, which included a raised platform in the back and an upstairs viewing area. There were also standard options for drinks, including Red Bull, liquor, beer, and seltzers.
Before the show, on Instagram, Deathpact had asked for fans (or "beans" as they like to call them) for donations to a small food drive with Love Fridge Chicago, a local organization specializing in neighborhood and community food support. They had a small bin filled with goods to donate. For doing this very last minute, I was impressed with the outcome.
As for the show itself, there was one small error with equipment at the beginning, but the mystery producer recovered quickly and it was hardly noticeable. The "beans" were moving the entire show, as Deathpact dropped some remixes for The Beatles, Led Zeppelin, Kendrick Lamar, and M.I.A. and when "Paper Planes" came on, I was immediately slapped in the face with nostalgia. The lyrics were known and the crowd as they sang them back. Deathpact showed off versatility with their skills by playing on their MIDI controller and a drum pad to be played with drumsticks.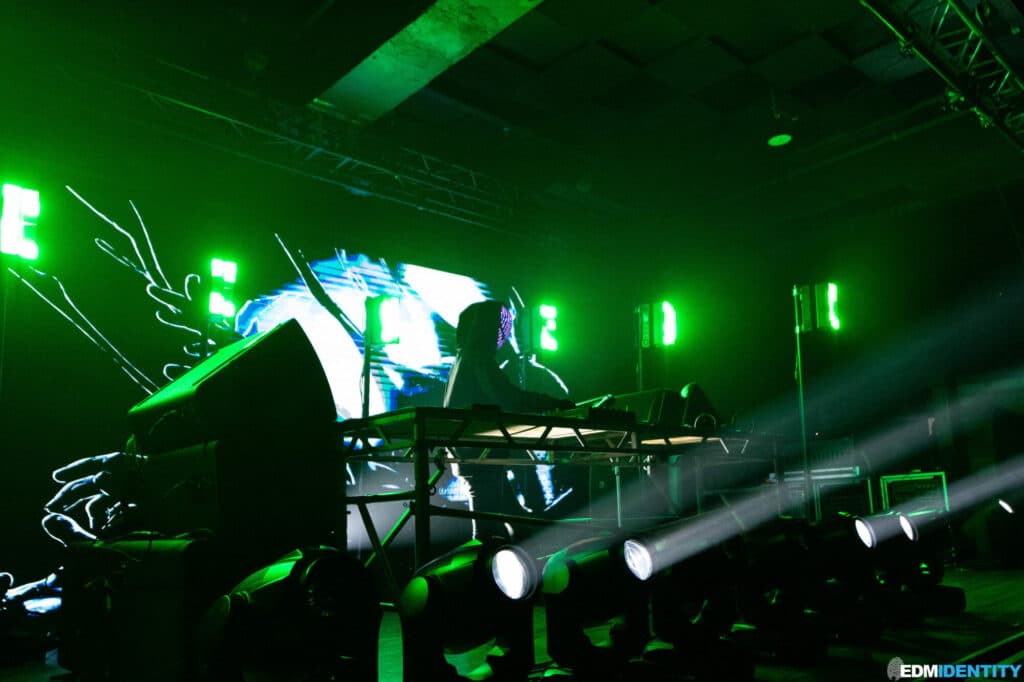 Some shows can be so crowded that it may not even be worth it to go to the bar and leave your friends. However, this show proved me wrong. The ability to move throughout the crowd was pretty easy. Both upstairs and downstairs were full of fans who were ready for Deathpact to give them a show. The crowd was pretty friendly for the most part, everyone was respectful of others' space, and you were able to move through it pretty fluidly.
The show overall was filled with enough energy to keep fans moving and grooving, and went late so I was relatively tired, but hearing some of my favorite tracks gave me enough energy to last the whole show, the Red Bull also helped. There were just a couple of moments when I wanted to leave to sleep, but the drops kept hitting and I needed to hear more. My favorite to hear live was probably "Falling" or their collab with Rezz, "Chemical Bond." Not having seen them before this was a pretty stellar performance. They managed to recover when there were errors and were visually pleasing.
The visuals and lighting were pretty eye-catching too, some tracks were synchronized with a flash of lightning while others had colorful skulls flashing up on the screen that would then turn into a spiral. All of this was happening while the light panels behind, and headlights in front of Deathpact lit up with greens, reds, or blues in harmony with different parts of each song. It was a delightful show, and having never seen Deathpact before, I'd definitely love to see them again in an outdoor setting to experience their visual and lighting game.
If you've missed your chance to see Deathpact, you can still catch them on their live tour in the following cities; Denver, Fort Worth, San Francisco, Seattle, Philadelphia, New Brockton and Bakersfield.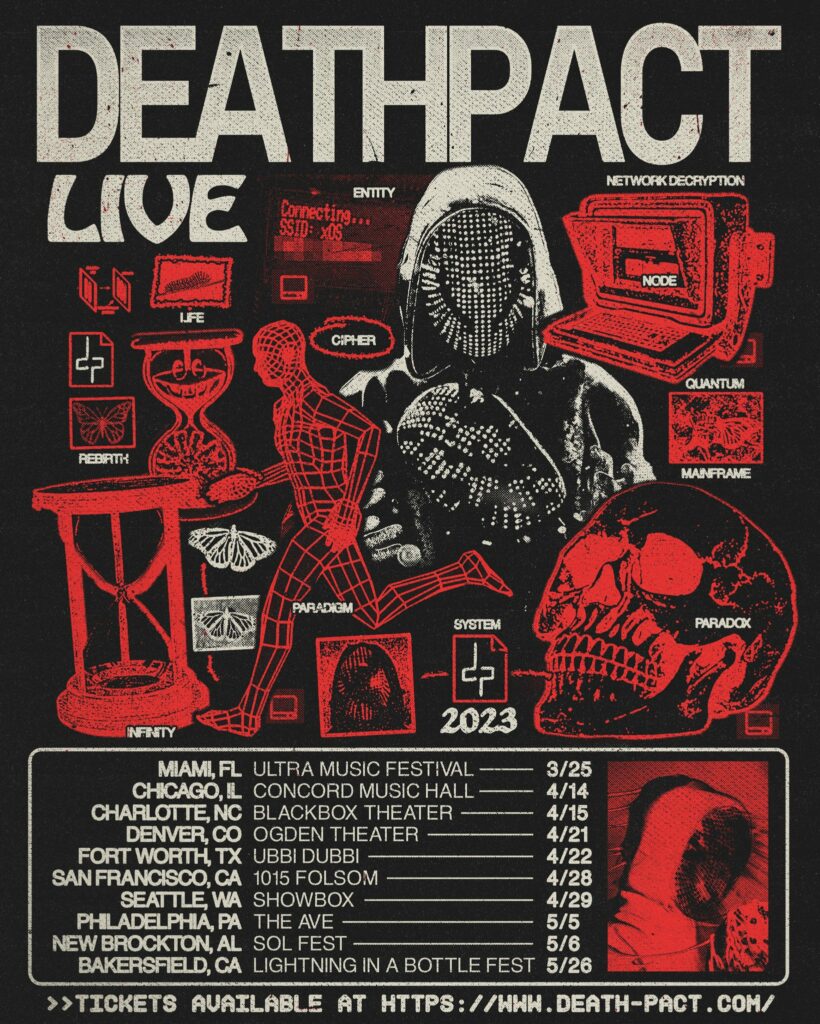 ---
Follow Deathpact:
Website | Facebook | Twitter | Instagram | SoundCloud | YouTube