On the heels of their Coachella debut, electronic duo Magdalena Bay is releasing the latest edition of their mini mix series.
---
While we're often told to avoid an overload of candy and sweets, it's impossible not to experience a sugar high when it comes to electronic duo, Magdalena Bay. The group's glittery, Y2K sound can be heard throughout their singles, mini mixes, and their 2021 debut LP, Mercurial World. Their blend of futuristic and retro soundscapes has earned them the hearts of the TikTok generation and top recognition from Billboard, BBC Radio 1, and Pitchfork; plus a sold out headlining tour in 2022. Now, on the heels of their first-ever Coachella performance, the LA-based artists are returning to their DIY roots with the release of their latest mini mix series —mini mix vol. 3.
Accompanied by a full-mix music video that feature the aesthetics of VHS and DIY green screen, this seven-track collection encapsulates the fun, experimental spirit of Mica Tenenbaum and Matthew Lewin. Like the start of any sea voyage, "Slug Song" kicks off this musical journey at a harbor, fusing the acoustics of waves and seagulls with a dreamy, downtempo production. But this slow number is abrupted by the roughness of the sea, which is heard on the distorted guitar licks on the kinetic synth-pop anthem, "EXO." 
"Top Dog" is a catchy, fierce number that's shaped by R&B textures and flows with confidence, which is required when soloing a journey. And after a long day of traveling, the relaxing part of this exhibition rests in "Wondering Eyes." The acoustic riffs and lullaby ballads transports the listener to the open sea with a pink and blue sky as the saturated sun sets over the horizon. 
Listen to mini mix vol. 3 on Spotify or stream it on your preferred platform. If you're heading to Coachella (or watching virtually), make sure to check their electric performance, which will certainly deliver a sugary jolt.
Stream Magdalena Bay – mini mix vol. 3 on Spotfiy:
---
Magdalena Bay – mini mix vol. 3 – Tracklist:
Slug Song
EXO
2 Wheel Drive
Top Dog
Tonguetwister
Wandering Eyes
Slug Song (Reprise)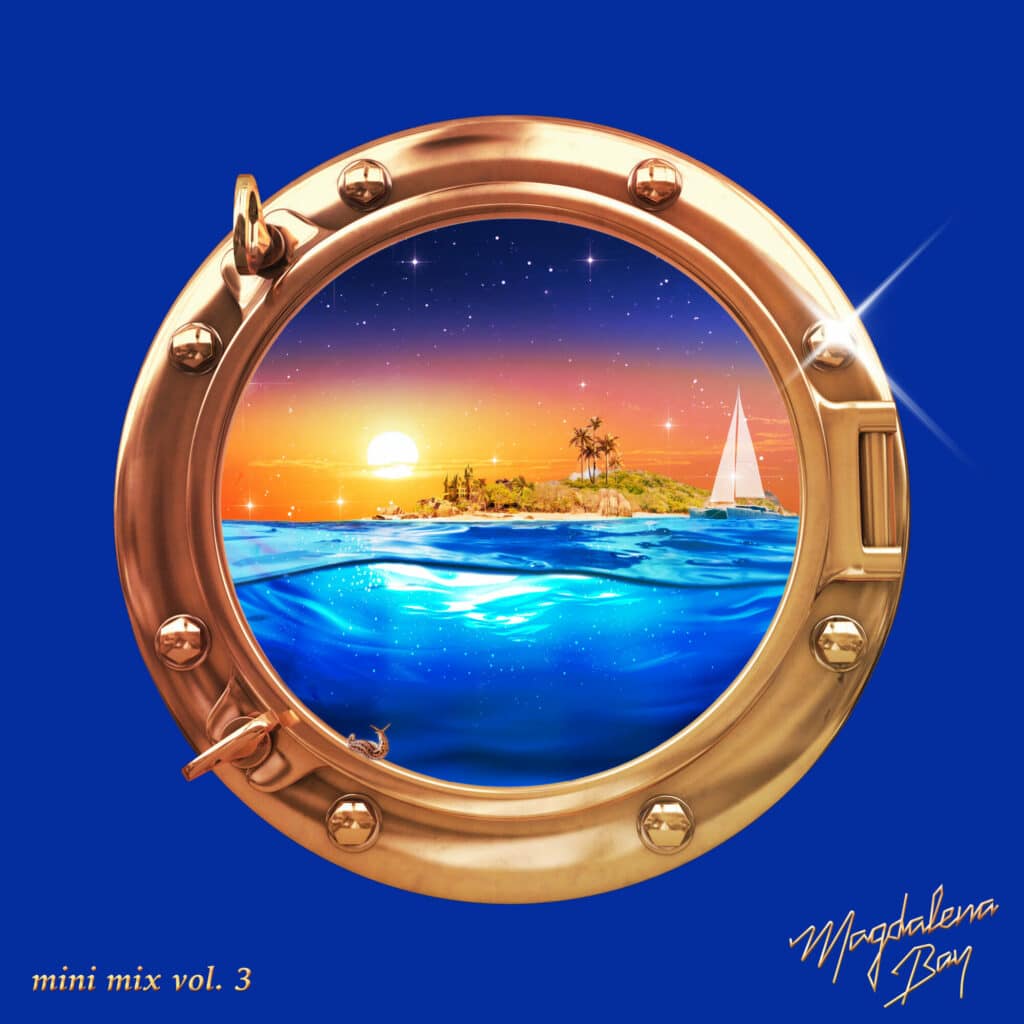 ---
Follow Magdalena Bay:
Website | Facebook | Twitter | Instagram | SoundCloud | YouTube | Twitch