Are you making your way to the desert to experience all that PHXLIGHTS has to offer this year? Stay in the know with this essential info!
---
The return of the Lights is quickly approaching, with only two more days until PHXLIGHTS will blast everyone off for their latest edition. The festival will be held at the Phoenix Raceway, and for the first time ever, the festival grounds will be moving inside the arena. The anticipation of finally being allowed within the arena walls only adds to the excitement. With two nights jam-packed full of booty-shakin' bassy goodness, there is no better place in Phoenix to be this weekend.
Related: Check out Wenzday's Out of This World playlist ahead of her set at PHXLIGHTS this weekend!
Due to a last-minute dropout from DIESEL due to medical circumstances, Relentless Beats brought in ISOxo to make his Arizona debut in his place at PHXLIGHTS this year. Festival goers can look forward to some heavy-hitting sets from Martin Garrix, San Holo, Ganja White Night, and more! Historically, this festival is known to lean towards the heavier side of the electronic music spectrum, so you know there will be no shortage of head-banging and lung-rattling.
To help you get prepped for the weekend ahead, we've curated all the information you need to know before you head out to PHXLIGHTS this year. Read on for the set times, festival map, and other important info, and grab those last-minute tickets if you haven't yet!
---
PHXLIGHTS 2023 – Essential Info:
Dates: April 7-8, 2023
Hours: 7:00 pm – 2:00 am, daily
Venue Address: Phoenix Raceway | 7602 Jimmie Johnson Dr, Avondale, AZ 85323
Tickets: Purchase HERE
Facebook Event Page: RSVP HERE
---
PHXLIGHTS 2023 – Set Times: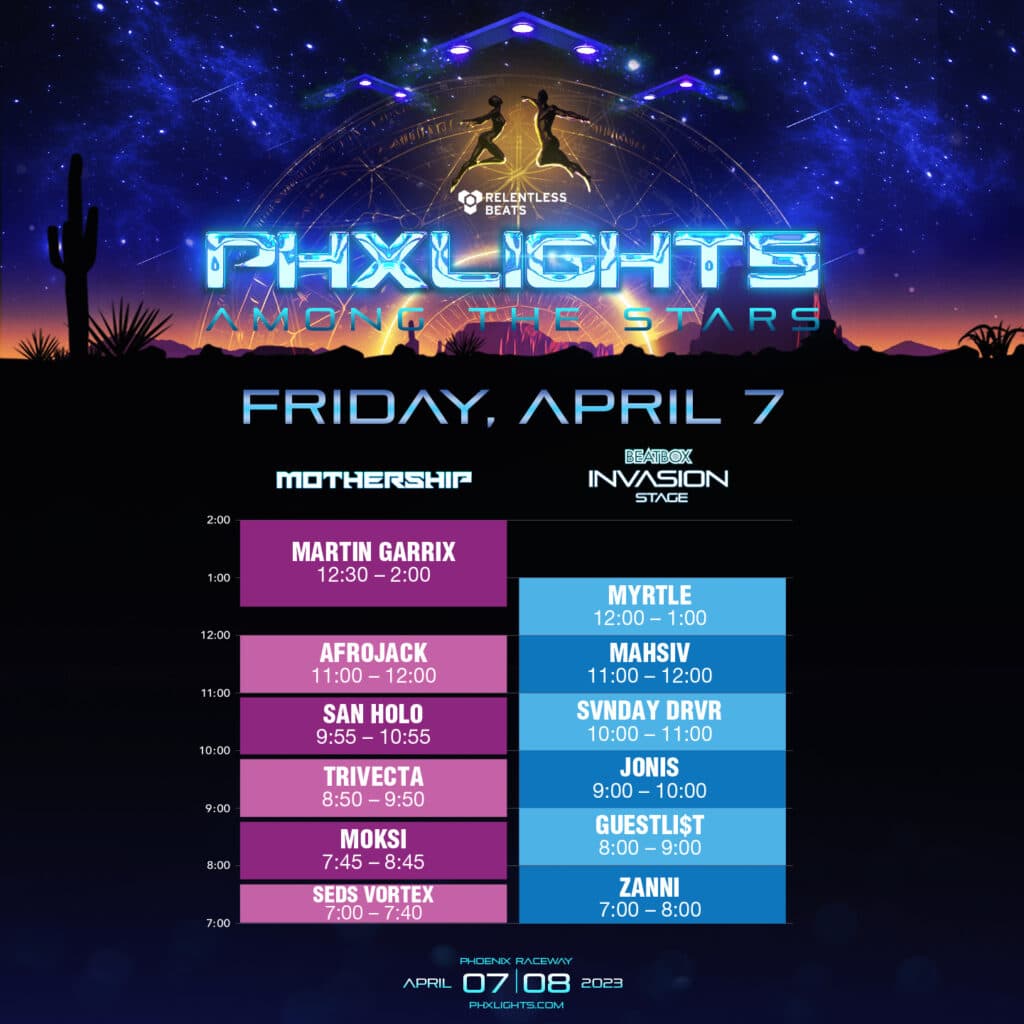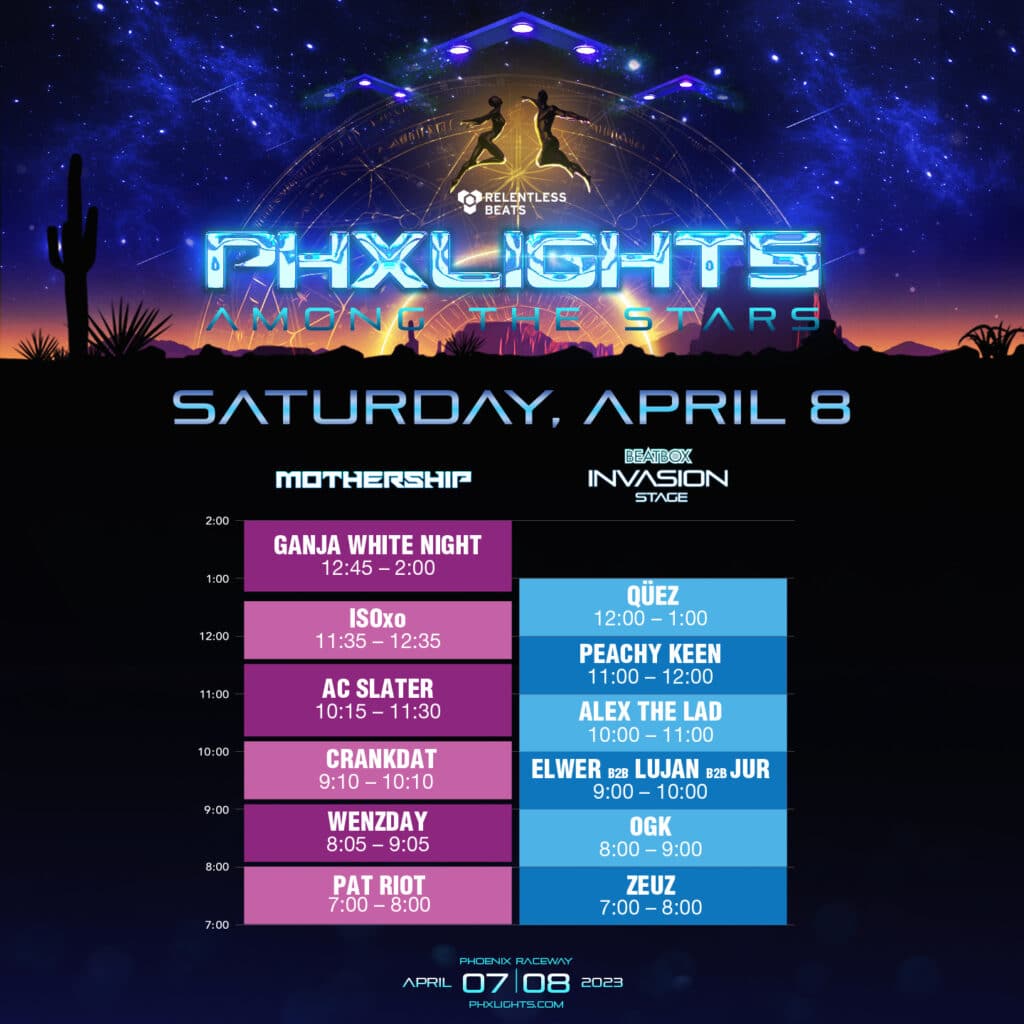 ---
PHXLIGHTS 2023 – Festival Map and Parking Info: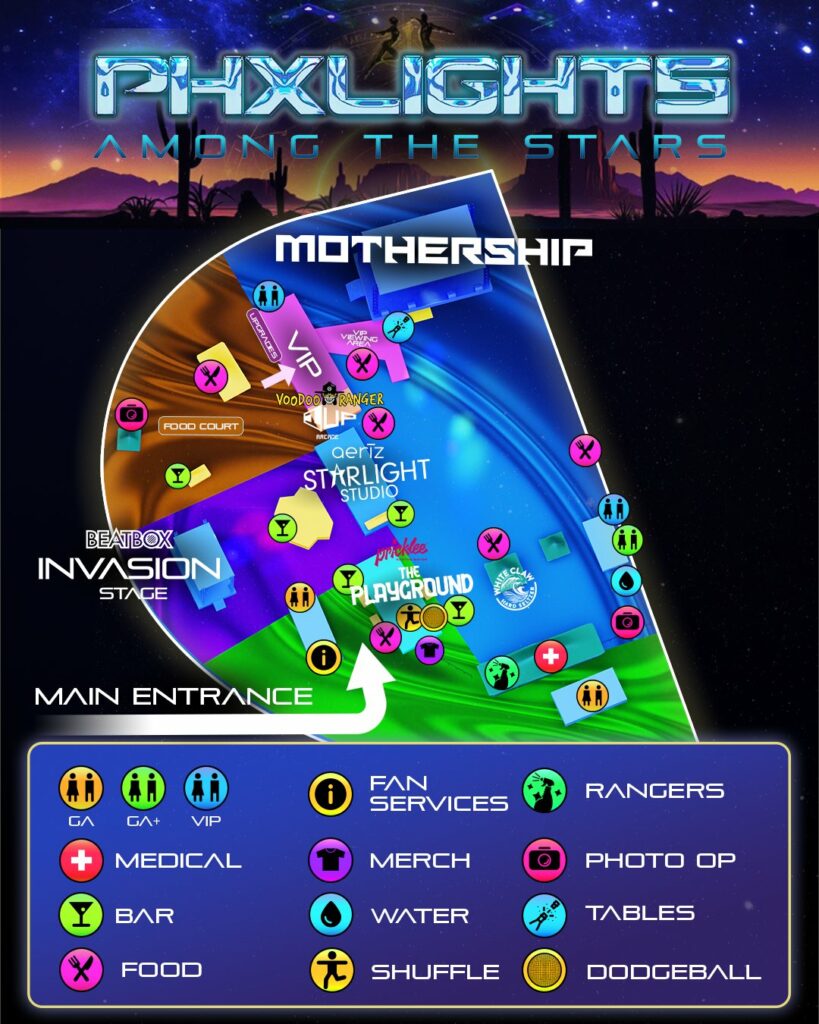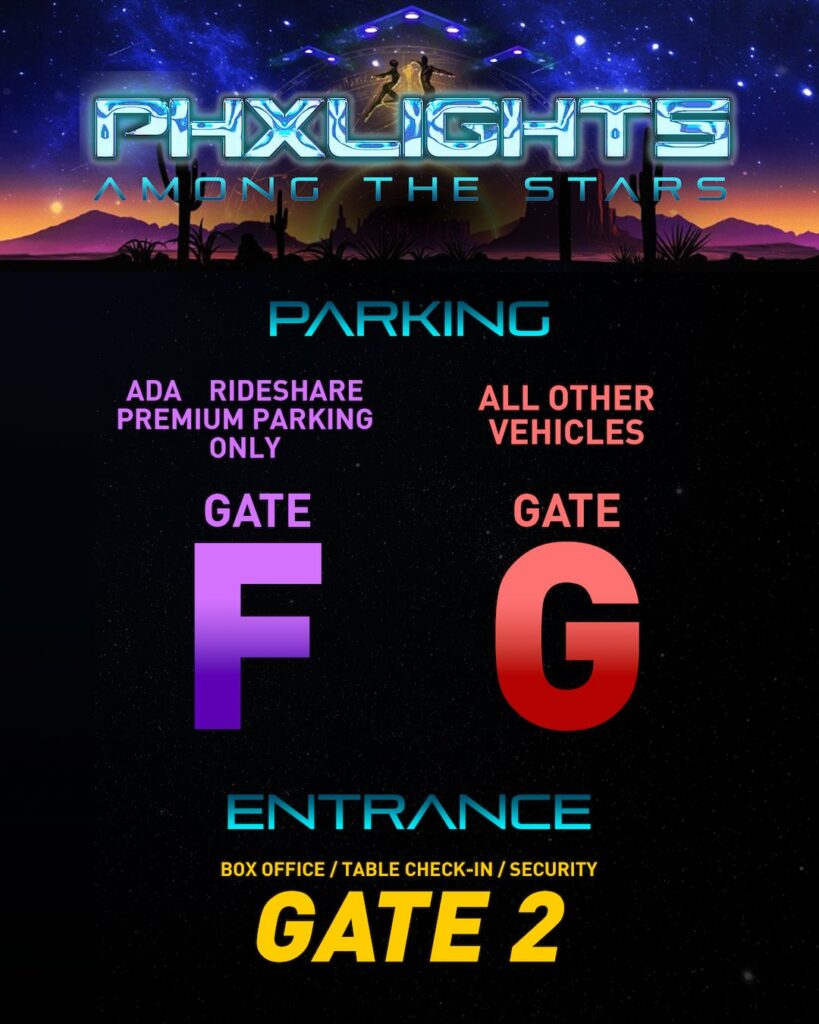 ---
Reminder To Mind Your Belongings:
Unfortunately, many people have reported pickpockets, bag slashings, and theft of wallets, smartphones, purses and other valuables during this festival season. While this small number of bad apples in the bunch doesn't define an entire crowd, there are opportunistic people who come to these events to take advantage of unsuspecting partygoers and it's important to be mindful of your valuables while at PHXLIGHTS.
Looking for tips to keep your belongings safe? Check our post highlighting some ideas!
---
Clear Bag Policy:
Only clear bags (fully clear or colored clear plastic, vinyl, or mesh bag) are allowed at PHXLights Festival. One-gallon clear plastic freezer bags will be considered acceptable. The maximum bag size that will be allowed is 15" X 15"x 5". In addition to a clear bag, guests may bring in one small clutch up to 5" X 7"x 2" in size. Due to clear hydration packs not being readily available, EMPTY hydration packs are the only exception to the clear bag policy.
---
PHXLIGHTS 2023 – Do's & Don'ts:
Permitted Items
OK Clear (transparent) bags
OK Clear (transparent) backpacks
OK Clear (transparent) fanny packs 
OK Empty non-transparent Camelbaks
OK Small clutch up to 5" X 7" X 2" in size
OK Non-Professsional Still Cameras including Go Pros
OK Cell Phones
OK Lighters
OK Sealed: cigarette packages, tampons, packs of gum, chapstick/lip gloss
OK Glowing/illuminated costumes or jewelry
OK Sunglasses and hats
OK Sealed liquid sunscreen and cosmetic products
OK Disposable E-cigs, nicotine vaporizer pens, excluding those with refillable chambers containing visible liquid
OK Guide dogs for people with disabilities and other service animals with current rabies certification
Prohibited Items
NO Illegal substances
NO Drugs or drug paraphernalia
NO Pets
NO Massagers
NO Laser pens or pointers
NO Eyedrops
NO Glass, cans, cups, or coolers
NO Markers, pens, or spray paint
NO Large chains or spiked jewelry
NO Stickers or flyers
NO Tents, large umbrellas, or chairs
NO Large purses or bags (over 15" X 15" X 5" inches)
NO Open cigarettes, lipstick, chapstick, tampons
NO Outside food, beverage, or alcohol
NO Professional cameras (SLR or detachable lenses)
NO Video or audio recording equipment
NO Knives, firearms, pepper spray, fireworks, or weapons of any kind
NO Toy weapons or real weapons of any kind
NO Sticks, staff, swords, sabers, or scepters
NO Open sunscreen
NO Balloons, balls, frisbees, or any other projectile
NO Native American headdresses
NO Festival totems
NO CROWD SURFING OR RAIL BREAKING. PATRONS PARTICIPATING IN EITHER WILL BE EJECTED.
---
Follow PHXLIGHTS: