Lightning in a Bottle announces the learning and culture programming that will take place this year at The Compass!
---
Lightning in a Bottle has much more to offer than just music. There is art, food, yoga, workshops, and a variety of community discussions to stimulate your brain over the course of the weekend. Sometimes it is necessary to retreat from the intensity of the stage production and participate in activities that nudge you to be a little more vulnerable, to examine life from a different perspective, to learn something new, and be more present in the moment. This year The Compass will offer countless opportunities to expand your mind and learn about different communities, cultures, and concepts as the collective consciousness of Lightning in a Bottle elevates with an illustrious lineup of humans sharing their insights.
If you are curious to learn more about the programming that will take place at The Compass, you will be happy to hear Lightning in a Bottle has announced the lineup for its 2023 edition. Workshops and discussions include Ancestral Homelands of the Tejon with the Tejon Tribe, Womb Care Love: From Trauma To Transformation with Queen Afua, The Secret Intelligence Of Water with Veda Austin, Keeper Of Bees: Ancient Future Wisdom with Center For Integrative Bee Research, and Kundalini & Tantra: Unlocking Ancient Science with Jai Dev Singh. Additionally, a community favorite, How Psilocybin Can Help Save The World with Paul Stamets, will also take place.
Other notable discussions and workshops include The Oracle Divination Board with Compass Director Isis Indriya, Our Role In The Soil Food Web, Vedic Astrology, The Codex Of The Magician, Creating Healthy Interdependence, and Human Design: The New Paradigm, among many others. Further, there will be some very special musical performances at The Compass, with The Polish Ambassador performing a Sunday Service as well as a series of downtempo ambient sessions from artists like Equanimous and Ruby Chase at The Beacon.
Check out the full lineup of programming for The Compass and get excited to expand your mind, learn something new, and dive deeper into the experience of Lightning in a Bottle! Tickets and camping passes for the festival are on sale now via their official website.
---
Lightning in a Bottle 2023 – The Compass Lineup: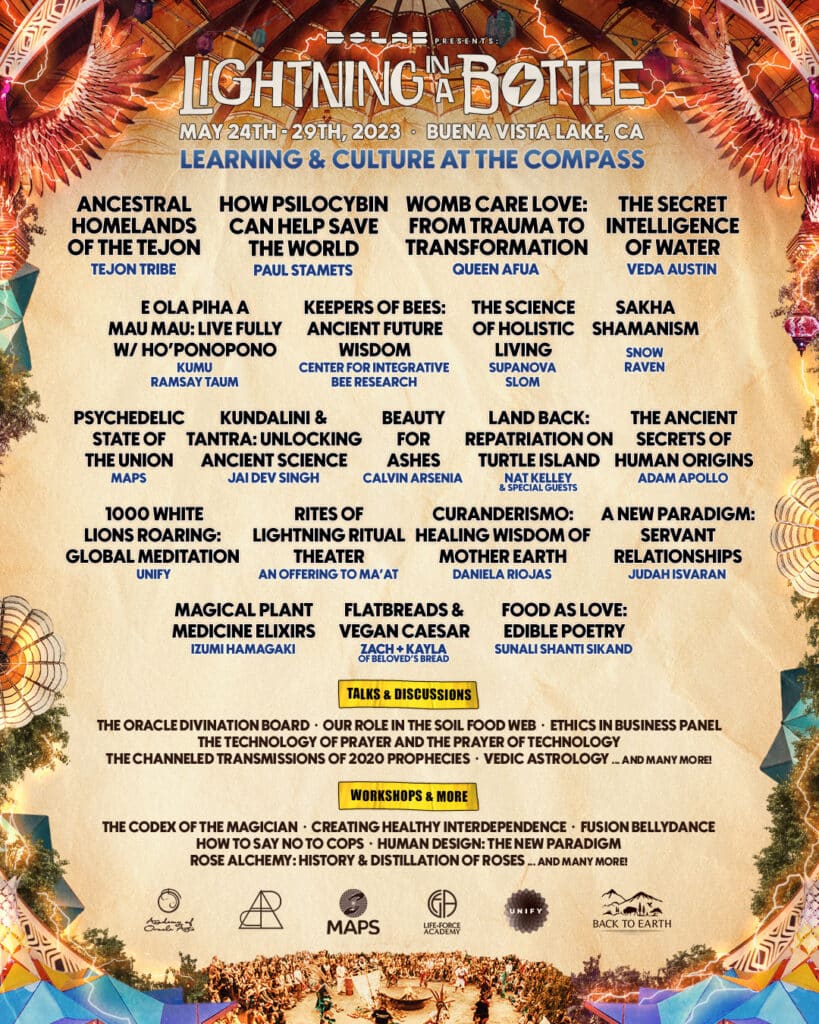 ---
Follow Lightning in a Bottle: