On April 1, Night Bass is celebrating their ninth birthday with a special b2b featuring Holy Goof and TS7, plus other special guests!
---
Night Bass is turning nine years old, and they're calling on Los Angeles to come to celebrate on April 1. The special nine-year anniversary event will be held in a secret location in DTLA to be announced to ticket holders prior to the event and will be "unlike any party" they've ever thrown before. Featuring a b2b set from UK-based Holy Goof and TS7, amongst other special guests from the Night Bass family, there's no doubt the thumping dance floor will be shuffling the night away.
So what can we expect from the exceptional headlining b2b that Night Bass has curated? Hailing from the UK, Holy Goof has become critically praised as one of the most promising rising DJs and producers, supported by artists like Flava D, My Nu Leng, and DJ Q. Having already played an impressive slate of mixes for BBC1 Xtra and Rinse FM, along with having a track signed released on Flava D's Fabriclive compilation, his place in the bass house scene is now undeniable. Holy Goof's style carries a fluid component that ranges from classic, UK bassline to integrating grime – which is perfectly paired with TS7.
Also coming in from the UK, TS7 came up in his local UK Garage and bassline scene, growing a name for himself by playing local nightclubs. Having been signed to Agent X's UKG label as early as 2007, TS7 is almost a household name in the realm of bassline. More recently, he has continued to make significant music impacts – with successes including the release of his single "Know My Name" in 2022 and performing on the BBC Radio 1 Dance Stage at the UK festival Reading and Leeds. His unique take on blending bassline and UKG will be a perfect complement to Holy Goof, and it's already clear the synergy will be incendiary.
New to the Night Bass family? Founded in 2014 by bass house pioneer AC Slater, the imprint has evolved into an iconic record label and event series in its space. Established with the mission to foster all things bass house, UK Garage, Bassline, Grime, House, and, as they self-describe, "everything good in-between," what started as a Los Angeles-based community party has become an undeniable global brand.
Whether you're a day one fan of Night Bass or just a lover of bass house, don't miss the chance to catch this epic event! Tickets can be purchased on DICE today.
---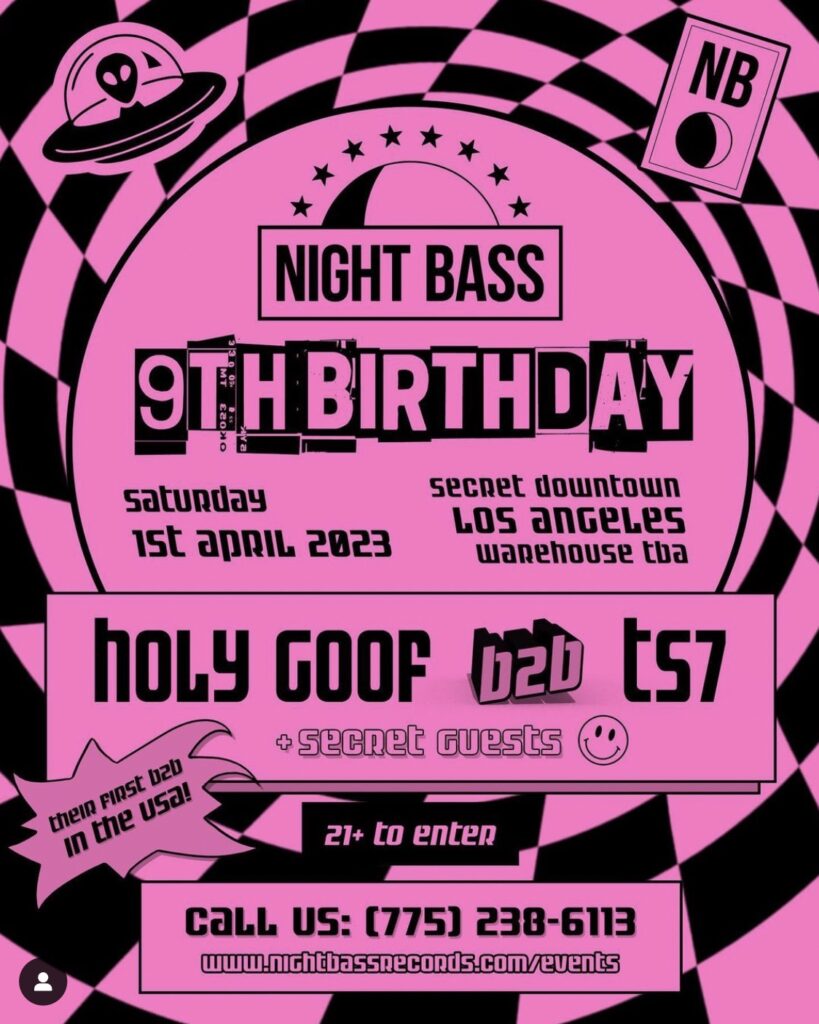 ---
Follow Night Bass:
Website | Facebook | Twitter | Instagram | SoundCloud | YouTube