In a dark basement with spectacular sound, Claude VonStroke pleased the Dirtybird flock with a boiler room-style open-to-close set in Brooklyn.
---
When I saw that Claude VonStroke was coming to H0L0 in NYC for an open-to-close (OTC) set, I knew I had to be there but also wondered why Claude was booking a 200-person basement for this visit. I hadn't been to H0L0, but when I reached out to friends, I learned that it's a DJ's paradise because it's a true bunker of a basement with a spectacular sound system. Then I learned this would be a boiler room-style performance, and everything clicked. This would be a night to remember, with Claude living his best life tossing IDs at the small crowd all night long.
Graffiti on the walls, a dark bunker, minimal lighting. H0L0 is in an invigorating venue that is technically in Ridgewood, Queens but just one block from the Bushwick, Brooklyn border. Ridgewood has several underground clubs, but patrons often still say H0L0 is in Brooklyn because, well, cachet, I guess. Ultimately, all that matters is that it's a dark basement club in a dark and quiet neighborhood – the perfect appetizer for a main course of Papa Claude. And did I mention the spectacular sound setup? Well, I was not disappointed, and I'm sure Claude wasn't, either.
Doors were called for 10pm, and I arrived with a group of five friends just a few minutes after that. My friends were worried they wouldn't get close to Claude if we arrived later, but with an OTC set, I knew he'd be on right at 10pm and that only the most rabid fans would arrive at that hour. There were about 20 of those rabid fans from the flock dancing around the space when we arrived, and Claude was more than happy to shake a few hands as fans approached. We also met his wife, Aundy Crenshaw, who was incredibly welcoming and a legend in her own right. We truly felt like we were invited to party with Claude and Aundy in the basement of their home.
Claude is no stranger to OTC sets, and judging by the night at H0L0, this really must be his happy place.
I've seen him on so many different stages, from huge ones at Movement to the intimate "Sunday Brunch" takeovers of the Water Stage at Elements. While he is always the consummate performer that never fails to entertain, I don't think I've ever seen such a six-hour smile as the one he wore at H0L0! Being my first boiler room-style event, I truly understand why a performer would just love the energy of the small room packed with die-hard fans and a sound setup that just can't be beaten. In fact, the next night, I was at another venue and realized just how incredibly poor the sound was at that other venue after having such an auditory orgasm the night before.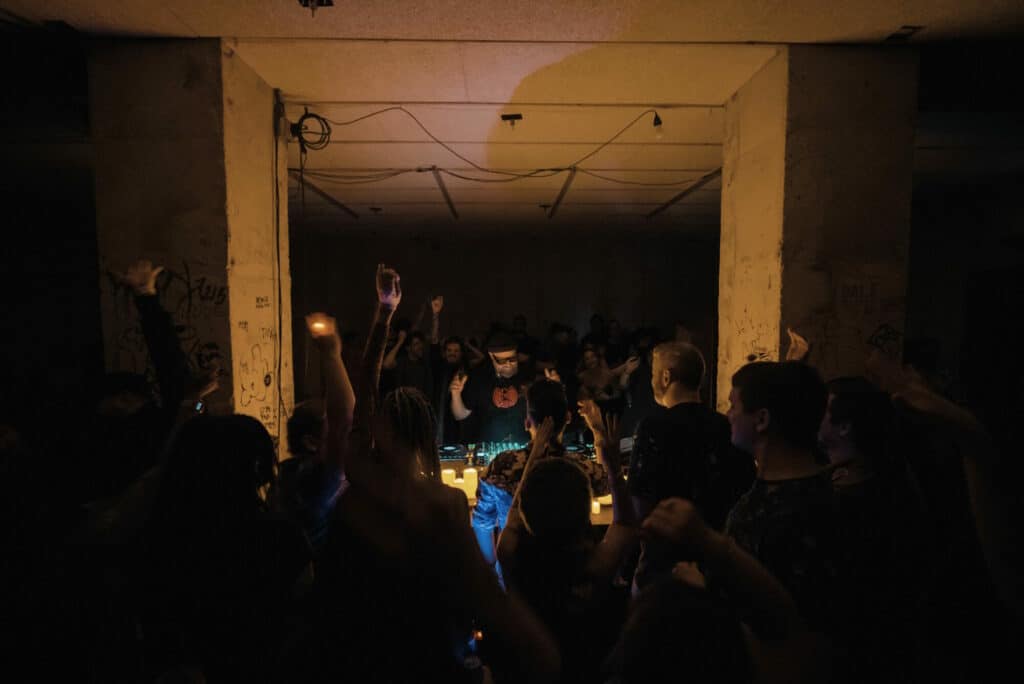 Claude showcased his experience and skill as an entertainer by teasing and pleasing the crowd with long predictable stretches intermixed with journeys into the depths of electronic music.
During the first couple of hours, there was not a single Claude VonStroke release to be heard. It seemed to me that he was playing some Dirtybird demos and perhaps testing some unreleased material as well. Regardless, the IDs were absolute fire! It wasn't until 1am when he dropped "Comments" and then followed 20 minutes later with "Jolene" that we heard those familiar tracks. And the best part? Unlike a main stage performance, the crowd just carried on grooving because IDs or chart-toppers just don't matter to a vibing crowd in the flow of their groove.
For those first three and half hours, the house sounds were solid and consistent. But soon after dropping his originals, there was a remix of Wildchild's "Renegade Master" that felt like a very intentional demarcation in direction for the night. Suddenly the dense atmosphere of this basement was filled with various funky sounds that were decidedly not house. Things got really funky, then there was some drum and bass, then funk again, and various other genres until, finally, we were returned to "Renegade Master" as if to bookend this half-hour (ish) journey beyond house. This was just a taste of what was to come in the final two hours, where Claude continued to surprise with more diverse sounds and the occasional phase of his own famous tracks.
Around 3:15am my crew was trying to leave, but every time they motioned towards the exit, Claude reeled us back in. By this time, the flock was frothing, and there was really no chance we could leave anytime soon. Well, honestly, the flock was frothing from the moment the doors opened, but now there was a packed, steamy room with sweaty bodies moving in time and the euphoria of the night in full swing. Claude really knows how to lead a crowd, and lead us he did, right into the wee hours of the morning. My crew didn't make it till close, but at 3:45am, one person called it, and we all sort of fell in line.
If you ever see a Claude VonStroke open-to-close announced in your area, run, don't walk, to that show. Trust me, while any DJ that will tackle an OTC has likely got the chops, Claude is simply on another level. And, perhaps, he's taking us to another planet, too.
Need an immediate taste of Claude VonStroke for Boiler Room? Check out this oldie but goodie below!
---
Follow Claude VonStroke:
Website | Facebook | Twitter | Instagram | SoundCloud | YouTube | Twitch