Although the crowd left much to be desired, CRSSD Festival Spring was yet another fantastic kick-off to festival season in San Diego.
---
FNGRS CRSSD shook up the festival scene in 2015 when the debut edition of CRSSD Festival Spring took place. The emergence of this unique experience at San Diego's Waterfront park quickly won over the hearts and minds of house, techno, and indie dance lovers who were looking to start their run of attending festivals during the season on the right foot – and they've only continued to dominate ever since.
No festival remains the same over the years, especially compared to the first editions, and this has also held true for CRSSD Festival. Even though certain aspects have remained familiar, such as the tasty drinks, layout, and unique opportunities to connect with artists, the boom in popularity of house and techno has laid the groundwork for the shifting tides of this two-day affair. Artists who had previously played the festival with smaller crowds have since blossomed to draw enormous ones – yet those on the hunt for something fresh and exciting can find solace in the depths of the lineup, which has seemingly become more esoteric with time.
For me, the draw of CRSSD Festival Spring isn't just the ease of attending as a San Diegan but the ability to explore a highly curated lineup to see artists I've never had the pleasure of catching. The music-first mentality of the festival is something I've come to love significantly over the years, and FNGRS CRSSD has delivered by gifting us all with unique performances that you can't find at most other house and techno-driven festivals.
The headliners are always a massive draw for many, and this held true for the recent edition as CRSSD Festival hosted the likes of ODESZA, Purple Disco Machine, UMEK, Deborah De Luca, Polo & Pan, and Kavinsky. The latter of those was the artist I was most excited to see on the lineup, having never been able to catch the French artist over the past 15 years to immerse myself in his synth-wave-infused soundscapes and tasty cutes. But there were plenty of artists on the undercard who I was also curious about – Skin On Skin, Bloody Mary, Kettama, and Mall Grab – all of whom I had never had the chance to see prior, either.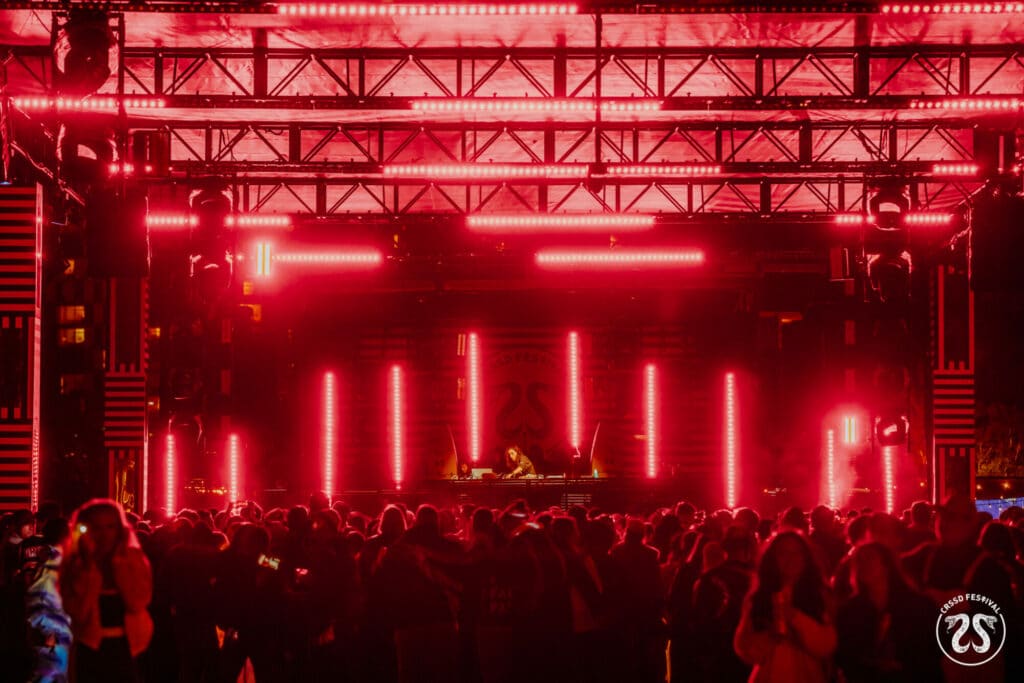 Flash forward to the weekend of the festival, and even in the face of some chilly weather, I was excited to make my way to Waterfront Park.
Lines weren't crazy long when entering during the daytime, and I always recommend you arrive around 3pm to avoid potentially longer ones later on during peak hours. Once inside, it felt like I had returned home again – the music was bumping, attendees were smiling, the sun was shining, and the vibe of the festival itself seemed to be in a great place. A much-needed dose of techno was on the agenda, and with a limited crowd at the City Steps stage, there wasn't a better way to start the weekend off.
Bloody Mary, Skin On Skin, and Anfisa Letyago dominated the decks during their sets, but it was during a quick trip to Ocean View to catch a bit of Totally Enormous Extinct Dinosaurs that something shifted. That stage, the largest at CRSSD Festival, has become notorious for being one of the least friendly to experience crowd-wise. Instead of being able to dance and enjoy the set, the constant barrage of pushy, rude people making their way to wherever they were going threw me for a loop. I chalked it up to being a typical Ocean View experience like previous years, but I didn't realize it had infected other stages until it was too late.
Kettama and Mall Grab went back-to-back during their set, an interesting change I wish I had known was happening. While some loved the performance, it felt a bit disjointed when I was there, leaving me unable to catch a groove with their set. Kavinsky, on the other hand, was an absolute vibe. He threw down a wicked set that offered everything from his own productions to those from Daft Punk, Benny Benassi, and even Rage Against The Machine. This was a peak moment at the festival, marred only by the random dude who ran full blast from the edge of the crowd directly into my group and inevitably fell to the ground.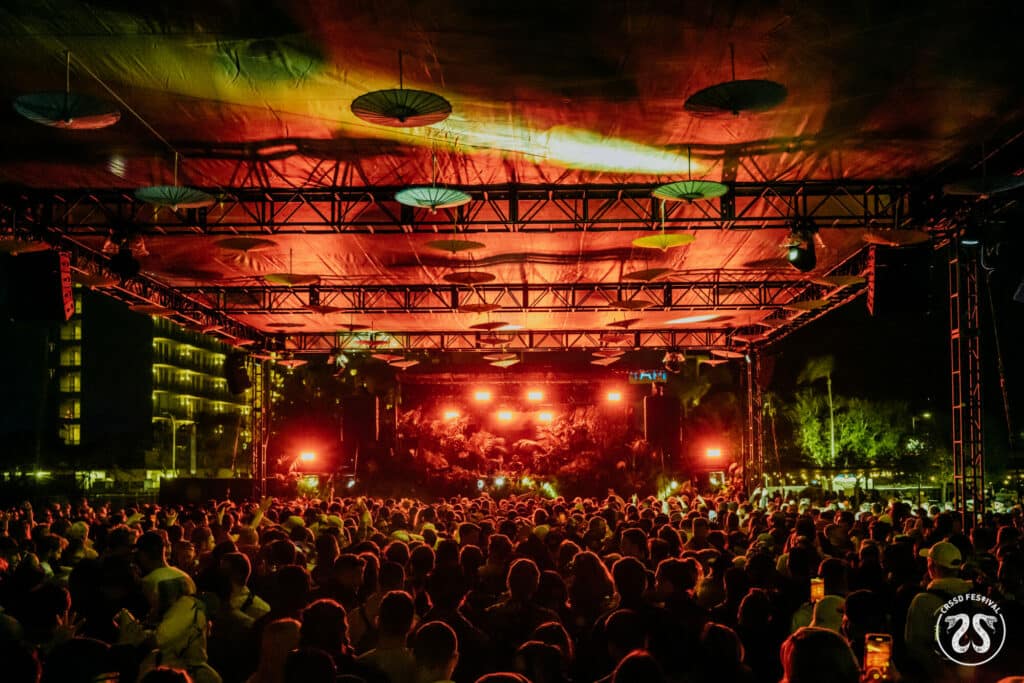 The second day of the festival offered another hearty helping of quality sets with standouts from AMÉMÉ, Channel Tres, Lane 8, and Maya Jane Coles.
AMÉMÉ dominated The Palms with a set that was filled with funky fresh tunes that had everyone moving right along with them. Channel Tres threw down a fantastic set at Ocean View that brought some unique energy to those who were tired from the past evening's festivities. Kittin & The Hacker brought a techno set that featured live vocals for a unique, refreshing twist on the usual City Steps offerings.
For many, Lane 8 was a prized artist on the lineup this year, and while his set delivered, much like the previous night, the crowd didn't. I ended up listening to most of his near-two-hour performance further from the stage than ever before to avoid constantly being bumped or pushed, not to mention the fact that seemingly everyone decided to talk non-stop through his set. The only moment of bliss I found was when we skipped ODESZA to see Maya Jane Coles and Deborah De Luca; the lighter crowd and overall vibe were just better, not to mention the banging beats they both played.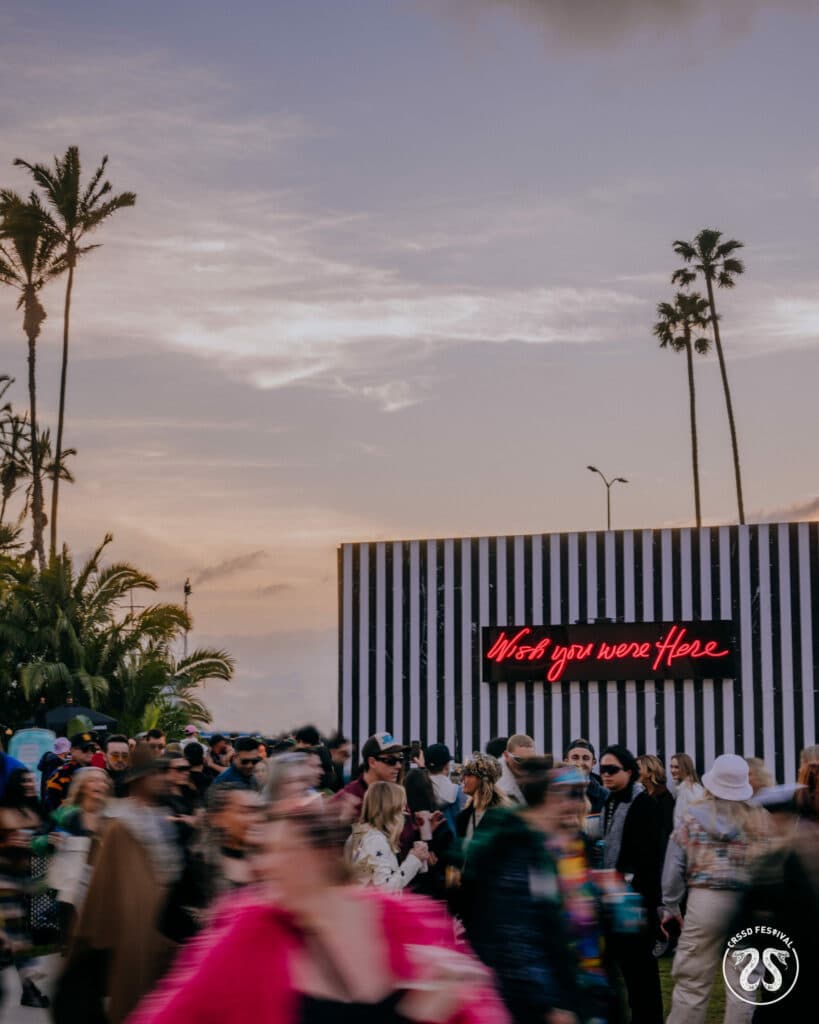 I've spoken about how easy it can be to get out of an area that doesn't have the best vibes in the past, but wherever I went at CRSSD Festival this year, it was impossible to escape.
As day turned to night, the attitude of those in the crowd shifted to a point where no matter where I was standing, someone was rudely pushing past my group and me to squeeze in and dive deeper into the sea of bodies. I can count the number of times someone was polite on one hand; it was a very jarring experience as a whole.
Crowd issues aren't new, but this year seemed worse than past editions – and I don't particularly think this is something that FNGRS CRSSD can fix. It's a problem across the board with the current state of the festival community seen at other events, especially those drawing in younger attendees who haven't picked up on any sense of common courtesy. I'm not expecting CRSSD Festival to be a "PLUR paradise" by any means, but it really isn't that hard to be nice to others. I hope my negative experience with that at this edition is an anomaly and not the norm moving forward.
Regardless of the crowd, CRSSD Festival Spring remains to be one of the best ways to kick off your festival season.
There's no better way to mark the start of the season than by dancing to some of the best artists in the scene and rising stars alike at Waterfront Park. This year might've been a bit more chilly than the past, and the crowd left a lot to be desired, but the highly-curated lineup kept this festival running full steam ahead. Whether you've been to CRSSD Festival in the past or have never been, I suggest checking it out in the future so that you get the chance to experience this unique event in America's Finest City.
---
Follow CRSSD Festival:
Website | Facebook | Twitter | Instagram | SoundCloud | YouTube