Lee Burridge and the All Day I Dream crew are heading to Los Angeles, Brooklyn, Mykonos, Ibiza, and more on their upcoming tour.
---
It's not difficult to get swept away into a dream-like state when the beats from Lee Burridge and the All Day I Dream crew are bumping through your speakers. From impressive solo releases to their beloved compilation series, this multi-faceted brand has captivated melodic house lovers around the world since its inception. Now, as they look toward the warmer days of summer ahead, All Day I Dream has announced the dates and venues for their upcoming tour that will take them to venues around the world.
The All Day I Dream Summer 2023 Tour is set to kick off on April 8 in Austin at The Concourse Project before they take a quick trip to Soho Garden in Dubai. May 20 will see them return to US soil for a show in Los Angeles at Pershing Square, and from there, they'll hit San Francisco's Golden Gate Park and New York's The Brooklyn Mirage before going international once again. Those making their way to Mykonos and Ibiza will be treated to multiple editions of All Day I Dream on the two island destinations, while they have additional plans to stop in Zurich, Grimbergen, Toronto, and Denver throughout the summer.
Check out the full list of dates and grab your passes now, as these summer soirees are ones not to miss. While the lineups are still yet to be revealed, attendees can expect a plethora of stunners in the realms of melodic house, organic house, and more to join Lee Burridge on each stop of the tour.
Pre-sale tickets for the All Day I Dream Summer 2023 Tour are available now – sign up for access and head to their official website for more details.
---
All Day I Dream Summer 2023 Tour – Dates & Venues: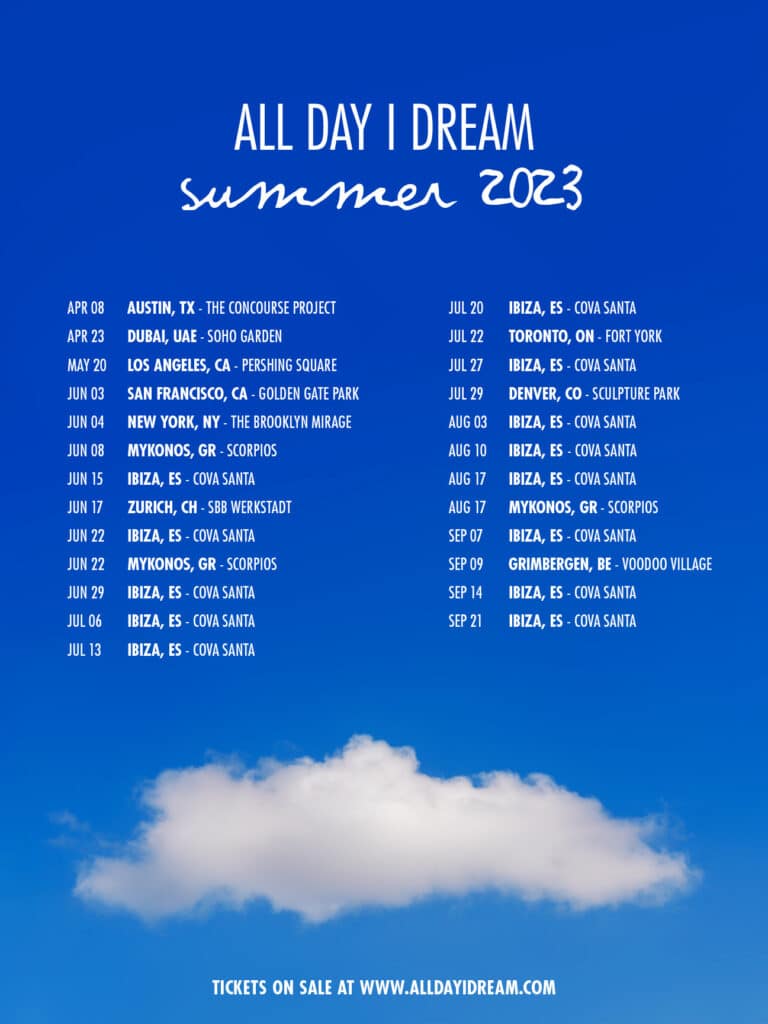 ---
Follow All Day I Dream:
Website | Facebook | Twitter | Instagram | SoundCloud