Fresh off the release of Life Moves Fast, Layton Giordani dropped by to talk about life on the road, his love for fast cars, and more!
---
When it comes to techno, you can't have a proper conversation without including New York's own Layton Giordani. He has established himself as one of Drumcode's brightest talents with music that is both feverishly intense and melodically awe-inspiring. Just take a look at some of last year's highlights, including Digital Age, his remix collab with label boss Adam Beyer on Sam Paganini's "Rave," and "Rabbit Hole" alongside HI-LO. Between his vast array of punchy tempos combined with nonstop life on the road, this is a man who likes to live in the fast lane.
Speaking of fast lanes, his first release of 2023 brings this concept to life in flawless fashion. Life Moves Fast is a generously caffeinated two-tracker designed for the movers and shakers among us. The consistent bassline drive on the title track is where listeners soak up much of the precious energy required for an uninhibited release on the dancefloor. With engines revving, the fizzy percussion pings the body to do its bidding. To drive the concept home, all chances of a chill night fly out the window when the cinematic vocal mixes with an eerie synth pattern, allowing the enthusiastic club attitude to swell beyond its limits from the sheer electric force.
The B-side, "Heart Is King," keeps the energy pumping with a vibrating bassline drive, crisp kicks, and top-end details perfect for the peak hour in a dark and sweaty warehouse. Moreso, there's a body-rocking rise that appears shortly after the halfway mark, recurring time and time again until the brain spins completely out of control. It is this detail that shoots "Heart Is King" to the top of the list of tunes expected to do massive damage on the club and festival circuit.
Looking to gain some added insight into this release and more, we caught up with Layton Giordani for a chat. If you haven't already secured your copy of Life Moves Fast, then quickly pop over to grab it on your favorite music platform, and then continue on for our conversation!
Stream Layton Giordani – Life Moves Fast on Spotify:
---
Hello Layton, thank you so much for taking the time to chat with us today about your new EP, Life Moves Fast. Let's kick it into gear… You tested "Life Moves Fast" at both Gashouder and The Warehouse Project, and you'd reported that the reactions were mega. What is it about this track that you think resonates with the audiences who have responded so passionately?
I think it's the message of atmosphere and tension it builds. "Life Moves Fast" is a strong message with a haunting melody. It kind of puts you in a trance. Then at the peak of the build, it drops away and comes back strong with a bang. Seems to do the trick! 
"Life moves pretty fast. If you don't look around once in a while, you could miss it." These are not only the lyrics but words to live by. How fast does your own life move?
VERY FAST. Usually, I put vocals in my tracks that I resonate with in a big way. After experiencing the pandemic and now being back on tour full-time man… things happen so fast. You really could just miss it. 
We can't talk about a Life Moves Fast theme without mentioning your passion for cars. For fans who didn't know this about you, can you open up about this special interest?
Ah! I love cars. I'm an addict for going fast. My favorite part of flying is right before you take off and hit that peak speak. I recently just got a race car of my own to go fast. [Laughs] 
If you had to pick one car to drive for the rest of your life, what would you choose and why?
Porsche 911 Turbo. You can go fast at any time under any weather condition. It's a beast. 
You stated that the b-side, "Heart Is King," was created with "elaborate sounds that constantly trigger your ears." Let's dive deeper into that concept. Talk to us about the importance of eccentricity in techno and how it alters the mood on the dancefloor.
I love keeping the music interesting, especially in my DJ sets. To me, I always need to hear something that stands out and triggers my ear, and gives that certain spark of joy. If I can't find it, I like to make it. Or even edit it into a track. It's really important for me to keep things interesting or daring even, should I say!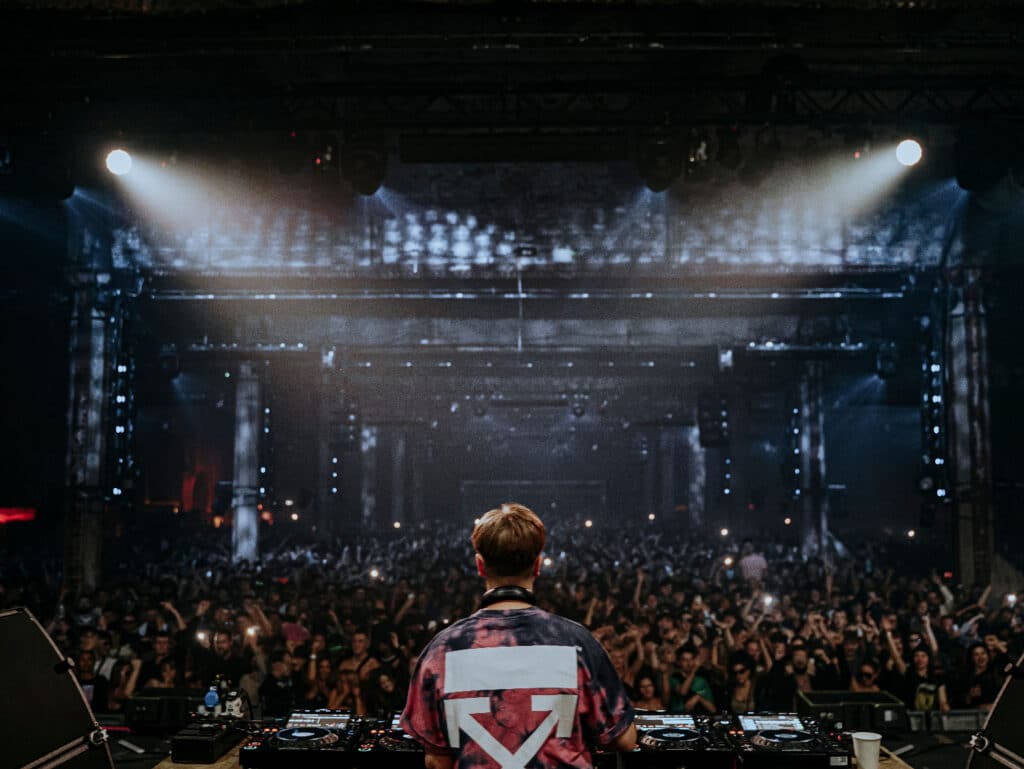 Speaking of the fast life, you live and work in the city that never sleeps and never stops moving, New York. Your profile there has recently accelerated dramatically, so can you tell us more about your relationship with the city and how it's evolved over the years – from influences drawn from your first nights out on NY dancefloors right through to today playing headline shows? 
New York is the best city in the world. I truly believe I wouldn't be where I am today without this city. I was very fortunate to learn music and go to events at such a young age; It molded me into who I am. I have a very deep understanding of what people feel and enjoy here. So, the chemistry is always at 100%. I started playing smaller shows to the point now where I can headline a warehouse or play b2b with Adam Beyer and really live the DJ dream. I'm honored that I can say the city where I'm from supports me. 
Your collaboration with HI-LO, "Rabbit Hole," was such a stand-out 2022 release. How did this collab come about, and how did you guys work together? Were you firing ideas back and forth online, or did you manage to get time together in the studio?
Oliver and I always wanted to do something. I had the initial idea, and it was just about halfway done, and I just sent it to Oliver because I thought he could get it over the line. He reworked the melody a bit, and it ended up turning into a total bomb. We both managed to do it online, constantly blowing up each other's WhatsApp while on tour haha. We constantly tested it, and I think we got to like 12 versions until we were finally happy! I think we'll do more!
Beyond your Life Moves Fast EP – what other music do you have coming up this year, and what other stand-out shows are there in your tour schedule that you're most excited about?
I will for sure have another EP for Drumcode soon, maybe even two. I also have a remix for Green Velvet & Patrick Topping! And then I have something very special in the works, but I can't speak of that just yet. As for touring, I really can't pick which one I'm excited about the most. There are way too many! Miami b2b with HI-LO, a few huge solo shows at festivals … not to mention the Amnesia opening party B2B with Adam Beyer. Really, I'm way too excited for what's to come. 
Finally, as life moves fast, it's important to look back and reflect. In what ways do you think you've grown the most as an artist, and can you share some goals that you'd like to achieve (both in music and in life in general)? 
If I could give you one word for inspiration, it would be… evolve. I'm constantly evolving. I think evolution is the key to pushing new boundaries as an artist or even as a person. Musically I've thrown all rules out the window and stopped caring about impressing people, competing, and just simply doing me. I've also become much more diverse as a DJ/Producer because of this. I think the only person that can limit you is yourself. Life is too short to overthink everything… just do what you feel expresses you, and eventually, it will pay off. Nobody can do you better than you! 
Layton, thanks again for chatting with us about your latest release. I hope you have a fantastic time playing them out at your upcoming gigs!
---
Follow Layton Giordani:
Facebook | Twitter | Instagram | SoundCloud