Paul Van Dyk embarks on his latest musical journey, VENTURE X, and opens up about the potential impact it will have on the scene.
---
This past weekend, world-renowned DJ and producer Paul Van Dyk officially kicked off the North American run of his new live event experience, VENTURE X. The next chapter of his monumental career, this project builds off his open-mindedness and creativity as a DJ and presents that in an entirely new format. He tests the boundaries of his craft and explores sounds that are beyond his repertoire of trance classics, such as progressive house and techno. A master of improvisation, PVD edits his tracks in real-time while catering to the audience's infectious energy.
New York City's iconic Webster Hall hosted the second stop on the VENTURE X tour, as it debuted in Toronto the night before. The historic venue packed in his most dedicated fans for a night that left them speechless. On opening duties were DJs Sam Allan and KOLONIE, who properly set the tone as they eased the crowd into uplifting melodies that built into stimulating drops.
Once the clock struck 1am, the lights dimmed, and the cheers erupted. A distinctive, haunting voice then filled the room as it repeated, "Come with me to where we've never been before." Sung by singer/songwriter Christian Schottstaedt, these are the lyrics to the VENTURE X anthem of the same title. Paul Van Dyk patiently let the track build, and once it dropped, the room came to life. Visuals lit up the stage, lights flashed into the crowd, and the energy within the space felt euphoric.
Song after song was met with screams of excitement as his mesmerized fans joined him along his musical journey. Playing out mainly instrumental tracks, PVD proved that music alone can tell a meaningful story. He came prepared with the finest selections that electronic music offers, but he says the audience dictates how he presents them.
I'm as prepared as I can be because that's the only way to be able to improvise and do things actually on the fly. So I know exactly what I want to do. But it's also down to the interaction with the audience, where it's going, and what's actually happening. The interaction with the audience, that's the thing that drives me and the life of the music, of course.

Paul Van Dyk
But you have to wonder, how does he make his musical vision possible live on stage? "Well, I have my two computers. I have two MX-ONEs, two keyboards. And another sort of bassline sequencer," he said. "And with all that it kind of syncs together…it all channels down to the channels of the mixer, and then I'm able to pre-listen to a few things."
To imagine he is using all this equipment in a synchronized fashion is enough to be impressed.
After being in the scene for more than three decades, Paul Van Dyk is always looking for ways to challenge himself, and VENTURE X certainly puts his skills to the test. Live-sequencing music is no easy task and can surely lead to both mistakes and lessons learned.
I'm probably the only one who knows when something goes wrong. People never really know. I'm the one that knows when, I don't know, suddenly all the drums are gone. They probably just think, "what an awesome long break…" At the end of the day, it's a learning curve for my audience as much as for me – maybe everyone's really annoyed about what I'm doing there. And then I maybe consider a few things.

Paul Van Dyk
The driving force behind the VENTURE X project is the ability for PVD to do what he knows best; be a DJ and unveil the great depths of electronic music to his fans. He adds, "My aim is to present my idea of electronic music in the best possible quality way I can and give people a good time. Maybe that positive energy they take to work on Monday and into their everyday lives. And they're gonna be all happy."
"Come with me to where we've never been before," asks the audience to partake in "a different musical adventure," he says. "It's an invitation to everyone to follow because the thing is, it is really a journey. I think in order to really grasp the intenseness of that music is to really be open and follow."
The VENTURE X tour will be making its way to big cities across North America, including Montreal, Pontiac, Denver, Portland, San Francisco, and Austin, with more dates to be announced soon. Check out the upcoming dates and stay tuned for more from Paul Van Dyk by following him on social media.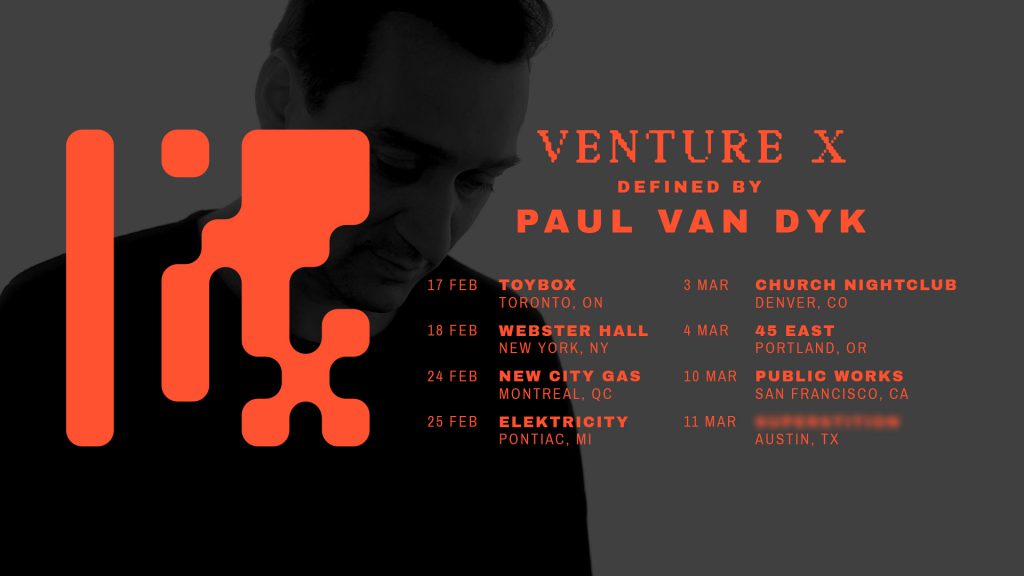 ---
Follow Paul Van Dyk:
Website | Facebook | Twitter | Instagram | SoundCloud | YouTube | Twitch