On the tails of "The Awakening," Carly Wilford swung by to chat with us about learning to produce during lockdown and her goals as an artist.
---
When the world went into lockdown just a few years ago, it was easy to feel as if nothing good would possibly come out of it. While we all holed up inside our homes waiting for the world to return to normalcy, some used this time to embark on their production journeys, and thus the world was gifted with a batch of promising up-and-coming artists. One of these artists to come out of lockdown with tons of talent to share, is UK-based artist Carly Wilford.
After getting her footing in the music world as a DJ, while also working in radio interviewing some of the world's hottest musicians, Carly Wilford's journey into production has showcased an entirely new side to her artistry. She initially made her debut on Toolroom with the high-energy house tune "Generation X," and the rising artist has kept it coming with a solid stream of releases that put her burgeoning talent on full display. The latest from Carly finds her debuting on Armada with "The Awakening," a tune that encapsulates the feeling of waking up to the morning sun after dancing the night away.
Carly is an artist who has her finger on the pulse of the music scene, especially as someone with experience in multiple realms of the industry. From radio broadcasting to running her meditation and well-being platform a:live, it seems as though she's done a little bit of everything, and she has heaps of insight to share about her experiences. To celebrate her latest release and impart some of that insight on us, Carly Wilford stopped by to talk to us about everything from her rave roots growing up in the UK, to her advice to women hoping to launch their music careers. Read on for our full conversation and stream "The Awakening" on Spotify below or your preferred listening platform!
Stream Carly Wilford – "The Awakening" on Spotify:
---
Hey Carly, thank you so much for taking the time to talk to us today! For starters, you learned to produce during lockdown. What made you decide to ultimately take the leap into becoming a producer?
Being around so many talented artist mates, I'd always loved the idea of making music but had no idea of where to start. It's something I'd always put off as I was so busy as a DJ that I didn't have the time or energy that I knew it needed. Just before the pandemic, I decided to take some time out and study a three-month course with Toolroom Academy. It started in January, so when lockdown kicked in and my work stopped, it gave me a focus every day. At first, I found it really tough not only learning Ableton but understanding song structure and the breakdown of electronic music tracks. I'm so happy that I stuck with it because it's something that has changed the course of my career. 
Tell us a little about your rave roots – who did you grow up listening to, and what was your experience like growing up in the UK music scene?
Growing up in Northamptonshire, at the time, there was a really strong music and nightlife scene. We lived for house music and not only went out locally but headed all over the country at the weekend going to different cities to see our favourite producers, and go to festivals. A lot of our pals were DJs so there would always be decks at the afters and we'd take turns to spin tunes. There was a really big extended group of us that used to hang, out and we were brought together by the music that we listened to. We'd have Masters at Work on repeat and hunt out underground vinyl from the local record shop to spin at the weekends. It really was an incredible time for music and getting to know the roots of the scene. 
Congratulations on debuting on Armada with your single "The Awakening!" You describe this track as capturing that "late-night-early-morning" feeling. What does this feeling mean to you, and how did you go about translating it into music?
Thank you so much! Armada has been so brilliant to work with and the team there is world-class. It's funny because I remember driving from Malibu to Los Angeles at the end of last year with my friend Lea Lea. We'd spent the day at the beach and decided to head home as the sun was setting. I put on some of my demos in the car and we were driving along the Pacific Coast Highway working on lyrics. There's something about this time of the day that I find so magical and massively inspiring. Not only are the colours in the sky beautiful, but it also makes you realise how tiny we are on this crazy planet. Coming out of a club at sunrise is still one of my favourite moments, especially in London. The streets are really quiet at that time and if you've just smashed a set, it's the perfect end to a night. 
In the past, you've been heavily involved with radio and broadcasting, even getting to interview some of the biggest names in music. How has being on the behind-the-scenes side of things helped to shape your music career?
Honestly, being on the other side of what I do now has given me such a well-rounded understanding of the music and entertainment industries. Not only when it comes to making music but also being aware of the business side of the industry and what fans and the music media want to see and hear from a musician. Interviewing artists on the level that I did gave me such a fascinating insight into the world of music and the minds of some of the biggest stars in the world. I remember being on the phone with Nas and asking questions that I knew the readers would want to know the answers to. In doing that, you are getting the purest download of information, and the artist is trusting you to put out their story to the world with integrity. These conversations helped to shape me as a presenter and writer, and at the time, I had no idea it would also help to shape me as an artist.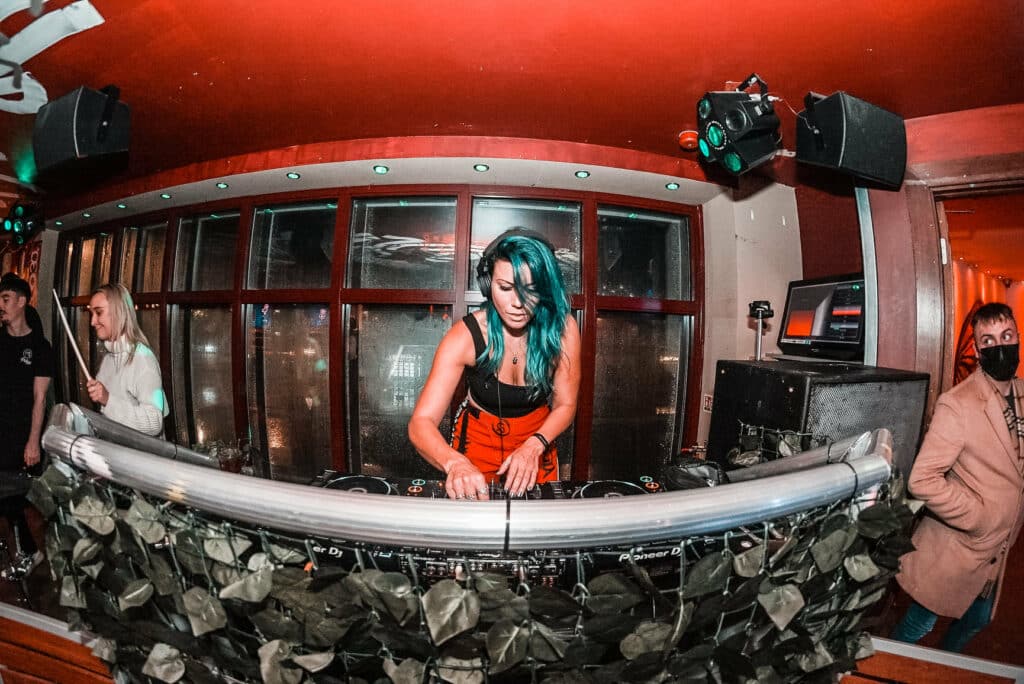 You've taken your talent behind the decks at festivals like Ministry of Sound, Glastonbury, and Parklife. What is your favorite aspect of playing live shows, and what's your creative process behind choosing which tracks you want to play in your live sets?
Connecting with your audience and other musicians in a live environment is where your music, and hours in the studio, are brought to life. When you spend a lot of time alone making beats, it's a complete polarity but one that is so important. Being a music producer can be quite isolating at times so being with people, raving together and seeing the impact of your tunes is what gives you the energy to head back into the studio re-energised. I listen to new music every day whether that's going through my inbox or hunting out new artists on SoundCloud. I'm always collecting new sounds, and then before a gig, I will plan a set specifically for the crowd and venue that I'm playing. I love spinning unreleased tunes from my mates as well as testing out tracks I might have been working on recently. 
When you're not in the studio or playing shows, you also run a meditation and well-being platform called a:live. How have meditation and mindfulness teachings helped you to grow, both as a person and as an artist?
Down time and rest are so important when you spend a lot of time on the road. We work in a high-stress environment, and spend a lot of time staying in different hotels, trying to catch sleep on the go. As a DJ, you never fully know the space that you're going to perform in or what you are going to walk into. This can be more stressful than you realise so it's important to look after yourself and manage your energy. I love to train regularly and to meditate too, it helps me to feel level-headed and balanced before my sets. Being self-aware and being willing to work on yourself is so important, especially the more successful you become. I have different therapists and mentors that I work with that help me to maintain a performance mindset. I try to approach stepping onto the decks like a sportsperson would before they step onto the pitch before a big game. I work with visualisation a lot and imagine what the crowd would feel and what the outcome of the set would be. It helps to manage any nerves or anxiety. 
You've stated that your decision to start producing was sparked by hearing that only 2% of music producers are women. How do you think people in the dance music scene – whether it be artists, industry professionals, or fans – can do more to help boost and empower more women to break into the scene?
There's been such a huge shift recently and it feels like such an inspiring time for music, you only have to look at festival lineups and the music that's being released. So much of the solution is based around us taking risks, trying things we might be scared of, and then empowering other people to do the same. With such a low percentage of women being music producers, it also means there is a huge opportunity for growth but we have to put the work in. There are some brilliant production courses, from Toolroom Academy to Point Blank, and some powerful networks like She Is The Music and SheSaidSo, that are doing brilliant work within this space. 
Finally, what goals are you hoping to achieve in 2023 and beyond?
I've been working really hard on new music and collaborating in the studio with some amazing musicians. I'm in talks with different labels about signing some of my unreleased tracks and also have a solid release plan for this year. Up until now, I've been rolling without a team so I would love to start to form that this year so that I can focus on time in the studio. Can't wait for you to hear some of the tunes I've been working on and to announce some of my upcoming gigs too. I recently quit my full-time job to focus on music so couldn't be more ready for this year. America has always been a country that I would love to tour and with house music kicking off over there, I would love to start to spend more time there and represent the UK dance music scene stateside.
---
Follow Carly Wilford:
Website | Facebook | Twitter | Instagram | SoundCloud | YouTube