Orbital showcases classic soundscapes and some creative new twists with their tenth studio album, Optical Delusion.
---
Few electronic acts have the pedigree of brothers Paul and Phil Hartnoll, aka Orbital, and with over three decades under their belt, they show no signs of slowing down. Ironically, they were relatively quiet in the years leading up to the pandemic. During that time, rather than staying silent, they took that time and those global emotions, to spark a flurry of creative activity. Most notably, they released 30 Something, an album of remixes celebrating their 30-year anniversary. Perhaps more importantly though, they were slowly putting together the now-public Optical Delusion album – their first studio album in half a decade.
While inspiration came from many corners of the pandemic, Paul explains the twisted origins of the album name. It comes from a quote he read in Michael Pollan's book How to Change Your Mind. The quote, attributed to Albert Einstein, reads, "A human being experiences himself, his thoughts and feelings as something separate from the rest [of humanity] – a kind of optical delusion of his consciousness. This delusion is a kind of prison for us, restricting us to our personal desires and to affection for a few persons nearest to us. Our task must be to free ourselves from this prison…"
As soon as I saw 'optical delusion' I thought, 'Oh hey, that's the album title.' It just seemed to say so much about how people construct their own realities, how we see patterns that aren't there, how we see what we want to see.

But it's actually a misquote. He never quite said that. In the German original what he's really saying is that human experience is as relative as physics. Wouldn't it be good if we could accept that, and find a kind of universal theory of everything for the human race? Then you look at everything from history to art to your Twitter feed and you think yeah, that's what we're all trying to do all of the time.

Paul Hartnoll
So the album has its origins in a slurry of confusion and grandiose statements, all grounded in a simple if profound look at perspective. It almost feels like the origins of Orbital itself. Listen to Optical Delusion on your favorite platform and be sure to read on for the full album review.
Stream Orbital – Optical Delusion on Spotify:
---
Optical Delusion opens with such a quintessential Orbital sound and theme with "Ringa, Ringa."
Previously released single "Ringa, Ringa" truly sets the stage for the album, but also presents the illusion that the album may only track directly back to former Orbital sounds. Orbital then leads listeners to "Day One," with a deeper and darker opening sound that has a lot of familiar sounds. The vocals of Dina Ipavic soon grace the track, and overall the synths may sound somewhat familiar, but also as if one of the Hartnoll brothers intentionally turned a knob slightly off-kilter, leaving listeners in an intentionally distorted state.
"Are You Alive" is up next and was also the most recently released single before the debut of the complete album. In contrast to "Day One," this track takes on a lighter tone. The light and airy vocals of Penelope Isles trick the listener into thinking the Hartnoll brothers have softened their punk edginess. Listen closely, though, and you'll chuckle at the subversive lyrics that are well-grounded in punk and anarchist origins. It's an absolutely delightful trick, and also just a beautiful track all around. Just be sure not to "get f–ked in a working world."
The complexity and transition the album takes as the fourth track takes over stands tall.
"Frequency," featuring The Little Pest, begins with a warped spoken voice that harkens back to "Time Becomes A Loop" and then a very big room sound briefly enters the picture as if to tease the listener. But before that sound can take over, the synths warp into a deep reverb more reminiscent of Orbital past. The cheeky synth chimes continue on top of this reverb, but as the track progresses everything blends into a bloody and luscious mess. It's such a perfectly complicated sound that will have longtime Orbital fans drooling for more. The track is barely more than four and a half minutes, but it feels like a much longer and more stimulating journey.
It's only when reaching that fifth track that we find a song without a collaborative partner listed. "The New Abnormal" feels like a bit of a palate cleanser, which is quite welcome after the lovely mess of a track that preceded it. There are lots of dancey layers driven by a light bassline that the Hartnolls completely own. This is definitely a track I want to hear while I'm on a crowded dancefloor.
And now it's time to let Orbital take us to new heights before they beat us back down again.
"Home" has a light mood that carries it throughout, and the vocals of Anna B. Savage are prominently on display here. Orbital plays with her lovely vocals by underlying reverbs and warping them in ways that are just a little unnerving while leaving the track still feeling lighthearted. And as is always the case for this duo, nothing is quite as it seems or sounds.
The entire first half of the album feels like a build-up to "Dirty Rat" which was the first track released from Optical Delusion.
This one began as a remix swap with Sleaford Mods that ultimately resulted in one remix and this collaborative original. This track just screams of the Orbital origins – punk, political, subversive – all driven by a soundscape that feels as dystopian as the lyrics. I personally love how the track seems to pay homage to The Prodigy's "Firestarter" while being undoubtedly original and true to the Orbital style. It's hard-hitting, fast-moving, and addictive as all hell. And the accompanying video is a beautifully straightforward interpretation of the track. Jason Williamson presenting his vocal track so angrily, and with insolent dancing and guest lip-syncers, is just the perfect package for this song.
Until the eighth track, I was left wondering, "where are the drum and bass beats so indicative of the UK scene Orbital grew up in?" But I wondered no more.
"Requiem For The Pre Apocalypse" is a straight-up London banger with a driving D&B rhythm. Where so many of the songs on Optical Delusion are (appropriately) complicated, this one is decidedly simple. Driving beats, a few lighter synth layers, and the occasional warped vocal hums are all known entities for fans of the Orbital sound. Another perfect refresher as the album builds on.
The Little Pest returns on the penultimate track "What A Surprise." And, once again, Orbital knocks the listener off balance with this track that is composed of a carefully selected combination of very individual sounds. It is once again unnerving in a way that Orbital fans will both find familiar, and novel, while simply wanting more and more of it as it progresses. The whispered mutterings heard throughout are Phil setting placeholders in the track. But in the end, the mutterings "just stuck" and remained in the final version of the track.
"Moon Princess," the final track, opens with non-English vocals from Coppe that feel straight out of Cirque du Soleil. But the Cirque-like trance is soon broken as deeper spoken words weave in and the synths go deep and dark. Robotic vocals continue as an overlay for this new sound and all begin to come together with some classic bleeps and bloops as spoken word phrases give us pause and force us into deeper thoughts.
Orbital never leaves a listener feeling like something was left out, and Optical Delusion is a perfect example of having put everything into the album; and each individual track. This album is bound to become another classic in their library and it's amazing to see the brothers back on the horse and putting out such creativity. Not to mention the anarchy!
---
Orbital – Optical Delusion – Tracklist:
Ringa Ringa (The Old Pandemic Folk Song) (feat. The Mediaeval Baebes)
Day One (feat. Dina Ipavic)
Are You Alive (feat. Penelope Isles)
Frequency (feat. The Little Pest)
The New Abnormal
Home (feat. Anna B Savage)
Dirty Rat – with Sleaford Mods
Requiem For The Pre Apocalypse
What A Surprise (feat. The Little Pest)
Moon Princess (feat. Coppe)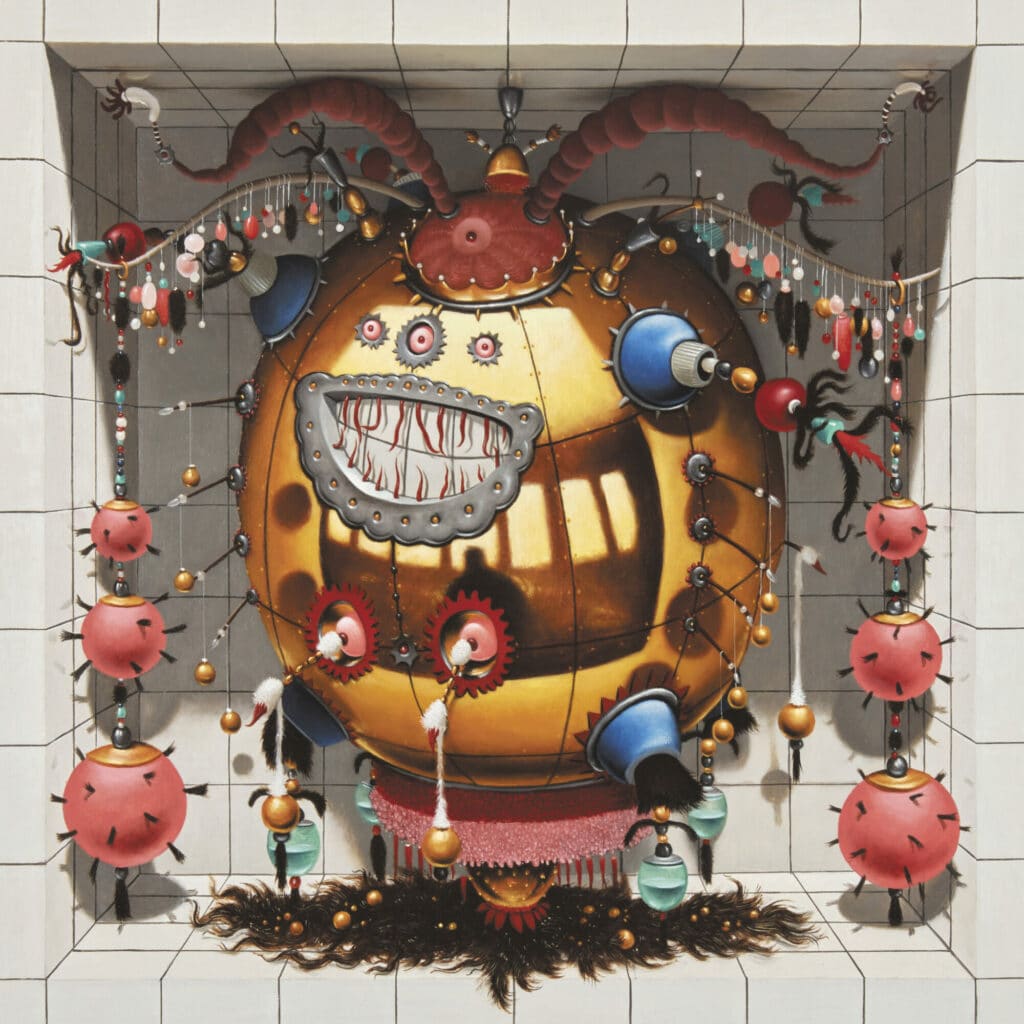 ---
Follow Orbital:
Website | Facebook | Twitter' | Instagram | SoundCloud | YouTube