Tom & Collins, Ken Ishii, Brina Knauss, Giolì & Assia, and more will make their way to San Diego to play CRSSD Festival Spring this year.
---
There's less than a month to go before house and techno lovers from near and far set sail to San Diego to attend the upcoming edition of CRSSD Festival Spring. Set to take place on March 4-5 at its longstanding home at Waterfront Park, the upcoming edition already stoked the flames in the hearts of their faithful attendees last year with the initial lineup – and now there's even more news to be excited for with additional artists joining in on the fun.
If the likes of ODESZA, Polo & Pan, Mall Grab, Kavinsky, Purple Disco Machine, and Maya Jane Coles weren't enough to make you grab a two-day pass before the festival sold out, then these new artists might push you over the hump. The recently announced additions include Tom & Collins, Ken Ishii, Giolì & Assia, Brina Knauss, and Neil Frances, along with Juheun, Manics, ChaseWest, and Paurro.
Related: Want a taste of what the CRSSD Festival action is all about? Check out our review of the fall edition!
It's safe to say that the beats will be flowing in full force all day and night next to the San Diego Bay, and paired with the news are the day splits to help you stress over who might be a set time conflict this year. Stay tuned for further details to surface surrounding the upcoming edition of CRSSD Festival Spring including the After Dark parties and more.
A limited number of single-day tickets for CRSSD Festival Spring will go on sale Friday, February 10 at 11am PT. Head over to their website for more details and to grab your passes, sign up for their SMS notifications for the latest updates, and let us know if you plan to attend on Twitter!
---
CRSSD Festival Spring 2023 – Daily Lineup: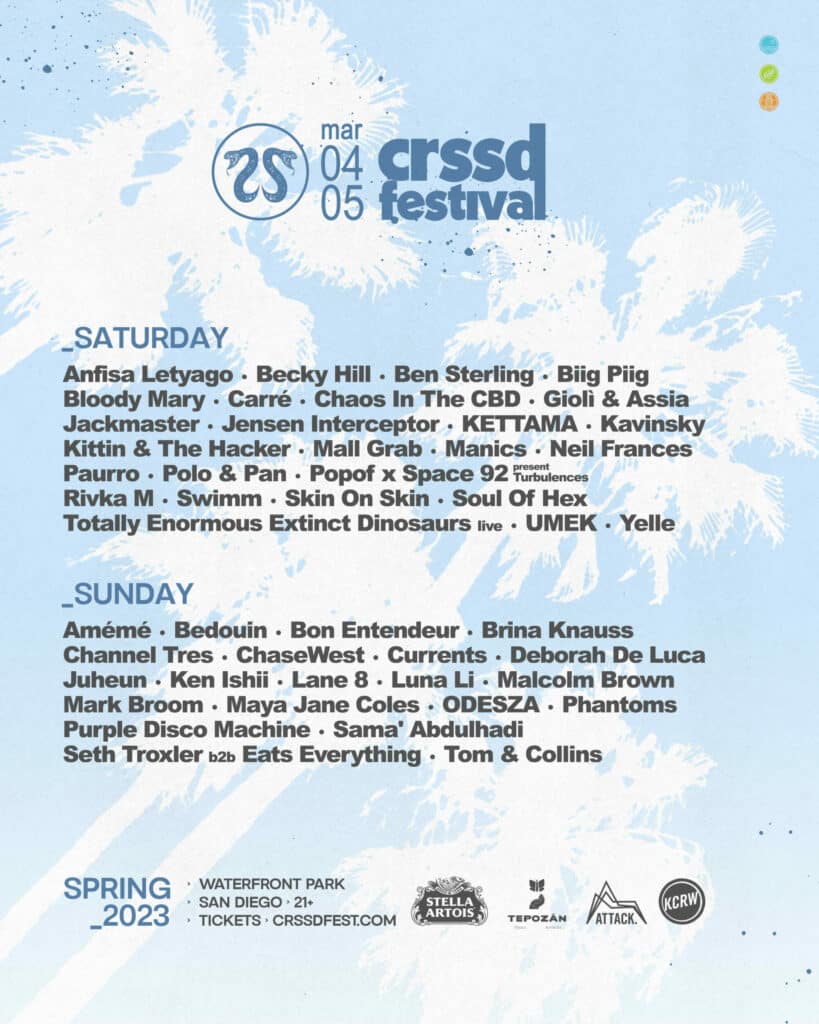 ---
Follow CRSSD Festival:
Website | Facebook | Twitter | Instagram | SoundCloud | YouTube