The Lunar New Year event at Avant Gardner featured a roster of Asian dance music artists with headlining acts Gryffin and KSHMR.
---
Millions of people across the globe recently ushered in a fresh Lunar New Year. For those that celebrate, 2023 is the year of the rabbit, which represents peace, self-reflection, and prosperity. And in honor of this celebration, Pulse Events produced two eventful nights at Avant Gardner in Brooklyn, featuring a roster of Asian artists and two dance music titans – Gryffin and KSHMR.
Related: Check out our interview with Gryffin to dive deeper into his mind!
The renowned venue displayed a 360 photo booth with a Lunar New Year backdrop for attendees, and a constellation of red lanterns suspended throughout the space with a huge chandelier right in the center of the Great Hall – and our team was there to witness the Lunar New Year magic.
With Gryffin headlining the first night, tickets sold out early, and the crowd was ready to throw down with him.
We arrived right at the end of the opening set by Take22. There was already a decent crowd at the venue considering the early hour, and we were happy to see the openers getting crowd support. The next supporting act was SunrYse, a local DJ with a focus on progressive and melodic house. While Take22 went pretty hard for an opener, SunrYse did a good job transitioning into a deeper set without putting on the brakes and losing the crowd. We didn't know it yet, but we'd be happy for this respite by SunrYse considering what was yet to come!
Next up was Zack Martino, who didn't waste a moment dialing things up, but it did take the crowd a few tracks to get into his rhythm. As the crowd got into Martino's set, things definitely heated up and the crowd was bouncing around to the banging basslines. Neither my friend nor I had seen Gryffin live before, so we weren't sure how well this pace would set up the headliner, but we'd soon learn this was just what the doctor ordered.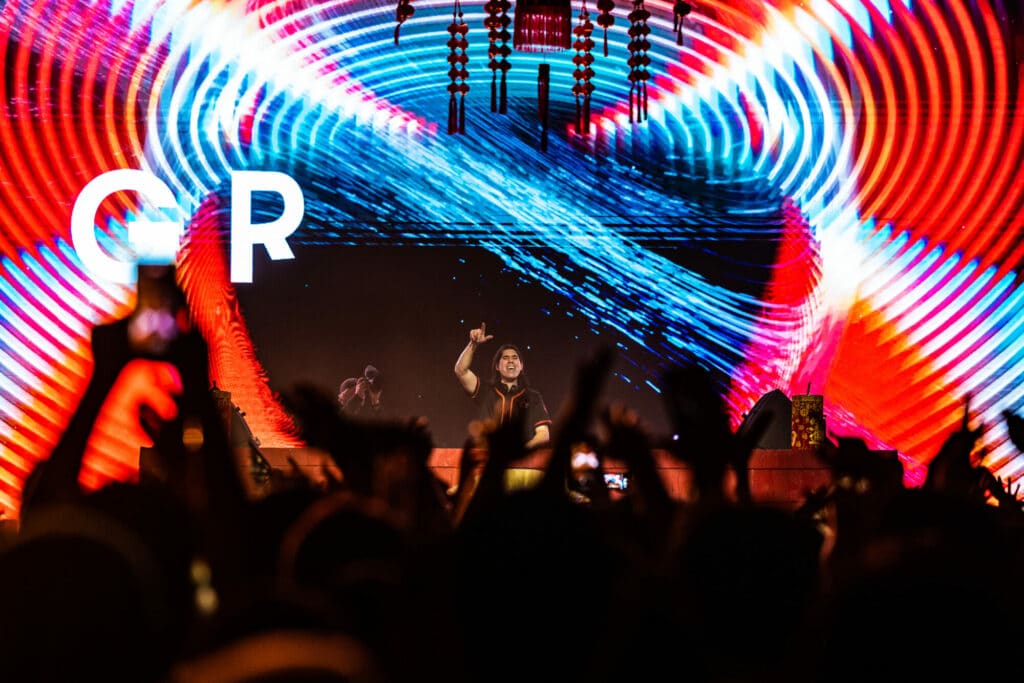 When Zack Martino finished his set, there was a brief silence as the house lights went dark.
A reverberating synth built up slowly to the Gryffin name on the video screen. After about two minutes, Gryffin sauntered up behind the decks and the crowd went wild. He gave a quick shout-out to the New York crowd and then dove right into a very banging set. We were both surprised and impressed by the pace and the bass of Gryffin's set. Yet, in very sadboi style, he also took us on quite a journey with slower moments and emotional vocals.
After Zack Martino included "Escape" from Kx5 in his set, Gryffin gave a nod to the Kaskade and Deadmau5 collaboration with "Alive." In addition to Gryffin originals, he included classics like Darude's "Sandstorm," Benny Benassi's "Satisfaction," and Flume's "Say It," all of which were terrific crowd pleasers. My only criticism of his set is that it was nearly the same set he played at Untold Festival in August. When everyone has 1001Tracklists in their pocket, there's some pressure to mix things up. That said, Gryffin worked the crowd for every moment of his 90-minute set and had everyone wrapped around his finger. Ultimately, this was a super fun show, and a terrific first night with a nice handoff to KSHMR for night number two!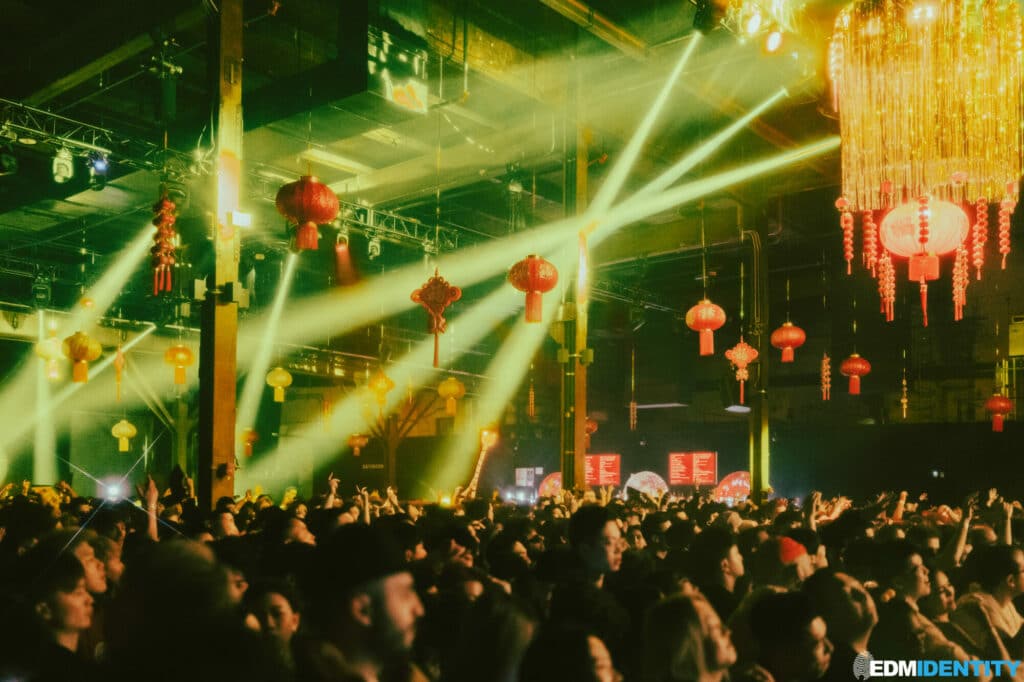 Getting to the event on the second night turned into a surprising expedition.
Normally, it takes 45 minutes to reach Avant Gardner from Harlem, but with the Metropolitan Transportation Authority (MTA) operating at the beat of their own drum — a pain New Yorkers know too well — my subway ride took an additional 45 minutes to reach the famed Brooklyn venue. Sadly, the commute disruption caused me to miss the starting act, DJ Chen.
However, once I arrived and walked through the doors, I immediately forgot my frustration with the MTA because I was captivated by Koko's stage presence. His flashy arm movements and animated jumping displayed how enthusiastic he was to perform, which was reciprocated by the early crowd. Audience members took advantage of the large free space by dancing to Koko's energetic set that featured classic dance anthems like Benny Benassi's "Satisfaction" (a track that made appearances both nights) and a big-room spin on a familiar mainstream track, "Party Rock Anthem" by LMFAO.
Once it was Kimosabi's turn to take over the decks, she brought the ominous warehouse energy that every techno lover craves.
Despite Koko's previous club-flavored set, the obscure techno vocals and lava-red screen visuals crafted an underground rave setting. As time inched closer to 12:30am, the dance floor got fuller, and the energy from the audience reached even greater heights, setting the stage for one of dance music's most lively acts: Henry Fong.
Henry Fong opened with "What's The Move," a track with boisterous life that had the crowd jumping with little regard for whose shoes they stepped on. In a year that's supposed to symbolize peace and reflection, Henry Fong, instead, filled the walls of Avant Gardner with iconic big-room bangers for 75 minutes. Now, with the crowd craving another music high, it was time for the main event — and KSHMR satisfied the audience's appetite.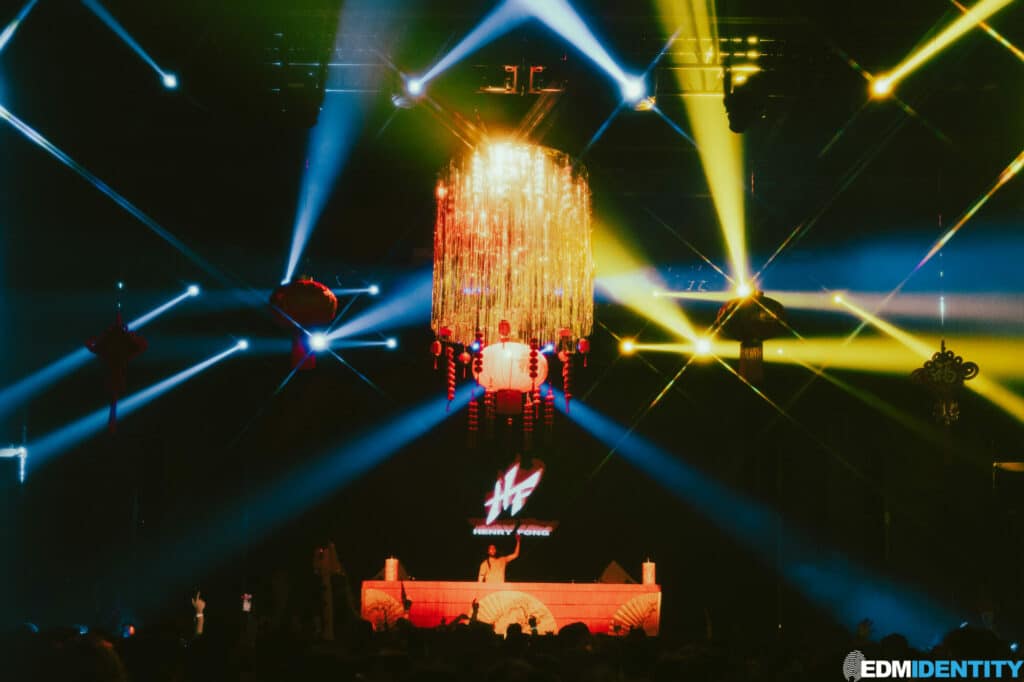 From the start, KSHMR hooked the audience to his energetic festival anthems and atmospheric Indian beats.
KSHMR played his renowned songs like "Secrets," "Toca," and "Karate." As I attempted to photograph different angles of the show, it was impossible to maneuver through the crowd because everyone's eyes were locked on the 34-year-old producer. At one point, millennials' serotonin levels spiked when the California producer played Far East Movement's "Like a G6," a nod to his early producer days when he created the track under The Cataracs outfit.
One song that surprised the crowd was when the original Pokėmon TV theme song blasted out of the speakers. I usually find it cheesy when DJs play songs like this because it feels forced, but KSHMR did a great job inserting this classic childhood anthem between sonically similar pieces. Despite a small CDJ hiccup when he was about to wrap up his set, the Berkeley-born artist quickly overcame this issue and properly ended his Lunar New Year performance on the perfect note.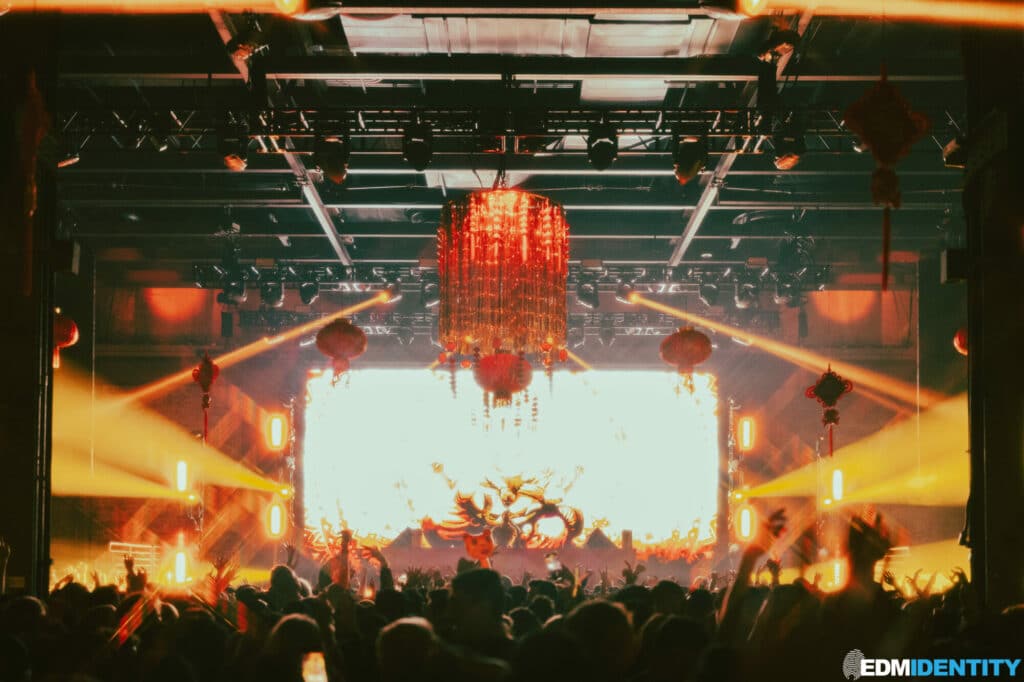 "Finally, some bass music!"
After KSHMR finished, Psyxtoi took over to close the two-day event. I found the juxtaposition of mostly big-room EDM acts and closing with a bass music artist an odd choice, but to quote the person next to me, "Finally, some bass music!" Personally, I've struggled to get into bass music, even though dubstep was my first love of dance music, but I stayed to understand and find an appreciation for this music style.
As I exited the doors around 4am, I passed the food trucks outside the venue and debated if I should buy an overly-priced hot dog. Despite the icy 30-degree temperature, the energy inside Avant Gardner transcended outside with people sharing their favorite moments from the night — It was evident that this lineup struck a chord with everyone. I decided to skip the early-morning treat and opened Google Maps to see how long it would take to get back home. I was not surprised that the estimated time was a two-hour subway ride, and, more importantly, I was not phased, because Pulse Events put on a show worth enduring the overnight MTA subway.
---
Follow Gryffin:
Website | Facebook | Twitter | Instagram | SoundCloud | YouTube
Follow KSHMR:
Website | Facebook | Twitter | Instagram | SoundCloud | YouTube