Jai Wolf reveals why the euphoric, emotional 80-minute show at Red Rocks best honors his debut album and sheds some light on the future.
---
It's been over three and a half years since Jai Wolf released his first studio album, The Cure To Loneliness, and while he's widely recognized for his time-tested anthem "Indian Summer," his debut project presented a new musical chapter for the 31-year-old artist. Fusing indie rock and electronic music, Jai Wolf demonstrated his versatility as a producer on tracks like "Your Way" and the album's lead single, "Lose My Mind." After a successful 2019 U.S. tour run that featured his Kindred Spirits orb production design, the New York-based musician was ready to take the show to Coachella, Red Rocks, and overseas in 2020.

However, when the COVID-19 pandemic put a pause on live music, this slow period allowed Jai Wolf to reflect and reimagine parts of his set. Although he was offered to headline Red Rocks in 2021, the proposal came at a time when vaccines were not widely available. Instead, he decided to be patient and brought the updated but condensed show for fans on Porter Robinson's 2021 Nurture tour in the U.S., with a prior headline stop at Brooklyn Mirage, in the summer of last year.
Although the pandemic extended this page of his career, 2022 gave Jai Wolf the deserved opportunity to perform his wide discography at the legendary Denver venue—a place close to his heart—and properly close the curtains on The Cure To Loneliness era. Now, the euphoric, emotional 80-minute set at Red Rocks from June is available on YouTube, allowing fans to experience this headline performance, which features special guests, deep cuts, and rare VIP remixes.
While at Holy Ship! Wrecked last week, Jai Wolf shared why releasing this set best honored his The Cure To Loneliness chapter, what this era personally means to him, and what the future holds for his career.
---
Hey, thanks for taking the time to chat with us. I know last night you played at 1:30 am [Wednesday, December 14], and now you have another set coming up at 8:30 pm [Thursday, December 15.] How do you feel? What's the secret to having energy for back-to-back performances?
The secret is getting good sleep and not drinking, haha. That's it, but it's fun. Holy Ship is great because it's like vacation and work mixed together, so we get to play some music and also hang out on the beach and go swimming.
Nice! With the holidays here and your Decadence Colorado set coming up, have you had a chance to process the end of The Cure To Loneliness era? And how does it finally feel to say goodbye to this album?

It feels good. You know, I think we had a lot of different plans for how we wanted to do this era, and, because of covid, a lot of these plans changed. For example, we had more plans to do more international touring. But, because of the state of things, it's really difficult to bring a show like that to a foreign country, so we put international travel and touring on hold; that we'll probably do in the future, I hope. But for this era, we brought the tour to Australia, and that was it, right before covid. We also were supposed to do other festivals, but, basically, the circuit we had planned for 2020 was a little different than what we ended up doing post-pandemic.
Actually, even the Porter Robinson tour that we did was not even supposed to be the full tour. We were only supposed to do six dates with Porter and because of a complete restructuring of our festival scheduling and booking, his team reached out and offered, 'Do you want to do this whole tour?' And we're like, 'Yea, of course!' That was kind of in lieu of doing a full festival circuit. It just ended up being just the better option out of the two. What was nice about that is that we got to bring The Cure To Loneliness around the United States one more time, with Porter, with his lighting rig. And even though it was an abridged set, I think doing a shorter set, but in more cities, was a good way of reaching out to more fans than playing less shows at festivals.
Red Rocks, which was planned for 2020, was pushed to this summer. We had a slot in 2021, but it was at a time when we weren't sure if vaccinations would be ready, so we had to make the executive decision to push back to 2022; that decision was made at the end of 2020. And we were glad that we made that move because when they opened Red Rocks last year, they opened up to quarter capacity, so, in our heads, if it's our first time headlining Red Rocks, we don't want to play to a quarter of the audience—we want to play to the entire venue.
So, we pushed it to 2022. So, super long road, and in an ideal world, that Red Rocks show would have been placed at the end of the year, but it was placed in the middle of the summer, and when they give you a date, you can't change it. This is the date you have. So, in my head, the one headline show of the year that we did at Red Rocks, 80 minutes, that's the final set. We ran the show a few more times at a couple of festivals afterward as the 60-minute version. But, this show is—to me—the highest that we can take it, and it was at Red Rocks. I'm super proud of it. And that was my goal with the album… I'm thankful that we got to play a show this year that gave it that maximalist feel.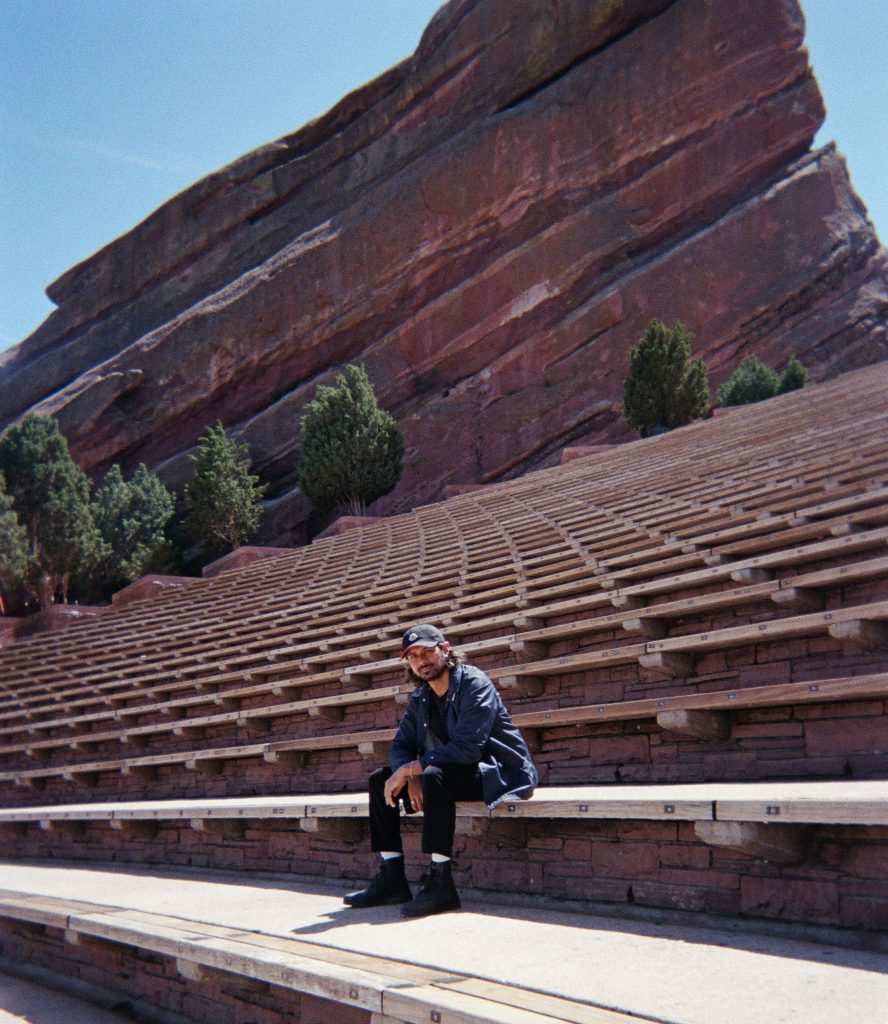 I know that you're very intentional with the things that you put out. You released a live version of your set at Second Sky last year because we were at a time when live music was coming back, and experiencing concerts again felt like a privilege. You wanted people to still experience that magic, even if they still couldn't. So why do you feel putting out this Red Rocks performance is the best representation of this era?
That's a really good question. I would say that when we started The Cure To Loneliness and we started building a show, the show was really different in 2019 than it is now. In 2019, we were debuting a live show. We were switching from DJ set to having gear on stage, where there are drums and the MPC and playing samples. So, the iteration we had then was almost like a trial, and we were trying to figure out what worked, what didn't work, and how I felt on stage. So, what's nice about doing this three years later, in 2022, is that we were able to reconfigure the show and upgrade it, make changes, tighten it, and make it flow a little bit smoother. Make new edits, make new visuals. And having the show translate a little better in a festival or setting where we couldn't have our custom circle production. We call it the Orb.
So, one, we obviously couldn't bring that to the Porter tour, and, two, it's impossible to bring to festivals. So we wanted to configure the setup to look good with a huge screen behind us, which is why we went with that minimalist desk, and with Red Rocks, we're doing the longest iteration of the show. It's 80 minutes. It spans my first EP to my album and all the remixes that people really like. I try to make it feel like it is an end to this first phase of Jai Wolf from the early days—2015 to the album—and a celebration of all of that in a really iconic setting.
Of course, there's always the fear that something might go wrong, but I think the show went great, and I was really stoked [about] how it sounded. And with the limitations of high ticket prices, people living in different countries, people might not have been able to come on a Wednesday to Red Rocks to see the show; I think it's only fair to have it online and have people experience it.
I used to have a gatekeeper mentality in terms of the live show where people I looked up to; they wouldn't put their live shows on YouTube. And I always thought that was the way to get more people to come to see your show. But I think that sort of shifted, and I think it's just thinking about accessibility; that not everyone [has] the ability to go to a concert. It's so much different now than it was pre-pandemic… I think by putting it on YouTube, it's just exciting for people to experience a show and see this first era done in like a high maximalist sort of execution.
2020 was a rough year for a lot of folks. A lot of us felt isolated and lonely, and these are themes that come up in your album. So, knowing all that, knowing that this album likely had a stronger impact on your fans, were you conscious of that as you were putting together this show? And what are some of the messages that you've received from fans about this album?
Yeah, I get messages all the time about how our music is like helping them get through their personal issues or hurdles or tribulations that they're facing. I got a message the other day saying their brother got into an accident; that the music was helping them kind of like persevere through it. I think stuff like that is great. But, at the end of the day, I think the way people engage and interact with the music is up to their own personal interpretation. I honestly don't have any intention for how they process things. Like I wrote the music for myself, and then I internalized it in my own way, and then I presented it on a stage for however people want[ed] to engage with it… There's no goal for me. It's more like, here's my world, come live in it for a little bit, and then process it however you want.
On top of that, visually, I know you're a storyteller. You get a lot of influence from movies, and it's shown in your live sets and merch. So why is outer space the best way to visually tell this album? Why does it speak to you? And what do you hope fans get out of that?
When I was a kid, my dream profession was to be an astronaut. So, I was tapping into that childlike wonder. But I also just loved movies that took place in space. And I always felt like a movie like Interstellar, where a guy is traveling for years in space, [they're going to] feel lonely, so I thought that could be a fun way to explore that concept through this sci-fi lens. And it was cool because as the years went by, there were so many different iterations of how to have fun with it, too. Even having the astronaut drummer for "Lose My Mind" was a concept that I came up with during the pandemic. "Lose My Mind" starts with a guitar riff, and I wanted to make the intro a bit more epic.
So, if we're playing at a festival, you really feel the kick drum. And then, I had the idea of extending the music video and including footage of an astronaut playing drums. I feel like I could make it feel like a music video you see on MTV… and that suit is a real Hollywood suit that we rented. [It] was used in the movie Ad Astra with Brad Pitt; it was Donald Sutherland's spacesuit. And yeah, I thought it'd be cool to have an astronaut drumming and a light-hearted nature to the esthetic; [that] it's not all doom and gloom. 'Oh, I'm lonely in space.' That's another lens that I wanted to explore. It doesn't have to be sad. There's a sense of acceptance and being okay by yourself. And it's however people want to interpret it. It's funny because… the astronaut drummer [visual] didn't exist in 2019—it existed two years later. It's after giving yourself time to think and step away for 18 months, not playing any shows in the pandemic, [you] start to get a lot of ideas like that.
Yeah, I'm a huge fan of the astronaut visual. You can't see who's in the suit, so I feel folks can put themselves in the astronaut and think maybe they're the astronaut going on this visual adventure or playing the drums.
That's a really good way of putting it. That's actually the basis of what Stan Lee said about Spider-Man. He wanted people to see themselves in him because he had the mask… he wanted any person to identify with that. So it's a good way to interpret that.
Right before your Red Rocks show, you and San Holo released "We Will Meet Again" and played it for the first time together at the Red Rocks show. From the footage you released over the summer, I saw that you're jamming out on the guitar and the energy from the crowd is electric. Given the journey that you've been on to reach that moment, what was going through your mind when you were sharing the stage and playing that song?
We thought that doing Red Rocks would be a very unique fan experience. And we thought that the cherry on top would be doing a track together and performing together and doing it in a way that felt like a sense of exclusivity. If you're here, you're going to see two guys in EDM or electronic music that have never performed together, never been on stage together. And I used to play guitar a long time ago; I just never incorporated that into my project as Jai Wolf. So, definitely a teenage dream coming true to get to play guitar in front of everybody. Very surreal and very memorable…
We just wanted to make the experience as special as possible. There are all these people coming in. It's a Wednesday. They have work; they have school the next day. We wanted [them to] walk away and show up to school or work and say, 'Oh, my god, last night we saw San Hollo and Jai Wolf, and they played guitar. [It was] crazy!' I think that was our goal at the end of the day.
I would say y'all accomplished that goal! And back when you were promoting this album in 2019, you mentioned that "Lose My Mind" was your favorite track on the project. But now that we're at this point in time—has that changed? Why do you feel that song best encapsulates this album?
I would say that at that time, I was super proud of the track because it's the type of music that I [had] wanted to make for a long time. And, me and Mr. Gabriel, we're in the studio, and we're just jamming. I made a drum loop, and then I was like, 'Yo, I want to make a song that the opening riff is so memorable, like the way The Strokes or Phoenix would have opening riffs that everyone remembers… And even though we don't perform with a band, I wouldn't necessarily call my style indie, indie-rock music. [My] goal as a producer [was] to write a track that felt a little different and also have a sense of like a dancey sensibility to it.
And I thought that making a project that encapsulated a lot of that [dancey] feeling would be a fun thing to do on the album. And yeah, just super proud of how it all came together. I think it shows a lot of like what my skills as a producer are, and learning from Gabe, who's a superstar in his own right. A phenomenal producer and phenomenal songwriter. And working with someone like Tony Hoffer, who mixed and mastered the album. He's worked with Air, Phoenix, M83… So to me, "Lose My Mind" is the most real song I've ever made. Not to downplay any other song I've ever written, but it feels like a legitimate song in my discography. And that's why I'm very proud of it.
You've mentioned that you get influences from genres that have impacted you, and it's definitely evident in this album, and on Twitter, you pinned that 2022 is album-writing mode. So what type of music has had a recent influence on you? And as we look to the future, from what you can share, what can fans expect in 2023?
I would say that I love anything that feels energizing. I think in a post-pandemic world, people just really want to be on their feet. So, all I can say is that I think a lot of the stuff that I'm writing feels very energetic. I think some of my roots come from chill vibes. I used to be really into like chill trap or chillwave. Things like "Telepathy," or "Manic Pixie Dream," or "Indian Summer," I think some people would consider chill in the early days. I want to say that a lot of the new stuff is kind of moving away from that, but also just trying to have fun and try new things.
Some of my favorite artists are constantly evolving and changing, and their next album doesn't sound a lot like their first album. And [I have] been trying to challenge myself and push myself into different directions that I haven't tried before. I don't want to make an album that feels like The Cure To Loneliness again. I don't want to do songs that sound like "Lose My Mind." I'm open to it. But that's not what I want the next area to be defined by.
I understand that. You want to push yourself and grow. So, with that being said, what's your message for the fans checking out your Red Rocks performance?
My message is I appreciate everyone who's stuck around. Jai Wolf has gone through so many different iterations. And when we put The Cure To Loneliness, I wasn't sure how people would react. I wasn't sure if people would want to hear the music or come to the shows. And we did a phenomenal tour in 2019 that was really stoked on, and it seemed like people really liked the new direction. [I] picked up a lot of new fans. I'm glad that people were interested enough that they wanted to see the show at Red Rocks. That obviously means the world to me. Just very crazy. Like a dream come true.
I will never forget hearing about Red Rocks for the first time when Skrillex played in 2014… Seeing Skrillex do a set there, watching the stream, and seeing ODESZA and getting to open [for them.] I never expected to get to the point of headlining. So, getting to do it is a massive honor. So my message to the fans is—thank you. Thanks for sticking around. Thanks for supporting and coming to the shows and listening to the music. It means the world to me.
Parts of this interview were edited for clarity purposes.
---
Follow Jai Wolf:
Website | Facebook | Twitter | Instagram | SoundCloud | YouTube