Adult Art Club brings a voice to the underground, aiming to make a home for creatives through music, art, and fashion with their new project.
---
From the minds of Matthew Kopp of Running Touch and Zac Waters comes Adult Art Club (AAC), a collaborative new project. Their productions are experimental, dark, and raw, perfect for sets played in secret locations where dancefloor patrons exist without abandon. They seek to create authentic connections with their music to fashion and art, specifically within Melbourne's scene, by directly supporting and promoting artists and designers. AAC is a community for creative expression and collaboration.
Each track features a visual accompaniment showing an artist's creative process from start to finish, building into AAC's visual identity and making their music come to life. AAC's first single, "All Together, Here Together," featured underground artist House Arrest, and "Shaded Blu" featured Blu Jay. Out now is their newest single and second collaboration with House Arrest, "A Thousand Golden People," which draws inspiration from DnB producer The Prodigy. "We wanted to project our influence from live instrumentation and early inspiration from the likes of The Prodigy," said AAC of the single. "The song's title and lyrics are inspired by a personal drawing as well as some heritage."
Coming in February 2023 is Adult Art Club's self-titled debut album on RÜFÜS DU SOL's Rose Avenue Records/The Orchard imprint featuring three singles and a host of new tracks, which are sure to push their sonic boundaries even further. Make sure to keep an eye out for updates on AAC's forthcoming album, watch the "A Thousand Golden People" music video, and continue reading to learn more about the duo.
Stream EDMID Guest Mix 351 || Adult Art Club on SoundCloud:
---
Adult Art Club was founded as a collaborative music, art, and fashion project with a specific focus on Melbourne's community talent. What was
the catalyst for starting Adult Art Club?
We were making music casually together without the concept… then we wrote a song called "Lempicka," which is going to be on our
upcoming album. This song's lyrics were based on a Polish artist, as well as one of our grandmothers, who is also an artist. From this, we
started Adult Art Club and built the whole concept around the project.
You're both from Melbourne. How has that shaped you as artists?
We both came up in the Melbourne Electronic and Metal-core/Hardcore scene throughout the 2010s, the local talent we consumed definitely
imprinted on Adult Art Club's progression and artistic awareness. Having exposure to all kinds of music is what has helped us push this
experimental sound and concept.
How would you describe AAC's sound, and how is it different from that of your solo projects?
I'd say we take more risks and have more creative fun with Adult Art Club, there isn't much over-analysis of our creative process.
In which ways are you discovering visual artists that you want to highlight? Are there few, in particular, we should keep an eye on?
Social media primarily, and also through the artists we work with. The local art scene seems to know a lot of each other, so it's not hard to find
people via the people we already follow. House Arrest, Blu Jay, and Messiah Padilla are some of our favorites.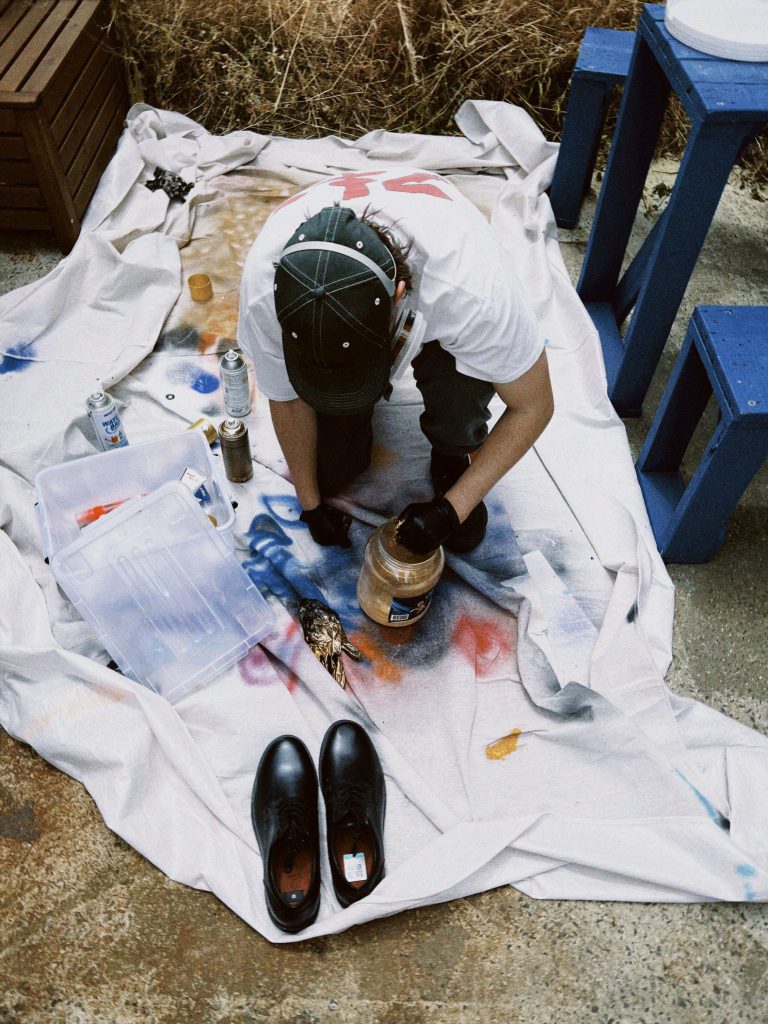 What about Melbourne's underground scene do you love most, and what aspects of this community do you wish to bring forth to the world?
Its ability to rubber-band itself like no other. There is something incredible about the art community's ability to all thrive together as a unit, and
that's something that we always reference with our concepts. We want the creatives around us to thrive as much as we do because we feel
that it's an integral part of the scene.
The music videos for "All Together, Here Together" and your latest "Shaded Blu" embody AAC's vision by showcasing artists at work creating
paintings. Can you walk us through how those collaborations came about, why you chose those specific artists for those tracks, and your
interpretation of the art they created?
After we wrote our first song, which was about an artist, we wanted to connect art into every aspect of the project, so making it part of the
music video was a natural step. There is a life behind the single and album art, and we wanted to lift the veil. We knew of two artists we were
drawn to and reached out to. The artist was welcome to choose what song they wanted to paint to and they were given no direction on what to
freestyle; they just led from their minds.
You have singles and a forthcoming album that we can look forward to, but since AAC goes beyond the music, what is your long-term vision
for Adult Art Club?
We want to continue to deepen our connection and further our support to the art world in any way we can, working with more artists, playing
our own gallery shows, involving artists in the writing process, and practicing/learning more ourselves. We also want to be as prolific as we can
be with the musical aspect of the project.
---
Follow Adult Art Club on Social Media:
Instagram | Spotify | Apple Music | YouTube