Audien sat down to discuss his Progressive House Never Died tour, his recent releases, and more before his set at EDC Las Vegas.
---
Audien has become an artist beloved by many around the world since he first emerged on the scene. From his releases that have touched the hearts of millions to his sets that have made countless fans dance the day or night away, there's just something special about this maestro that keeps everyone coming back for more.
Earlier this year, Audien proudly proclaimed "Progressive House Never Died" and hosted a showcase in Miami to celebrate the genre. Since then he's continued to champion that message and is set to embark on a tour bearing that phrase this summer that will take him to cities like Los Angeles, San Diego, Vancouver, Orlando, and more.
More recently, Audien took the stage at EDC Las Vegas, a festival that has been a consistent home for him over the years. While he's previously played sets at stages like the quantumVALLEY and circuitGROUNDS, including a special b2b with 3LAU in 2017 that was memorable, this year saw him grace kineticFIELD for the first time since 2015.
Looking to gain some added insight into his forthcoming tour, recent single "One Last Dance" with XIRA, and more, we caught up with Audien for a chat ahead of his massive performance at EDC Las Vegas. Check out his set on YouTube and read on for the full conversation!
Stream Audien's set from EDC Las Vegas 2022 on YouTube:
---
Thank you for joining us, Audien. You're no stranger to EDC Las Vegas. You've played at different stages here over the years. What's it like to be back again, since you just were here six months ago?
It's amazing. I'm very grateful, and I'm playing on a completely different stage this time. So it's always a different vibe because I play on a different stage almost every time.
I noticed that too. Which is your favorite to play? Or does it just keep changing?
They're all so good in their own way. I liked my set at the circuitGROUNDS in 2017 – it was a big highlight. I played with 3LAU, we did a back-to-back set, and that's a memorable one.
I was there, and it was awesome! During the pandemic, many artists were able to focus back on their art. What did you learn about yourself as an artist during the pandemic that is now influencing your music?
Honestly, I spent a lot of time figuring out what style of music meant the most to me, and I decided it was progressive house. That was a common thread throughout all my music, but I've always done different styles. I've deviated a lot, but now I'm really representing that. I'm coming into what I am and just doing it. I never took the time to do it, and now it's that time. 
So it's been nice to have that time to recreate your art or focus and center it. You said you worked on "One Last Dance" with XIRA during the pandemic. How did this collaboration come about?
I have wanted to work with her ever since she did a song with 3LAU. "Tokyo" was really good, and I was like, damn, I love her voice. So I connected with her, and she had an amazing top line she had written that was "One Last Dance." I was able to just write this amazing instrumental to it, and it was this perfect combination, you know? I had never really done a deeper progressive song, so it was new for me. I think it came out amazing. I love that song.
It seems like it flowed together, and that's when the music just comes together at the right time. What were some thematic inspirations you drew on for that tune?
I was really listening to a lot of Lane 8, Ben Bohmer, and artists like that. But I wanted to do it in my own way. I was listening to a lot of Sirius XM Chill, and I heard a lot of Polar Inc and Sound Quelle, and they actually ended up remixing the song. So it's just cool to have my inspirations on the package for the song.
That actually leads directly into what we wanted to ask about the Sound Quelle remix. Can you tell us the story about how that remix came to be?
Yeah, I was with my girlfriend in the car, and we always heard Sound Quelle on Sirius XM Chill. I loved his music, and I reached out to him and said let's do a remix. He loved the song and crushed the remix. I just think his stuff is so good. It was organic how that came about.
I feel like that's how the best collaborations come about. From merch to hashtags, you're making a statement that Progressive House Never Died, which we love. What inspires or drives you to bring progressive house back to the forefront?
I feel that progressive house has been a little forgotten about, but for no good reason. I think people love it and don't know they love it – they don't remember that they love it. They just need to hear it and be reminded there's a nostalgia factor attached to progressive house. It's very emotional music, and it's really important that people feel that again.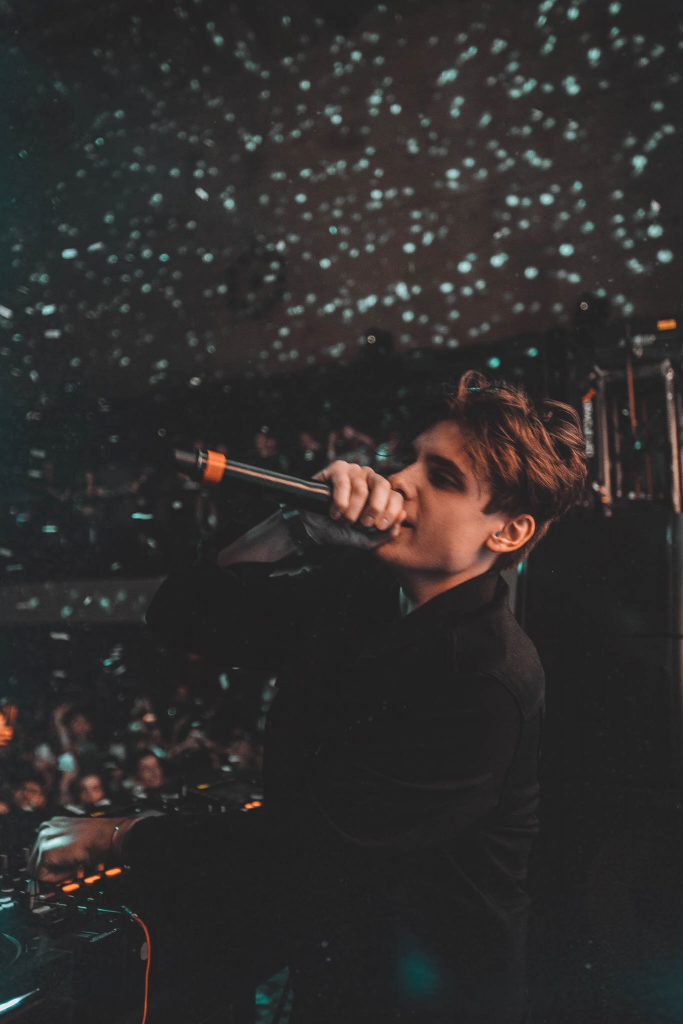 I agree completely. You just hosted a progressive house never died showcase during Miami Music Week. What was the energy like during that night?
Amazing. To do that as the first show that was branded that way was really good. It was a cool little club, and I brought some of my favorite Progressive House guys out. So it was kind of a precursor to the tour.
That's perfect because it's like a good start, and it just gives you a good feeling for the rest of it. Can you share more about the future showcases this summer?
Absolutely. We're doing a whole tour called the Progressive House Never Died tour. We're doing the [Hollywood] Palladium and so many other great venues in some of my favorite markets and a few I can't mention because they're not announced yet. So I'm excited. 
Who are some producers innovating in progressive house that you're listening to today?
Matisse & Sadko. Obviously, Martin Garrix because he's still very much representing it, and I love that. I love that he never gave it up. His music is really good. He works closely with Matisse & Sadko, and I got in the studio with those guys, and we made a track. So it's great.
Now that you're back performing on the road, what is something unexpected that you missed during touring?
You know, I really missed the shows in general. The travel is hard. I don't love traveling. It's stressful; that's the work. But playing the shows isn't work at all. I missed the connection with the crowd; it's the art.
I love that. And then finally, what are you looking forward to most in 2022?
The Progressive House Never Died tour – I'm looking forward to it!
That's awesome. Well, I really appreciate your time. Thank you so much. 
Thank you, man. Appreciate it.
---
Connect with Audien on Social Media:
Website | Facebook | Twitter | Instagram | SoundCloud