Above & Beyond's ABGT500 is heading to Los Angeles. Stay in the know will the set times, what not to bring, and other essential info!
---
The annual celebration of Above & Beyond's Group Therapy radio show is finally returning in all its glory. To celebrate the 500th milestone show, they are heading to Los Angeles and taking over the Banc of California Stadium from October 15-16. Anjunafamily from all over the world will descend upon LA for a weekend of fantastic music served up by some of Anjunabeats' and Anjunadeep's finest. From Olan, Alpha 9, and Mat Zo to James Grant & Jody Wisternoff, Marsh, Simon Doty, and many more, ABGT500 is going to be the biggest milestone yet.
To extend the party, fans can attend pre and post-shows, including Anjunadeep LA, Andrew Bayer, and Grum presents Warehouse55, all weekend long. For those unable to make it, ABGT500 and Anjunadeep Open Air events will be live streamed on YouTube, so make sure to have the streaming links to enjoy the festivities wherever you are.
Tickets for ABGT500 week events are on sale now, and though the main event is sold out, additional tickets were just released for Anjunadeep Open Air. Make sure to head to the ticketing site to grab yours right away. We can't wait to reunite with the Anjunfamily once again for what is sure to be a special celebration.
---
ABGT500 – Essential Info:
Dates: October 15, 2022
Hours: Doors at 3 PM
Venue Address: Banc of California Stadium – 3939 S Figueroa St. Los Angeles, CA 90037
Tickets: Sold out
Anjunadeep Open Air Los Angeles – Essential Info:
Dates: October 16, 2022
Hours: Doors at 2 PM
Venue Address: Christmas Tree Lane, Expo Park – 500 Exposition Park Dr. Los Angeles, CA 90037
Tickets: Purchase HERE
---
ABGT500 and Anjunadeep Open Air Los Angeles – Set Times: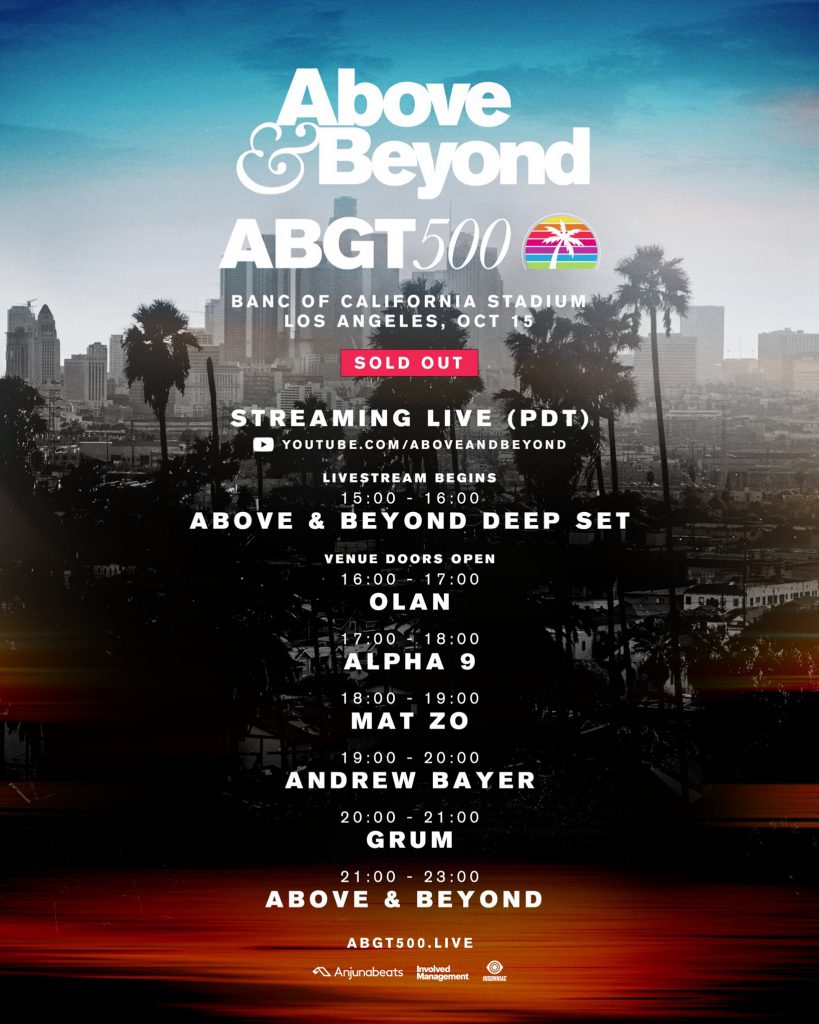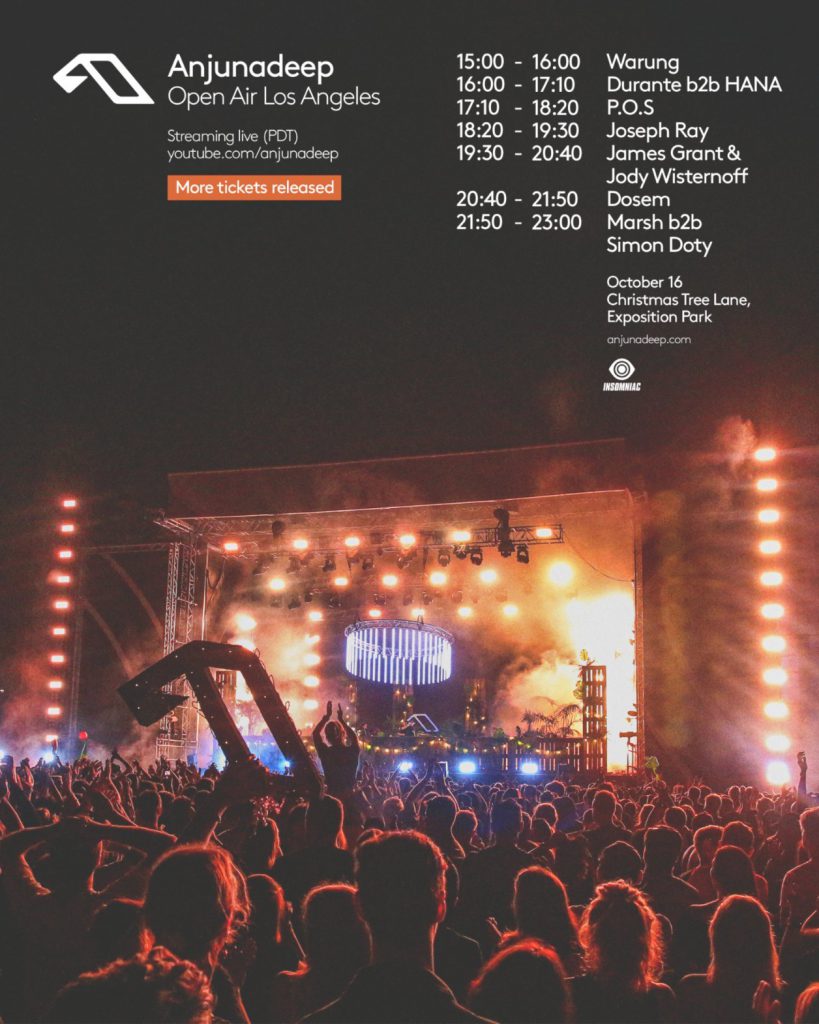 ---
ABGT500 Week Events: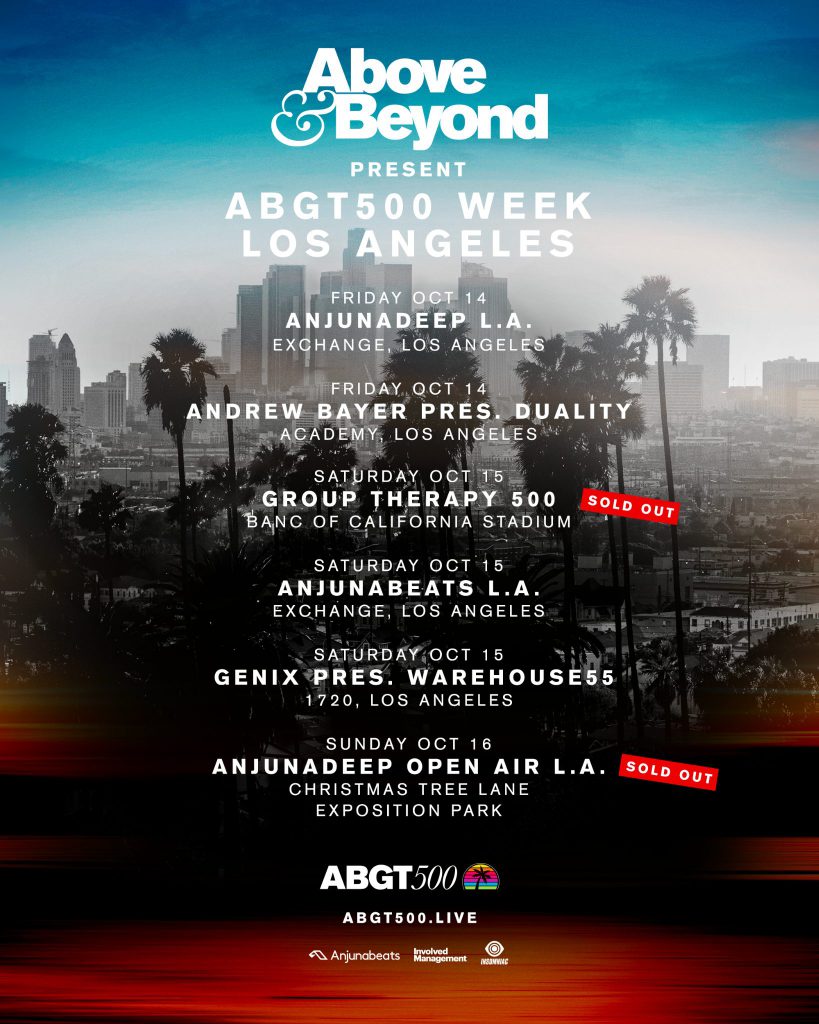 ---
Reminder To Mind Your Belongings:
Unfortunately, many people have reported pickpockets, bag slashings, and theft of wallets, smartphones, purses, and other valuables during this festival season. While this small number of bad apples in the bunch doesn't define an entire crowd, there are opportunistic people who come to these events to take advantage of unsuspecting partygoers, and it's important to be mindful of your valuables while at ABGT500 and Anjunadeep Open Air.
Looking for tips to keep your belongings safe? Check our post highlighting some ideas!
---
Banc of California Clear Bag Policy
One bag that is clear plastic, vinyl, or PVC and does not exceed 12" x 6" x 12"
or A one-gallon clear plastic storage bag (Ziploc bag or similar)
In addition to one of the clear bags noted above, guests may also carry in a small clutch bag or purse approximately the size of a hand, with or without a handle or strap.
Exceptions will be made for medically necessary items after proper inspection and Stadium Management approval.
---
ABGT500 and Anjunadeep Open Air Los Angeles – Do's & Don'ts:
Prohibited Items
Abusive, foul or disruptive language or clothing
Alcohol and illegal drugs
All bags, including clear bags, backpacks, and purses, that are larger than 12" x 6" x 12"
Animals (with the exception of service animals)
Any type of marketing collateral such as pamphlets, product samples, etc.
Balloons, balls, frisbees, markers, brooms, skateboards, roller blades, skates, etc.
Clothing containing wires, batteries, or other electronic components
Coolers, outside food, beverages (with the exception of a single factory sealed plastic water bottle no more than 20oz), cans, flasks, bottles, etc. (F&B needed for infants or medical reason will be permitted with approval)
Drums & Drumsticks
Explosives, pepper spray, tear gas, etc.
Flags larger than 3' x 5', Flag/banner poles
Folding/beach chairs
Items containing adhesive ie. Stickers, Decals, etc.
Laptops & tablets
Loud noise-making devices such as air horns, plastic horns, vuvuzelas, whistles, megaphones, etc.
Objects that can be thrown or viewed as projectiles
Professional camera equipment, tripods, GoPros, etc.
Selfie Sticks
Smoking of any kind including E-cigarettes & Vaporizers
Streamers, Confetti, Register tape, etc.
Umbrellas
Unmanned and Remote-Controlled Aircraft Systems
Water guns, toy/replica weapons, squirt bottles, etc.
Weapons of any kind, fireworks, slingshots, smoke/stink bombs, laser pointers, etc.
2-way radio devices
At the discretion of Banc of California Stadium Management, any other item determined to be prohibited.
Any attempt to bring alcohol into the Stadium will be considered a violation of the Code of Conduct and may result in an ejection or refusal of entry, arrested, or tickets being revoked. 
Banc of California Stadium is a smoke-free facility. Smoking is prohibited in all areas of the Stadium, including concourses, seating areas, suites and club areas. This includes but is not limited to cigarettes, e-cigarettes, and vaporizers.
---
Follow Above & Beyond on Social Media:
Website | Facebook | Twitter | Instagram | SoundCloud | YouTube