Viligir and forsetî just launched a new imprint, World Tree Records, and swung by to chat about its creation and first single.
---
New imprints are popping up left and right in the scene, but few go beyond being vessels for artists to slam out tunes for the masses to consume. Enter World Tree Records, a new imprint led by Viligir and forsetî that was launched with the focus of adding more depth to the scene by centering its releases in the fantasy realm.
Earlier this summer, the two artists hosted a special night in Seattle to celebrate the launch of World Tree Records, but that wasn't all they had in store. This week, they debuted their new collaborative project, Fae Wild, with "Phantasm" as the imprint's first release. This new track sees Viligir and forsetî whisk listeners away to a vast desert soundscape with stunning vocals from Pastelle to help take it to the next level. This is just the first chapter in the story that will arrive in the coming months, so keep your ears peeled for more.
Looking to gain more insight into World Tree Records and dive a bit deeper into the minds of Viligir and forsetî, we caught up with the two artists for a chat. Listen to "Phantasm" and read on for the conversation with these two creative masterminds.
Stream Fae Wild – Phantasm (feat. Pastelle) on Spotify:
---
Hi forsetî and Viligir; thanks so much for taking the time to chat with us today, and congratulations on the launch of World Tree Records. Let's jump right into it. Can you give us a little bit of insight into the foundation of this new imprint? What led to its creation? 
Thank you very much for having us. When we first met, we realized that we were both making a very similar sound of music individually, and neither of us really had a place to release it. We were living in two different states at the time but were surprised to find out we had both been making fantasy-inspired dance music for a few years. Later on, we were spitballing ideas of ways we could release the music, and it seemed most logical to team up and start a brand surrounding the whole sound. 
Back in June, you officially celebrated the launch of the label with a party at Substation on the Summer Solstice dubbed "Ring One." What was that experience like, and what does the future hold for more events hosted by World Tree? 
We wanted to encapsulate the feeling of walking into a party in a fantasy world, some sort of tavern, or magical environment. We decorated the space with candles and greenery, magical lanterns that burned in blues and purples, and things that made the audience forget where they were for a bit. We even gave out elf ears to all of the guests, something that we anticipate doing for future shows as well.
For our first event ever, it was a great turnout, and the night turned out exactly how we had hoped. Many of the people who came told us after the fact that they felt transported into a new realm, where they could lose themself to the music. As to the future of World Tree's events, we hope to maintain this standard and bring the audience into new and exciting worlds of sound. 
Now, in August, you've released your first track on World Tree, "Phantasm." You guys teased the track with a behind-the-scenes video that dove into its creation, but where did the decision to evoke imagery of a desert stem from? 
The idea for the desert theme in Phantasm actually came as part of the concept for our upcoming Fae Wild album. The album is made in a way that tells a narrative story when you listen from beginning to end. On the album, there are three tracks with desert inspiration, three from the forest and three from the ocean. You'll definitely hear the journey through these landscapes in the music when you listen to the album. 
What's the story behind you working with Pastelle on the track? How did that relationship first form? 
A few weeks after we finished the production for Phantasm, Pastelle found forsetî's stream on Twitch while he was working on another song off of our album. Coincidentally enough, she happens to make fantasy-inspired music as well, which led to mutual admiration and curiosity for each other's work. From there, we wrote the lyrics for Phantasm and sent a melody idea over to her, and she really brought the lyrics to life.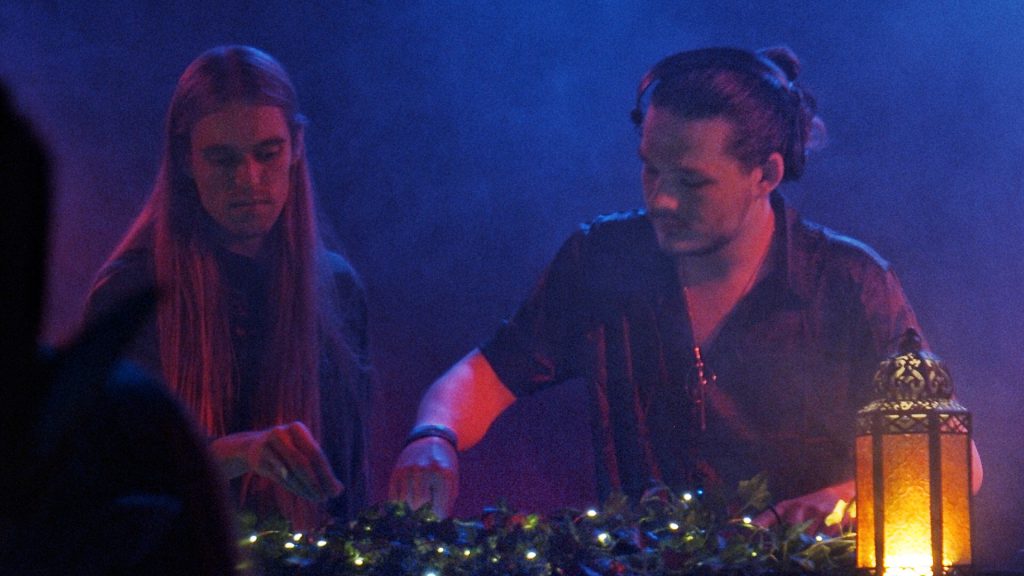 Back to the label itself, do you have plans to open this up to other artists for future releases, or is it mainly going to be a home for your tracks? How can others get involved with World Tree moving forward? 
We definitely plan on opening up World Tree to other artists in the near future. After the Fae Wild album, there will be a compilation album featuring many talented artists. We can't name any just yet, but it is sure to be a great lineup. With the compilation, we want to give other artists a place to experiment with their sound and really explore the otherworldly aspect of fantasy-inspired dance music. And after that, we are wanting to put out EPs and albums from other artists as well as ourselves. 
World Tree is driven by both of your passions for fantasy worlds, so can you shed some light on some of your favorite books or movies in that genre? 
Viligir: It is difficult to pick favorites because the joy of fantasy is that the stories are all so unique. But right now, I grab most of my inspiration for my music from the stories that I create with my friends playing Dungeons & Dragons. Nothing is more fun than group storytelling and exploring a fantasy world in real-time with friends. I love the Inheritance book series (Eragon) for its interesting magic system and awesome dragons.
I grew up on Lord of the Rings, and it is one of my favorites because of how lovable the characters are. As a Slytherin, I couldn't leave out Harry Potter either. I think out of all of the fantasy stories; I would choose to live in the Harry Potter universe because the idea of going to Hogwarts is just too cool to pass up. Maybe I could be a rare positive addition to Slytherin house, but you never know. I could also be the next evil genius. 
forsetî: My favorite fantasy world has always been Tolkien's Legendarium. From my very first viewing of the Return of the King at the movie theater, I was hooked. Something about the stories told in the Lord of the Rings, The Hobbit, and Silmarillion evokes such a sense of wonder and awe and touches on themes both grand and humble that I can't help but be completely inspired any time I come back to Tolkien's writings or any of the great adaptations. 
I'm also a huge fan of Frank Herbert's classic novel Dune. I'll never forget how amazed I was at the world-building during my first read-through of it. The cultures, use of language, ecology, characters, economics, government, and plots are all so convincingly fleshed out. The Fremen people and culture especially scratch my itch for completely captivating world-building. In addition to all that are all of Herbert's deep philosophical teachings baked into nearly every sentence. To name some others I love and could easily go on tangents about are Harry Potter, the Halo series, Ghost in the Shell, Avatar The Last Airbender, many Ghibli films, Children of Whales, Demon Slayer, One Punch Man, Akira, Angel's Egg, The Witcher universe, and Bloodborne. 
Finally, where do you hope to take World Tree in the coming months and next few years? Are there any specific goals you'd like to achieve?
In the future, we hope to see World Tree at music festivals, renaissance fairs, and nightclubs. Wherever we are, we hope the fans come with elf ears, cosplay, and magic potions ready to get lost in the music with us. It would be amazing to look out and see a crowd full of dancing elves, stomping trolls, and wand-waving witches and wizards.
---
Follow World Tree Records on Social Media:
Facebook | Twitter | Instagram | SoundCloud