The intersection of man and machine, FLESH & STEEL brings darkwave, industrial, and deep moods to four Brooklyn venues across three nights.
---
As the cold darkness of winter descends upon Brooklyn, FLESH & STEEL will bring BOY HARSHER, A SPLIT-SECOND, PSYCHE, PHASE FATALE, and many others to entertain New Yorkers. These live events span three nights and four incredible Brooklyn venues: Saint Vitus, Knockdown Center, Good Room, and The Meadows. In a city where Brooklyn Mirage lights up the summer nights, FLESH & STEEL embraces the elements of winter in this series that will equally excite the senses.
Saint Vitus will host the inaugural event, which is only fitting, as it is known for its metal, post-punk, and post-hardcore lineups. The second night takes place in the cavernous Knockdown Center, a venue as industrial as the FLESH & STEEL theme, and an exquisitely transformable space for such an event. For the third night, Good Room and The Meadows will each host different lineups; each providing a dark and intimate setting for diverse lineups.
Partnering with FLESH & STEEL is Restless Presents which is known for its SUBSTANCE series, a dark-rock/electronic production on the West Coast. FLESH & STEEL seems like a natural East Coast extension of this work as they previously moved into Chicago with SANCTUM. After the successful launch of FLESH & STEEL in NYC, be on the lookout for similar Restless Presents productions in other cities.
Ready to enter the world of FLESH & STEEL. Three-day passes and single event tickets are all on sale now!
---
FLESH & STEEL 2022 – Lineup: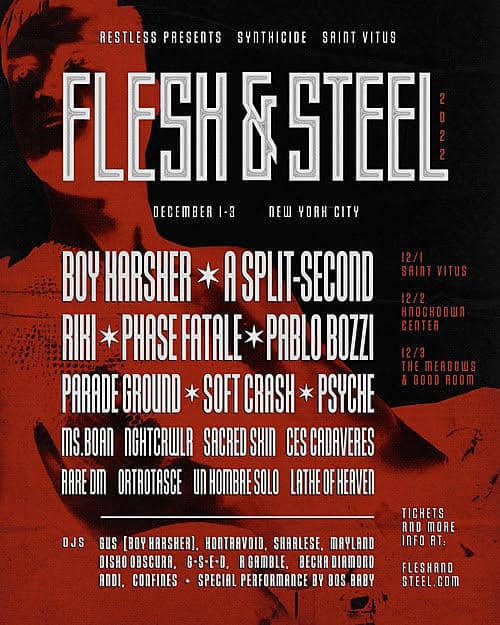 ---
FLESH & STEEL Venues
Thursday, December 1: Saint Vitus (only available to those with 3-day passes)
Friday, December 2: Knockdown Center (18+)
Saturday, December 3: Good Room (21+)
Saturday, December 3: The Meadows
---
Follow FLESH & STEEL on Social Media: