Fusion indie-electronic duo Forester took time to chat with us at Outside Lands where we dove into their beginnings, new album, and more!
---
Forester have been on a steady rise since their earliest releases in 2019. The Los Angeles-based, indie-electronic duo, consisting of Xander Carlson and David Parris, have amassed a worldwide fan base with their vibey, ambient productions. Combining live elements such as guitar, piano, and vocals, their sound is distinguished and undoubtedly will transport you to other worlds as soon as that first beat hits. In their young career, Forester have released three albums and have even caught the attention of Palm Tree Music label boss, Kygo, who signed and brought them along to play as direct support at huge stadium shows in Oslo, Mexico, and the iconic Red Rocks Amphitheater.

Although it has only been three years, the two musicians are hungrier than ever to keep producing music that feeds their souls and resonates with fans new and old. There seems to be no slowing down for this exciting duo, and after catching both their live set on the Twin Peaks Stage at Outside Lands as well as their DJ set at the Toyota Den, it's clear to see Forester are on a trajectory to success and something special. We were lucky enough to sit down and talk with Xander and David prior to their sets at Outside Lands in San Fransisco to chat about their beginnings, new music, and favorite moments on tour.
Forester's latest album, Watercolor, is out now. Listen to the album in its entirety below or on your preferred platform and read on for the conversation!
---
Hello! Thank you for taking the time to chat with me here at Outside Lands! You've played some huge shows in the last two years, from stadium shows in Mexico and Oslo, to Red Rocks and Ultra. How are you guys feeling right now ahead of your Outside Lands performance and what makes you so excited to be playing this festival?
Xander: We're feeling excited. It's kind of a hometown festival in a way. Coachella is obviously a little closer to Los Angeles, but a lot of our friends always come up here for Outside Lands so it's really cool to finally experience it. We also went to college nearby at Chico State which is a little north of here, so in some ways it has a hometown feel to it with a lot of our friends here.
David: I think anytime we get to play our music outside amongst the trees, fog, and the ocean…I think that's the best setting we could possibly ask for.
Taking it back to the beginnings of Forester, what were you doing individually as artists, and what drew you to each other?
D: So, we actually grew up together. We met when we were 15 or 16, and we were both just learning how to produce at that time. I met Xander at a party and we just started talking about music, making music, and he invited me to come over to work at his house because he had a full studio. His mom was in to music as well and that was mind blowing to me as a kid getting to work at a studio. We recorded our first real vocals ever there. It was a really fun experience and the music just grew and evolved from there.
X: It was a fun place to have the music to come from. We would also throw these parties, particularly David would spearhead those, for the west side of Los Angeles. We had a very large friend group amongst all the high schools there so we would play music we made during the week at these parties on the weekend. Sometimes we'd be walking through the cafeteria and hear one of our boys bumping one of our songs from SoundCloud. That was always such a trip to test out new music at those parties.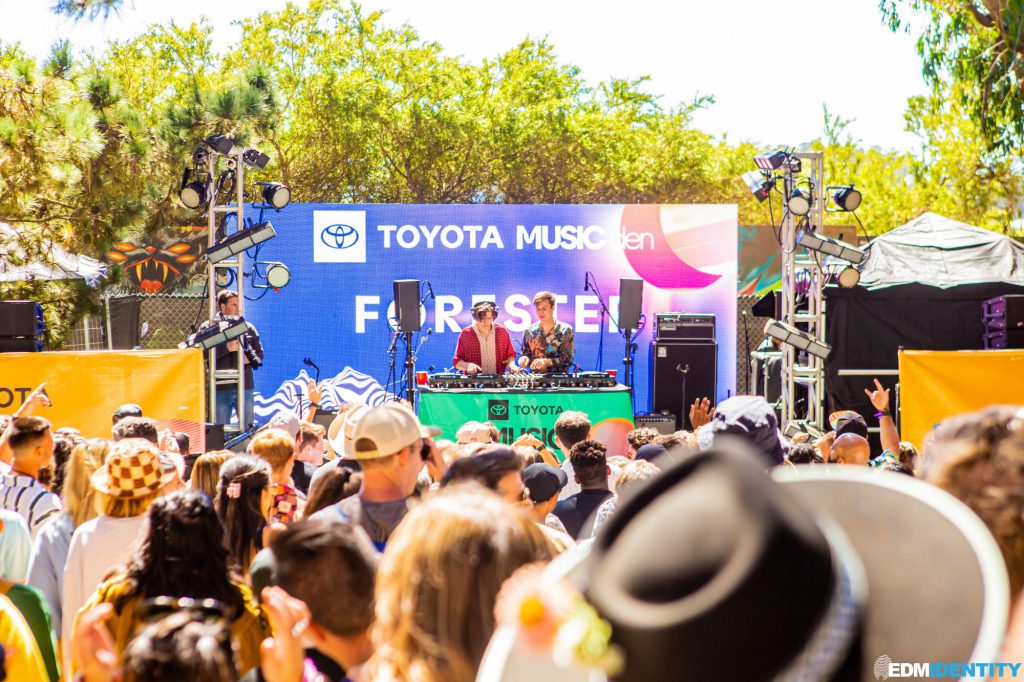 Since producing as Forester in 2019 you have released three albums! What is some advice you can give to producers beginning their journey in music to stay creatively focused?
X: We've been really lucky so far in the fact that we haven't experience writer's block – knock on wood – maybe on a song, but I'd say find what inspires you in the world. For us that happens to be nature. Anytime we are able to clear our heads by going out surfing, hiking or, backpacking, which is my personal favorite. It helps clears your head and makes room in the mind to think and that helps create room for new music to be made.
D: One of our number one rules is to have fun. Remember why you do it and keep that in mind as you're making music. Don't get caught up in the wrong things and always be grateful for anything you do get from music because it's a blessing and the best job in the world.
X: And, honestly, I'd say another one of the other number one things is to just be a good person. I think a lot of the reason why we got to where we are today is because we're not divas, we're not dicks to anyone, we just try to be good people. We give everyone the time of day and it's just important be a good person. I mean, we're not shit yet, but no matter what stage you're at, be someone that people want to be around. Even if you're not the best musician, people still want to be around you or have you in the room to be a sounding board, like whatever you can do to get in the room to make music, do it.
You mentioned your most recent album Watercolor was inspired by your trips to Central California. What ambiance of the natural area did you try to capture most into the sound of the album?
X: I think theres a lot of beach, coastal feeling in there with the fog and the pine trees. Where the forest meets the ocean, Big Sur, even where we are right now in Golden Gate Park has that feeling. So there's some indie rock, beach rock, electronic, and also just like an overall blanket of melancholy and introspection, which is like the fog in many ways. The coastline here isn't your normal, tropical beach. The coastline here… it can be gnarly, there can be huge waves, it's moody, and I think that the music balances all those aspects.
D: The smell too, it's fresh and clean.
There is a track from Watercolor titled "Saint" which Shallou remixed! What was it like performing the track with him live on a beach in Central California? How did you guys originally connect?
D: Yea, so we've been trying to get in the room with Shallou forever. He's been an inspiration to us for awhile now and I think our label president reached out to him, shoutout Big Dave, and they seemed interested in the song. He actually picked that song. We were just looking for a remix for the album. The first day we just clicked, he's a good dude. It just organically happened naturally and when we made the video it felt kind of easy. It was all just a comfortable process.
X: It was very special to play the music in a similar setting that it was inspired by.
Your blend of indie sounds with dance-forward arrangements and production are visceral. What emotions do you lean into most when you're in the studio or producing?
D: It's a track-by-track basis at least with the songwriting process. Also, it depends on what you're going through at the time. A lot of times if I'm feeling anxious, I'll just start humming a melody and it's a way for me to translate my feelings and get them out. Music is for me, for both of us, a lot of the time music is an emotional release.
X: I think emotionally speaking, when I'm producing I try to go back to the feeling of a wide open space, or nature. I love the Sierras. A lot of our music is inspired by that setting. Range Of Light, we named our last album after the Sierras. I think we try to take these pieces of freedom we get to experience from being outside and translate that into an MP3 form the best we can for people to enjoy.
D: And to add to that, whenever we're struggling to finish a song we'll go to Mammoth. Anytime we do that we finish the song, but yea, it's about taking a break to think freely. If you're not feeling an idea, go for a hike, and come back to it. That seems to be a great way for us to beat it.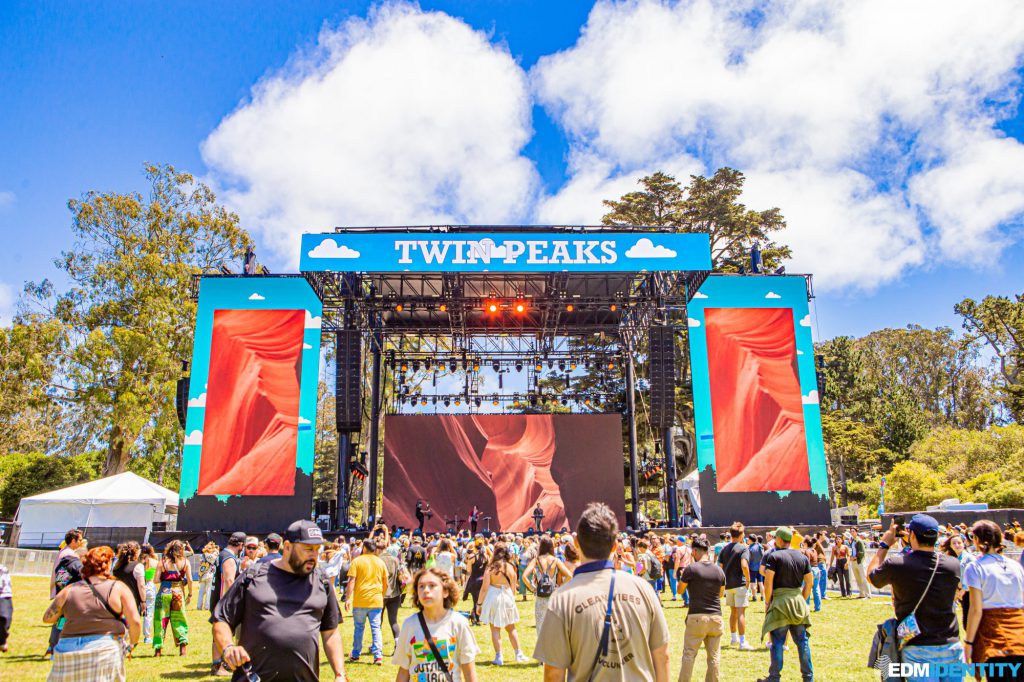 What can fans expect from Forester for the rest of 2022 and beyond?
D: We have some new music we're working on. We're also toying with some more conceptual ideas. We have a song coming out in September and then hopefully every month following that. Then October and December, we'll have some headline tour dates that we'll be announcing soon. Then Croatia in three weeks with Kygo and the Palm Tree Crew, but, I also think we're just looking forward to taking a break from all the travels too and make some more music.
Lastly, having done extensive international traveling what is one of our favorite moments from the road?
X: I think singing in the streets of Oslo. We were coming home from the after parties after playing the stadium show with Kygo and were singing Avicii in the streets. It was like 5AM and the sun was already out.
D: I have to agree, definitely a core memory there.
---
Follow Forester on Social Media:
Website | Facebook | Twitter | Instagram | SoundCloud | YouTube