With the state of the rave fashion scene constantly evolving, let's look at five different trends at HARD Summer Music Festival this year.
---
HARD Summer brought the heat back to Southern California, both literally and figuratively. This fiery festival staple drew a diverse group of fans to the NOS Events Center on July 29-31 for an epic weekend full of some of the best acts in the dance music scene, rising artists, special performances, and more. With the festival expanding to three days this year for the first time, there was so much to see and do, sights to take in, and fresh beats to hear in the heat of the San Bernardino sun.
With the sun's intense rays also comes the desire to wear as few clothes as possible to stay the coolest you can be – but dressing up for shows and finding cute outfits is half the fun of going to any event. If you're a Southern California native, odds are your closet is stocked full of summer-ready clothes and accessories fit for our typical year-round comfortable climate — and if you're into festival fashion, surely you have an artillery of the trendiest and unique 'fits in the scene stocked up and ready to go for your next event.
Related: Want to know how this year's edition of HARD Summer went down? Check out our full review of the festival!
This year at HARD Summer, we noticed quite a few attendees who brought some seriously cool looks to the table. From handcrafted pieces to carefully curated ensembles, matching getups, and more, we've curated some of our favorite outfits from this year's edition of the festival. Keep reading to check out our top hand-picked looks for HARD Summer below!
Five Festival Fashion Trends at HARD Summer 2022
---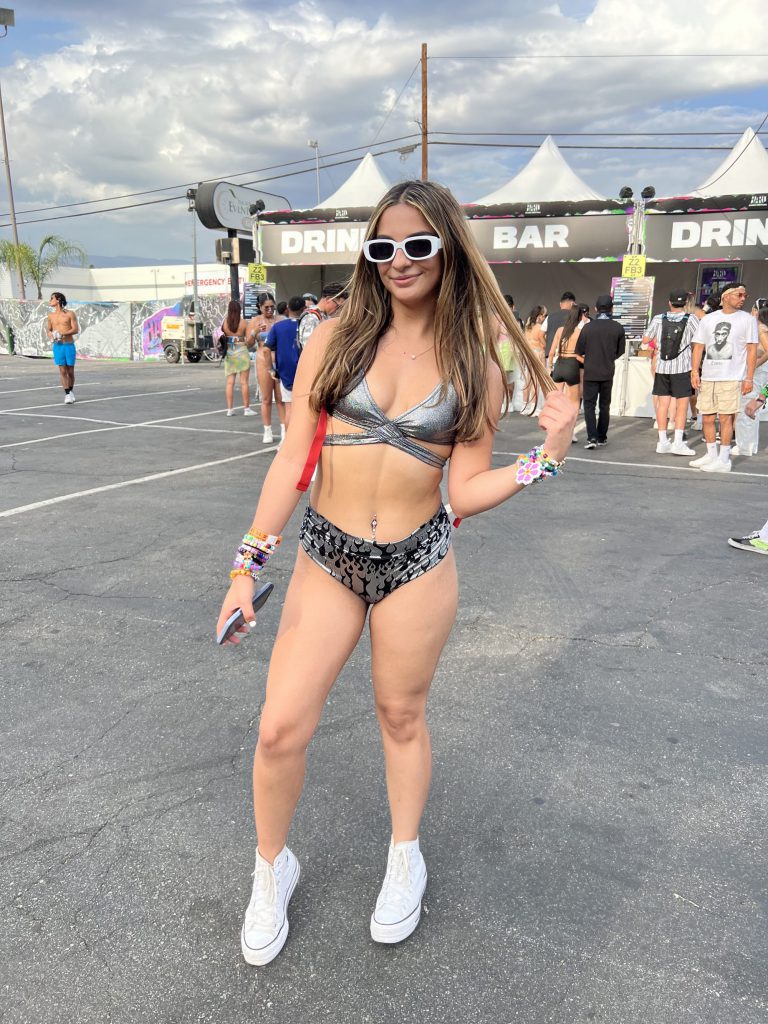 Silver Flames in the HARD Heat
A cooler take on the HARD heat, Niki Ziaei opted to incorporate a non-traditional color of flames into her HARD Summer getup. While orange, red, and even pink flames appeared throughout the festival, Niki's silver flame bottoms from iHeartRaves stood out the right way among the crowd. Paired with a criss-cross silver top also from iHeartRaves, this silver statement look is a unique spin on the everlasting heat this year at the festival. Niki is ready to stay as cool as possible at HARD Summer, topped off with matching white Converse high-tops and white sunglasses.
---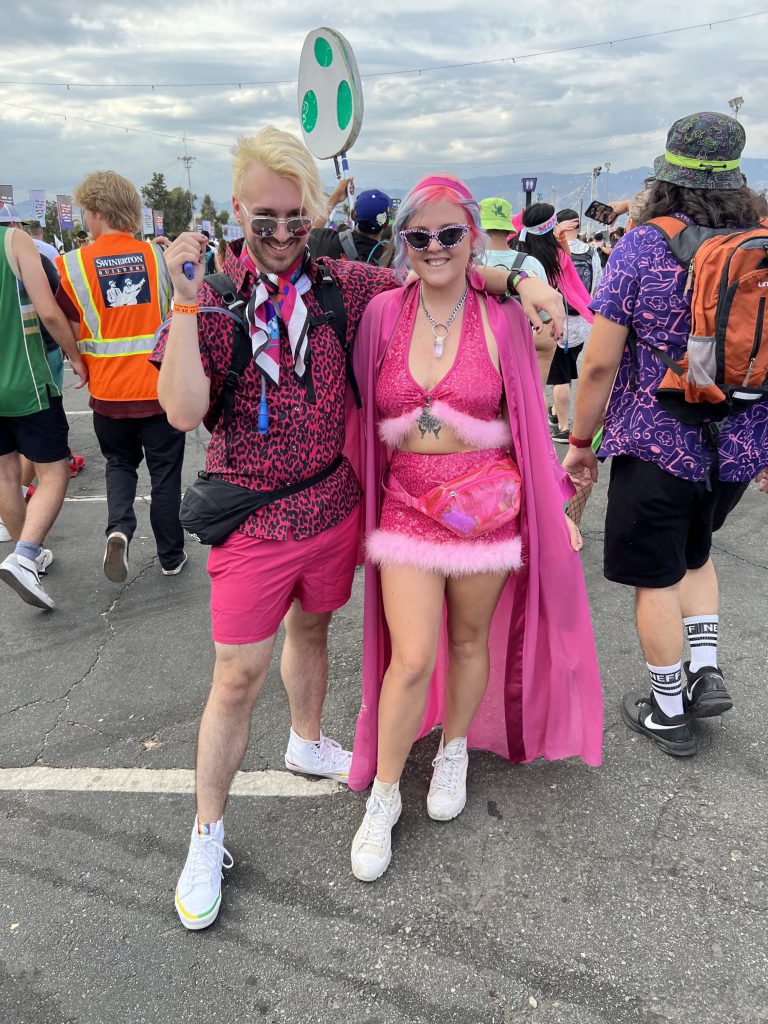 Pink is the New Black
If there's one color that seemed to be everywhere this year at HARD Summer, it was pink. From splashes of pink sprinkled throughout outfits to full-on pink getups, the color was a dominant one reigning supreme at the festival, regardless of who you were. Pink may never truly go out of style, but it's one color that's been revived in different ways time and time again, typically used in the most fun opportunities when creating and planning festival outfits.
Take Ashley English and Eugene, for example. After running into them shortly after making it through security, we knew there was something special on the surface of their outfits. Sure enough, Ashley told us that she actually MADE her whole outfit, repurposed from a dress! She helped Eugene design his fit as well, opting for a pink leopard button-up from Amazon and pink shorts from Rave Wonderland. We love a pink moment, and kudos to Ashley for some major talent in sustainably reworking her outfit.
---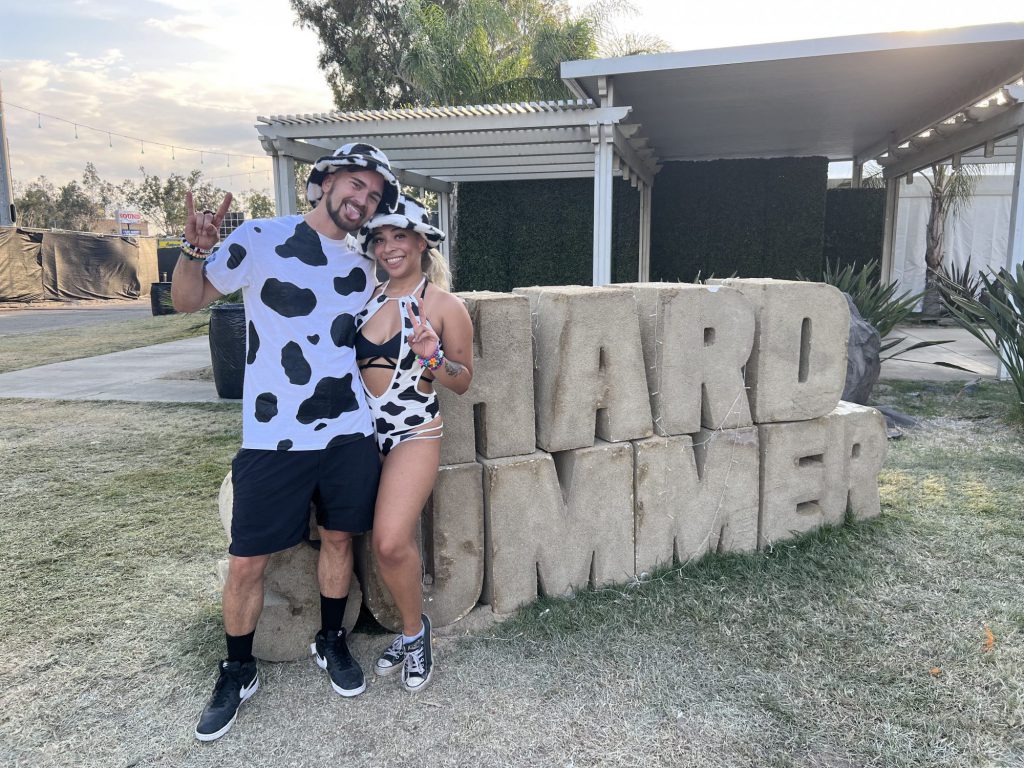 Legen-dairy Matching Animal-Print Outfits
These udderly-amazing and carefully coordinated 'fits caught our attention from a mile away. We had been on the lookout for some animal-print outfits and were ecstatic to come across these. While many animal-themed outfits come in the form of onesies, various critters were on the prowl this weekend in much cooler getups to beat the heat at HARD Summer.
Daric and Brie looked cool and comfortable in their matching cow-print looks. Brie opted for a bodysuit she purchased from the Squad Goals Rave Shop in Buena Park and reworked herself. The talent at HARD Summer was surely on display this year as Brie stitched both her and Daric's outfits, reworking them from their original state. Topping off their looks with cow-print bucket hats, this cute couple raised the "steaks" for style this year at the festival.
---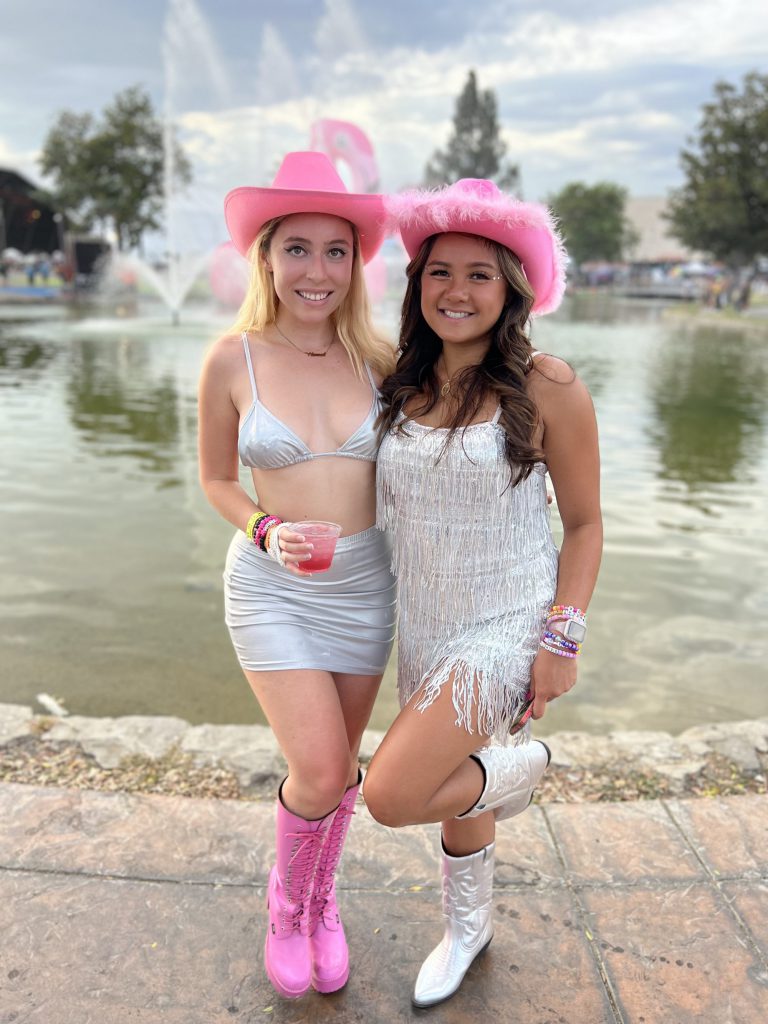 Space Cowgirls
Greetings earthlings — this iconic, out-of-this-world look is here to stay! The space cowgirl ensemble was evident this year at HARD Summer, and even I joined in on the fun. Even if you opted for more of a space or western vibe, iconic cowboy hats and radiant, silver space-like attire were both prominent across the NOS Events Center this year.
Mica Almira and I decided to play out the space cowgirl trend to its fullest extent. I sported a silver bikini top, matching mini skirt, hot pink ROC Australia Boots, and a pink cowgirl hat to top it off. Mica's silver cowgirl boots from Amazon are the perfect contrast to mine, along with a matching silver fringe dress from Shein and a pink furry cowgirl hat. Together, our intergalactic looks were ready to take on the wild west of HARD Summer.
---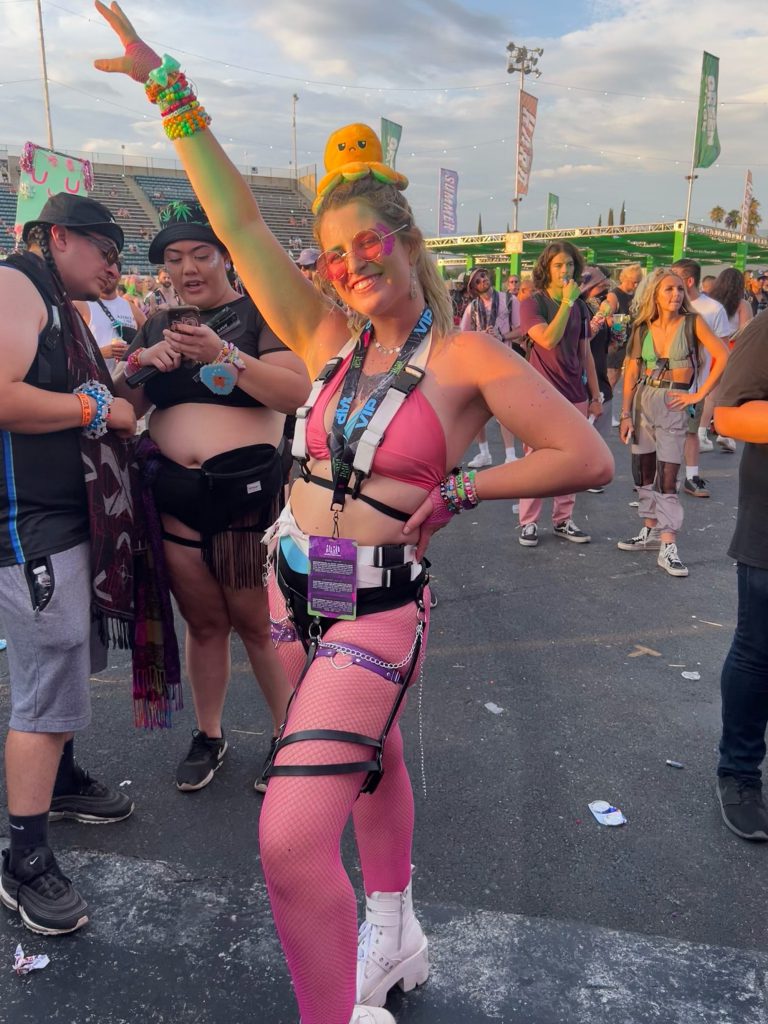 It's All in the Details
Cora surely knows how to add all the necessary details to a rave 'fit that one might forget or not even think to include. Her Shein-powered getup took the spotlight as we checked out all the details of her look, which had multiple garters and fishnets, pink glitter, shiny accessories, a butterfly temporary tattoo, a pair of groovy sunglasses, and an octopus friend that was glued to her the whole time we were dancing at the Green Stage. Oh, and we can't forget the wrists full of kandi to trade as well. Cora's bubbly personality was the perfect icing on the cake to her intricate outfit, almost outshining her elaborate style.
---
Connect with HARD Summer on Social Media: