Doctor P and Flux Pavilion officially launch their new Circus Electric imprint with a 24-track compilation called Electric One.
---
Circus Records is one of the most beloved labels in the bass music scene and continues to be at the forefront of pushing genres like dubstep while simultaneously fostering fresh talent. Label founders Doctor P and Flux Pavilion have also explored their own dynamic range of styles over the years, and now that has led to something new for fans of the imprint with the launch of Circus Electric.
The newly-minted label will run alongside Circus Records with the focus of pushing innovative and electric releases for the masses to consume while staying true to their mission of helping foster talent from around the globe. Fans won't have to wait long to hear the sounds that will permeate Circus Electric either, as paired with the announcement is the release of Electric One – a 24-track compilation that features a bevy of soundscapes for listeners to bask in.
Artists who grace the tracklist for Electric One include the likes of Fluencee, Beatcore, Taylor Kade, NIRE, Lost Wolves and Dani King, and Laura Greaves. The label's founders also are prominently featured on the compilation as well. Doctor P's track with Dani Senior, "Way To You," received a remix from Yawdel, and his collaboration with KOOLKID, "OD," is also found inside. Flux Pavilion added even more as "Cannot Hold You" with Jamie Lidell, "Lion's Cage" with Nevve, and "Surrender" with Next To Neon and A:M also make an appearance.
Listen to the sounds on Electric One by tuning in on Spotify or your preferred platform, and stay tuned for more to come from Circus Electric by following them on social media!
Stream Electric One on Spotify:
---
Electric One – Tracklist:
Lost Wolves – Grey Space feat. Dani King
So Sus x Sejo – Don't Forget Me
Fluencee – Are You Down
Flux Pavilion – Cannot Hold You feat. Jamie Lidell
Taylor Kade – Back to Life feat. Kat Nestel
Doctor P – Way To You feat. Dani Senior (Yawdel Remix)
DISKORD – Our Lives Collide feat Philip Nolan
Aether One – Silence
UFO Project – Artemis
Doctor P – OD feat. KOOLKID
Cyran – Figure You Out
Beatcore – Closer
Flux Pavilion – Lion's Cage feat. Nevve
Yawdel – Ghost Modwheel
Umpire – Drowning feat. Cali & Bowen
NIRE – Crystalline
Laura Greaves – Star Sign feat. Lhotse
Big Voyage – Rain
Engine-EarZ Experiment – Blue Moon feat. Kate Havnevik & Shahid Abbas Khan
Outrun – Air
ReauBeau x NCT – Not Gonna Stop
Orkid – Carrerilla
Flux Pavilion – Surrender feat. Next To Neon and A:M
Big Voyage – Spin Tunnel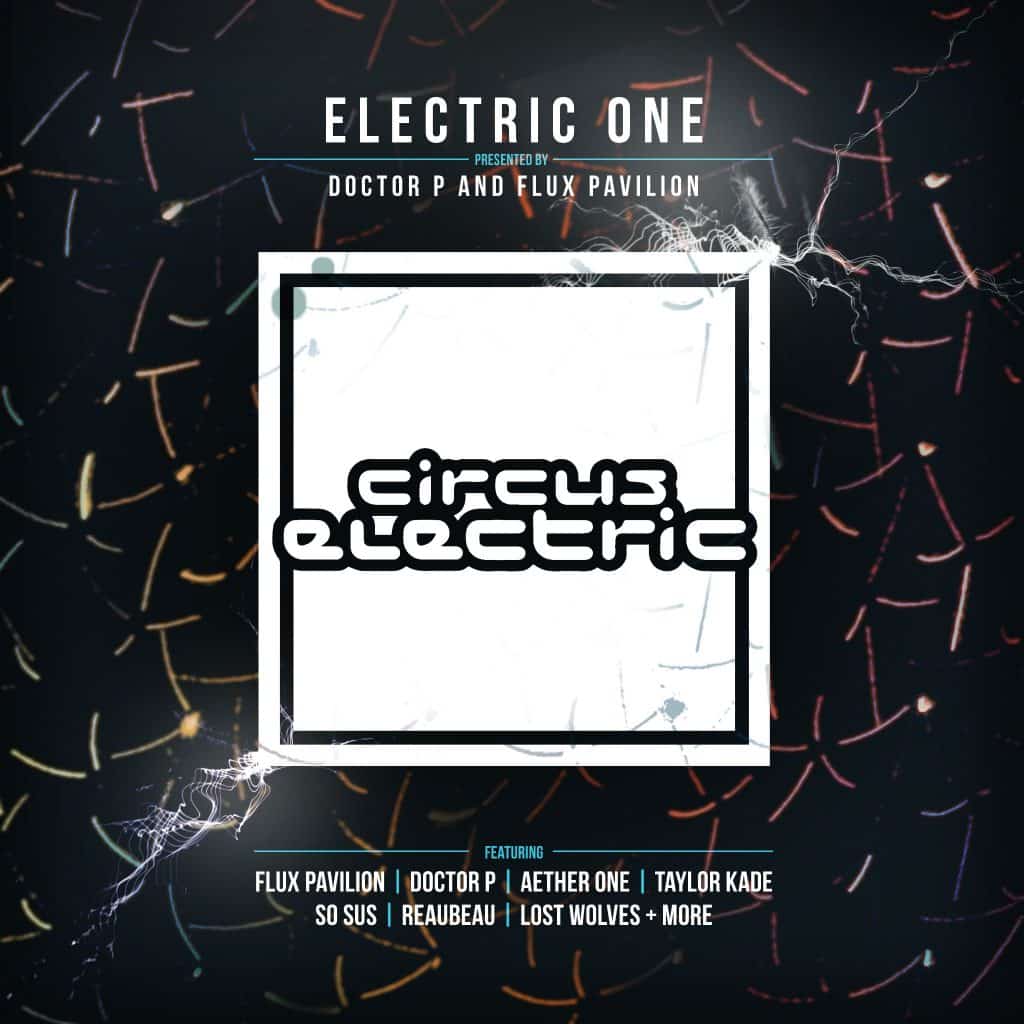 ---
Follow Circus Electric on Social Media:
Facebook | Twitter | Instagram | SoundCloud | YouTube | TikTok