Moore Kismet is set to bring their Universe live experience to Chicago, Seattle, Atlanta, Austin, Tampa, and more this fall.
---
Moore Kismet is one of the hottest artists in the dance music scene right now, and it's clear the sky is the limit for their continued rise to the top. Last year saw this dynamic artist take the stage at major festivals like EDC Las Vegas and Lollapalooza, and this year they've struck gold with even more festival appearances the release of their debut album, UNIVERSE.
Today, as Moore Kismet heads into the latter months of 2022, they released even more exciting news – a UNIVERSE fall tour. Kicking off on September 10 at Chop Shop in Chicago, they will then head to cities including Minneapolis, Seattle, Austin, and Tampa, among others, before closing down the run of shows at a TBA date. Joining Moore Kismet are Pauline Herr and TSU NAMI, two artists who have also made some major moves in 2022 with their own stunning releases and performances.
If you can't catch Moore Kismet on the fall dates of their UNIVERSE tour, there are more sets to come from this rising star as well. They have been announced for a number of upcoming festivals, including Moonrise, Imagine, Electric Zoo, and Escape Halloween, while also joining Jauz for his Block Party in Honolulu and more.
Head over to Moore Kismet's official website for details on the UNIVERSE fall tour, and make sure to grab tickets because these shows are ones you won't want to miss!
---
Moore Kismet Presents UNIVERSE Fall Tour 2022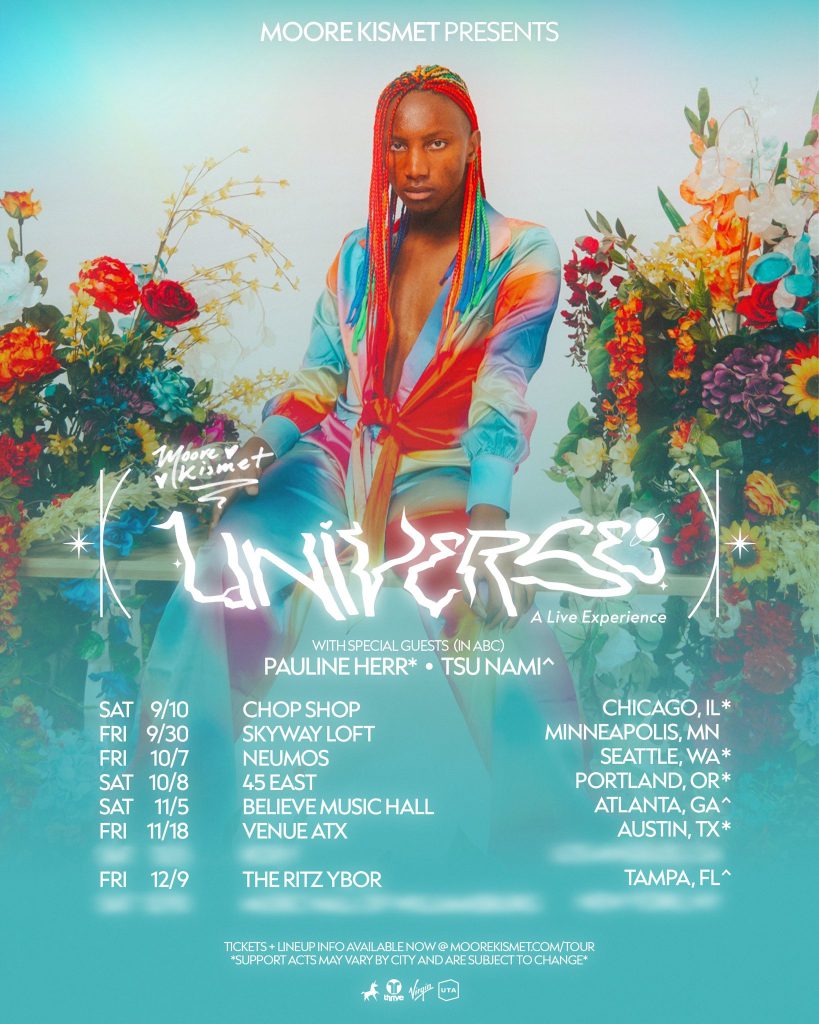 ---
Upcoming Moore Kismet Tour Dates
Aug 6 – Mission Ballroom (w/JAUZ) in Denver, CO
Aug 7 – Moonrise in Baltimore, MD
Aug 13 – Williwaw Social (w/JAUZ) in Anchorage, AK
Aug 16 – Imagine Fest in Atlanta, TA
Aug 26 – Green Door (w/JAUZ) in El Paso, TX
Sept 3 – Electric Zoo in New York, NY
Sept 10 – Chop Shop in Chicago, IL
Sept 16 – Imagine Music Festival in Rome, GA
Sept 17 – Jauz Block Party in Aloha Tower, Honolulu HI
Sept 23 – Salt Yard West in Albuquerque, NM
Sept 24 – Sun Bar Lot in Phoenix, AZ
Sept 30 – Skyway Loft in Minneapolis, MN
Oct 7 – Neumos in Seattle, WA
Oct 8 – 45 East in Portland, OR
Oct 28-29 – Escape Halloween NOS Events Center in San Bernadino, CA
Nov 5 – Believe Music Hall in Atlanta, GA
Nov 18 – Venue ATX in Austin, TX
Dec 9 – RITZ Tampa in Tampa FL
---
Follow Moore Kismet on Social Media:
Facebook | Twitter | Instagram | SoundCloud | YouTube