Twiddle, Truth, The Widdler, Shlump, and more will take the stage this Labor Day Weekend at Big Fam Music and Arts Festival.
---
Big Fam Music and Arts Festival is set to return to Michigan after a successful inaugural event in 2021. Taking place on September 2-4 the festival will head to its new home, Liberty Mountain in beautiful Farwell, MI, with on-site camping for those planning to attend. This unique experience has already become renowned for featuring artists of all sizes with a niche for bass music, funk, and underground sound – and they just dropped an impressive list of artists for their second edition.
The variety in genres featured on the rest of the bill is top-tier, with everything from various bass genres to funk and jam. Headlining Big Fam this year are artists including Twiddle, Truth, The Widdler, and Shlump, but that's just where it gets started. Sets from Daily Bread, Jason Leech, NotLö, A Hundred Drums, Khiva, Late Night Radio, and Super Future are all sure to impress with their unique styles. Those who love that weird bass music can get their fix with artists like Benji Robot, Toadface, and Salty, while house lovers can shuffle away to sets from J. Phlip, The Sponges, and Codes.
This lineup features a hefty undercard of smaller and local artists as well, making this event a great one for discovering small names and new music to love. With plenty of art, flow artists, workshops, and activities on-site, attendees can look forward to exploring all that the new venue has to offer outside of the music as well.
Tickets for Big Fam are on sale now via the festival's official website, so be sure to snag yours now if you plan to join their growing family on Labor Day Weekend!
---
Big Fam Music and Arts Festival 2022 – Lineup: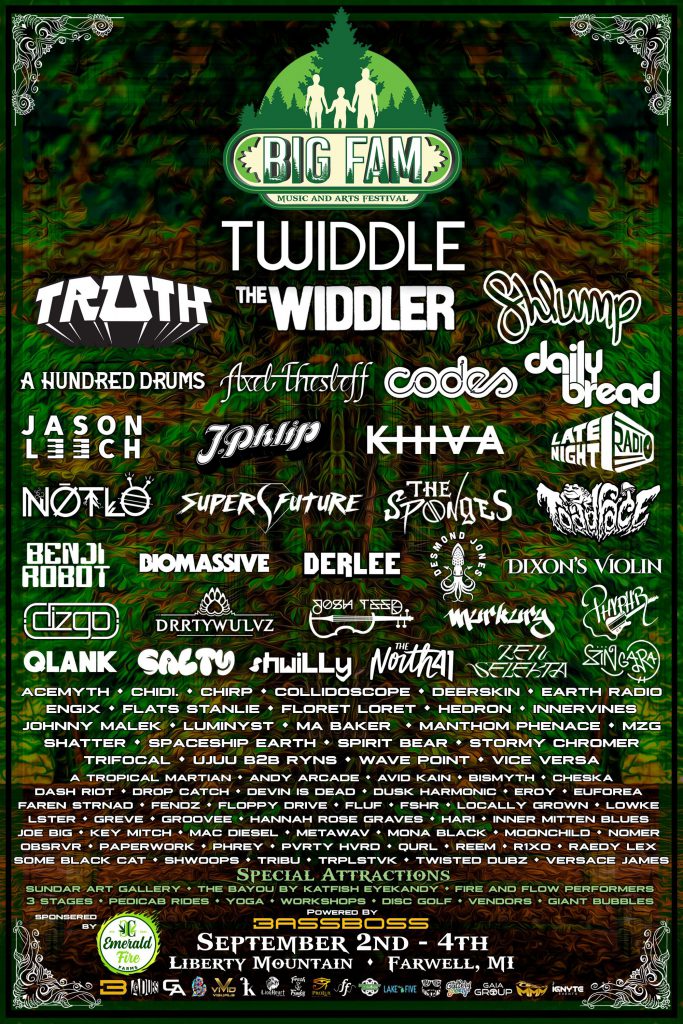 ---
Follow Big Fam Festival on Social Media:
Website | Facebook | Twitter | Instagram | SoundCloud