UK-based drum and bass artist Georgie Riot swung by to tell us about her roots in the scene, her recent releases on UKF, and more.
---
The drum and bass scene in the US might be bubbling up to the top in popularity as of late, but it's been a force to be reckoned with for decades across the pond in the UK, where it first began. While big names from the region continue to dominate speakers worldwide, there's also a plethora of fresh faces causing their own commotion as they rise through the ranks of the scene. One of those artists is Georgie Riot, who hails from Coventry and has quickly found a home on beloved imprints like UKF.
Finding a passion for drum and bass while attending college and discovering artists like Pendulum, Chase & Status, Sub Focus, and more, it wasn't until 2019 that Georgie Riot decided to start DJing. The pandemic shut the world down just months later, yet it was a blessing in disguise for her as she began practicing daily, recorded mixes for SoundCloud, and live streaming. As she honed her skills, she also started producing as well, which led to her bassline track "Dance" finding a home on YosH in 2021.
This year has proved to be an even more successful one for Georgie Riot. Not only did she get the chance to play in support of Pendulum at iconic nightclub Ministry of Sound, but she also delivered her first track on UKF, "Take Over." Since then, Georgie Riot has dropped "Do Better" and "Wait For Me" with Aktive as she gears up for the release of her debut EP on the imprint that's due out on August 3, along with a remix of Soulecta's "Things You Say."
Before the Take Over EP arrives next month, we caught up with Georgie Riot to chat about everything from her earliest days discovering electronic music to her latest releases. Listen to her exclusive guest mix and read on for the full conversation!
Stream EDMID Guest Mix 332 || Georgie Riot on SoundCloud:
---
Hi Georgie, thanks so much for chatting with us today. Before we dive into your recent rise in the scene, let's turn back the clock a little bit. You found a passion for music over a decade ago and learned to play the drums when you were 13, what was the influential force behind this?
Thanks so much. It's great to link up! From as early as I can remember, I was obsessed with music. I remember being insanely enthusiastic in primary school when we had our one music lesson a week. I would go to school buzzing that I'd finally get to use the keyboard my parents bought me for Christmas!
I was really into bands in my teens, which is when I learned to play the drums. I took GCSE music and then went on to study Music Technology in college. It wasn't until college that you really fell in love with dance music, specifically drum and bass.
Can you share your initial journey during those early years in the scene?
Pendulum really bridged the gap with my interest in bands and drum and bass. They really changed the game with their album Hold Your Colour (2007). This was the first drum and bass CD I remember owning. I would've been 11 when this hit the mainstream charts! Totally influential, those guys.
I think my journey in drum and bass is quite different from most. A lot of people I know had parents or siblings into drum and bass, but I didn't have that – my family was into trance and house music. That definitely helped me get into dance music in general, and my mum used to take me to trance events when I was 14 – she always said, "gotta teach 'em young!"
Mainstream drum and bass is what really got me into the scene, artists like Chase & Status, Sub Focus, High Contrast, and Wilkinson. It's amazing to see drum and bass make it into the UK Top 40 charts again. It's great because it helps to encourage more people to listen to drum and bass, people who might not usually have given dnb a chance! It's so sick to see drum and bass becoming more popular in America, too!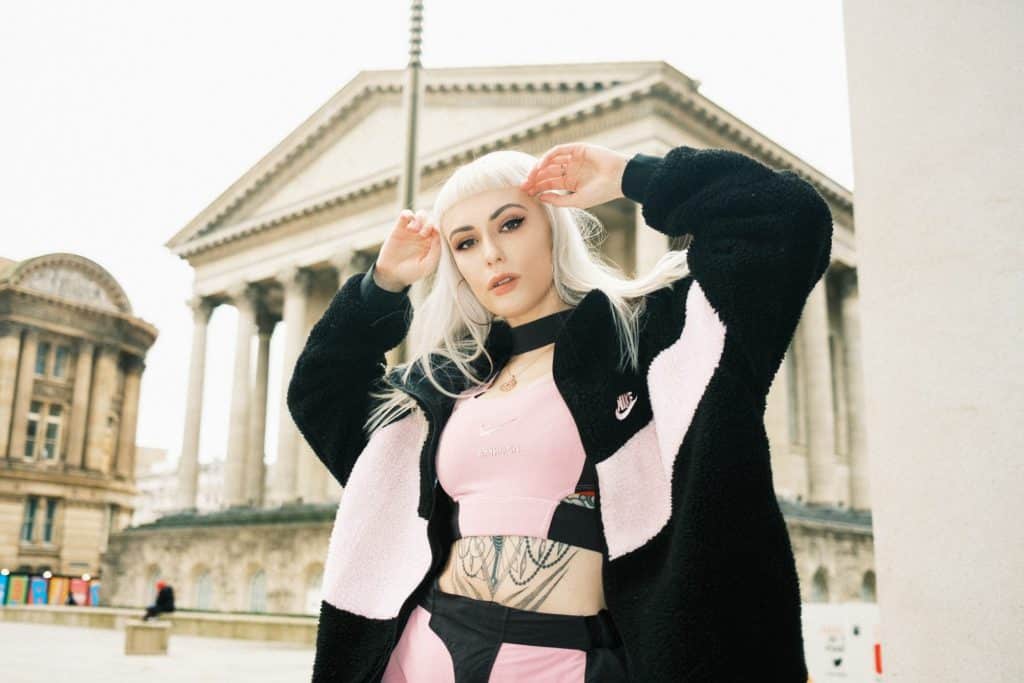 Fast forward to the present, and you're now playing and producing drum and bass with some stunning releases already under your belt. What prompted you to begin this era of your life in 2020? Was it a result of being stuck at home during the pandemic?
The pandemic really left me in a mess. I had been modeling for the best part of eight years, I had spent four years building a modeling agency as well, and in an instant, everything came to a standstill. We went into lockdown, and all my work dried up. I had no income and nothing to do. I think it was a real shock for me because I'm so used to working 24/7 and traveling around for shoots.
DJing had always been something I was interested in, so at the end of 2019, I bought some decks, and I had two shows in tiny local clubs in my hometown. We went into lockdown shortly after, so I decided to commit to DJing. Something just clicked in my mind. If I do something, I usually do it with 100%. All in or nothing! I practiced for a minimum of an hour a day, learned to beat-match, started recording mixes for SoundCloud, and then did a couple of at-home livestreams on Facebook, and the rest is history! [Laughs]
What's the biggest piece of advice you've been given so far in your career?
Right, so there are many things I could say, but I'll try to keep it short and sweet. Put your all in, or don't bother at all. There will always be people saying negative things; rise above it. Keep at it, don't give up. It will be hard. You can do this. Be patient.
Your first three drum and bass releases, "Take Over," "Wait For Me," and "Do Better" all found a home on UKF. What has it felt like getting a nod from one of the most beloved labels in the bass scene early on?
Honestly, it has been unreal. I am so honored to have UKF backing me, and I am forever grateful to them for believing in me. When I sent the first draft of "Take Over" to the team, it was very different from what it is now – they turned me down twice. I just kept working on improving the track and sending new versions to them until it was good enough! I was super determined! I was still learning to do the basics, and I'm pretty sure the first version I sent over to them had no sidechain. [Laughs] UKF was one of the first influential labels for me in my early years, so yeah, it's a great honor to have released my debut drum and bass track with them!
In regards to "Do Better," can you walk us through the production process on this tune? Where did the vocals stem from?
The vocals were a sample from Splice – I think I got them from a house sample pack! I am always looking for new vocalists, so if you are reading this and you are a vocalist, get in contact and let's work together! For "Do Better," I felt as though the track needed some upbeat summer vibes, and when I came across this vocal it just fitted so well. I tend to make the track first and then look for vocals. I think a catchy vocal is really important for me as I love making tunes that get stuck in your head, and I love a good sing-along.
This track was initially meant to be a heavier tune but as the song progressed it became more dancefloor so I just went with it and when I added that vocal I accepted that it definitely wasn't going to be a heavy tune – it worked out perfectly as a summer release though!
Track process – I usually start by making the drums, adding a melody and sub, and following the rest on from that order.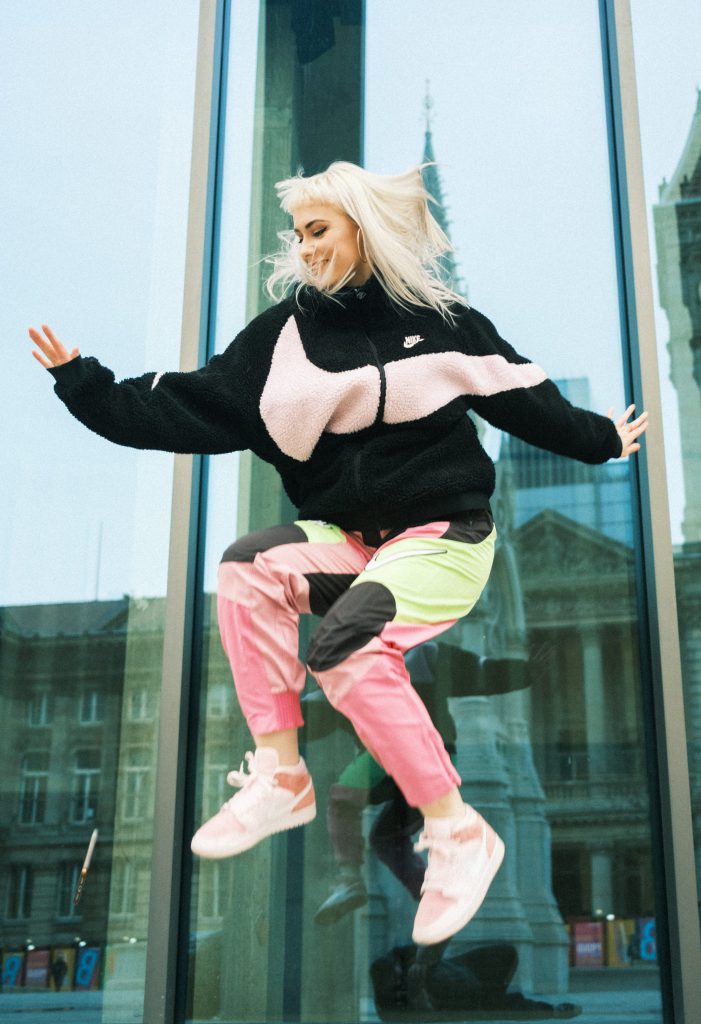 Earlier this year you also got the chance to play alongside Pendulum at Ministry Of Sound. What was that experience like?
Okay, so this was insane for me! I mentioned earlier that Pendulum literally got me into drum and bass, so to be handing over to them at my first main room show and Ministry of Sound was totally crazy. The day after the show I actually went for lunch with one of the Pendulum guys and a group of friends – a really lovely person and it was super inspiring to be sat down chatting with someone who has been so influential to me.
You've thrown down a number of mixes over the past two years including one for us today. What's your approach to mixing? Is there any planning done ahead of time on songs you specifically want to play?
I usually start by creating a new playlist on Rekordbox and adding some of my favourite blends to it. I'll then go through and pick out a load of new music and I'll put together some new killer blends. I usually try to mix in key, because it just flows better and generally sounds nicer! I am big on planning sets, I feel like my sets are so much better when I've put thought into it – we're here to take the listeners on a journey!
Finally, other than your forthcoming EP on UKF, is there anything else you have in store for 2022 that you can share with us today?
Right, other than the Take Over EP, which is coming out on August 3 on UKF, I have some other very exciting news! Firstly, a New Zealand tour has been confirmed. I can't talk about dates yet but just know that it is happening sooner than you think! Secondly, I have just signed to the US agency Cyber Groove (CG Agency). My team is in the process of applying for my work visa, and then the plan is to embark on a tour of North America next year! I can't wait to show you guys what I'm all about!
---
Follow Georgie Riot on Social Media:
Website | Facebook | Twitter | Instagram | SoundCloud | YouTube | TikTok