Example releases his eighth album, We May Grow Old But We Never Grow Up, featuring a stellar line-up of collaborators and unique tracks.
---
As a multi-talented artist, Example has been taking over speakers and stages for nearly two decades. Known for bringing rap and pop to electronic music, he's proven himself to be one of the most influential creatives in the scene time and time again. Since the release of his debut album in 2007, What We Made, Example has taken fans on his musical journey with hit singles like "Kickstarts" and a flurry of other albums including The Evolution Of Man and Live Life Living.
In 2020, Example graced fans with the release of Some Nights Last for Days, and now he's returned with his latest body of work, We May Grow Old But We Never Grow Up. Out now on BMG, this album shows his versatile style and features some incredible collaborators including Nerve, Tommy Trash, What So Not, and Penny Ivy, among others.
Check out Example's latest album, We May Grow old But We Never Grow Up on Spotify or your favorite streaming platform, and read on for a deeper dive into its tracks!
Stream Example – We May Grow Old But We Never Grow Up on Spotify:
---
The title track opens the album with a subtle beat as Example adds his vocals in to take it to the next level.
"We May Grow Old But We Never Grow Up" introduces the album as Example reminisces on moments in his life, and hopes to evoke that same feeling in his listeners. An otherworldly synth pulsates accompanied by a heavy drum presence to create the perfect rap-focused track. "Dot Dot Dot" follows with a feature from Australian rappers Nerve and Local. The hip-hop beats bring out a heavy bass while a whistling swirl in the background. "Original" is another hip-hop-heavy track featuring unbeatable vocals from Example as a string instrument accompanies his lyrics about loving someone for being original.
Inspired by stadium rock, "Sideways" emphasizes a new genre featuring heavy guitar riffs, and a steady drum beat, while still incorporating a rap verse. This song ranges across genres which perfectly demonstrates Example's wide range of versatility. The following track, "Every Single Time," features vocals from Lucy Lucy and is co-produced by What So Not. Taking elements from each of their individual styles, this song gives off a sense of nostalgia bringing back a groovy nineties-type beat.
Penny Ivy is a frequent face on the album and offers her vocals on three different tracks.
The first, "Best Laid Plans" opens with a symphony of stringed instruments before the electronic beats hit throughout the rest of the track. Penny Ivy's pop vocals alternate with Example's rap verses to make for a perfect pairing on this one. "I'm About (Only Got Today)" is a collaboration with Westneat and Penny Ivy for some sublime sounds for listeners to explore while "Never Let You Down" has a piano accompanying the vocals before it breaks into a drum and bass beat with flourishes from Kanine as Penny Ivy takes over control.
"Won't Forget You" brings a collaboration with Tommy Trash and accompanying vocals from Window Kid – the metallic synths and deep undertones blend the styles of both renowned producers in the most stunning way on this track. The closing tune, "Egyptian Cotton," follows with a plucky Spanish guitar, the beat picks up as the subtle background of female vocals begins. Example enlisted Local, JME, and Westneat for this song to add extra layers of diversity and make it really stand out.
Example says We May Grow Old But We Never Grow Up is his best work to date, and we couldn't agree more. He's been changing the game for electronic music for nearly two decades and his eighth album a testament to his ability to take risks and develop his own unique style in the dance music scene.
---
Example – We May Grow Old But We Never Grow Up – Tracklist:
We May Grow Old But We Never Grow Up
Dot Dot Dot (feat. Nerve and Local)
Original
Best Laid Plans (feat. Penny Ivy)
DEEP (with Bou and Nonô)
Sideways
Every Single Time (feat. What So Not and Lucy Lucy)
Faith (feat. Majestic)
I'm About (Only Got Today) (feat. Westneat and Penny Ivy)
Rainy Days
Internal Affairs (Livsey)
Never Let You Dwon (feat. Penny Ivy)
DUMM
Won't Forget You (feat. Tommy Trash and Window Kid)
Egyptian Cotton (feat. Local, JME, and Westneat)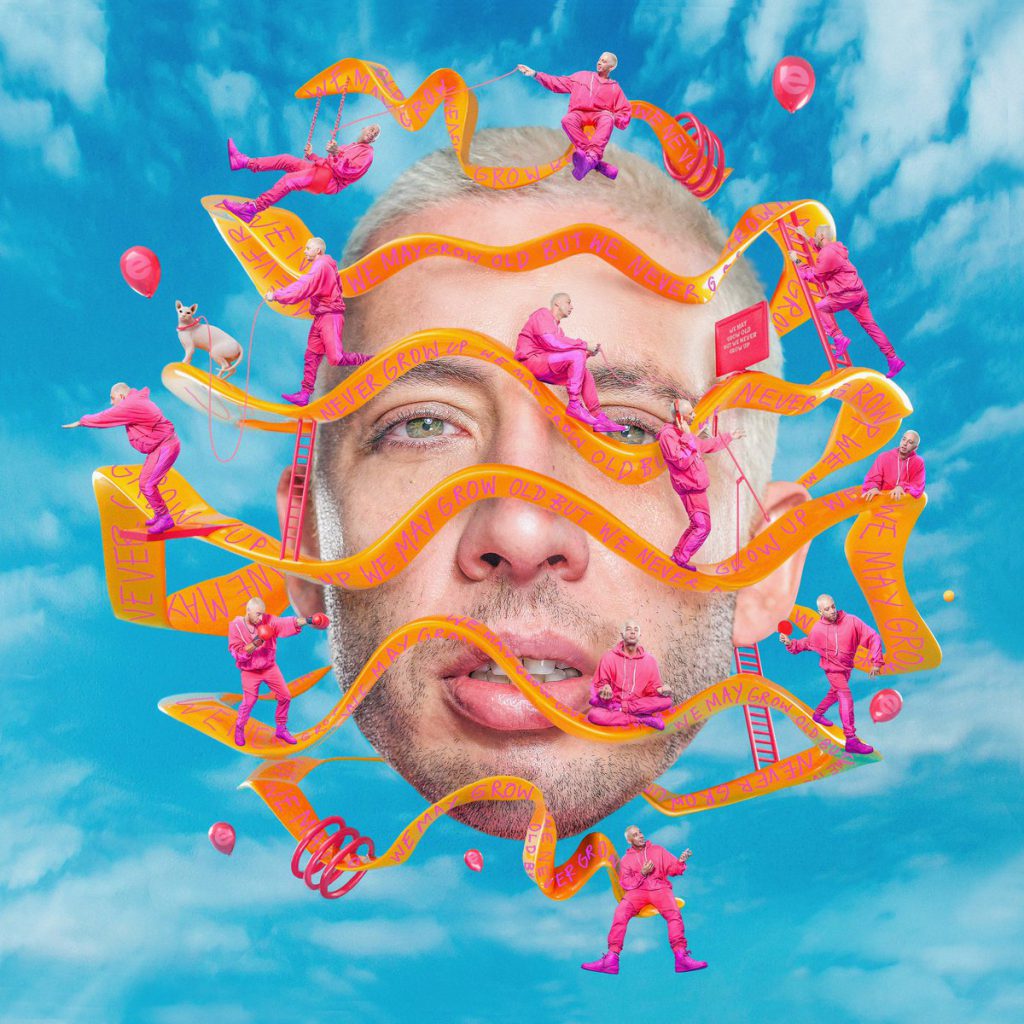 ---
Follow Example on Social Media:
Website | Facebook | Twitter | Instagram | SoundCloud | YouTube