Three Sisters Park was jam-packed with art and music as scampers flocked to the midwest for three days of Summer Camp Music Festival.
---
Central Illinois' Three Sisters Park was jam-packed with art and music as scampers flocked to the midwest for three days of Summer Camp Music Festival. For the first time since the pandemic, the festival returned to its legendary Memorial Day weekend dates, and the weather was mostly b-e-a-u-t-i-f-u-l. As the weather heated up, so did the anticipation to return to the grounds to experience what the Summer Camp staff had in store grew; and just like that, we entered what many refer to as "home."
This was my second journey to Summer Camp, with my first year being last year. The festival offered a feeling of freedom, calmness, and simplicity that initiated my return. Driving from Chicago, a dozen members of my group were some of the very first to enter the grounds on Thursday for the pre-party. With some of the group being six-year veterans, we secured the highly desired "bridge camping spot." The bridge is an elevated area within the woods that allowed us to set up a "renegade" space for music – not to mention it also being an admirable hangout spot.
The weather was a bit unpredictable to kick off the pre-party as rain caused the grounds to become muddy throughout the day. This can happen at any festival, which is why it's always super important to bring rain boots. The rain luckily stopped before Friday, when regular ticket holders were allowed to enter the grounds. There were a few cars stuck, but since most camping is in the woods, we had primarily dry grounds to pitch our remaining tents. By midday Saturday, the sun had dried up most of the mud, and we were fully back in business to dance.
Besides the minor mud setback, the festival remained operating as usual, and all vendors were in full effect!
However, a few things we did notice right off the bat were the lack of water stations and easily accessible bathrooms. The entire weekend we only saw two areas to get water, and they were in the center of the fest. The water stations were hard to identify as drinkable water stations – they were just nozzles sticking out of a wooden board, and many Scampers were bathing themselves with the water. Also, if you were camping in GA in the woods, the nearest bathrooms were far past the campfire stage. They were in the back of the RV camping, which was about a half a mile walk.

We kicked off Summer Camp by navigating the mud to the first Canabliss Scamp set at the Illumination stage.
NGHTMRE, Mersiv, and Zeds Dead followed that opening set from Canabliss for a bass-heavy Friday night. The vibes were immaculate as we bounced from one stage to the next to experience an array of diverse stage builds and sound designs. We also dropped by the profound STS9 set to get a little groovy at the Moonshine Stage before making our way elsewhere for the evening.
The set that genuinely blew me away that night was Mersiv at the Starshine Stage.
The stage Mersiv played was clearly built for bass music, and because of the diverse crowds that Summer Camp brings, there was plenty of room to dance! Following Mersiv, we headed to Zeds Dead at Sunshine, but it was a bit of a letdown because the mud was so bad you had to suck your boots out of it every few minutes to avoid getting stuck. This stage specifically also seemed to have issues with sound projection. You could hardly hear the music if you were behind the sound booth. I admire the festival for bringing an array of electronic music, but the stages aren't all built to handle that amount of bass.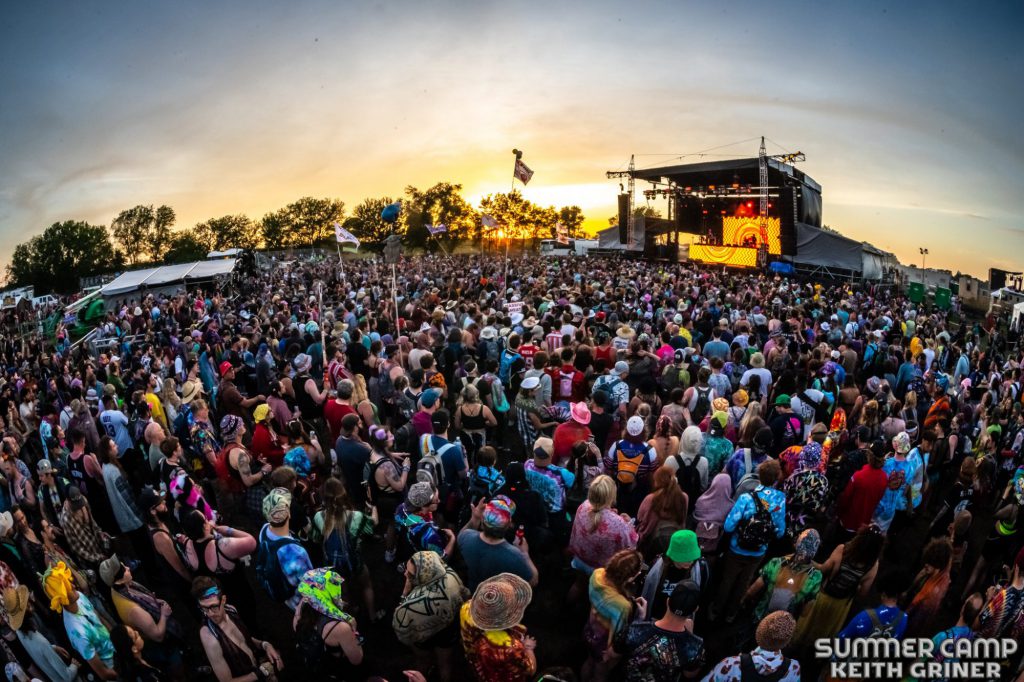 Saturday was a day of exploration through a tent full of art for sale by abstract artists and some killer merch.
On Saturday, I spent my early afternoon strolling the grounds without a destination and came across some of the most beautiful and abstract art I've ever seen. The Soulshine tent offered a space for local artists to display and sell their art. I connected with a few of the artists and bought a few custom stickers to bring home with me. Some of these artists include Pat Marek, Kelsey Beth, and Kathryn Williams of Ryn Vision.
Next, I made my way over to the merch tent, where a member of our group snagged a holographic STS9 poster and Summer Camp coozie. The merch was some of the best I've seen so far this year. There was something for every one of your favorite artists, and a massive selection of SCamp branded merch as well. One of my favorite items was the Summer Camp 2022 T-Shirt that was purple tie-dyed and printed with super bright blue text, making them impossible to miss.
The day continued with an adventurous stroll through a marketplace of vendors and striking sets.
A village of vendors stretched all the way to the Sunshine Stage, giving us a feeling of a mini-market. It was super enjoyable to walk down a streamlined path with vendors on each side offering many different items for sale. I saw a pashmina that was only ten dollars and waited until I went through all of the vendors to buy it, but by the time I went back to purchase it was gone – that was a pretty heartbreaking moment.
In the evening, we started our set schedule with WAVEDASH at the Illumination stage, followed by Big Gigantic, Kasbo, and Jason Leech. It was my first time seeing Jason Leech perform, and the set turned out to be a top contender for one of the best sets I've seen. Jason was on the Campfire stage, but his set was so incredible that it felt like we were at the main stage. His use of piano, keytar, and synthesizers made the crowd go wild and had our jaws on the ground.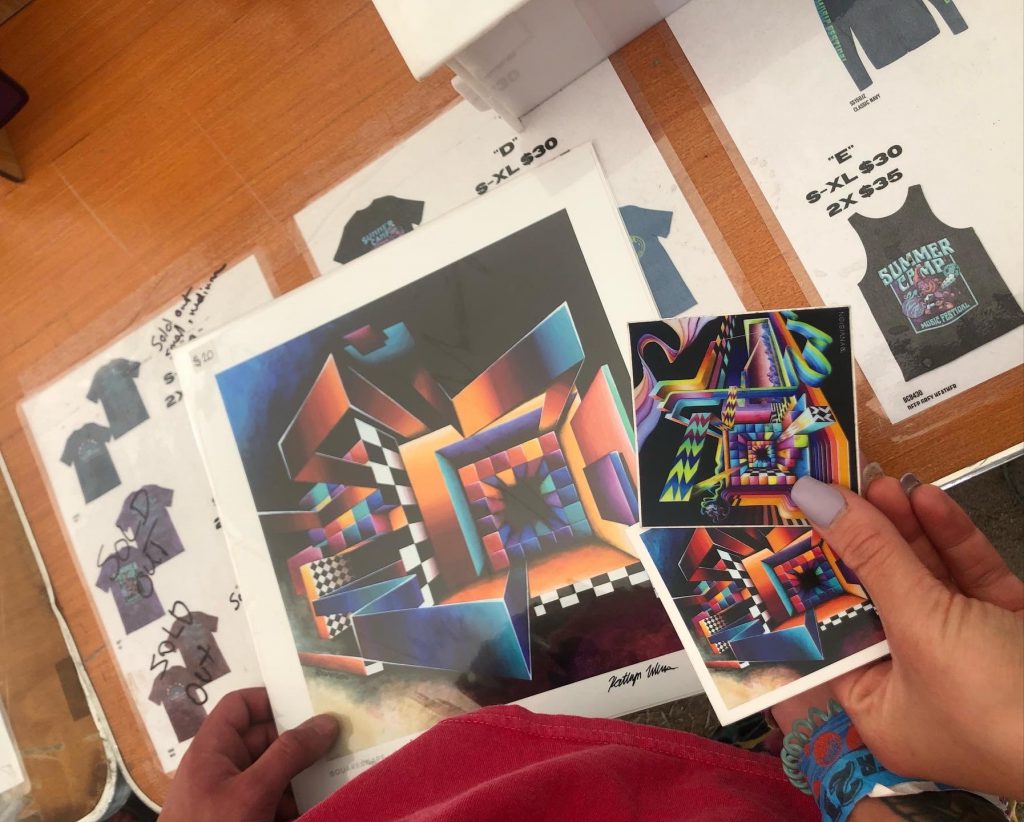 Sunday was a nice 85-degree, sunny day that began with Umphrey's McGee at a daring 1pm set.
The weather was hot and heavy, but so was the stacked day of music. The woods was an escape for the afternoon hours following Umphrey's as there was a consistent breeze and plenty of shade. What really stood out at Summer Camp was that non-official vendors were allowed to set up their tables in the woods. This gave an even more "at home" vibe to the camping portion of the festival and gave way to many new genuine connections.
As the day's hottest hours passed, we headed over to the Sunshine stage for a killer Bone-Thugs-N-Harmony show. This brought me back to when Three 6 Mafia performed in 2021, and it was another memorable blast from the past. From there, we headed over to the Starshine stage to grab a slice of Spicy Pie and an ice-cold margarita before preparing for the rest of the night. I haven't seen the famous Spicy Pie food vendor at a festival since before 2020, and it never tasted better.
Sunday was also a night for festival-goers who enjoy a range of dance music.
After sunset, Cherub kicked off our first set at the Starshine stage with some '80s post-disco and funk. The vibes were then immaculate as Maddy O'Neal took the stage, followed by a versatile bass-centric set by SoDown. The night didn't stop there; Manic Focus took over the Starshine stage, followed by the first of two sets that night by Daily Bread. Torn between Daily Bread and Jansten, we made a collective decision to migrate to the Illumination stage for the bass maestro's set. Ravenscoon then closed out the night for us with a set that truly illuminated the Illumination stage and left our souls shining brighter than ever.
Being a part of such a remarkable festival like Summer Camp was genuinely grounding.
Many festivals give their attendees a sense of escape from reality, but Summer Camp is very special in how much it feels like a breath of fresh air. The weekend at a festival that feels like a home away from home was the perfect way to kick off the summer with a bang. Being in the middle of nowhere in Illinois while surrounded by inspiring and artistic individuals was incredibly humbling.
After concluding another year of Summer Camp, I left with a heart full of gratitude and peaceful energy. This may be the only festival I don't leave feeling drained but rather renewed. With the completion of their 21st year, I cannot wait to return and see what next year has in store.
---
Follow Summer Camp on Social Media: