What So Not teams up with Oliver Tree and Killer Mike for his latest single, "Mr Regular," the first to arrive off his upcoming album Anomaly.
---
What So Not has only continued to impress his fans around the world ever since first stepping foot onto the scene and now he's back with another fresh release for fans to feast on. Earlier this month he began beefing with Oliver Tree on social media, causing everyone to wonder what was actually happening between the two artists – but today the answer arrived when What So Not dropped "Mr Regular," which also sees Killer Mike join in on the fun.
Out now across all platforms, "Mr Regular" is a tune that puts What So Not's sound design and innate ability to produce catchy riffs on full display. First heard via leaks that landed online, this tune is one that's been long-awaited, especially after the recent social media posts by What So Not and Oliver Tree. "It's one of the biggest songs I've ever been part of, tied up in red tape for too long," he said "I know how much the fans and community want this one."
The stunning production that backs the track is only further accentuated by Oliver Tree's vocals and additional production elements, as well as the flow from Killer Mike, that truly takes it to the next level. All three artists have deep histories with each other, with What So Not working with Oliver Tree in the early days of his career and his work with Killer Mike also being prominent as well.
But that's not all that fans of What So Not can salivate over as the Australian artist paired the release of "Mr Regular" with the news of his forthcoming album Anomaly. Due out in September, this body of work was inspired by his travels around the world prior to the pandemic and the exploration of sounds he experienced, all wrapped up into a tight, 11-track feature-filled collection. Anomaly also highlights What So Not's passion for addressing non-music issues in his work as well, such as fostering a better tomorrow for our planet.
Listen to "Mr Regular" on Spotify or your preferred platform, and make sure to pre-order or pre-save Anomaly ahead of its release on September 16.
Stream What So Not, Oliver Tree, and Killer Mike – Mr Regular on Spotify:
---
What So Not – Anomaly – Tracklist:
Alive
Anomaly (feat. AY AY)
Mr. Regular (feat. Oliver Tree, Killer Mike)
The Change (feat. DMA'S)
Halifax (feat. ZOID LAND, Phi11a, Tek Genesis)
On Air (feat. Louis The Child, Captain Cuts, JRM)
Messin' Me Up (feat. EVAN GIIA)
Bad Piano (feat. Body Ocean, Lucy Lucy)
Mercy (2022 Edit feat. MØ)
Black Shallow (feat. Enschway)
As One (feat. Herizen)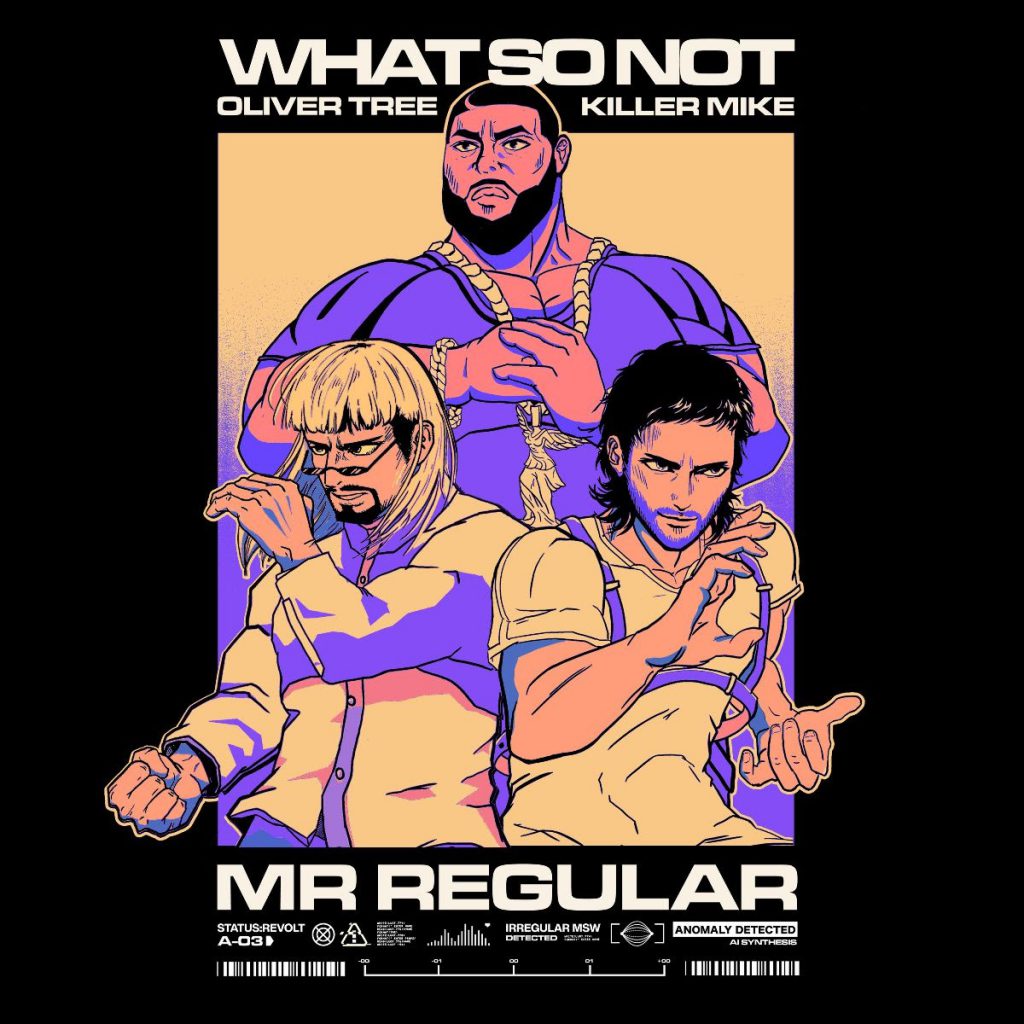 ---
Follow [Artist Name] on Social Media:
Website | Facebook | Twitter | Instagram | SoundCloud | YouTube | Twitch