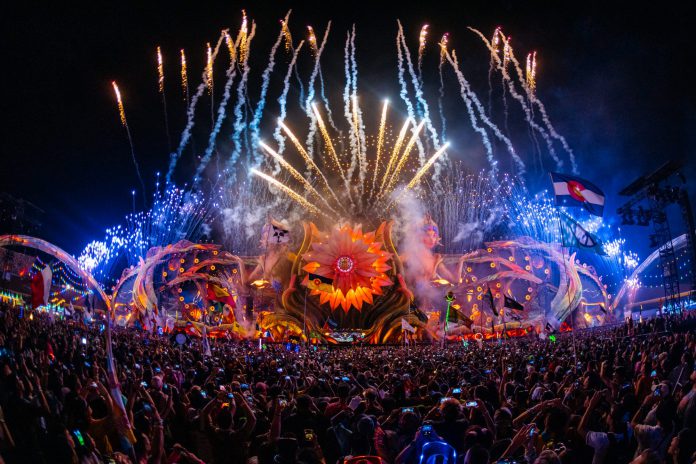 The dust has settled after this year's edition of EDC Las Vegas but you can relive the memories you made at the festival with some livesets!
---
This year's edition of EDC Las Vegas was yet another spectacle of amazing production and stunning sets from some of the world's top artists that thousands of dance music lovers had the chance to witness over the course of the weekend. Whether you spent time stage hopping, checked out the brand new bionicJUNGLE, or found yourself exploring everything that the festival had to offer at experiences like Downtown EDC, there was plenty to explore this year.
Now, as everyone continues to recover from the massive weekend and begin preparations for next year's edition, it's time to relive some of the sets where you made memories or catch a glimpse of others you might've missed – because those set time conflicts were definitely brutal. To help you out, we've compiled as many of the EDC Las Vegas livesets that we've been able to find so far and will be continuously updating this post as more surface.
Stay tuned for all of our EDC Las Vegas coverage that's still to come. And if you want a taste of each stage, Insomniac just dropped some special mixes as well to celebrate this year's edition.
EDC Las Vegas 2022 Livesets
---
Curated Stage Mixes from Insomniac
kineticFIELD | circuitGROUNDS | cosmicMEADOW | neonGARDEN | bassPOD | wasteLAND | quantumVALLEY | stereoBLOOM | bionicJUNGLE
---
1991
SoundCloud | YouTube
---
ACRAZE
SoundCloud | YouTube
---
AC Slater b2b Chris Lorenzo
SoundCloud | YouTube | YouTube #2
---
Afrojack
SoundCloud | YouTube
---
Air2Earth
SoundCloud | YouTube
---
Alesso
SoundCloud | YouTube
---
ALOK
SoundCloud | YouTube
---
A.M.C w/ MC Dino
SoundCloud | YouTube | YouTube #2
---
Andrew Rayel
SoundCloud | YouTube
---
ARMNHMR
SoundCloud | YouTube
---
Armin van Buuren
SoundCloud | YouTube
---
A-Trak b2b Craze
SoundCloud | YouTube
---
ATB
SoundCloud | YouTube (Partial)
---
Audien
SoundCloud | YouTube | YouTube #2
---
SoundCloud | YouTube
---
Ben Bohmer
SoundCloud | YouTube
Ben Nicky
SoundCloud | YouTube | YouTube (Fan)
---
BIJOU b2b HABSTRAKT
SoundCloud | YouTube
---
Blunts & Blondes
SoundCloud | YouTube
---
Boris Brejcha
SoundCloud | YouTube | YouTube #2
---
Boston Bun
SoundCloud | YouTube
---
Cat Dealers
SoundCloud | YouTube
---
Charlotte de Witte (circuitGROUNDS)
SoundCloud | YouTube
---
Cloonee
SoundCloud | YouTube
---
Cosmic Gate
SoundCloud | YouTube (350 Cam)
---
Criag Connelly
SoundCloud | YouTube
---
D-Sturb
SoundCloud | YouTube
---
Da Tweekaz
SoundCloud | YouTube
---
Darren Styles
SoundCloud | YouTube
---
David Guetta & MORTEN Present Future Rave
SoundCloud | YouTube
---
Deadly Guns
SoundCloud | YouTube
---
Deborah De Luca
SoundCloud | YouTube
---
Definitive b2b Replicant
SoundCloud | YouTube (Partial)
---
Delta Heavy b2b Koven b2b Muzz
SoundCloud | YouTube
---
Deorro
SoundCloud | YouTube (360 Camera)
---
Dillon Francis
SoundCloud | YouTube
---
DIESEL
SoundCloud | YouTube
---
DJ Anime
SoundCloud | YouTube
---
DJ Issac
SoundCloud | YouTube
---
Doctor P & Funtcase (Classics)
SoundCloud | YouTube | YouTube (Partial)
---
Dom Dolla
SoundCloud | YouTube
---
Dot
SoundCloud | YouTube
---
Duck Sauce
SoundCloud | YouTube
---
Eric Prydz
SoundCloud | YouTube
---
€URO TRA$H (RynoBus Art Car)
SoundCloud | YouTube (360 Cam)
---
Evan Giia
SoundCloud | YouTube
---
Fallen b2b Richter b2b Fury b2b Nightstalker
SoundCloud | YouTube
---
FISHER
SoundCloud | YouTube
---
Fly With Us (Chris Lorenzo B2B AC Slater)
SoundCloud | YouTube
---
Friction b2b Kanine
SoundCloud | YouTube
---
Fury b2b Nightstalker w/ MC Dino
SoundCloud | YouTube
---
Gabriel & Dresden
SoundCloud | YouTube (360 Cam)
---
SoundCloud | YouTube
---
Getter b2b Space Laces
SoundCloud | YouTube
---
GIGANTIC NGHTMRE
SoundCloud | YouTube
---
Giuseppe Ottaviani
SoundCloud | YouTube
---
Good Times Ahead
SoundCloud | YouTube
---
Grimes
SoundCloud | YouTube
---
Headhunterz
SoundCloud | YouTube (Partial)
---
Hugel
SoundCloud | YouTube
---
Hulk Gang (4B & Valentino Khan)
SoundCloud | YouTube
---
Hybrid Minds
SoundCloud | YouTube
---
ihatemodels
SoundCloud | YouTube
---
ILLENIUM
SoundCloud | YouTube
---
Imanbek
SoundCloud | YouTube
---
Jai Wolf
SoundCloud | YouTube
---
James Hype (circuitGROUNDS)
SoundCloud | YouTube (Offical) | YouTube
---
Jason Ross
SoundCloud | YouTube
---
Jauz
SoundCloud | YouTube
---
Joel Corry
SoundCloud | YouTube
---
John Summit
SoundCloud | YouTube
---
JSTJR
SoundCloud | YouTube
---
Kai Wachi
SoundCloud | YouTube
---
Kami
SoundCloud | YouTube
---
Kasablanca
Soundcloud | YouTube
---
Kaskade Redux
SoundCloud | YouTube | YouTube #2
---
Kx5 (Kaskade + deadmau5)
SoundCloud | YouTube
---
k?d
SoundCloud | YouTube
---
Kayzo
SoundCloud | YouTube
---
Lab Group
SoundCloud | YouTube
---
Lee Foss
SoundCloud | YouTube
---
Lil Texas
SoundCloud | YouTube
---
Liquid Stranger
SoundCloud | YouTube
---
LP Giobbi
SoundCloud | YouTube
---
Lucatti
SoundCloud | YouTube
---
Macky Gee
SoundCloud | YouTube
---
Madeon (DJ Set)
SoundCloud | YouTube
---
SoundCloud | YouTube (Partial)
---
Mat Zo
SoundCloud | YouTube (360 Cam – Partial)
---
Matroda (circuitGROUNDS)
SoundCloud | YouTube
---
Matroda b2b Bleu Clair (stereoBloom)
SoundCloud | YouTube
---
Meduza
SoundCloud | YouTube
---
MitiS
SoundCloud | YouTube
---
NITEPUNK
SoundCloud | YouTube
---
No Mana b2b Eddie (Rynobus)
SoundCloud | YouTube
---
Nora En Pure
SoundCloud | YouTube
---
Partyboi69
SoundCloud | YouTube
---
Porter Robinson
SoundCloud | YouTube
---
Radikal Redemption
SoundCloud | YouTube
---
Rezz
SoundCloud | YouTube
---
Rusko
SoundCloud | YouTube
---
San Holo
SoundCloud | YouTube
---
SIDEPIECE
SoundCloud | YouTube
---
So Tuff So Cute
SoundCloud | YouTube
---
Sub Focus b2b Wilkinson present Portals
SoundCloud | YouTube
---
Subtronics
SoundCloud | YouTube
---
Subtronics b2b Boogie T
SoundCloud | YouTube
---
Tchami
SoundCloud | YouTube
---
Tempo Guisto
SoundCloud | YouTube (360 Cam)
---
Testpilot
SoundCloud | YouTube
---
Tiesto
SoundCloud | YouTube
---
Timmy Trumpet
SoundCloud | YouTube
---
Tinlicker
SoundCloud | YouTube
---
Tritonal
SoundCloud | YouTube (360 Cam)
---
Tweekacore
SoundCloud | YouTube
---
UNIIQU3
SoundCloud | YouTube
---
Vini Vici
SoundCloud | YouTube (360 Cam)
---
Vintage Culture b2b James Hype
SoundCloud | YouTube
---
Virtual Riot
SoundCloud | YouTube
---
Wax Motif
SoundCloud | YouTube
---
Wenzday
SoundCloud | YouTube
---
Wenzday b2b Nostalgix
SoundCloud | YouTube | YouTube #2
---
Wildstylez
SoundCloud | YouTube (Partial)
---
Yellow Claw
SoundCloud | YouTube
---
Zedd
SoundCloud | YouTube
---
Zeds Dead
SoundCloud | YouTube
---
Zeds Dead (Parliament Art Car)
SoundCloud | YouTube
---
ZHU
SoundCloud | YouTube
---
Zomboy
SoundCloud | YouTube
---
Connect with EDC Las Vegas on Social Media: