We caught up with Craig Connelly to chat about EDC Las Vegas, the current state of trance, his upcoming album Believe In Magic, and more!
---
When we think about artists whose ever-evolving sound could be considered a harbinger of the future of trance, we would be remiss not to mention Craig Connelly. While Craig Connelly has been a DJ and producer for multiple years, he has recently skyrocketed to the top of the trance sphere. With hit after hit and numerous #1s, there seems to be no stopping his fervent rise. His debut artist album, One Second Closer hit #2 on the iTunes dance album chart, and he followed that up with A Sharper Edge which was a #1 seller. There's no doubt these past successes are an indication of things for his upcoming album Believe in Magic, set to be released on May 27.
Not only is he a magician in the studio, but Craig Connelly is constantly delivering wonders in his sets. His versatile style keeps fans on their toes as he effortlessly shifts between uplifting vocal anthems, banging beats, and beautiful melodies. Regardless of his style of choice, his ability to create vivid and emotional soundscapes is evident in his tracks. Not surprisingly, as his popularity rose, he became sought after at some of the biggest festivals around the world such as EDC Las Vegas, Luminosity Beach Festival, A State of Trance, and Dreamstate SoCal. Speaking of massive festivals, we sat down to chat with Craig Connelly ahead of EDC Las Vegas to discuss his set that will be closing out Saturday night of quantumVALLEY, the current state of trance, and his upcoming album!
Stream Craig Connelly's most popular releases on Spotify:
---
Hi Craig, thanks so much for chatting with us today. You're getting ready to play EDC Las Vegas once again. What about the mega festival keeps you coming back and what can fans expect?
Hello! It's one of the biggest festivals in the world and the production is second to none, it's absolutely outrageous. Fans can expect a lot of new music from my new album, which just happens to be released the following Friday. Expect new exclusives and some of the new remixes I have made recently. 
When you're not playing or hanging around at quantumVALLEY, which stage at EDC are you most likely to gravitate towards?
I am going to check out the main stage just for the spectacle of it, then wherever the melodic techno is as that's a sound I love right now.
You've been to Vegas a few times now; what are some of your favorite experiences or things to do in the city?
It's actually quite hard to get around cities you play in, so I have only really been down the strip once haha. It was a sight to see though, it's as if someone drew Las Vegas from a fantasy, I can't think of anything else quite like it. 
There's some exciting news for fans on the horizon with the imminent release of your third studio album Believe in Magic. You stated that you went with the flow and created whatever you wanted in whichever style fit, rather than just stick to trance. What was the catalyst for that decision? 
I had made a full-on, club trance album A Sharper Edge in 2020, and that's about the time the clubs shut. So after that, I wanted to just do something more relaxed and fluid rather than just reaching for the same trance concept. Believe In Magic does have a lot of trance on there, but the first half is just me experimenting with different things, whatever fit my mood at the time.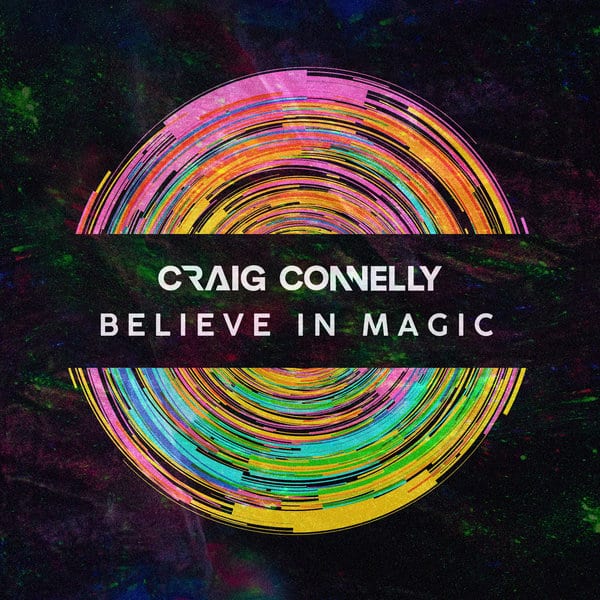 Building off that, how has your production style evolved or changed since your first album One Second Closer in 2017?
I'd say my production has got a lot better, my taste in music probably hasn't that much. I think the music I make today can still evoke the same feelings and emotions as it did back then, it just sounds a lot better. I hold myself to higher standards than I did in 2017, and have more experience with club records so I apply that whilst still being organic. 
You have had a very striking visual component with all three of your albums. With One Second Closer, it was that iconic nature shot on the cover, with A Sharper Edge it was the candy colors that were paired with each track, and for Believe in Magic, you're working with Alex Morgan. What about his style resonated with you?
Alex actually did the whole ASE album cycle also so it was natural to have him back for BIM. He works on a lot of my stuff behind the scenes and always nails it which is hard to find in a designer these days. I like how he isn't necessarily in the trance scene itself so can see the music for what it is rather than trying to make a 'trance cover,' if that makes sense? 
It is sometimes said that genres can sometimes be limiting, whether it's the style itself or fans that may not react favorably to different styles changing the 'pure' sound. How do you feel about genres and pushing the boundaries of trance?
I think trance certainly needs a kick up the arse. About 95% of music released on a weekly basis is cookie-cutter crap, either engineered or born from templates and midi packs. It needs an injection of ART rather than quantity and label A&R's need to hold their brands to higher standards as we see in other genres. I just feel the bar is set so low for a trance release and you can tell. That being said the quality always rises to the top, so the acts that really focus on being an artist are the ones you tend to see dominating lineups for years. In terms of pushing boundaries, again, this comes down to the art; we should all be trying new and exciting things, as the scene has hundreds of 138 uplifting tracks released every month.  
You've worked with many amazing vocalists and fellow producers over the years. Who are some that fans should take notice of?
That Girl from my new album, who co-wrote and sang "Little Mystery," is someone you will see a lot more of over the next few years. She's a remarkable talent and has an insane voice, works very hard, and doesn't just throw anything together. I've previously worked with Daxson & Will Rees who are growing into amazing artists also. Also check out NUMA and her side projects, an effortless talent. 
Finally, when you released your hit track "Reach Out" with Gid Sedgwick, you mentioned that you're obsessed with that the old-school 90s commercial trance sound. What are some of your favorite tracks from that era?
Haha how long have you got? 
Fragma – "You Are Alive" (Which I have covered on Believe In Magic)
Darude – "Out of control"
Matt Darey – "Beautiful"
Lost Witness – "7 Colours"
Lasgo – "Something"
It goes on and on and on…
---
Follow Craig Connelly on Social Media:
Facebook | Twitter | Instagram | SoundCloud | YouTube | Twitch